Yesterday, I took apart the first half defense by Florida against Miami, today I'll finish the game with the second half. I gave them a C for the first half, when you give up two touchdowns in five real drives — subtracting the end of half QB kneel — it's not good. They got better in the second half. Much better.
Seventh series: three plays -4 yards, 1:38
Another three and out. If you're playing along at home and read the first half breakdown here that's four in seven series'. The last drive of the first half was a kneeldown, so in essence 2/3 of Miami's real drives up until this point have been three and outs. Not ideal. Also, any drive that goes for negative net yardage isn't exactly how they drew it up either.
Series grade: A
This was the first series of the second half and the Gators came out fast and furious, forcing Miami into third and 14 after two consecutive runs that didn't even get to the line of scrimmage.
Eighth series: four plays one yard, 1:42
This one didn't go much better than its predecessors. Miami was putrid during all attempts to run the ball and Marcus Roberson almost had an interception down the sideline. This stretch in the game was about as bad as Miami looked all day on offense and it didn't get much better after this.
Series grade: A
In the three drives leading up to this one, other than the kneeldown, Miami ran nine plays netting -2 yards.
Ninth series: four plays -1 yard, 2:09
If Marcus Maye wraps up instead of diving at ankles, this drive is probably a three and out instead of the four and out it became.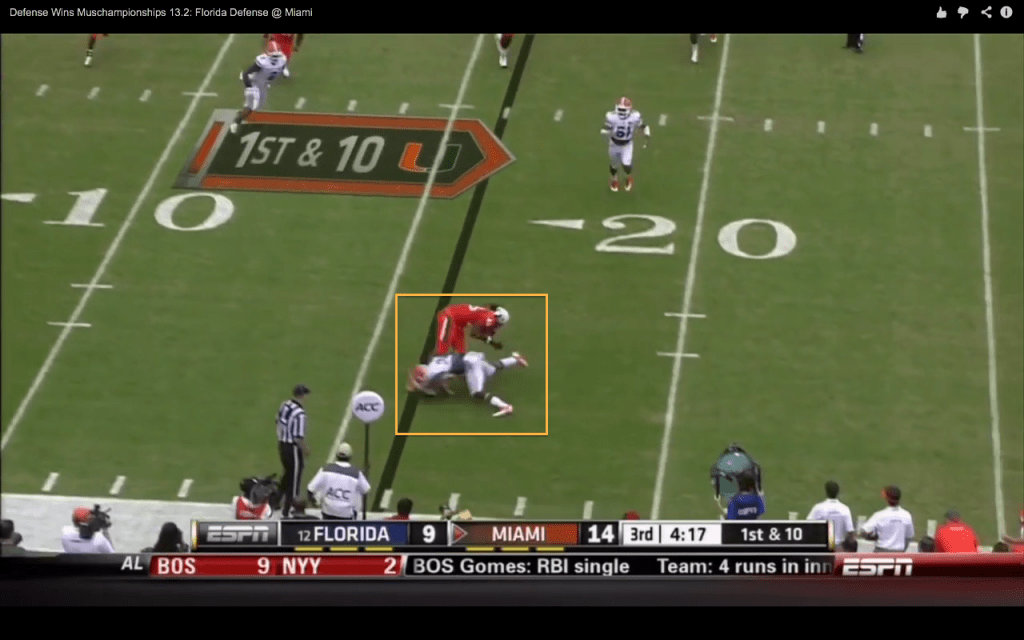 Miami tight end Clive Walford rumbled for another 11 yards before getting tackled, moving the chains for a first down.
On the next down, Dominique Easley showcased his quick first step that continues to make him a terror inside.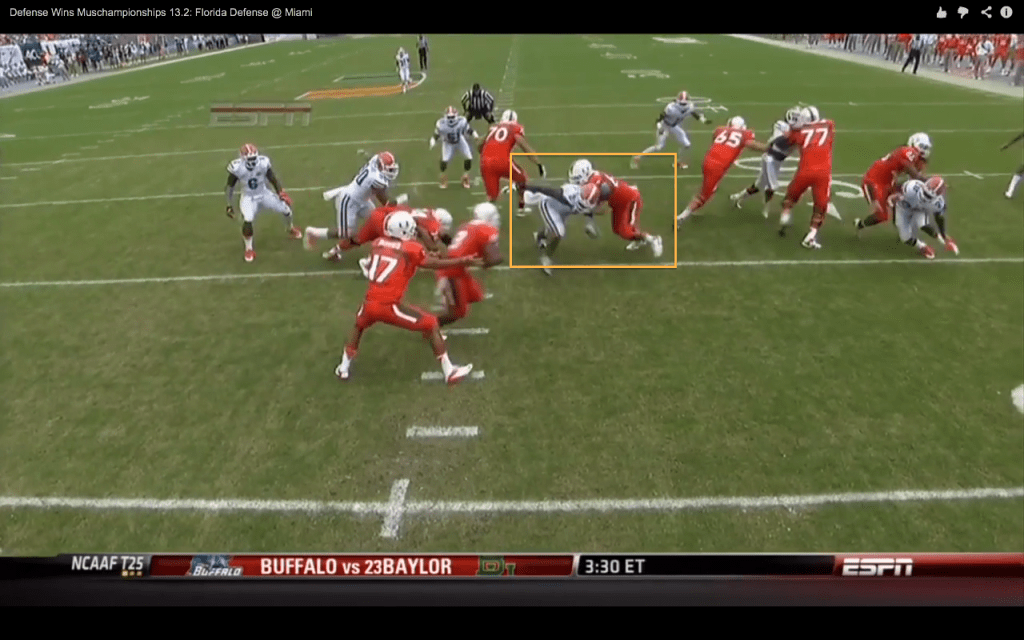 That play was a six-yard loss for Miami. On the next play, Miami quarterback Stephen Morris gained some yardage on a rollout and then Ronald Powell negated the play with a nifty move knifing into the backfield for a sack on third down.
Series grade: A
Again, Florida turned up the heat on Miami and the Hurricanes couldn't go anywhere.
Tenth series: five plays 50 yards, 1:28
Miami was finally able to get some momentum going on the offensive side of the ball and it was from a gaffe that cornerback Loucheiz Purifoy has made before.
He makes the same mistake I wrote about here that gave Georgia the go-ahead touchdown last season, missing a tackle while on an island.
Just like in that game, the safety — in orange — that could help Purifoy — in blue — over the top vacates that area as he comes on a blitz.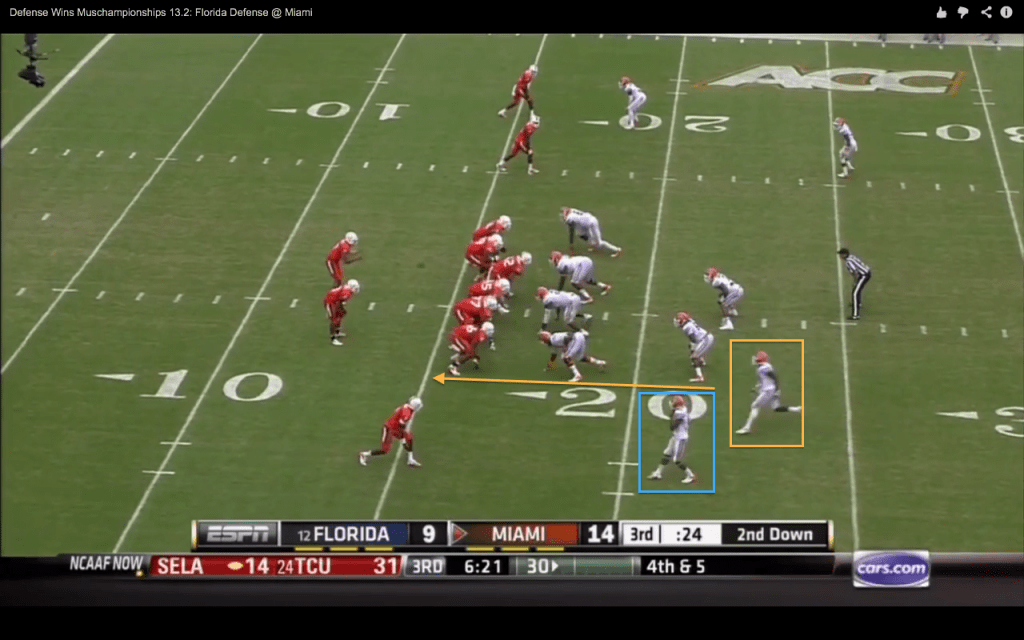 Purifoy is now by himself with no immediate help over the top because Florida is playing with one safety high. You can tell Purifoy was anticipating and prepared to defend a deep throw.
His hip position already suggests he's ready to turn and run with Miami wide receiver Allen Hurns.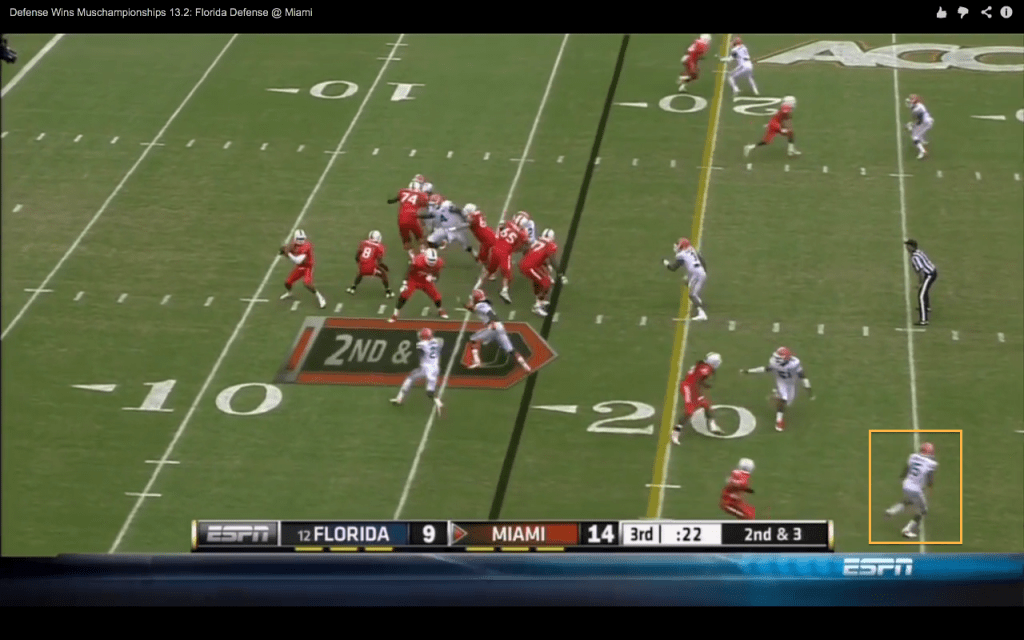 Unlike Marcus Maye earlier in the game, Purifoy was opting to take away the long pass before the underneath stuff, Maye did the opposite. Hurns does a good job of getting past the first down marker, turning and catching the ball that was coming to him the entire time. It's the first and only read quarterback Stephen Morris makes in his progression. To Morris' credit, he did make a good throw in the face of pressure.
Purifoy's body position is disadvantageous against the quick game Miami employs. The angle he takes to attempt the make the tackle really gives him little to no shot because Hurns is past the collision point Purifoy is aiming for.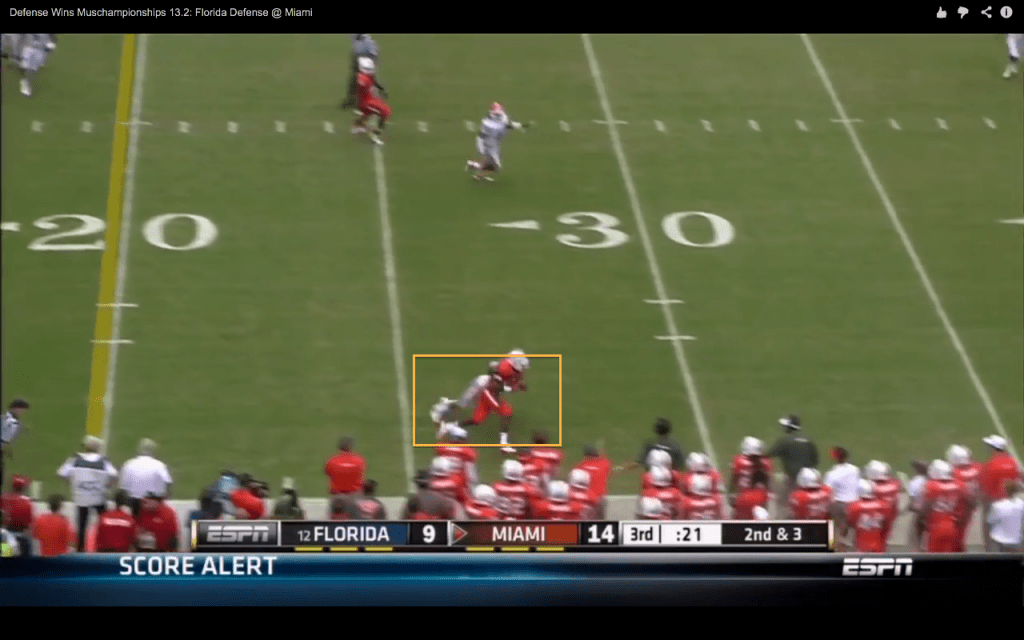 On that play, Purifoy was so sold out to stop the deep ball — if you notice in the first picture of the sequence he isn't even in press coverage.
36 yards later Miami has shop setup on Florida's 48 on a drive that started on their own 10 yard line. Again, unfortunate body positioning sets up a defender to take a poor angle and the play goes for a big gain.
Fortunately, nothing came of this particular drive for the Hurricanes but last season against Georgia something did. If Purifoy continues to have this happen to him when he's on an island in a safety blitz situation, it will happen once again.
Series grade: B
Florida dug in on third and three and put a stop to any momentum Miami had and got back to the sideline.
Eleventh series: five plays one yard, 2:23
Freshman Vernon Hargreaves III hauls in his second interception in as many collegiate games. It also featured Miami having some momentum early in the drive, with back to back eight and seven yard runs on the first two plays of the drive. Then, in chronological order: a penalty, an incompletion, a rush for a five yard loss and finally, Hargreaves' interception brought things to a screeching halt.
Series grade: A
It ended with a turnover, but the events leading up to that pick were pretty good too.
Twelfth series: three plays -7 yards, 01:13
You've seen this movie before: three and out. It started with a two yard loss and Miami wasn't able to recover even though Duke Johnson got close with a ten-yard scamper on third down.
Series grade: A
Did you expect anything else?
Thirteenth series: 2 plays 4 yards, 01:03, TD
This drive started at the four-yard line, so anything short of a goal line stop would be unsuccessful for the defense. Even the most anemic offense can punch it in when they start that deep into the redone — see: 2012 Florida vs. South Carolina — and that's what the Hurricanes did.
The touchdown was pretty simple, blocked well enough with a cut and Duke Johnson walks into the end zone untouched.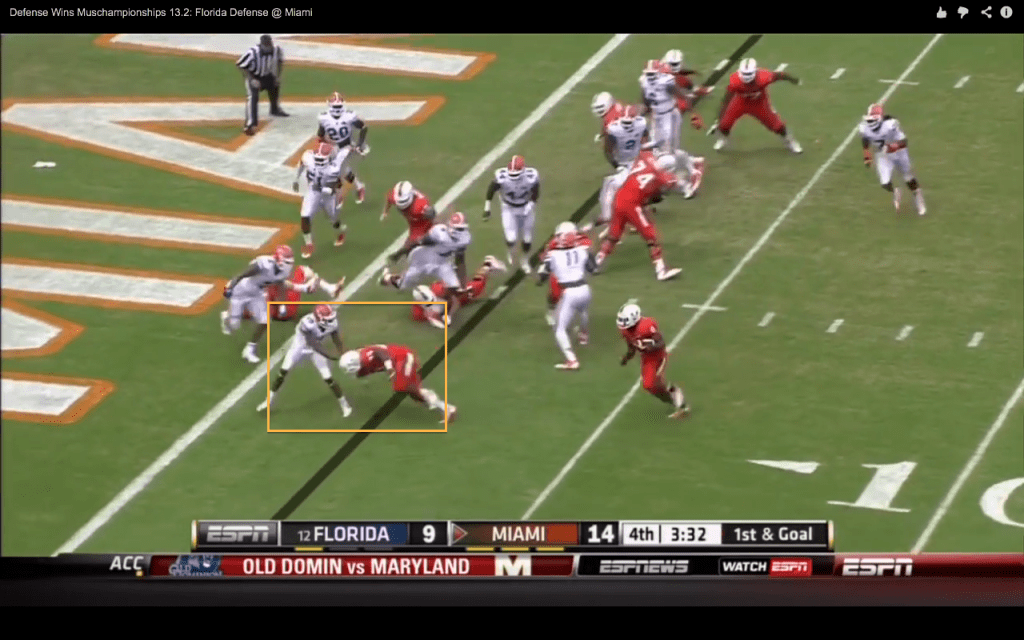 Series grade: F
Florida was in between a rock and a hard place and had a penalty to boot that gave the Hurricanes a new set of downs, half the –already very short — distance to the goal. This drive was pass fail and they failed.
Fourteenth series: three plays, zero yards, 1:40
The final series was one Miami played conservatively and the Gators did give their offense a shot to win the game — albeit a minuscule one — by stopping Miami, holding them to a three and out and getting the ball back.
Series grade: A
They did their part and got the ball back, that's all you can ask for.
Full game grade: B+
I'd love to give them an A, they played very well but it was a losing effort. I can't get past that blown coverage by Marcus Maye in the first quarter. The first touchdown I get, Miami just took it to them to start the game. The last touchdown I understand as well, not much you can do when you start up against first and goal. That second touchdown is a little harder to just throw by the wayside, it was a simple technical mistake that had a far-reaching result.
The defense can't control what the offense did, it's not their fault that the offense gave the ball to Miami five times.
So what's the difference between a 21-16 loss and possibly 16-14 win? Seems like from a defensive standpoint, it's just one step.
H/T Libgator