It's a bye week, so let's dig deep into Florida vs. Miami.
Nick drew the short straw, so he has to write about the offense. I get to talk about the defense, the unit that held Miami to their lowest yardage output since 2009 and played well enough to still give a Florida team that committed five turnovers a chance to win the game.
Like Nick did, I'll be grading each drive. On a Miami scoring drive, the max grade the Gators can earn based on my criteria is a C. It could be F, but scoring drives aren't always bad throughout, they just have bad endings.
Let's get to the first half.
First series: nine plays, 50 yards, 2:46 TD
Miami began the game doing what I thought gave them their only chance of beating Florida, featuring Duke Johnson. Johnson's first carry went for two yards thanks to Leon Orr shedding a blocker and blowing things up. The second play featured some phenomenal blocking on the part of the former No. 2 recruit in the nation Seantrel Henderson on linebacker Neiron Ball.
Here Henderson first has a nice chip on LB Ronald Powell to negate his impact on the play.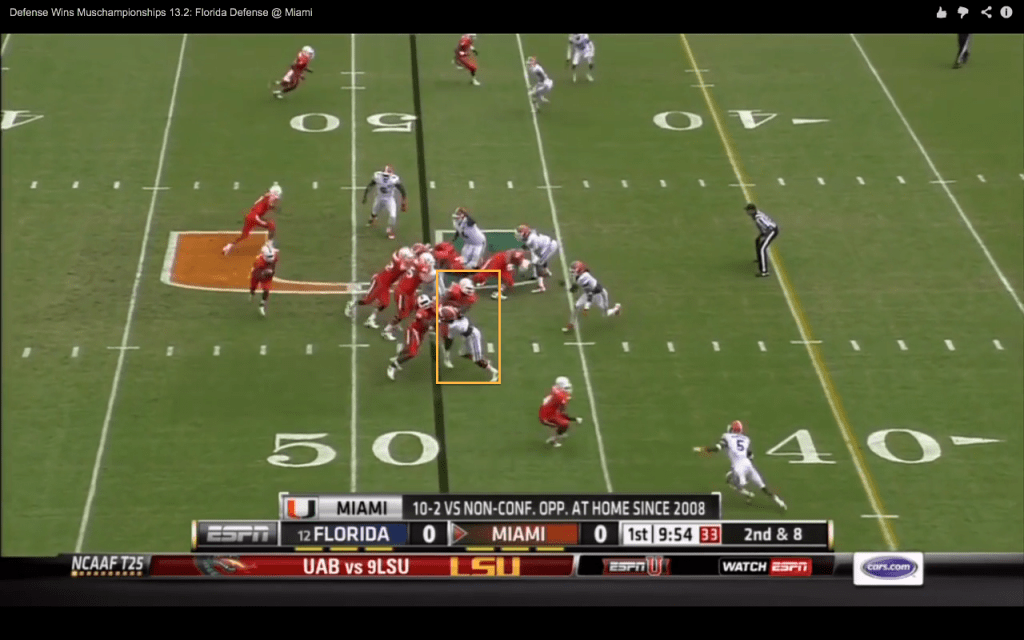 Then Henderson climbs to the second level and takes on Ball.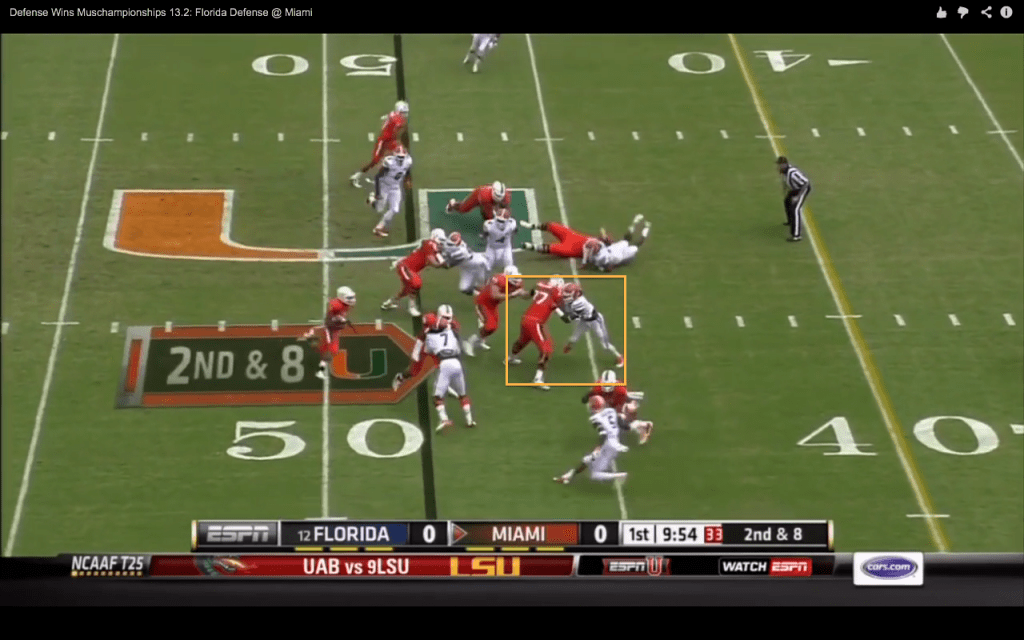 Ball is rooted out of the play and Johnson squirts through for a 12 yard gain.
As this season goes on, it will be interesting to see how Ball takes on the blocks of talented offensive linemen at the second level. As an outside linebacker by trade, Ball will have to adapt to more interior linebackers pulling through to erase him — although here Henderson is an offensive tackle. Henderson also stands at 6'8″ and weighs 345-pounds, that's probably the biggest lineman Ball will be blocked by all year.
Five plays later, defensive tackle Dominique Easley commits a penalty, roughing the passer, to bail the Hurricanes out of what would have been 3rd and 10. Long third downs are always horrible for the offense, it limits play calling and for a defense like Florida, if they're attacking with only one offensive option at their disposal, it's going to be trouble. Instead, Miami sets up shop at the seven yard-line and scores two plays later on a perfectly placed ball that safety Cody Riggs was virtually powerless to try and stop.
Series grade: F
Miami moved the ball at a lightning quick 18.22 seconds per play. They had Florida on their heels most of the drive and punched it in the end zone with ease. The Gators dug in later in the game and looked like the defense fans and media alike are used to seeing without a doubt, but the first series of the Miami game they were inept at best.
Second series: three plays, two yards, 01:04
This one seemed as quick as the first one, but for Miami's purposes, it was the wrong kind of quick. Three and out.
On first down, Dominique Easley asserts himself and puts a stop to things, getting the series started in a big way for the Gators.
Here's Miami guard Brandon Linder — in blue —  beginning his pull, Easley is in orange taking his block on and starting the process of blowing up the play.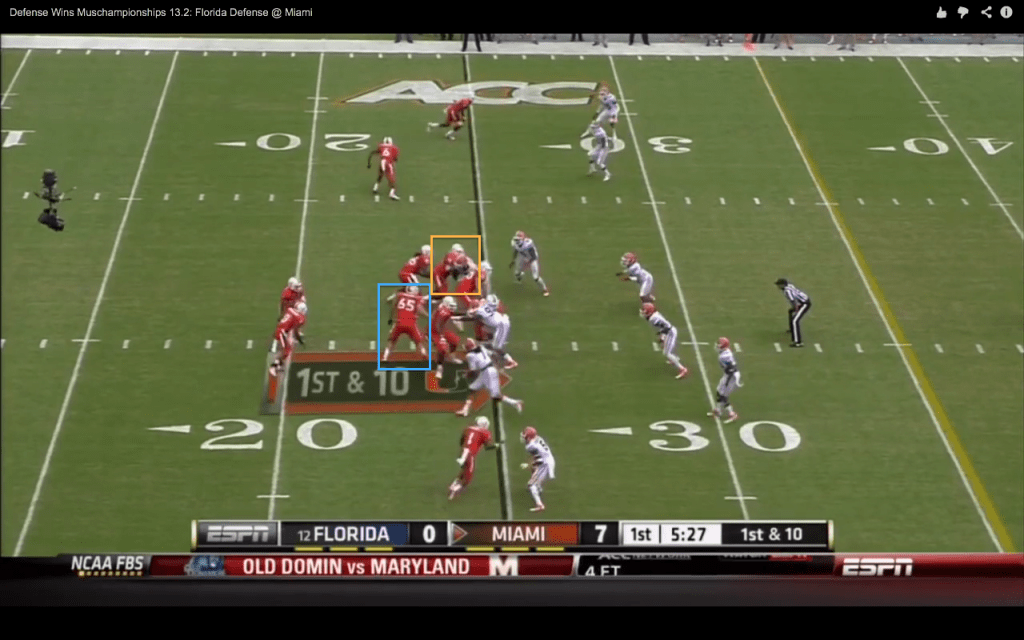 Linder pulls, and has nowhere to go because Easley has pushed his blocker into the way of Linder's track.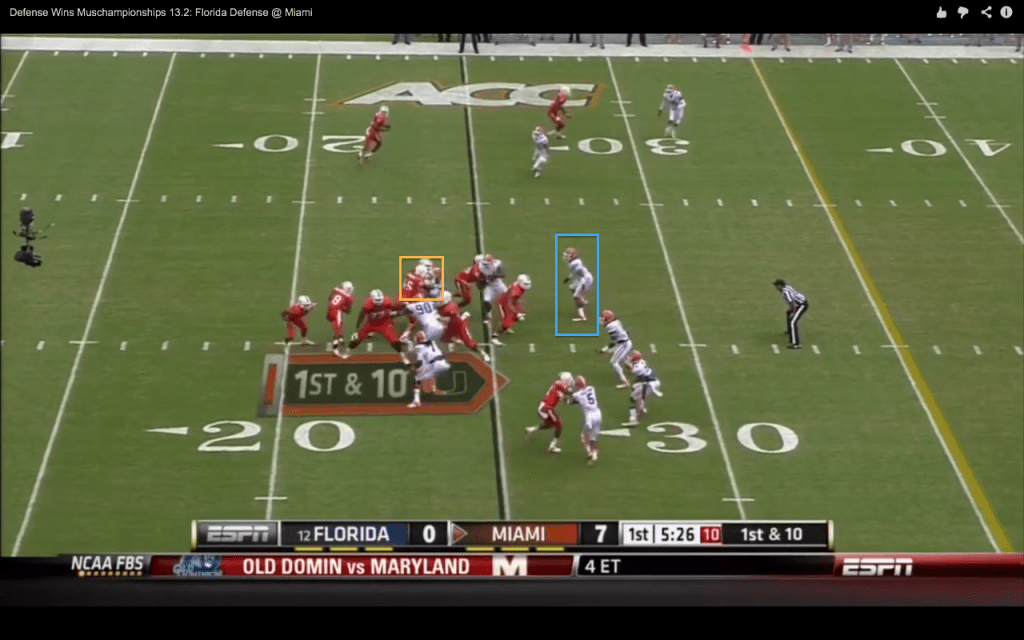 LB Michael Taylor — in blue up above — was supposed to be blocked on that play by Linder, but he never gets there thanks to Easley, and Taylor is able to make the tackle before Johnson can gain significant yardage.
Second down, Loucheiz Purifoy sells out to stop the deep throw, the ball is incomplete, but I'll get to why I think Purifoy's technique is a problem in Wednesday's post about the second half.
For now, take a look at Purifoy's body position.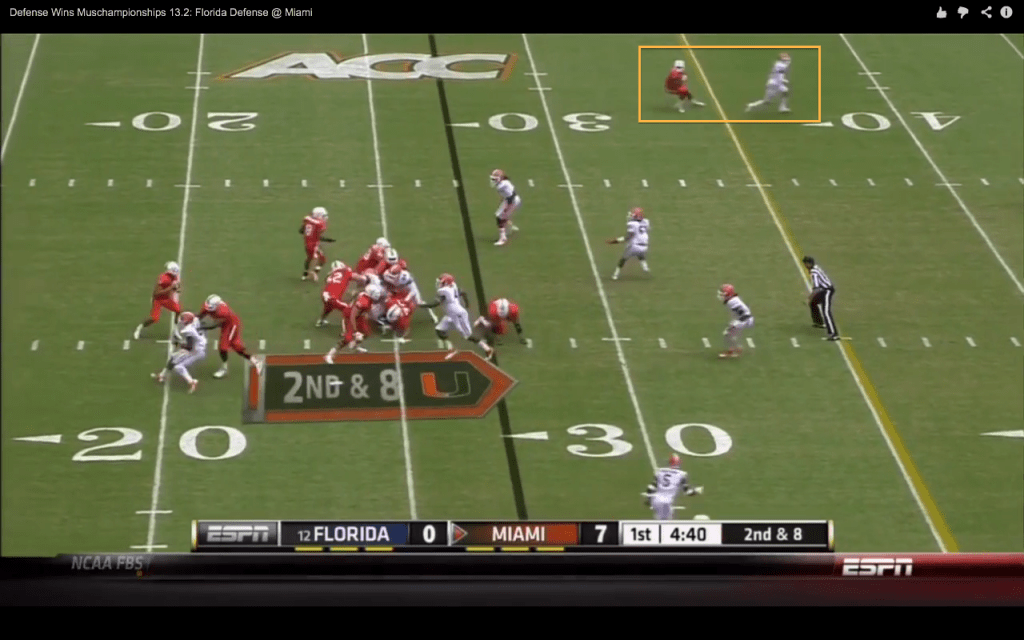 That particular pass was horribly thrown and ended up incomplete.
The next play was a 3rd and 8 situation and Morris threw a bad deep ball to end the drive.
Series grade: A
That's about as good as you can do it, three and out.
Third series: six plays 84 yards, 01:56 TD
Miami scored a 52-yard touchdown play on this drive to go up 14-6 at the time. It's a pretty simple answer as to why they scored.
If you had questions about Florida's safety corps coming into this season I can't fault you, because I was just like you, and here's exhibit A of why.
Freshman Marcus Maye is the deep guy here, you can't let anything get behind you as a safety, that's why you're called a safety –rocket science, I know.
Maye takes a bad first step.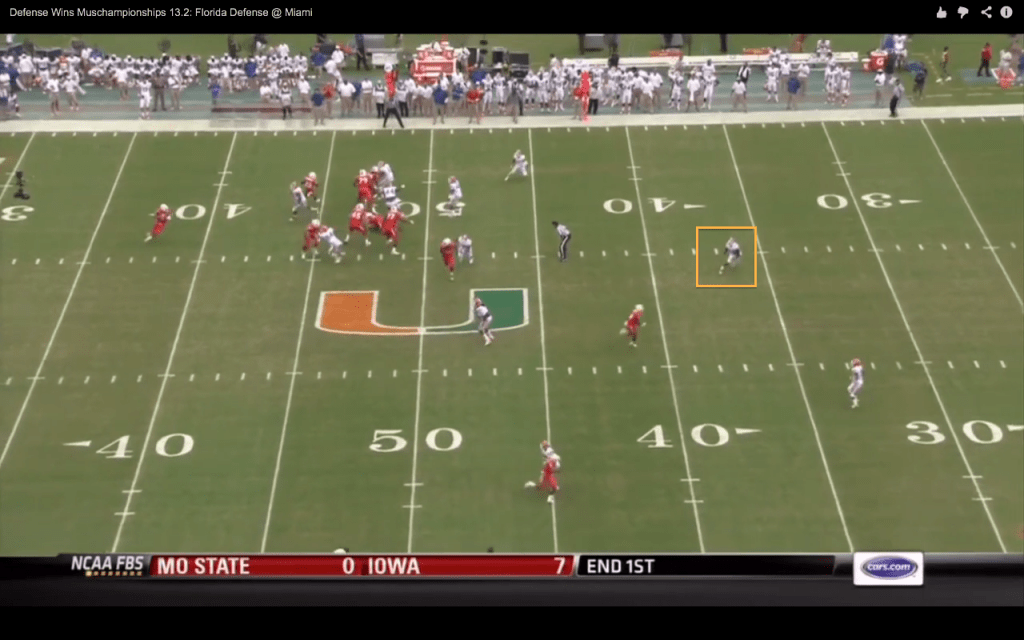 I know it may not look like much but Miami receiver Phillip Dorsett is running at him at pretty much full speed, so when Maye goes to turn his hips completely and run with Dorsett, he's already been beaten.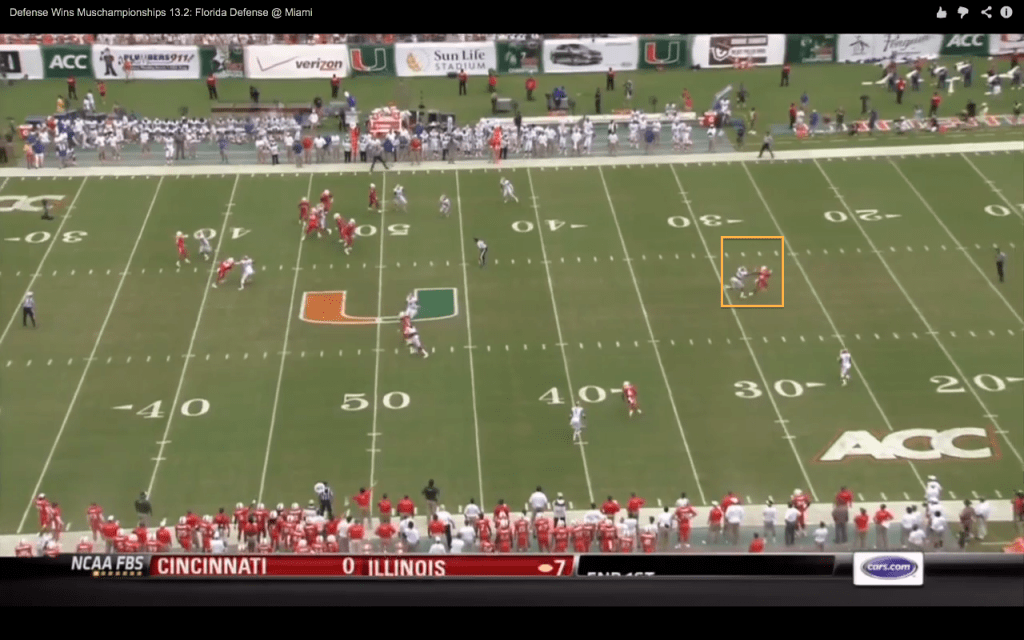 Dorsett isn't exactly one of the slower guys on Miami's roster and he has little resistance in getting separation and six points.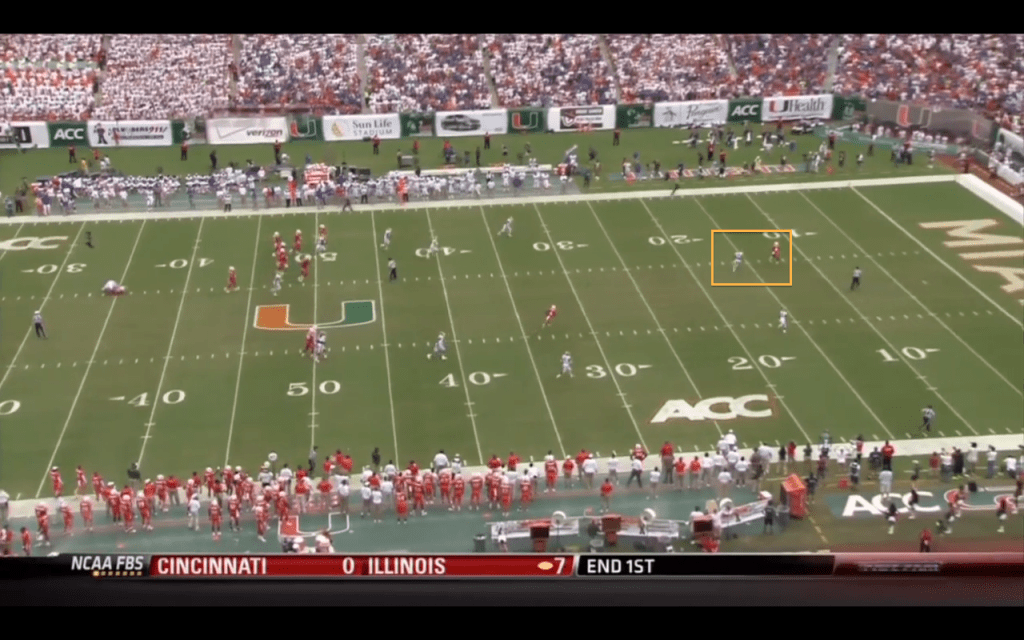 With a pass rush like Florida's, if Maye is able to have decent coverage on Dorsett it probably would have been a coverage sack, evidenced by the fact that quarterback Stephen Morris ended up on his back even though Dorsett was so open. If Morris has to hold it a bit longer, that play has a different result.
Series grade: D
The five plays up until that play were decent, the blown coverage is what cost them six points. Besides that, the Gators were OK on this series.
Fourth series: four plays -6 yards, 1:32
The best series so far and it's not even close. On second down Dominique Easley might as well have not been blocked, turning 2nd and 3 into 3rd and 6. Ronald Powell and Easley then draw holding penalties on consecutive plays thanks to the ferocity of their pass rush –Easley's was declined.
Series grade: A
The good of Dominique Easley was just enough to outweigh the bad of allowing Duke Johnson to gain seven yards on first down to begin the series.
Fifth series: two plays zero yards, :29
Another three and out, that might have only been a two and out if LB Michael Taylor doesn't let an interception that was telegraphed to him hit his hands and bounce into the air.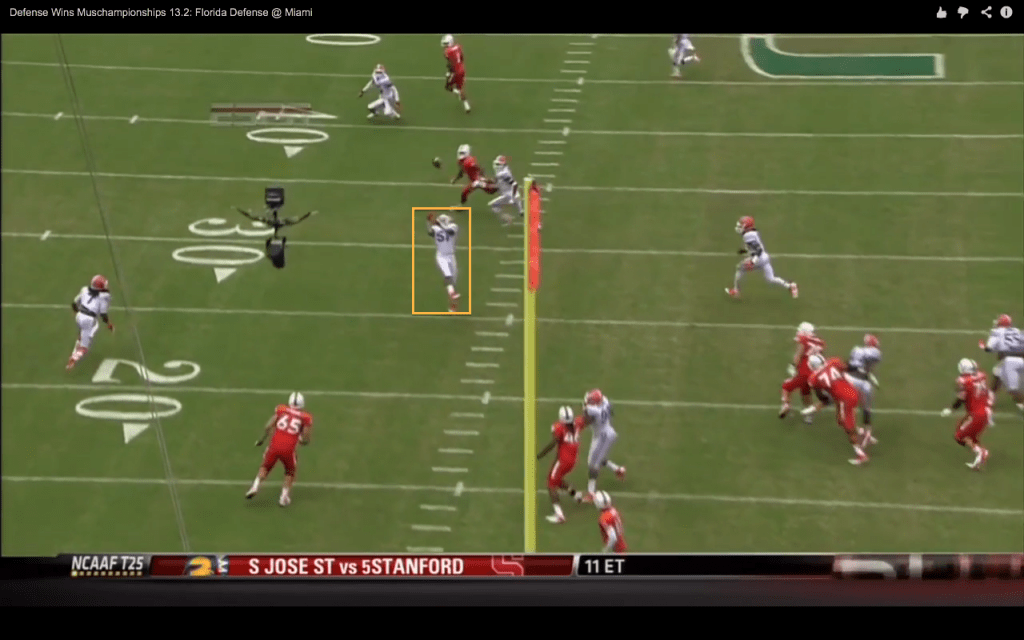 Same thing happened on the third play of the series when safety Cody Riggs drops a pick that had a bit more degree of difficulty to it.
Series grade: B-
I'm taking off for the dropped interceptions because it would be nice to have both of those to set Florida's offense up in a better situation instead of making the Florida offense drive 79 yards, which they were forced to do after Miami punted to them.
Overall 1st half grade: C. They closed the half strong, but in the first quarter gave up two touchdowns, one of which was fairly inexcusable.
Video screen shots from YouTube account Libgator