"I'm good, just taking it a day at a time," Loucheiz Purifoy said when asked how he's handling his two-way fame.
The legend of Loucheiz shot through the roof in Florida's game against South Carolina last season. On the first offensive play of the game, Purifoy blitzed from his corner spot on the left side of the defense. As Gamecock quarterback Connor Shaw sidestepped to evade the blitz, Purifoy reached around the front side of his body with his left arm, poked the ball out and set the tone for a 44-11 beat down in the Swamp. Less than a minute of game time later, Purifoy leveled return man Brandon Wilds and forced yet another fumble. After that, the legend only grew. Two weeks later, Purifoy blocked a 25 yard field goal attempt by Missouri's Andrew Bagget in the third quarter of that contest. The block held Missouri at seven points, the number they finished the game with. The next week the legend grew longer, with :13 left on the clock, Purifoy busted through the line of scrimmage and got a hand on a punt, sending the ball into the air and ultimately, into Jelani Jenkins outstretched arms. Purifoy lead a host of Gators who then escorted Jenkins into the end zone to seal a 27-20 victory.
His legend may have been at its most historic when the 6'1" cornerback from Pensacola became the first Florida player since 2003 to start a game on both offense and defense, when he began the Florida State game lined up in the running back position.
In the offseason, the legend of Loucheiz continues to gain fame. The hype machine began during spring practice, when news broke that Purifoy would be practicing on offense. He could also be seen fielding punt returns in one of Florida's open practices. The tale didn't stop growing when ESPN's Todd McShay released his top 32 draft prospects for 2014. Purifoy was slotted at number 19.
McShay's ratings and other preseason hype mostly revolve around physical attributes, but it is in the intangibles that Purifoy may have taken the biggest strides.
"Leadership wise, I've developed a lot. I'm talking more from last year when I didn't really have to do much talking. I'm kinda bringing the young guys along, teaching them what I know and what I'm learning," Purifoy said.
The intangibles are important, but nailing down his biggest technique issue is just as crucial.
"Finishing tackles, that's a big emphasis for me," Purifoy said. The emphasis could have paid off in Florida's matchup against Georgia last season. As illustrated by CBS's Gary Danielson, Josh Evans comes on a safety blitz: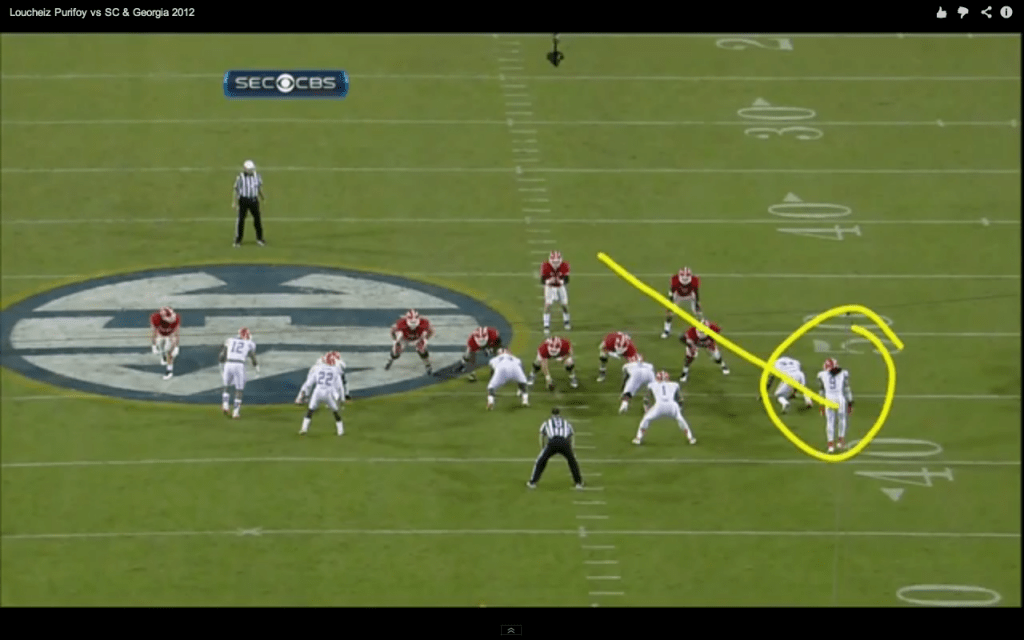 It leaves Purifoy on an island with his man, Georgia receiver Malcolm Mitchell. Purifoy – bottom of the screen – makes a haphazard attempt at a tackle, and Mitchell explodes into the open field thanks to the area vacated by the blitzing Evans, highlighted below in orange: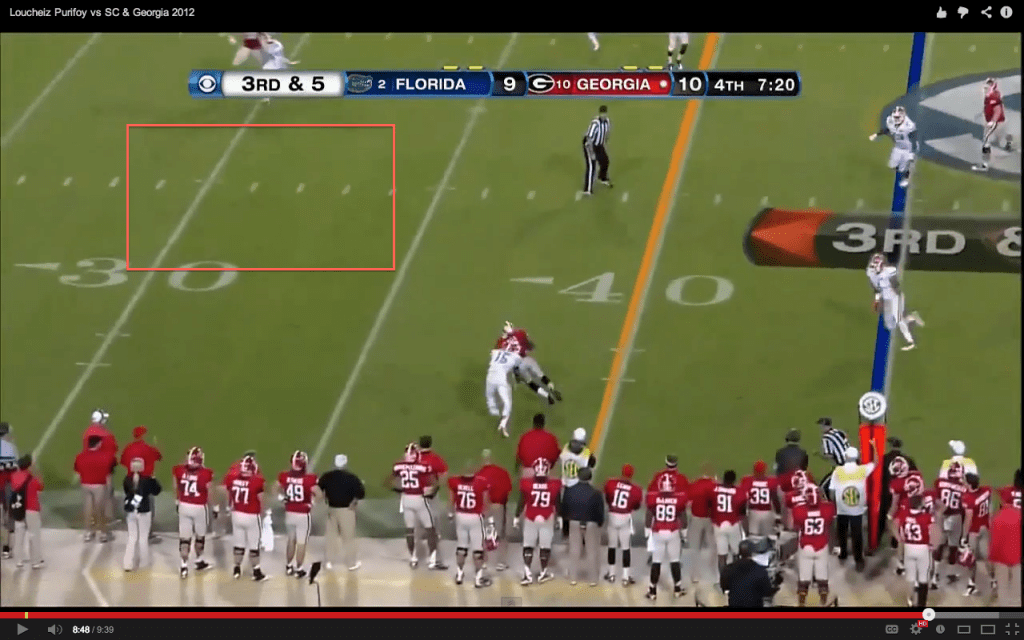 Mitchell scores and Georgia goes on to win. Needless to say, finishing tackles should be of paramount concern to Purifoy.
It will be interesting to see how Purifoy's focus on leadership and finishing plays will manifest during fall camp, but one thing is certain: August 31st, Purifoy will line up, in the very least at the CB spot, against Toledo and the legend of Loucheiz will begin to write itself once more.