I didn't want to write this article. As far as I can tell, this is the article no one wants to write, which is why it's an opportunity to do it. This is the case for Florida keeping Todd Grantham as defensive coordinator in 2021.
This is not some kind of pros and cons list that ends up recommending keeping Grantham on the staff. I was never on board with him in the first place. Upon his hiring, I wrote something with the title, "For Florida to be title-worthy, Todd Grantham must do best work of his career". That was my polite way of predicting that UF wouldn't win a national championship with Grantham on the staff.
But Dan Mullen apparently has decided to fire the two secondary coaches and keep his defensive coordinator, and I have to believe there's a reason for it beyond the simple fact that he and Grantham are friends (though I'm sure that's part of it). There must be, or else it's rank nepotism.
There's no two ways around it: Florida's defense was bad in 2020. The headline number is that the Gators allowed 30.8 points per game this year, though when you factor out Kyle Trask's four pick-sixes it drops to 28.5. That's still more than the 27.3 per game allowed in 2017 or 25.5 allowed in 2007 — neither of which have non-offensive scores taken out.
Three different quarterbacks posted their highest passing efficiencies of the regular season against Florida, and two of them were true freshmen: Arkansas's Feleipe Franks, Vandy's Ken Seals, and LSU's Max Johnson. Five posted one of their top-three results in ESPN's opponent-adjusted Total QBR metric. Ole Miss's Elijah Moore posted his highest yards per catch rate on the season by a margin of 5.4. Oklahoma's Rhamondre Stevenson ran for 10.3 yards per carry on the Gators; the only other team to allow him to go for more than 6.7 per carry was Kansas.
These are the kinds of stats I collected for the piece I thought I would be writing, that being the justification for not bringing Grantham back. So with all those things working against me, here is the best case I can manage for keeping Grantham around for next season. Not indefinitely, mind you, but just for 2021.
It was a messed up pandemic year
Offseason training was do-it-yourself for months. There was no spring practice. Players were being tested several times a week, some caught COVID, and some had to sit out due to contact tracing. There was a multiple-week disruption during the season. Some number of players undoubtedly were concerned about family and friends throughout, family and friends they couldn't see in-person while remaining able to play.
If there was ever a year to give someone you believe in a break, it's 2020. And as Mullen clearly believes in Grantham, there may be some of that going on.
There also is the fact that defenses across the country struggled on the whole. There were a few scattered exceptions, but they were exceptions. Plus, offense in the SEC specifically was up this year.
The number of points per team per game within conference play is the same scoring and allowing because it's a closed system. Any point scored by one team is a point allowed by another. So, I'm going to just discuss points per game in SEC play, and it applies both ways.
Offense has been on the way up in the SEC for a while. Points per game has been above 25 in the five consecutive seasons since 2016. It broke 25 just four times in the nine years of 2007-15.
Since 2007, points per game has been above 27 just three times: 2013, 2017, and 2020. This fall set a new record at 29.4, beating out 2013's 28.2 and 2017's 27.9. The 2013 season you may remember as the best top-to-bottom quarterback season maybe in league history; 2017 was a year with a high floor as only two teams scored no more than 21 points per game instead of the usual several. The 2020 season was of the latter variety with, again, only two teams at or below 21, and Florida missed playing one of them (Mississippi State).
UF allowed 28.6 points per game in SEC play in 2020, which is the whole season minus the bowl. That figure is not adjusted for non-offensive scores, as I'm going over historical stats here that aren't available without non-offensive scores. It's the most since 2007 when UF allowed 28.0 per game in SEC contests.
And yet, compared to the conference average points per game, 2020's is a better figure than 2007's. The SEC average in '07 was 26.8, so the Gators allowed 1.2 points per game above the league average. In 2020 the average was 29.4, so UF allowed 0.8 points per game below average.
When comparing to the SEC average points per game, the 2020 team was the fourth-worst Florida squad of the last 14 years. The 2017 (0.1 below), 2007 (1.2 above), and 2014 (1.4 above) teams were worse versus the SEC average.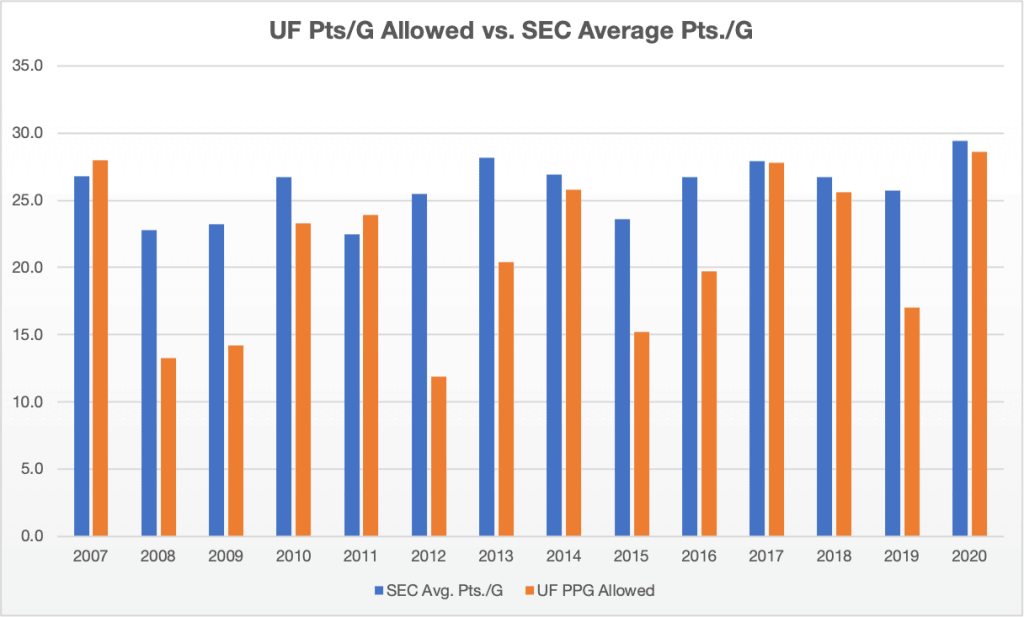 The 2020 team allowed too many points, and the raw numbers do look historically bad. But adjusting for what the SEC was this year, its rate of allowing points wasn't even one of the three worst of the last decade. Barely, but it wasn't. And it was seventh in the SEC, which is technically still the top half of the league. The 2007 (7th out of 12), 2011 (7th), 2014 (8th out of 14), and 2018 (8th) teams were by an equally slim margin in the bottom half of the conference.
They needed 2020 spring practice more than we thought
If you go back to March, you can find some dopes arguing that UF would be fine without a spring practice session. Boy, do those idiots look bad now.
UF's defense had a number of players switching to new positions, and they really could've used that time. Brad Stewart didn't look good at star until the SEC Championship Game. Mohamoud Diabate seemed lost at non-Buck linebacker early in the season before coming on strong late. Trey Dean apparently needed a while to prove he was one of the best safeties on the team. Rashad Torrence played the most among the early enrollees, and while he was mostly fine for a freshman, spring would've helped him make more of the snaps he got.
Jeawon Taylor joined Gator Country for an episode of the podcast back in October following the Texas A&M loss, and if you didn't listen to it at the time, it's still worth it now to go back to it. He talked about how tackling is a skill that requires practice and predicted (correctly) that the team's tackling would improve after three games of getting back into it. You could see with players whose season starts were delayed like Stewart and James Houston that their tackling was dreadful in their first outings but improved over the next two-to-three contests.
Further, Taylor addressed the obvious communication problems that plagued the defense. The linebackers set the front, and the safeties set the back. It's no secret that David Reese II was the leader of the defense through 2019, and as Andrew and Nick talked about, Taylor was a very intelligent player in the backfield. Their absences probably contributed immensely to the communication issues.
The front seven got better as the year went on, but the backfield never completely got things sorted out. Taylor's absence alone couldn't have been the root of the malfunctions, as he only played about half the snaps when healthy due to UF's four-man rotation. However this year there were newbies in Dean and Torrence playing back there. Stewart split time between safety and star too.
These kinds of disruptions cannot explain everything, and it's relevant that the two secondary position coaches who should've been teaching the players how to communicate were just fired. I can't help but think that some of these problems would've been ironed out in spring practice had it happened.
He might be able to do well enough
In my piece gently predicting no national titles for UF while Grantham is on the job, I discussed a formula originally created by Bill James that computes an expected win percentage given a team's points scored and allowed.
The 2020 team scored 478 points and allowed 370. The formula predicts a win percentage of .647, which across 12 games comes out to 7.77 wins. UF was an honest eight-win team, in other words.
You can use the formula to work backwards if you have a target win percentage and one of the point totals. So, I chose a win percentage of .917 — which is an 11-1 record across a 12-game regular season — and then played with the numbers to see how many points per game a team would have to score to get there given various levels of points allowed. I produced this chart: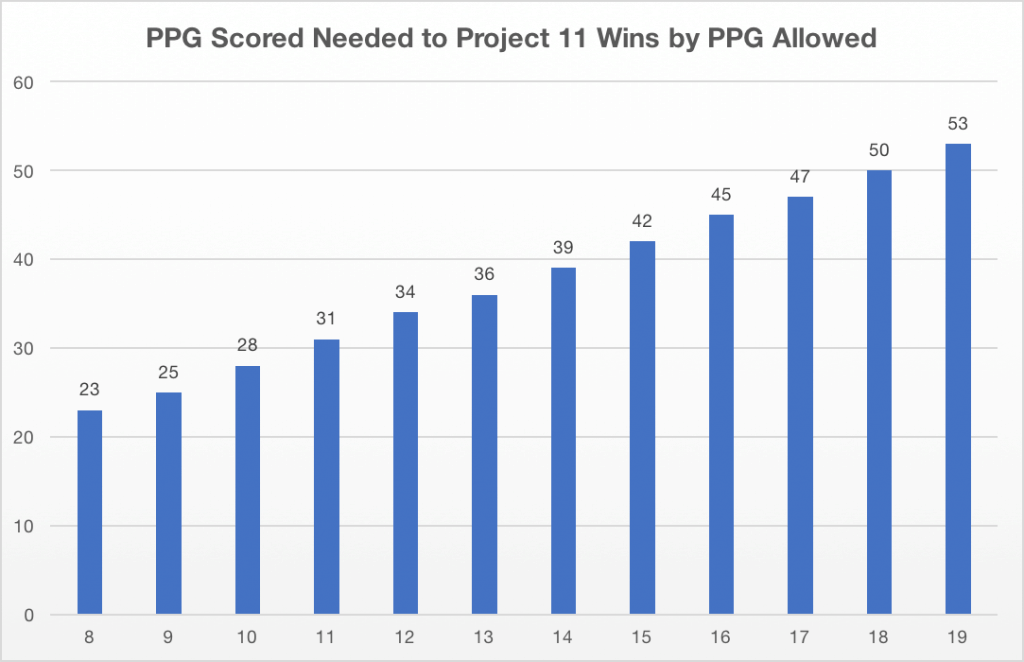 Points allowed is on the X-axis, and points scored are on the Y-axis. If a team only allows eight points per game, a stunning number by current standards, it only has to average 23 points per game scored to get a projected 11-1 record.
Since UF used the Cotton Bowl as a de facto early spring game, I'll focus on the 2020 regular season. Florida scored 458 points in 11 games, which comes out to 41.6 points per contest. Take a look at the chart, and you'll see you get an 11-1 projection with 42 points scored and 15 points allowed per game. As I said above, UF allowed 28.6 per game this year. Missed it by that much.
However, UF allowed 15.5 points per game just one year ago with largely the same players. The Gators did lose their best players at every level — Jonathan Greenard, Reese, and CJ Henderson — and that hurt worse than we thought. But if somehow you could combine the 2020 offense with the 2019 defense, you'd have an honest-to-goodness College Football Playoff contender. One that likely would've beaten Texas A&M and LSU and maybe given Alabama an even bigger run for its money.
Given a high level of offense that Mullen has now created on his own at Florida without Urban Meyer around, Grantham has produced a defense in Gainesville that is adequate to the task of making the team a legitimate national title contender. The two just need to sync up their best efforts.
It's almost all his guys now
Nearly the entire defense next year will be players recruited to Grantham's defense. Zachary Carter is a notable exception, but he's the kind of defensive end that every scheme needs. Basically everyone else it appears will be recruits or transfers from 2018 and on.
Are the Gators thin in some areas? Did some players who were expected to be versatile end up positionless tweeners? It's all on Grantham now. The results will unambiguously be on him and his vision and ability for building a defense.
He gets one last chance to prove himself
One could argue whether Gray and English were the only problems on the defensive staff, or indeed whether one or both was a problem at all. One is declaring that topic out of the scope of this already too-long piece.
But for a defensive coordinator that Mullen clearly likes and trusts, those firings function something like a lower level of when a head coach on the hot seat gets to fire one or more coordinators before losing his own job. English wasn't cutting it anymore? Gray turned out a bad fit? Okay, Todd, they're gone. Whiff twice in a row on those hires, and you're the problem, not the guys you hired.
How strong a case is this?
Honestly, it feels like a lot of excuses and damning with faint praise. "Actually, if you look at it the right way, it wasn't as bad as 2007" is not how you give a vote of confidence to a Florida defensive coordinator. I also don't know how to put odds on Grantham producing another 2019-level defense. Last year's UF gave up the fewest points a college team Grantham has worked for by a margin of 4.1 per game (second place: 2012 Georgia, 19.6 per game).
More than anything, none of these feel like affirmations that keeping Grantham is the way to meet The Gator Standard. Mullen's favorite talking point since his arrival is about striving for greatness, not muddling your way to good enough.
Alabama led the SEC in scoring defense in league play this year at 19.5 points allowed per game. It would've been a miraculous achievement for Florida to do what it did last year with 15.5 points per game allowed or equal the best of the defenses Charlie Strong ran for Meyer (13.3 per game in conference play in '08). Pronouncing this year's defense as not up to the Standard based on not adjusting for the season's particulars is simple-minded.
However, allowing a touchdown less per game, while not coming close to nominally equalling the best that recent Florida teams have achieved, would've put UF in nearly a dead-heat with Texas A&M for third in SEC play. It's still not the first or second place in conference play that a half-dozen UF teams have reached since '07, but we wouldn't be having this discussion if they'd gotten there. The Gator Standard wouldn't feel so far off.
So that's the best I could do. If you do the accounting correctly, hand out a bunch of benefits of the doubt, and ignore issues I didn't even address here like third down conversion rate allowed in losses, you maybe (or maybe not) can squint and see a reason for bringing Grantham back for another year. But it'll be a year squarely on the hot seat where every move he makes will be scrutinized, because if The Gator Standard is going to be anything more than an empty slogan, it has to be.