Last week I did a deep dive on how the distribution of pass catches worked for the Florida offense in 2019. Here I'm going to do the same thing for rushes. You can find my piece on this topic that followed up the 2018 season here.
Should be pretty easy, just put zeroes across the board and be done, am I right? Not so fast, glib Internet guy. The Gator run game wasn't pretty last year, but that doesn't mean there's nothing to learn.
I included the top three running backs and two quarterback slots this time around. Lamical Perine, Dameon Pierce, and Malik Davis appear in the former category, while the starting quarterback and Emory Jones appear in the latter.
I grouped Feleipe Franks and Kyle Trask together since they filled the same role in the offense, and I'll note only Franks is included in the Kentucky game below. Trask had only one carry against the Wildcats anyway. It should go without saying, but sacks are not included in the rushing totals.
I didn't include Kadarius Toney here because he had just 12 carries in seven games. I considered putting in the wide receivers as a whole because Dan Mullen supplemented the run game with some carries for his wideouts. However, the non-Toney receivers totaled 16 carries. That means they had fewer than 30 carries altogether, while Davis has the fewest of anyone I did include with 34. They didn't quite meet the threshold.
Carries
As I do in these pieces, I made a stacked bar chart for our five players.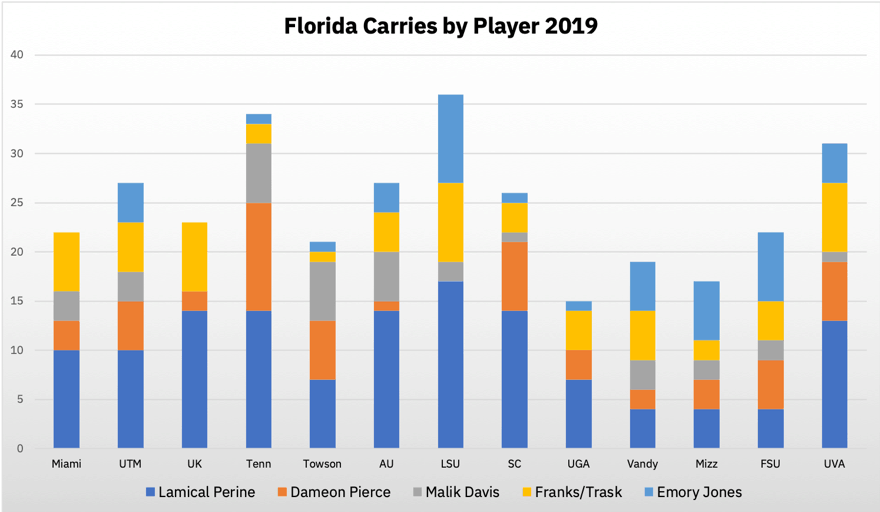 Florida ran 55 plays against Miami, 57 at Kentucky, and 60 against Towson. In the former two, UF doesn't have more carries showing because they just didn't get that many snaps off. In the last of those contests, wide receivers and reserve running backs got a combined eight carries, so the Gators ran a bit more than it looks on this chart. Dan Mullen still wanted to have a strong rushing component even as those bars aren't too high.
Where things really changed was after the off week that preceded the Georgia game. That's when the offense really changed to deemphasize the running game. On the graph, look at the heights below the yellow segment, which is where the quarterbacks take over.
Perine had ten carries in each of the first two games, and he had at least 14 in the first five games of SEC play. He had seven against UGA and four each against Vandy, Mizzou, and FSU. Pierce had three, two, three, and five carries respectively in the last four regular season games. Davis didn't get a carry against the Bulldogs and had three, two, and two in the contests after that.
The LSU game was really the first where UF tried incorporating the QB run to help the struggling rushing attack. Jones had nine carries, while Trask had eight. The running backs had just 52.8% of the carries charted here against the Tigers, easily the lowest of the pre-Georgia games.
And, after the backs got one last chance with two thirds of the runs against UGA, they were down at 47.4% against Vandy, 52.9% against Mizzou, and 50% against FSU. Even with Perine and Pierce having good bowl performances, the running backs' share of the carries logged here was smaller (64.5%) than any pre-UGA game save LSU.
Jones's work dropped over the next two games post-LSU, and the Georgia contest was another where a low number of plays run (52) worked against the Gators. In the final three regular season games, Jones was a regular contributor as you can see.
Trask didn't run a lot in his first two games as starter, though he didn't need to in a pair of comfortable wins. Still, four of his ten starts saw him with fewer non-sack carries than the lowest count of Franks's season (five, against UT-Martin).
I think the reason was less about him not being a willing runner, because he grew into one, but more that he just isn't as much of a running threat as Franks is. Franks has some wheels, especially once he gets to the open field. Trask, well, often has the element of surprise on his side when he takes off.
Yards
Here is the more dismal side of things.
There is no way to hide the fact that Florida's primary runners collectively failed to hit 100 yards in almost half of the team's games. They didn't even clear 60 yards in three of them.
It's hard to ignore the giant pillar that is the Orange Bowl. You can largely thank Perine for that. His 61-yard touchdown on the game's first rushing attempt set a tone that UF was going to have some kind of running success.
Now, he still did have 88% of his rushing yards on 31% of his carries. His explosive runs helped cover up his personal sub-40% success rate in the game. UVA keyed on him even as it wasn't able to stop him at times.
Trask, Pierce, and Jones did have success rates upwards of 50% though, and Pierce, despite a modest yardage total, moved the sticks four times in his six attempts. Plus, Trask topped six yards a pop and Jones managed an even eight.
There are a few glimmers here and there, though seemingly random long runs played a role in them too. Perine's 130 yards against Auburn are nice, but they were aided by a single 88-yard run. Pierce got 87 on just seven carries against South Carolina, but he had a 75-yarder in that one. Things get real ugly real fast once you factor those out to see what was more typical for the team on those days.
Summing it up
Here's a table for the five we've been looking at above.
| Player | Carries | Yards | Yards/Carry |
| --- | --- | --- | --- |
| Lamical Perine | 132 | 676 | 5.1 |
| Dameon Pierce | 54 | 305 | 5.6 |
| Malik Davis | 34 | 86 | 2.5 |
| Franks/Trask | 58 | 250 | 4.3 |
| Emory Jones | 42 | 256 | 6.1 |
Perine and Pierce end up with good, if unspectacular, yards per carry rates, but again, long runs skew the averages. Perine ended up with just two fewer carries than in 2018, but he had 150 fewer yards.
I didn't mean to downplay the rushing success in the Orange Bowl too much above. Perine had only one carry of 20+ yards all regular season, but he had three against Virginia. Pierce's long run against the Gamecocks was his only regular season rush of 20+ yards, but he had one in six carries against the Cavaliers (albeit in a run-out-the-clock drive to close the first half).
Granted UVA's defense was not close to full strength, but the banged up unit that was out there was still better than some of the defenses the Gators had faced in the regular season. And it was still Florida's best rushing result all year.
I don't put too much stock in bowl games because they don't necessarily mean anything. The iffy 2007 Florida defense looked downright bad in its bowl game, but the 2008 defense was literally national championship caliber. Given the late-season searching for an offensive line that actually worked and the positive results in Miami, I will cautiously grant some amount of credence to a better run attack in one game that maybe might mean something for next year.
No matter how you slice it, though, this was an awful season for the Florida rushing game. It really did get bad enough that Mullen really did abandon it by his general standards late in the year. Perine was one of the beating hearts of the team this year and he got four carries on Senior Day. In a 23-point blowout win. Again: on Senior Day.
Next year should get better if for no other reason than it'd be hard to get worse. There at least are some options on the line with players who were unprepared backups last season having another year's worth of experience. It doesn't appear that an offensive line grad transfer will materialize, but UF has recruited enough quality linemen in recent classes that there should be competition at most spots if the coaching staff has been doing things correctly. Even if returning starters hold down their jobs, at least we'll know they were pushed and are not retaining them by default.
UF will miss Perine, even if his general running effectiveness ebbed and flowed in lockstep with the quality of the line. He averaged 4.13 yards per carry in 2017, and absent his two 60+ yard runs, he averaged 4.05 in 2019. That said he was a real leader, excelled as a pass catcher as I covered in the companion piece to this one, and grew to become a terrific pass blocker.
Pierce is the clear top dog among the returners. He has yet to become as complete a player as Perine was, but sophomore Perine wasn't as complete a player as junior or senior Perine was. We know he can be an effective rusher when not getting hit three yards in the backfield. This spring, look for reports about his blocking and pass catching to really gauge his progress.
Davis was better in 2017 than he's been in the seasons since, and injury certainly played a role in that. The talent was there at one point, and he seemed physically fine this year. If he can avoid putting the ball on the ground as he did in the opener against Miami, he would do himself a favor.
Among the other returning players, I am not really sure what to make of them. Iverson Clement most obviously gives the pass catching dimension, but he only had three rushes last year. In each case, it was like Mullen gave him a perfunctory carry before putting Nay'Quan Wright in. Clement had one run each against UT-Martin, Towson, and Vandy. After Clement's single carry in those contests, Wright had seven, two, and three, respectively.
The X-factor is Miami transfer Lorenzo Lingard. He has to get an NCAA waiver to play this year, so it's not guaranteed he will even be eligible. If he is, it's hard to know what to expect. He lost the end of his 2018 season to a bad knee injury, and he redshirted in 2019 because it just wasn't right yet. It sounds to me a lot like how Davis looked tentative in 2018 on his previously injured knee before he broke his foot.
Pierce could be the bell cow, and he's similar in size and dimensions to prior Mullen bell cow Vick Ballard. He could split things about 50-50 with Lingard if the latter can play right away. Lingard could even take over as primary if he lives up to his 5-star recruiting rank.
No matter how it shakes out, I think Jones's role is here to stay. He played a bigger part down the stretch, and it'll be tough to put that genie back in the bottle. He had no carries of 20+ yards against FBS opponents, but he rarely gets stuffed. He had the best yards per carry rate of anyone noted in this piece despite not having a lot of long runs. Trask will probably continue to get a few carries here and there, and that's fine. He only needs to do it often enough to keep defenses honest.
Really though, it all comes down to the blocking. The line does need to get better, but so do the tight ends. They were just as lost early in the season as the line was, though Kyle Pitts did noticeably improve over time. Keon Zipperer is the next one up in the Pitts mold, but I wonder if we'll see 2020 signee Jonathan Odom a fair amount in the second half of the season. He's a more traditional in-line blocker, and he can realize his physical upside with Nick Savage's help.
The ball carriers will be there. They just need people to reliably pave the way for them.