One question I returned to several times during the 2019 offseason was how Florida was going to distribute the ball to its large number of good passing targets.
There were going to be four senior and two junior wide receivers, all of whom had played big snaps in big games before. There were the up-and-comers in Kyle Pitts and Jacob Copeland, plus a good option out of the backfield in Lamical Perine. That's a lot of mouths to feed in an offense that likes to run more than half the time.
The solution turned out fairly simple: the team couldn't run a lick except for a few explosive plays here and there, so the Gators increasingly turned to the pass. That, and Kadarius Toney was out for six games and slowly worked his way back into the flow once able to play, reducing the number of targets needing fed by one for a lot of the year.
As I did after 2018, I broke down the receiving game-by-game and made some charts for targets, catches, and yards to see how things flowed through the season. Let's dive in.
Targets
To keep consistency with a year ago, I lumped all running backs and all tight ends together. The former is mostly but not entirely Perine. The latter is even more largely Pitts, as Lucas Krull, Keon Zipperer, and Dante Lang combined for 11 total targets by the figures I have.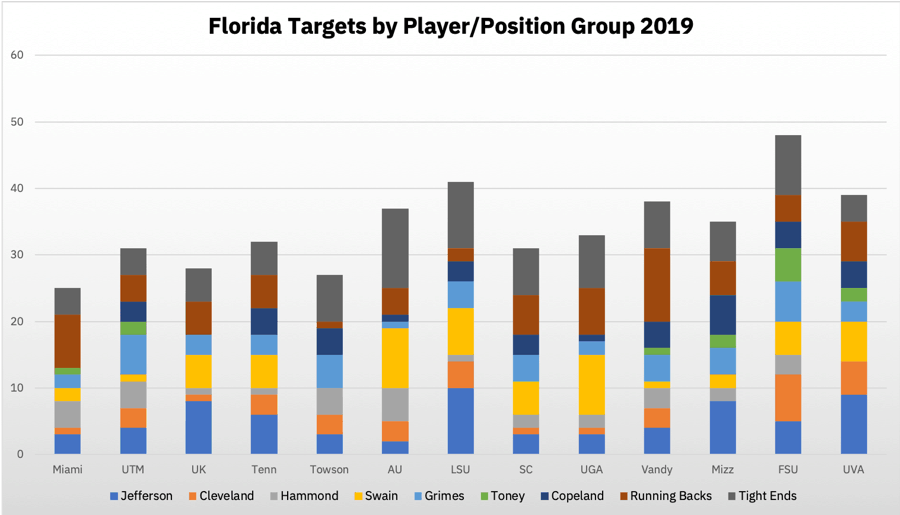 Despite the overall balance, three targets stand out above the rest: tight ends (88 total) followed by a tie between Van Jefferson and the running backs (68 each). Pitts emerged as Kyle Trask's favorite target, and Jefferson's superior route running skills made him a close second. Perine's ability to factor in the pass game made him an enticing target for helping punish overzealous pass rushes.
The next-highest count after them was Freddie Swain at 57, despite his six combined targets in five specific games (Miami, UT-Martin, Towson, Vandy, Missouri). He was a frequent target against the two toughest defenses the team faced all year in Auburn and Georgia.
Trevon Grimes came next with 47 targets, while Jacob Copeland (37), Tyrie Cleveland (35), and Josh Hammond (32) all finished in the 30s. It looks off to see Copeland with more targets than two of the seniors, but he was the prime target at the ends of blowouts early on. More than a quarter of his season-long targets came in the second halves of blowout wins over the Tennessee and the FCS opponents.
The thing that made it all work in the end was the camaraderie and unselfishness of the players in question. Hammond wasn't even targeted in his final game in the Orange Bowl, and you've never heard a complaint about it. That's emblematic of the way they all were willing to take turns and not pout when they had a quiet game.
Catches
Here is the same chart, except for catches.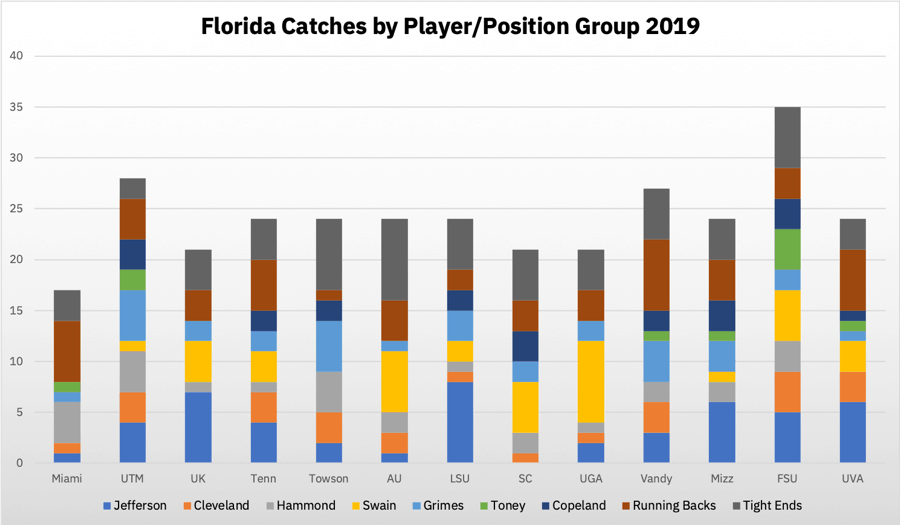 If the dark gray bar at the top for tight ends stands out to you, there's a reason for that. Pitts not only was the Gators' leader with 54 receptions, but his fewest in any game was two (UT-Martin). The only others to go the whole season with a catch in every game were Grimes and Perine, but Perine had one and Grimes had three games in which they had a single reception.
The tight ends led the way in catches with 60 combined (three each for Lucas Krull and Keon Zipperer to go with Pitts's 54), followed by the running backs at 51 and Jefferson at 49. No surprise there that the most-targeted players had the most catches.
The one place the relationship between targets and catches breaks down is in the lower tier I mentioned above. Copeland had more targets than either Hammond or Cleveland did, but he had 21 receptions compared to 25 for Cleveland and 27 for Hammond.
You can guess what that means in terms of catch percentage. The sure-handed Hammond led everyone here with a catch rate of 84.4%. Cleveland was right along with most everyone else in the 70s at 71.4%. Copeland rated the lowest of all at 56.8%. SEC Stat Cat has Copeland with four drops, and there were a couple times where he clearly ran the wrong route. Give him six catches instead and he's right around 73% with most of the rest of his peers.
Something else SEC Stat Cat has is what its evaluator(s) deemed uncatchable targets, and it has Copeland with eight. Deduct those from his targets and he caught 21-of-29, which comes out to 72.4%. His catch rate does need to come up, but hanging on to the ball and getting more catchable balls from the quarterbacks will take care of most of it.
Swain was actually the next-lowest in catch rate at 66.7%. He had only one drop and he didn't often if ever run bad routes, so that was more on the quarterback and kinds of routes he ran. As a slot guy running into traffic a lot, a noticeable amount of the passes his way were deflected. He also had some routes disrupted by defenders getting in his way. His uncatchable ball rate was second to Copeland among everyone here, so that hurt him too. I wouldn't retroactively get down on him for the catch rate, and again, he came up big as you can see against Auburn and Georgia.
Yards
Finally, here's the chart with yards.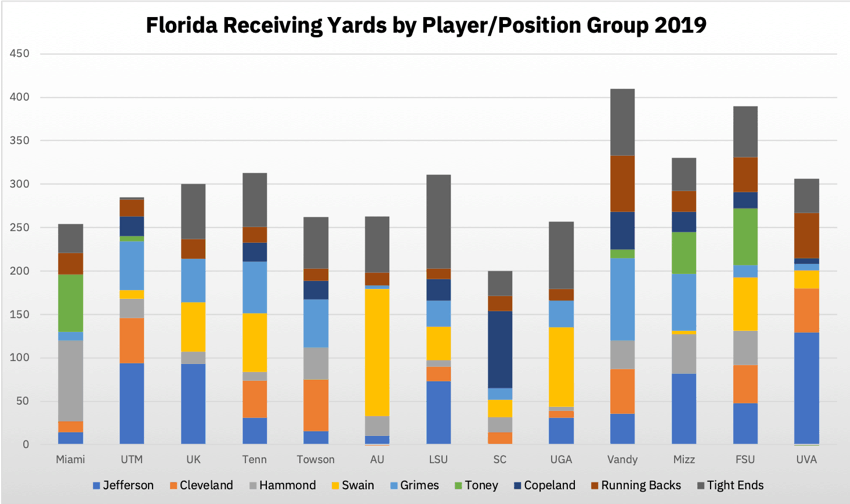 Maybe it's the yellow, but Swain against Auburn really jumps out at me. So does the fact that so many games had two or three guys getting most of the yards.
Hammond and Toney against Miami. Swain and Pitts against Auburn. Jefferson and Pitts against LSU. Swain and Pitts again versus Georgia. Jefferson and Grimes against Missouri. Jefferson, Cleveland, and the running backs (read: Perine) against Virginia. Only Copeland against South Carolina really jumps out as the closest thing the Gators had to a one-man show in receiving in 2019, and he was overall one of the minor players of this bunch. You really can't have too many good targets.
Vandy and Virginia aside, the running backs really didn't make much of an impact in terms of yardage. That's remarkable to say considering the running backs as a group were second in both targets and catches. Dan Mullen went to that well a lot despite it not generally moving the ball that much.
The reason is what I alluded to above. Throwing to the running back forces someone who could be rushing the passer to have to cover the running back in pass coverage instead. It doesn't matter on any given play whether the ball goes to the back; he just has to be a credible threat to have a ball thrown his way. Perine had that credibility as a frequent target, so that edge rusher or linebacker had to respect him when he slipped out of the backfield.
Perine was also good enough to require attention when lined up out wide, and Mullen loves to do that so he can have empty sets without needing to substitute. Perine had something of a signature play in that situation with the tunnel screen, but regardless, he had to occupy someone's full attention. I'm not sure Dameon Pierce or any other running backs on the roster do in the same way, so it'll be a little bit harder on the offense in 2020 without Perine in a not-too-visible way.
The balance largely remained even in yards. Only Toney failed to hit the 200-yard mark, and he was out for six games. Only Copeland, as the youngest of the wide receivers, didn't get to 300 yards. The chart confirms your suspicion that it really was balanced overall with different guys taking turns starring in different games.
Summing it up
Here is a table putting all the numbers in one place.
| Player | Targets | Catches | Yards | Catch Pct. | Yards/Target | Yards/Catch | Targets/G |
| --- | --- | --- | --- | --- | --- | --- | --- |
| Tight Ends | 88 | 60 | 713 | 68.2% | 8.1 | 11.9 | 6.8 |
| Van Jefferson | 68 | 49 | 657 | 72.1% | 9.7 | 13.4 | 5.2 |
| Running Backs | 68 | 51 | 337 | 75.0% | 5.0 | 6.6 | 5.2 |
| Freddie Swain | 57 | 38 | 517 | 66.7% | 9.1 | 13.6 | 4.8 |
| Trevon Grimes | 47 | 33 | 491 | 70.2% | 10.4 | 14.9 | 3.6 |
| Jacob Copeland | 37 | 21 | 273 | 56.8% | 7.4 | 13.0 | 3.1 |
| Tyrie Cleveland | 35 | 25 | 351 | 71.4% | 10.0 | 14.0 | 2.7 |
| Josh Hammond | 32 | 27 | 346 | 84.4% | 10.8 | 12.8 | 2.5 |
| Kadarius Toney | 13 | 10 | 194 | 76.9% | 14.9 | 19.4 | 1.9 |
If you found yourself browsing around the SEC Stat Cat site and noticed its numbers don't match these, it's because they have more credited targets than I do. Disagreements on targets is not uncommon.
Anyway, a big change over this chart from last year is the catch rates being way up. Feleipe Franks completed 58.4% of his throws in 2018, but in 2019 he connected on 76.1% in limited action and Trask completed 66.9%. If the throws are more accurate, the catch rates will rise. Only the running backs, targets of generally short and safe throws, and the sure-handed Hammond were above 70% last year. This year, almost everyone was.
I am curious to see what happens in 2020. There is a clear top three of returning wide receivers in Grimes, Toney, and Copeland, and Pitts easily could lead the team in targets and catches again. If Toney stays healthy, I want to see how much he does with routes and traditional receiver stuff in addition to taking screens and handoffs and using his elusiveness to try to break big gains. This will be his fourth year as a receiver, the second under a highly regarded developer in Billy Gonzales. If he has the full receiver toolset in him, we should start to see it this year.
After those four, it's a complete crapshoot. I've seen Texas transfer receiver Jordan Pouncey called a "grad transfer" by several media outlets, but Mullen has also said he has to get a waiver to play right away. He did little at Texas, albeit behind some talented veterans, but some younger guys passed him up in productivity last fall. I'm not sure how much the Gators can get out of him if he is able to play.
Also a big question mark is redshirt senior Rick Wells. He came in with the 2016 class that included 2019's four seniors, but he's been in and out of the doghouse ever since coming to Gainesville. He was arrested in the BB gun incident in 2016 that also included Cleveland, was part of the 2017 credit card scandal, was part of the 2018 Airsoft gun affair, and was suspended for the 2019 opener for undisclosed reasons. I have no idea what to expect from him.
Beyond that, it's all about projecting young guys. Zipperer looked good in spot duty, but in the end he finished the season with just three catches (all against Towson). The three redshirt freshmen receivers of Ja'Markis Weston, Dionte Marks, and Trent Whittemore have received glowing praise from Hammond and Marco Wilson, but Weston's single target without a catch was the only receiving stat any of them generated last year.
For that reason, it's impossible to count out the 2020 receiver crop. Only Jaquavion Fraziars has faxed in an NLI, but Xzavier Henderson is a solid verbal and real candidate to play right away. Leonard Manuel plans to sign in April, which looks like a sign of academic risk. UF is also in play for Justin Shorter, a former 5-star recruit who's leaving Penn State after injury robbed him of about one-and-a-half of his two seasons there.
Nothing guarantees that Mullen will keep spreading the ball around to a half dozen or more guys. In his final season as Florida's OC, two players had more than 50 receptions with no others above 25. In 2015, Dak Prescott's senior year and Mullen's most pass-heavy season prior to 2019, two players had 60 or more catches and no others had more than 33.
It's not hard to imagine a situation where, say, Pitts and Grimes end up dominating the receiving charts with a second tier of Toney, Copeland, and one or two others. I could also see Pitts way out ahead with the top three receivers the next tier.
Perhaps the biggest question is who, if anyone, will step up as the top receiver out of the backfield. Pierce has been okay but never has looked as comfortable as Perine. Maybe this spring will see him gain that fluidity as a receiver. Maybe it'll be Toney, doing even more as a Percy-type player. Maybe it'll be Iverson Clement, who's waited his turn patiently for a couple of years and appears more versatile than some others in the running back room.
The distribution of pass catches will be one of the most compelling things to watch in spring practice. We know what the top line of the depth chart at tight end and receiver will say. Beyond that line, it's an open competition. Mullen loves competition, so plenty of guys will have their chances to impress and battle for targets in 2020.