by David Parker
Thoughts of the Week – UTM Week
Wasn't that nice? Rolling an early-season cupcake with little effort and nothing really shown to our future tough opponents. Even a shutout, for good measure. Felt just like old times. Of course, the first half felt more like recent times, but just look around the country: many big name Power 5 teams had that sort of first quarter and change Saturday, and then never got better. Some even got worse in the second half. Some even lost. I'll take the win, blemishes and all. 
We Are What We (Should Have) Thought We Were
You know where I'm going with this. You were in the game thread, or in the stadium, or in the sports bar, and you heard the complaints. Maybe you were in your living room and maybe thinking the same thing. At the end of the first quarter, so many Gator fans were proclaiming that we should have been ahead 20-0. Maybe 30-0. Maybe more. We should be such a better team than we are.  
But…why should we be?
This isn't the 1996 or even 2007 Gator team. This is a team with some big road blocks to scoring a lot of points: offensive line and tight end blocking; WR routes and separation; quarterback is a work in progress. That's who we are in Year 2. We can't jump in a time hot tub machine and flash forward to when Dan Mullen has built up quality depth on the offensive line and tight end. This is who and what we are in Year 2 of the biggest rebuild of the Florida program since 1980. Nearly 40 years ago. 
Are we an unfinished product? Of course we are. Any expectations that we would be a playoff-ready team when the 2019 season started was as unrealistic as can be. But we have three games to keep developing and keep improving until the SEC power gauntlet begins. And the path to that gauntlet keeps looking smoother and smoother. Our first SEC opponent, Kentucky, just lost their starting quarterback for the year – the player who was perhaps the most responsible for the Wildcats beating Florida last year. And their backup is a transfer who has only been with the team for a short time. The only other SEC team between now and the mid-season meat grinder in our schedule – Tennessee – proved that getting dominated by a 2-10, 10th-year program from the Sun Belt Conference in Week 1 was not a fluke. They actually managed to look worse Saturday against BYU. Because they didn't just get beat; they looked like fools, giving up an impossible play with virtually no time left to set up the overtime win. Then they lost the game in overtime because their entire defense, united in a scrum-wall trying to deny a BYU winning touchdown, was overpowered and shoved 5 yards backwards on their butts into the end zone. For a second-straight week, they were physically manhandled by a team from outside the Power 5. 
So no, we are not in any sort of SEC catbird seat, ready to kick down the door to Atlanta, let alone the playoffs. But yes, we are right on schedule as a rebuilding program, and more specific to 2019, as a team that can compete with and beat the top tier SEC teams by the end, and maybe the middle of the season.  
And we are a lot better than we should be right now, and certainly better than many fans are giving us credit for. In the preseason and especially during Week 0 game week, I was pretty vocal about not understanding why so many people thought Miami was going to be such a good team this year. We struggled mightily against them because we gave them the ball 4 times, took a ton of our own points off the field, extended a bunch of their drives with dumb penalties (and bad ref calls), missed about 100 tackles and in general played completely out of control and way too hyped up on goofballs. 
If we played in Week 0 as disciplined and under control as we did Saturday, we would have destroyed Miami. They do have a good defense. Maybe a top tier SEC-level defense in the front 7. But that's it. With a second loss, this time to dusted-off coaching relic Mack Brown and North Carolina, Diaz looks like the Muschamp of South Beach: a defensive coordinator who only has his defense ready to play and doesn't manage the program very well. Mack Brown, on the other hand, is one of only 5 active coaches with a national championship on their head coaching resume. And Les Miles is one of those 5, and I'm not sure you can call what he is doing at Kansas "active coaching". It takes a special kind of coach to bring a program to that extra level to win a national championship. Mullen has two of those rings on his finger, but as a coordinator. We will see in the next season or two if he is that kind of head coach. For now, we appear right on schedule. A schedule that does not include being a finished product by Game 2, let alone any kind of world-beater.
Franks-ly Speaking
Just going to throw a few stats out there on Feleipe Franks's performance Saturday. He completed his first 15 passes of the day, a streak that was only broken because he was asked to throw up a Hail Mary just to test the waters on the last play of the first half. That was the longest streak to begin a game in Gator history. It was also the second-longest completion streak in one game in Gator history (Chris Leak had 17 against Wyoming in 2005), and the third-longest overall in Gator history (Steve Spurrier had 16, but that was split into 9 at the end of one game and 7 to begin the next game in 1966). Only 27 times this year has a quarterback thrown for 25+ completions, 250+ yards, 2+ touchdowns and no interceptions, as Franks did. Franks's 92.6% completion percentage (25 of 27) was by far the highest of the group that included the much-heralded feats of Joe Burrow vs Georgia Southern and Tua Tagovailoa against Duke. And yet, some fans are still criticizing him. 
But I put the question to Gator Nation: isn't this the Felipe Franks that we want? We want the guy who can lead the team down the field, who can drive us to victory with his arm or his legs – preferably both. The guy who will make some mistakes like all quarterbacks, but unlike most, immediately atone for them and not let them bring his attitude or his game down. We should not limit our expectations of Franks based on the fears of the mistakes of a quarterback who no longer exists. And that quarterback that no longer exists is the Feleipe Franks of 2017. It's kind of a microcosm of how Gator fans, or at least a large cohort of them, just cannot stop being afraid of everything and everyone on our schedule, on the recruiting trail, you name it. No matter how bad an upcoming opponent is or looks, this cohort of Gators can't stop talking about how scared they are that the pathetic Tennessee team, or the undermanned Kentucky team that just lost its quarterback, or any other team that is in some in semblance of complete and utter misery, has a great chance of tearing us to pieces. Clearly the PTSD from the Muschamp in McElwain eras is real, and it is powerful. 
But Gator friends, heed this call: it is time to let go of all of that. Stop letting it control your life and limit your happiness. The same goes for Franks. He just had one of the best games in Florida football history, and it doesn't matter that it was against a cupcake, because Danny Wuerffel, Rex Grossman, Chris leak, Terry Dean, Kerwin Bell, Steve Spurrier, Tim Tebow, John Reaves and every other Gator quarterback in history have all played a ton of cupcake opponents, and Saturday's game by Franks stands out as a superlative among them. So enjoy it. Savor it. Revel in it. Don't deny yourself the enjoyment of success because of some irrational fear that we are going to lose some game in the future. 
It's not irrational because we won't lose any future games…it's irrational because we ARE going to lose future games. Of *course* we're going to lose future games. Everyone always does; everyone always will. So remember that worry is like interest paid in advance on a debt that never comes due. Ruining your happiness today by worrying about a possible loss in the future…which, by the way, might not come anywhere near as soon as you think…just gives the team that eventually beats us more power, and gives their fans more to gloat about. Why would anybody want to do that?
As for Feleipe's performance, the best thing I saw Saturday night was that he was extremely relaxed. For maybe the first time, the role of experienced, capable leader at quarterback appeared to fit him comfortably. He clearly had a few instructional conversations with his position coach about keeping the theatrics and histrionics in the locker room, and not on the sidelines or the field. If he maintains that emotional control, this is the Feleipe Franks we want and need. It's time we all let him be it. 
Offensive Line Play or Offensive Line Play?
When trying to evaluate the offensive line in this game, I did not focus on just the results in terms of yards, running lanes created, etc. At the end of a season, the aggregate results are all that matter, but they still don't tell the whole story of whether a team or unit has improved, regressed or remained static. So, yes, the offensive line had poor results in run blocking in the first half. Given the opponent, one could say extremely poor. However, watching the linemen individually, it did not seem to be a problem with technique, communication or the worst plague of the Florida Hevesy for a decade before Dan Mullen and OL Coach John Hevesy arrived: not knowing what their assignments are. The latter is not just an obstacle to success; it can get your quarterback or running back knocked out of the box (and did lead to multiple Gator quarterbacks getting injured in that aforementioned decade). 
There are much better men and women than me to evaluate technique, but I saw sound technique for the most part all night. What I did not see in the first half was power and energy. It looked like the players were focused on doing their jobs, but not in dominating their guy. They did not get push, did not get off the ball quickly and did not maul their matchups as is expected against lower level program athletes. This isn't exactly surprising. They are learning on the job. They are developing in the concepts Hevesy is teaching them. At that juncture of development, power and fury is often missing because focus is on academic aspects of the job. 
We see this in skill players a lot, and we say they are not being decisive enough because they are thinking too much. Everything they do is deliberate and hesitant. Once they learn their role, the scheme, their options, etc., in every scenario well enough, the cerebral part becomes second nature and they go to the next level and can be more instinctive and play much faster. Well, linemen have to think more than anyone else on the field outside of the quarterback. Sometimes more, depending on the scheme and how far along the quarterback is. So it isn't a surprise that a young offensive line comes out and fails to get push at the line, fails to get to the second level, etc. Whereas skill players can't play fast when they're thinking too much, linemen can't play strong. 
I remember when Gator legend defensive end Kevin Carter was asked about taking plays off, and he explained that sometimes he was working out calculus problems or chemistry formulae in his head for a test he just took, or an upcoming project, out on the field, during the game. He was an underclassman at the time, so he was still at a thinking level of development with his football assignments…you can imagine how much more distracting it was for him to also be thinking about his classroom assignments. So he wasn't taking plays off because of lack of effort or because his give-a-darn was flagging; he was just thinking way too much on the field. If a defensive lineman has this sort of lapse, a ball carrier might get loose or a pass might get thrown past him, but he's at least got half a dozen guys or more behind him to make a stop. If an offensive lineman has this sort of lapse, a play gets blown up, a drive gets stalled, and sometimes a running back or quarterback gets a guest appearance on "M*A*S*H*" or "E.R." (depending on your generation). To that end, part of the hesitant running by Lemical Perine in the first half had to do with having to dance around the backs of his linemen that were getting pushed back into his lap. 
My observations seem to have been supported when the team came out of the locker room and the offensive line started to play with a lot more physical power and fire. They started to get push, they started to move people. And by no coincidence, Perine started running with a lot more authority, and hitting holes with more power and speed. It's hard to hit the hole that way when there is no hole to hit. I said in the game thread that I expected the offensive line to come out of the locker room a few pounds lighter after halftime because the coaches were going to chew off a goodly sized chunk of their hind quarters, and I think that's just what happened. I think they were reminded that they have to play with power, that they have to exert that strain that Dan loves to invoke.
Conditional Performance
Halftime adjustments may be part of it. Familiarity with the opponents through repetition might contribute. It may be due to myriad influences, but I think there is one main reason the Gators have played so much better in the second half of their first two games, while their opponents have faded. Conditioning. 
It jumps off the page even more when we compare to the three years under the previous Strength & Conditioning staff, especially in Year 3, when the impact of the so-called "program" of conditioning was so deeply seated and so clearly evident. When week after week the Gators would play an SEC foe close, and then slowly lose speed and power in the second half and lose. Such a breakdown is what led a close opener against Michigan to become a blowout (and the S&C gap was so wide that it would've been a blowout much earlier, if not for some great plays by defensive stars for the Gators staking us to points we had no business getting). Such breakdowns against LSU (1-point loss) and Texas A&M (2-point come-from-ahead loss) are what led to the pressure cooker that prompted Jim McElwain to in essence fire himself. 
We have seen these second half physical disintegrations a lot this year, too, but not with the Gators. We've seen them with two of our arch rivals, FSU and Tennessee, which have both had seemingly insurmountable leads evaporate in the second half of games because their athletic advantages over terribly overmatched opponents went straight down the toilet due to a horrible lack of conditioning. They were one missed PAT away from going 0-3 in those three games between them. Scott Frost, for whom many Gator fans still sit at their window, staring into the distance pining, saw the same lack of conditioning blow a very comfortable lead to an awful Colorado team Saturday, giving them yet another ugly loss in his young tenure. 
This is an X-factor that not only can distinguish Florida from other recent Gator teams, but can also distinguish them from some future opponents. Opponents like Tennessee and FSU are not going to be able to just "condition-up" between now and when we play them. They're locked in for the season. It doesn't matter how early in the week Willie Taggart starts handing out water bottles. Strength and conditioning are built each year in the 8 months between football seasons. And FSU and Tennessee have been coasting under the same S&C programs for two-straight off-seasons. Like the Gators in Year 3 of McElwain's tenure, these two football teams are showing every week just how out of shape they are. Now, S&C is alive and well in the SEC, so Florida may still in fact be behind some of their future SEC opponents this year, but not by much anymore. They are close enough that it likely won't be a deciding factor against us in any game. 
What's more, our conditioning is fit well to our schemes. What does that mean? Did you see the LSU-Texas game Saturday? LSU is running a new up-tempo offense this year, and it was clear in the second half of their game that at some point in the 3rd quarter, they out-tempo'd their conditioning. Heck, they lapped it. Twice. The vaunted LSU defense had trouble slowing down Texas all night, but in the second half, they were flailing badly, barely able to offer much more resistance than if the Longhorns were operating against humid air. That's the risk you run with an up-tempo offense: whether they end in scores or punts, offensive possessions end quickly, cutting a defense's rest between series significantly. When you add in another up-tempo offense on the other side of the field, you've got a fully gassed defense with a lot of football left to play. 
Much has been made about how the wide offense/defense discrepancy in the Big 12 is due to a stark imbalance in which side of the ball the best athletes and players are recruited to play (and with good reason), but there is also a conditioning element in play here. Big 12 defenses are not well enough conditioned to keep their wind up for 60 minutes of fast-break offenses on both sides of the field. And maybe it's not possible to be that well conditioned. But when we play LSU, this nuance may have an impact on the outcome: which defense is better conditioned to keep playing stout in the 4th quarter? Florida helps both sides get some rest because they do everything on offense at a snail's pace. But if they turn the ball over 4 times in one game, like they did against Miami, it's as if they have a fast-break offense minus the points scored. And still, even at a large time of possession disadvantage, Florida's defense was out there playing much faster and stronger than Miami's offense (or defense) in the 4th quarter. 
Chomps from the GC Staff & Columnists —
ANDREW SPIVEY
The Gators have picked up a lot of momentum for defensive back Henry Gray over the last few weeks as they've explained to him that he's wanted in the class of 2020. The Gators are my pick to land Gray, the question becomes how quick does he want to make a decision. Michigan is in the mix but Florida has the momentum.
Offensive lineman Issiah Walker visited Florida again this weekend and said he's on the verge of committing to Florida. Walker doesn't have a decision date in mind but when he returns to Gainesville for the Auburn game, we should all watch his visit closely. Adding Walker would be big for the Gators as they're looking for tackles in the class and they would love to finish with Walker and Marcus Dumervil.
NICK DE LA TORRE
The best thing about being 2-0 is the opportunity to go 3-0. The Gators took care of business against UT Martin and the Skyhawks head coach that the Gators might be the fastest team he's ever coached against. That's what Dan Mullen is trying to build an that was the kind of teams that Urban Meyer had. Speed is deadly!
Just a couple of notes on some of the guys this week.
I expect CJ Henderson to be back before the Auburn game. His ankle will keep him out this week and next week. I think they could play him in three weeks but with that game being Towson and the stretch that comes after that game it makes more sense to give him another week to rest. He was not at practice on Monday or Tuesday. They're going to try to get him as close to 100% as possible before putting him back on the field.
Toney is a little big different. I saw him on campus on Tuesday and his arm was in a sling. That's typical of shoulder injuries. Someone told me they thought he had a collarbone injury, not what Dan Mullen reported to us, but Andrew and I have not been told that and I don't believe that rumor. A collarbone break would be an 8-week deal. I think at this point Auburn would be the best-case scenario in terms of getting Toney back and Georgia might be more realistic. In the mean time Jacob Copeland will get more opportunities and he's ready for that increase.
Also I'm told that Brad Stewart will be back from his two game suspension this week. Stewart got into hot water with the coaching staff in the offseason and there was talk about a 4-game suspension but he's done everything that has been asked of him and will be back this week. I don't think he comes in and starts right away, the stuff will make him earn his reps and playing time.
DAVID WUNDERLICH
When Florida fired Will Muschamp, the thing I wanted to see the most from the next coaching staff was consistency. The four years of the Muschamp era saw four different WRs coaches, three OCs, three OL coaches, multiple strength coaches, and other assorted turnover on the staff. It's hard to win consistently when the voices are constantly changing.
Jim McElwain brought consistency, though it turned ill anyway. After two years of obvious struggles, there was no new OC to fix the problems. When Geoff Collins got a head coaching job, Mac promoted Randy Shannon from within rather than go find a premier DC elsewhere. The lackluster S&C program never got a new lead. There were a couple of changes towards the end largely with an eye toward recruiting, but it was far too little to matter.
I say all this because Tennessee has been plagued by turnover at the top in the last decade. The Vols are on their fourth head coach and fourth athletic director since 2009, and the former may not be long for the job if the last two weeks are any indication. If any major program is crying out for consistency to replace churn, it's that one.
Yet, they can't really get there after how last winter turned out. Phillip Fulmer finally found an opening to stage the AD coup he's been dreaming about since he realized no major program was going to give him a shot at coaching again. But when he got his chance in the big chair, he made the most dumbly simplistic short list possible.
It consisted of three coaches with Nick Saban ties (Jeremy Pruitt, Mel Tucker, Kevin Steele), two coaches with Dabo Swinney ties (Brent Venables, Chad Morris), and a former national title winner (Les Miles). The three Saban guys ended up the finalists, and given how Colorado has started out this year under Tucker, Fulmer demonstrably picked the wrong one.
Even with Tucker looking all right after two games, it was a horrible process. Far more Saban assistants have struck out than panned out, and even one of the successes in Jimbo Fisher ran FSU into the ground after winning his national title. Swinney has yet to produce a coaching tree to speak of, and the days of expansive coaching trees like what Bear Bryant and Woody Hayes used to produce are largely gone anyway outside of Mike Leach's Air Raid disciples.
UT can fix its Pruitt error with yet more pink slips and buyouts, but it's hard to make a case for things getting better with Fulmer in charge. Maybe he'll learn a lesson, but it seems more likely to me that Tennessee will have to get rid of him too in order to get where they want to go. Maybe ol' Phil will luck into a good hire, but he probably won't given how his candidate selection went last time.
The coaching search from 2018 set the program back at least another half a decade, and it's more than just about who's in the head coach's office now. Consistency maybe be something they need in Knoxville, but picking that path now with Fulmer and Pruitt is only going to bring more pain.
That's all, folks!
We'll send you off with our photo of the week below. Until then, see you in your inbox next Wednesday. : )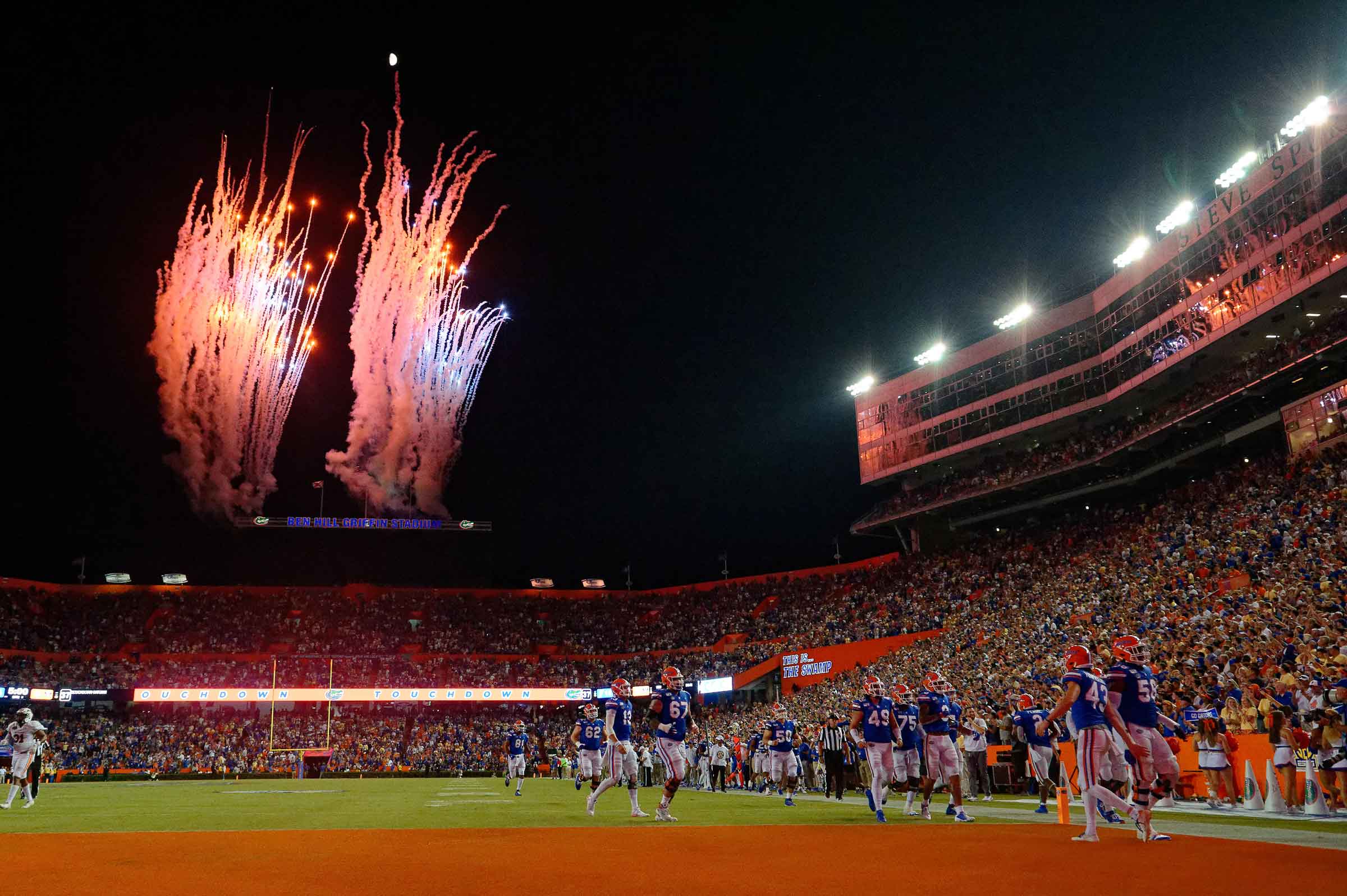 All the best,
Your friends at Gator Country
…where it's GREAT to be a FLORIDA GATOR!