Some things work and some things don't in every football game, particularly in Florida's 23-20 loss to the bitter border rival Georgia Bulldogs. Her are three things from each category.
What worked
No. 1: The short side blitz.
Add Aaron Murray to the list of players that have been crushed by a blitzing Loucheiz Purifoy. Murray's in good company, with Arkansas quarterback Brandon Allen and South Carolina signal caller Connor Shaw. When Purifoy blitzes from the slot and gets to the quarterback, good things happen. Allen and Shaw both fumbled, Murray held on to the ball but he got sacked in the end zone for a safety. It caused a 10-point swing for the Gators when Florida's offense drove down the field after fielding the safety punt to pull within a touchdown of the Bulldogs.
No. 2: Playing until the whistle.
Defensive lineman Leon Orr could have just assumed this play was dead, Georgia tight end Arthur Lynch certainly did.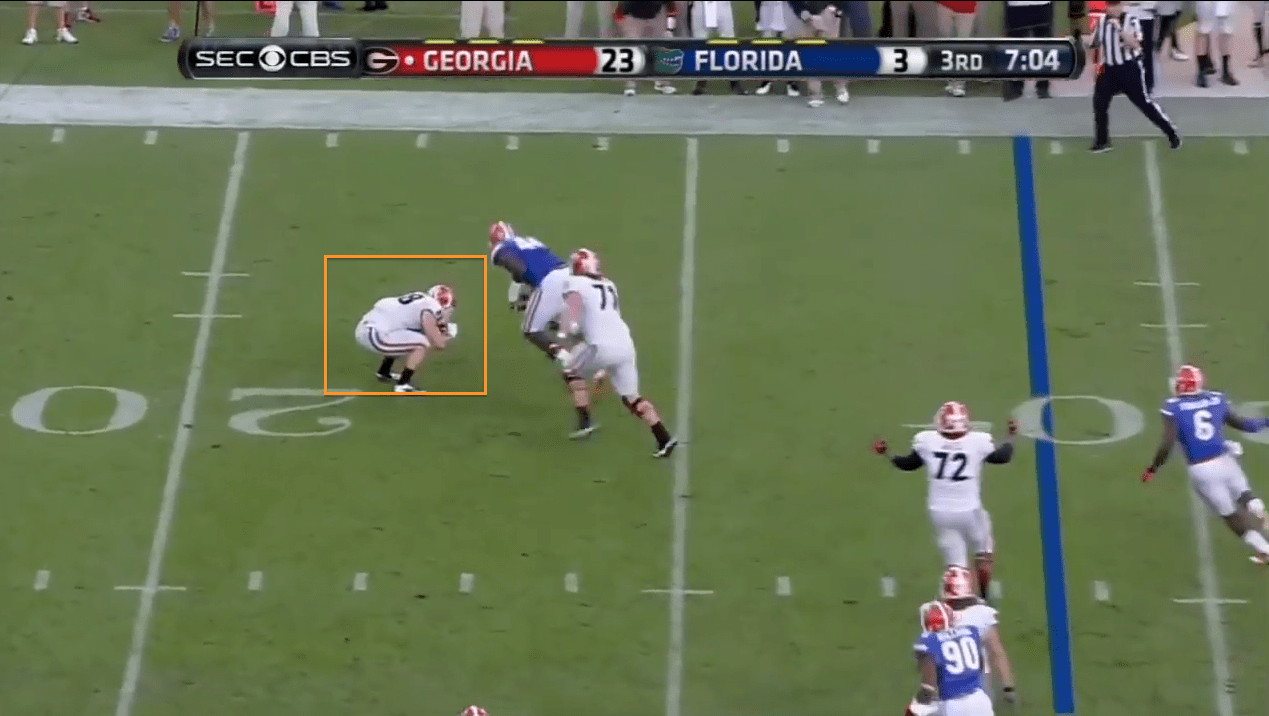 But Aaron Murray's "pass" was technically a lateral that Lynch couldn't reel in. As Lynch wallowed in self pity, Orr pounced, picking the ball up and running to the Georgia yard line to set up the Gators with their first touchdown of the game.
No. 3: Florida's offense in the red zone.
The Gators are 118th (out of 125 teams) in the country in red zone scoring percentage at just over 70%. They're also 98th in number of red zone touchdowns scored, with 14. Against Georgia they got in the red zone four times and came away with points three times, two of which were touchdowns. Both touchdown drives started either in the red zone or near it, one at the Georgia 39 yard line and the other at the 14. It's key for an offense that plays like Florida's to take advantage of short fields given to them by the defense, and when they were trying to claw their way back into this game, they were able to.
What didn't work
No. 1: The defense in the first quarter (again).
A 20-point deficit at any time in a game seems impossible to overcome for this Florida offense, at the end of the first quarter it's even worse, and it falls on the defense to play as well as they do at the end of games in the beginning of them. The Gators shut Georgia down for most of the final three quarters, only allowing three points the rest of the way, but the 20 given up in the first was too much for the Gators.
No. 2: The kickers.
Another week, another open kicking competition at Florida, at least that's that head coach Will Muschamp alluded to in his Monday press conference.
"We're going to look at [the kicking situation] again this week," Muschamp said. "It's been really an open competition through the week and Frankie's kicked a bit more accurate inside, and Austin outside. And we're going to continue to look at it."
A position that seemed such a stone cold lock last season with Caleb Sturgis toeing the leather has been anything but with the revolving door of Frankie Velez, Brad Phillips and Austin Hardin. Velez attempted two field goals in the Georgia game, missing what should be a relatively makeable 40-yarder. It's interesting to note that the Gators lost the game by three points.
No. 3: The front seven.
Linebackers Antonio Morrison and Mike Taylor have been repeatedly out of position, flowing too far out of their gaps and getting blocked out of plays at times when offering run support. The latter of those two issues isn't their entire fault. Muschamp hinted at problems along the defensive line with occupying gaps, that allows opposing offensive linemen to get free shots at Florida's linebackers who routinely are outweighed by most linemen by 50 pounds or more. While Muschamp seems pleased on a whole with his linebacking corps, he hinted change could be coming.
"Jarrad Davis is a guy we need to play a little bit more," Muschamp said. "Right now, I think that Antonio and Mike have been solid. We'll get Darrin [Kitchens] back in there and get him more reps inside. Alex Anzalone is a guy that keeps coming along. We've got to continue to press him to get more. Neiron Ball has been playing on the outside. He's a guy that plays inside in sub situations. That combinations of guys, and play Jarrad Davis more."