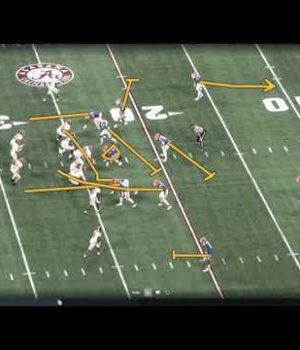 Well, we made it.  Through the stops, the starts, and all the weirdness, we have made it to bowl season.  Florida isn't where they hoped to be a few weeks ago, but they get a pretty nice consolation prize: A matchup with one of college football's most storied programs in one of the sports' most storied bowl games. How could you not be excited to play Oklahoma in the Cotton Bowl?
Unfortunately, there are several Gators who weren't quite as enthused about the matchup as I am. Florida will not be bringing its full-strength roster to Jerry World. With a sudden flood of opt outs, lingering injuries and at least one positive Covid test, the Florida Gators have gone from a 3.5 point favorite to a 2.5 point underdog in a matter of hours.
The Cotton Bowl was going to be a competitive game even with a full roster (minus Kyle Pitts), but without possibly five starters what will the game look like for Florida? Let's take a closer look at the Sooners and how they matchup with what's left of the Gators.
The Numbers
There were several stats that I loved to track as a coach. If my team won these three categories, we wouldn't.  lose many games. Those stats are turnover margin, third down conversions, and explosive plays.
Statistical analysis is so much more prevalent in football now. The landscape has changed and newer ways to look at the game are becoming more popular. With up-tempo, no-huddle offenses dominating the sport, yards per play has become one of the go to metrics. Total yards no longer tells the entire story.
Another newer metric I find valuable is the available yards percentage. It measures exactly what it says. What percentage of available yards do you gain/surrender on an average drive?  For reference, 100% means you are scoring a touchdown every drive.
Let's take a look at how the two Cotton Bowl participants fare in these metrics.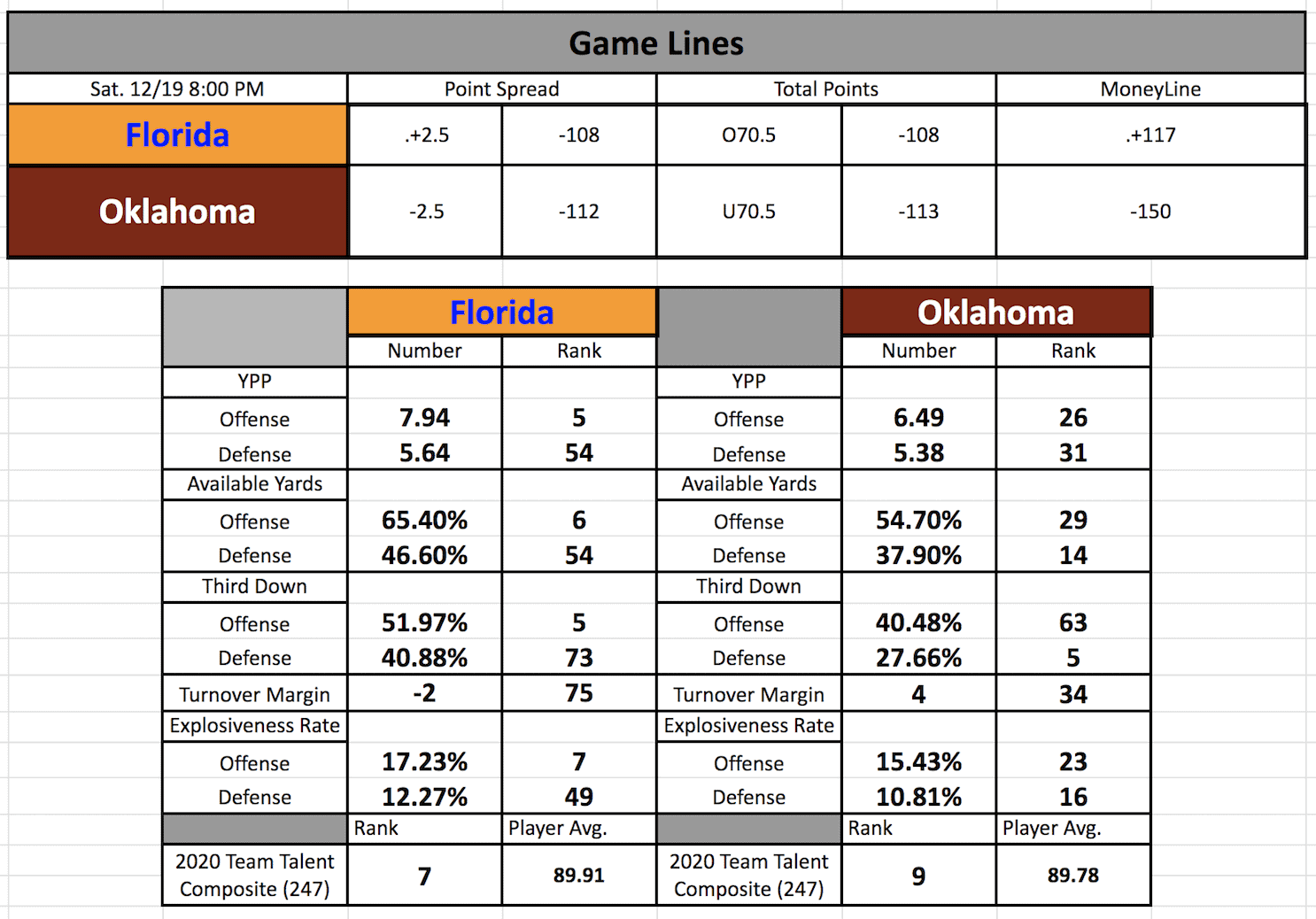 Statistically, the Florida offense is the best unit in the game. Surprisingly, the second best unit is the Oklahoma defense. The Sooners have had an under the radar year on that side of the ball, outperforming their much-ballyhooed offense statistically.
The biggest question mark when viewing stats this season is conference strength. Yes, the Oklahoma defense has looked strong, but how good are the Big 12 offenses?  Have the Big 12 defenses caught up to Lincoln Riley's schemes or is this just a small blip for the Oklahoma offensive juggernaut? To answer these questions, we need to go to the tape:
Oklahoma Offense
Lincoln Riley has built an offensive juggernaut in Norman. There are a myriad of former Sooners making big money on Sundays, including his last three starting quarterbacks.The scary part is that his signal caller this year, Spencer Rattler (7), may be the most talented of the bunch. Rattler has a great combination of arm strength and touch. He's athletic enough to extend plays and can execute small doses of quarterback run game.
Also in Rattler's favor is the fact that he's able to lean on a creative run game with a stable of backs led by Rhamondre Stevenson (29).  Lincoln Riley does a great job of using his run game to set up the passing game mixing in plenty of play-action passes with some run-pass option plays.
When the Sooners want to throw, they have some talented weapons on the outside. They are lead in receiving by freshman Marvin Mims (17) who appears to be the next great Sooner receiver. They also have some big bodies at tight end/h-back led by Austin Stogner (18).
The Sooners don't appear to be as good up front as they have been in the past, but Riley (much like Dan Mullen) can scheme around some deficiencies up front.
For a closer look at the Oklahoma offense check out the video below:
Oklahoma Defense
Oklahoma is improved on defense. It seems like we hear this every year, but this time it may actually be true. Defensive coordinator Alex Grinch has brought an aggressive, chaotic style to the Sooners. 
You will see a lot of movement from Oklahoma post-snap both up front and in the back end. They have a trio of pass rushers that Florida will need to account for : Ronnie Perkins (7) , Nick Bonitto (11) , and Isaiah Thomas (95). Each of those three have over 5.5 sacks on the season.  In addition to an effective pass rush, the Sooners are top ten nationally in interceptions with 13 on the season.
How has Oklahoma been able to seemingly turn it around on defense this season? Check out the video below to see a closer look at the Oklahoma defense.
Final Thoughts
Despite the seemingly annual late season hype surrounding Oklahoma, I felt pretty good about a full-strength Florida team in this matchup. The loss of so many key contributors has tampered my expectations a little. While not up to their recent standards, this is still a good Oklahoma team.
It will be interesting to see just how good they are. I don't think the Big 12 is a strong as it has been in past seasons, especially on offense. Will the Oklahoma defense continue their run of steady play? I would have loved to see that question answered against the Florida offense we have seen all season.  Unfortunately, the Gators will not be at full strength. However, they still (at time of this writing) have Kyle Trask.
Trask has been the best quarterback in college football this season. He has a chance to end his career on a winning note in his home state against a program I'm sure he dreamed of playing against as a kid.  His last two season have been like something out a storybook. Now it's time for him to write his final chapter.