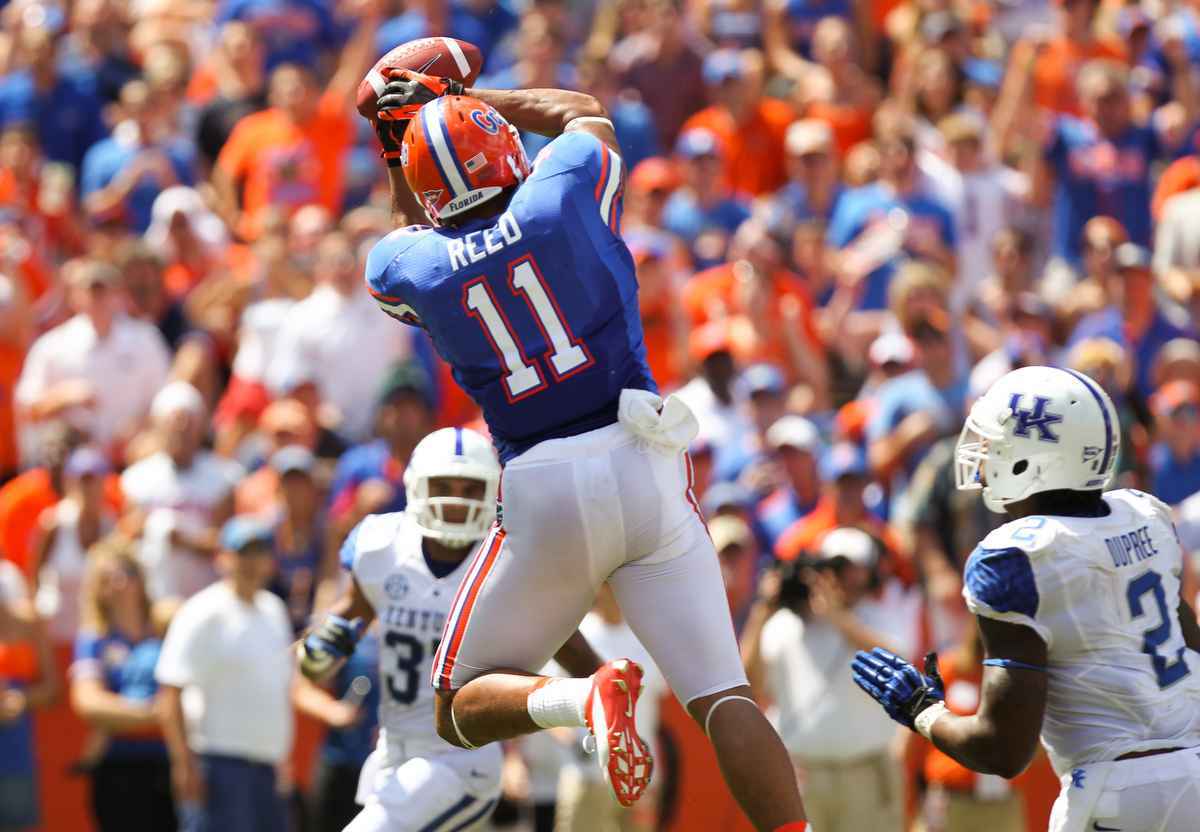 With the 2012 season concluded, Gator Country takes a look at the 10 best players for the Florida Gators football team in 2012 in a new series called "Tremendous 10." Over the next 10 days, GC will be profiling the accomplishments of these Gators from the 2012 season.
Redshirt junior tight end Jordan Reed comes in next on the "Tremendous 10" list at No. 9.
2012 stats: 45 receptions, 559 yards and three touchdowns
Analysis: Although his career has been marked by change and transition at Florida, the former quarterback really settled in at the tight end position in 2012.
At 6-foot-3, 243-pounds, Reed was hard to tackle and was never afraid of the contact over the middle of the field. In a year where the Gators and sophomore quarterback Jeff Driskel struggled to find much consistency with the wide receivers, Reed stood out as the team's primary receiving option. His 45 receptions and 559 yards led the team by a wide margin.
He was rewarded for his performance in the 2012 season by being named first team All-SEC by The Associated Press and to a second-team selection by the SEC's coaches.
Reed never quit and that was evident on the football field. His physicality certainly helped him in shedding tackles, but no one would question his effort when he put that Florida Gators jersey on. Although some may point to this as the reason the Gators lost to Georgia (see Reed's fumble late in fourth quarter), he seemed to always keep trying to gain that extra yard or two, doing what he could to help the football team win.
As reported by Gator Country, Reed announced earlier this month of his intentions to declare for the NFL Draft.
"I've enjoyed four good years at Florida, but I feel that now is the right time to pursue my dream of playing in the NFL," Reed said in a school release. "I appreciate the support from all the coaches and staff here, and I'll always be a Gator."
Highlight Play of 2012: Against Kentucky, Driskel threw a 25-yard pass over the middle of the field to Reed. Upon catching the ball, Reed took vicious hits from two Kentucky defensive players and one knocked his helmet off. The player was flagged for a personal foul, but Reed still held onto the ball, despite taking a shot to the helmet.
This kind of play from Reed best exemplifies the kind of intensity and effort he gave during the 2012 season.