As if replacing a two-year starter wasn't daunting enough of a task, the news that Alex Anzalone will miss the rest of spring practice due to injury puts even more pressure on new starting Mike linebacker, Antonio Morrison.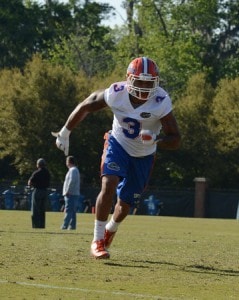 Morrison enrolled early in the spring of 2012 and instantly impressed the coaching staff with his physical play, speed and sound tackling ability. He saw early playing time a season ago as he filled in for Jelani Jenkins at Will linebacker.
While he played almost exclusively last season at Will LB, Morrison has been tapped as the guy to replace Jon Bostic in the middle. You can tell that Morrison is dedicated to the position swap as he has added considerable size to his frame and looks to be ready to make a home at his new position.
However, replacing Bostic goes much further than just producing on the field. Bostic saw action in 51 games, including 32 starts. He finished his career with 237 tackles, five interceptions, 19 tackles for a loss and 7.5 sacks. Those are already lofty numbers for Morrison to follow but the real loss is what Bostic meant to the defense as a leader.
For the past two seasons, Bostic was the guy who got the play call from the sideline, relayed it to his teammates and made sure everyone knew what was going on and where to be on the field.
In his press conference today, Will Muschamp acknowledged just that saying; "He [Morrison] continues to improve as a communicator within the front seven and that's going to be a key deal for him handling a lot of the directing traffic." Muschamp continued. "He had Jon [Bostic] and Jelani [Jenkins] helping him last year and now he's got to be that guy. We put a lot on our linebackers as far as communication is concerned. I'm very pleased."
While becoming the quarterback of the defense may take some getting used to, Morrison is already physically ready for the rigors of playing every down in the SEC. Morrison is listed at 229 pounds on the spring depth chart, up from last season, and looks like he has a frame that could support additional bulk. It wouldn't be surprising to see him eventually play around the 240-245 pound mark that Bostic was at last season.
Muschamp commented on Morrison's new size and strength today, saying; " He's much, much stronger than he was a year ago, obviously a guy that truly benefitted from being here midyear and took advantage of it."
While additional size and strength will help Morrison fill the gaps against the run and take on blockers, it's his instincts that set him apart from other players. Being able to read the offense and put yourself in position to make plays is a vital part of playing in the middle of the defense. "Antonio is a very passionate guy, plays the game hard and with great physicality." Muschamp continued. "[He's a] very instinctive, tough player. He certainly improved his short-area quickness."
Improving his short-area quickness will allow Morrison to avoid blockers and become the kind of force that Bostic was against the run.
What we saw from Morrison during the open spring workouts was improved coverage skills. Morrison struggled at times last season to pick up running backs out of the backfield and stay with tight ends throughout their routes. Morrison showed marked improvement in being able to flip his hips and run with Florida's backs and tight ends during 11-on-11 drill this past weekend. Becoming better in coverage will make Morrison a more complete linebacker and make Florida's defense even tougher to move the ball against.
Florida's recent lineage at linebacker (Channing Crowder, Brandon Siler, Brandon Spikes, Jon Bostic) is a tough act to follow but Morrison is headed on the right path to having his name sit right next to those great players in Florida's history books.
While this offseason was always going to be an important one for Morrison, the loss of Anzalone and lack of depth at the position means that Morrison needs to step up into a leadership role sooner rather than later. He has the physical tools and the instincts to be a great linebacker at Florida, but coach Muschamp and the Gators need him to become a leader and communicator on and off the field.