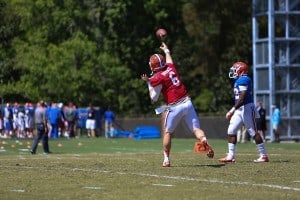 After the gates to the Sanders football practice fields closed on Saturday, signaling the end of open practices for the football team, Alex Gray and Nick de la Torre sat down to discuss what they saw during practice. In part one of a two-part series, they look at what position groups need to improve the most, who will step up as Jeff Driskel's backup, who stood out on offense, the Trey Burton wildcat package, what Driskel needs to improve on before the season starts and just how things are shaking out at safety.
So, after two days of practice, what position group do you think needs to make the biggest jump between now and the spring game on April 6th?
Nick de la Torre
I would have to say it's a tie between the offensive line and tight ends.
The offensive line needs time to gel together as a unit and that should happen somewhat over the next 12 practices or so. It will be interesting to see how Chaz Green works back in at right tackle. I've been impressed with Humphries, Garcia and Harrison so far.
Clay Burton has been the best performer out of the tight ends. We need to see more from Colin Thompson and Kent Taylor. I think we have very high expectations for those two young players and they haven't quite lived up to them just yet.
How do you see the backup quarterback battle shaking out? Have we seen enough of either Tyler Murphy or Skyler Mornhinweg to say either one is ahead of the other?
Alex Gray
Much like the starting QB battle last year, I expect the backup battle to run through fall camp. Both Murphy and Mornhinweg have a ways to go. Murphy seems to be struggling with his passing, which is nothing new. Muschamp pointed him out earlier this week as a guy who has been here for four years and needs to make a move. Unfortunately, through two days, he hasn't shown much yet.
Mornhinweg's situation is a little more understandable. He's still just a redshirt freshman, so his missed calls over the last two days can be chalked to youth. However, he needs to have a sense of urgency as well. He needs to realize that he is only one play away. He obviously has the bloodlines with hid dad being the New York Jets' offensive coordinator, so he grew up around the game. We'll see how the two of them progress, but it goes without saying that if Driskel were to go down tomorrow, Florida would be in big trouble.
Going back to the offensive line for just a moment, you make a great point on Chaz Green. I for one put Greene in the "Wally Pipp" category, as a guy who may not get his spot back as he sits out spring practice. However, Tyler Moore has had a tough two days that we've seen. However, the kid became the first Nebraska freshman to start at OL in the school's history. He clearly has the tools. As you pointed out, after a year away from football, he needs to get back into the swing of things.
What one player on the offensive side of the ball has jumped out at you over the past two days?
Like you, I definitely had Tyler Moore penciled in as the potential opening day starter at right tackle. You never want to see a player lose a spot due to injury but Moore certainly showed at Nebraska that he can play at a high level. After taking a year off from football, it will take him some time to get his feet wet and get back into the swing of things. Players like Dominique Easley, Jonathan Bullard and Dante Fowler Jr. are giving him a rude welcome to what life is like in the SEC. But that's good, he needs to get used to seeing those type of pass rushers because players like Jadeveon Clowney aren't going to ease up on Moore when the season rolls around.
Getting back to your question, I'm going to cheat and give you three.
I was really impressed with both Matt Jones and Kelvin Taylor. Jones is riding the momentum he built towards the end of last season and looked great both days of practice. He is a violent runner who looks for contact and can deliver a serious blow to defenders. This was the first time I've had the chance to see Taylor in person and he is more impressive in person than on tape. His quickness and acceleration are elite. Taylor made some cuts today that left defenders running the wrong way. There are definitely shades of his father (Fred Taylor) in his game. Demarcus Robinson is another player that impressed me. On tape, Robinson appeared to be a big time playmaker that could contribute immediately. I know we, as well as the fan base, had high expectations for him when he showed up on campus. He met those expectations the past two days and is on track to earn considerable playing time, if not an outright starting spot, in the fall.
As we saw Saturday, the Trey Burton wildcat package is back. How do you think Pease will use the package this season and are there any playmakers that could make the package more explosive and effective?
Alex
I think the package will look a lot like it did last year, but the addition of Demarcus Robinson could make things interesting. I think the Gators will also use Purifoy in the package quite extensively. Once Solomon Patton gets healthy, he'll also rejoin the fold.
But I think Pease will definitely have the opportunity to draw even more creative schemes this season. As much talent as Florida has in the spring, the Gators will receive an infusion of playmakers in the fall when Ahmad Fulwood, Alvin Bailey, Marquis Hawkins and Adam Lane arrive on campus.
Jeff Driskel will obviously remain a story from now until the first game. What kinds of things would you like to see him improve on?
Nick 
With Driskel, you obviously want to see him become more comfortable in the pocket and work on his decision-making. Too many times last season he would hold on to the ball for too long and take unnecessary sacks. Also, being able to go through his progressions quicker will go a long way towards making Florida a more successful passing team in 2013. He has the physical tools to be a devastating, dual-threat quarterback but needs to find a balance of when to run and when to wait for a play to develop.
We saw the running backs get a lot more involved in the passing game these past two days of practice. That is a good way for Driskel to build confidence early in games and Florida has a lot of talent in the backfield that they should take advantage of in the passing game.
We saw a lot of growth and improvement from Cody Riggs the past two days of practice. He looks to be a favorite to win one of the starting spots at safety. How do you see the position shaking out? Do any of the freshmen still waiting to enroll have a shot to crack the lineup?
Alex
When we saw the depth chart early last week, I was quite shocked to see Riggs' name listed as a starting safety. After seeing him in action the past two days, I have no doubt he can make an impact on the back end. After going down with a foot injury during the Texas A&M game, Riggs didn't return to action for the rest of the season. It's clear to see what he did with the time away from the field — he hit to the weight room. Riggs is listed at 184, but he looks even bigger than that. With a another summer of lifting, it wouldn't be surprising to see him play at 190 this season, plenty big enough for safety.
 Riggs was very smooth in DB drills on both Friday and Saturday, and I don't think I saw him drop a single ball. Jabari Gorman was just as impressive at the safety spot, getting an interception during team drills and making a nice return with it. If the season started tomorrow, those two would be the starting safeties, but the good news for Florida is they have plenty of depth. Marcus Maye is fully healthy and looks like a very physical player. I liked what Valdez Showers did in his limited time on the field last season, and I think before all is said and done, he may give the coaches something to think about as well.
Looking at the incoming freshmen, Florida again recruited well at the position. The Gators have three players coming in during the summer in Marcell Harris, Keanu Neal and Nick Washington. Harris would be the easiest pick to crack the rotation this fall because simply put, the kid is a player. Harris is definitely a bigger safety, with some questioning if he wouldn't be better suited as a linebacker. Major Wright — who I know is a former high school classmate of yours — faced the same questions coming into UF and all he did was start at free safety as a true freshman. If I had to pick a starting rotation right now, I would go with a CB duo of Purifoy and Roberson, Riggs and Gorman at safety, and Watkins as the starting nickel.
Video Recap:
<iframe frameborder="0″ scrolling="no" width="425″ height="240″ src="http://api.smugmug.com/services/embed/2412634789_Lz3FMzZ?width=425&height=240″></iframe>