With a never ending amount of news coming from any number of media outlets, it can become easy for interesting news to fall through the cracks. The sports industry is constantly growing with teams trying new and innovative ways to get a leg up on the competition every day. In this monthly series called Sports Business, we will look to highlight some of the more creative and innovative ways sports teams are trying to get a leg up on their competition, as well as point out some of their snafus.
New Palaces
Stadiums around the country are becoming much less venues as they are palaces. It's becoming much less about the product on the playing surface as it is about the experience of being at the stadium. You wouldn't be the first person to ever think watching a game at home on your big screen seemed more appealing than being packed into The Swamp in the sweltering heat.

This season the Washington Huskies jumped on the scene with a $250 million dollar renovation to Husky Stadium in Seattle. The new stadium features brand new seats, football offices and luxury end zone party boxes. My favorite feature? The ability for fans to bring their boats and dock in Husky Harbor on Lake Washington to tailgate before games. The Huskies newly renovated stadium opened with a surprising 38-6 win over Boise State in front of a sell-out crowd and by all accounts, fans are excited about their new home.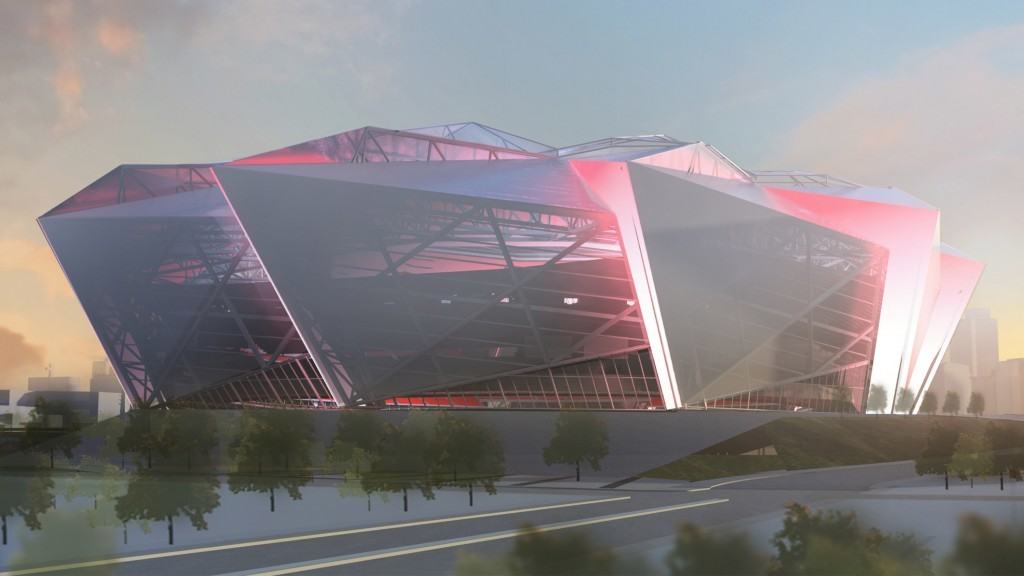 The Georgia Dome in Atlanta leaves you speechless the first time you step inside the massive structure. Despite its size, the home to the SEC Championship game and countless Final Fours has apparently outgrown itself in Atlanta. Plans unveiled earlier this year set in place a plan for a brand new retractable roof stadium to be built for the start of the 2017 football season. Let's hope the Gators can punch a ticket to Atlanta in December of 2017.
Never to be outdone in the arms race, Florida is currently looking to fund a $50 million renovation to the O'Connell Center that will add plenty of glitz and glamour to the O'Dome including improved entrances, concessions, shops, seating and luxury boxes. No detailed plan has been announced for any renovations at this point in time.
Special Delivery
With the increasing accessibility to watch every sporting event from tractor pulls to curling from the comfort of your very own couch on a high definition television, it has become increasingly difficult for teams to sell tickets to events. For every adversity there is always a creative answer.
One of the more creative ways to combat this problem came from the University of Tennessee at Chattanooga Athletics Department. In an effort to increase ticket sales the athletic department took an idea from pizza delivery, 30 minutes or less. Anyone living within five miles of UTC had an opportunity on August 20th to order football season tickets and have them delivered to them within 30 minutes or less by Coach Russ Huesman, a member of the football team or athletics staff, or else their tickets were free. Was it successful? The first attempt of the campaign in 2010 set a single-day sales record of 106 season tickets sold.
While I don't expect Florida to be hosting any such promotion in the near future, a less financially risky way of the promotion has been just having players and coaches deliver tickets. Several professional and collegiate teams have been surprising a select few season tickets holders by personally delivering season tickets to their door. I don't know about you but I think it would be pretty awesome — or perhaps frightening — to have Will Muschamp or a member of the Florida football team deliver me my football tickets.
The University of Florida announced last week that they would be partnering with Ticketmaster to use a new innovative way for fans to buy tickets. The new TM+ system will allow ticket buyers to view not only tickets that are currently unsold, but also tickets currently on the market for resale. This will help the buyer in that they will be able to know when they are being sold a ticket at a jacked up price or if there is a ticket available perhaps right next to the one they are planning on purchasing at half the price. That being said, the new TM+ system will allow Ticketmaster to net about a 10% profit from every ticket resold through their site.
Notre Dame "Fighting Irish"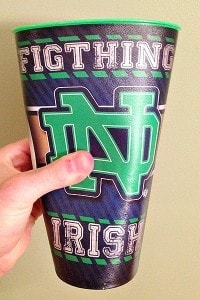 One of the funnier mix ups recently came from an easily over looked item, souvenir cups. The Notre Dame Fighting Irish might have had one or two confused fans at their home opening win over Temple who bought a commemorative cup at the concessions stands. Large cups contained a typo reading that their beloved Notre Dame team was actually the "Figthing Irish." Whoops. The name was spelled correctly on smaller cups and the university has since said they will fix the mistake. I don't think you have to worry about any Florida Gatros cups coming out anytime soon.