As the Florida Gators prepare to head to Columbia for their first ever trip to the "Show Me State", their plans of facing dual-threat quarterback James Franklin are being re-written after Franklin sprained his right shoulder during Missouri's  improbable win against the Georgia Bulldogs.
Franklin, who was averaging more than 262.8 yards per game in total offense, was replaced when he went down in the fourth quarter by redshirt freshman Maty Mauk, who went 3-3 passing for 23 yards and added 12 more yards rushing to seal the win for the Tigers (Mizzou was up 28-26 when Mauk entered the game).
But who is Maty Mauk? What should Gator fans know about this 6-foot, 200-pound quarterback from Kenton, Ohio?
Out of high school, Mauk (who is not related to former LSU quarterback Matt Mauck) was a three-star (according to Rivals.com) pro-style quarterback, who chose Missouri over Cincinnati, Illinois, Michigan, Notre Dame and Vanderbilt. In high school, Mauk set  a national prep record for passing yards ( 5, 760) in a season his junior year and for his career he threw 219 touchdowns and 63 interceptions while throwing for 18,932 yards over four years. Mauk was selected to play in the Offense-Defense All-American Bowl, but was shaky in his performance. ESPN recruiting guru Tom Luginbill said, "He is on the shorter side, but has the lightning quick release every coach is looking for in a quarterback."
At Missouri, Mauk redshirted last has seen limited action this season backing up Franklin. He has played in three games (Murray State, Toledo and Georgia) and was 2-3 for 18 yards against Murray State and was sacked twice for 17 yards in losses before being pulled out of the game against Toledo.
Against Georgia, when Franklin went down early in the fourth quarter (10:35 left in the game), Mauk led the team to a quick touchdown with a six yard rush, followed by a hand-off, and then a perfect flea flicker to Bud Sasser who threw it 40 yards to L'Damian Washington. Mauk took over following a Georgia 3-and-out, and completed two passes on his next drive that went for -2 yards and 5 yards, respectively. After a Mizzou punt and an Aaron Murray interception, Mauk led the Tigers 33 yards for a touchdown, which included a beautiful 20-yard pass, to secure the 41-26 victory.
With only minimal game experience, let's look at Mauk's film from Georgia.
In his first play from scrimmage, Mauk picked up six-yards on a great run that displayed solid vision, a quick cut and powered forward for a first down.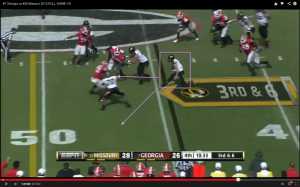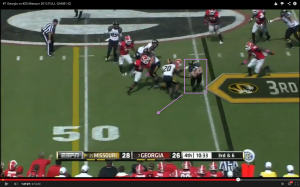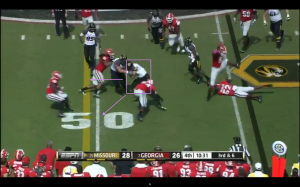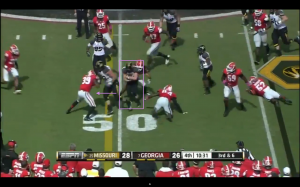 While a picture can only show so much, Mauk evaded three tackles (a mixture of poor tackling and quick feet) and then powered his way three yards from contact to gain a first down.
Moving on, Mauk's first pass went for negative yards, but a Georgia linebacker roughed him, giving Missouri a new set of downs. He got the ball back at the Mizzou 49-yard line and after a four-yard run threw a dangerous pass for a 2-yard loss to running back Henry Josey.
Under immense pressure, Mauk, who has a high, quick release, threw high and it could have been easily picked off.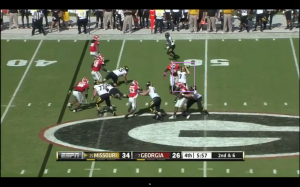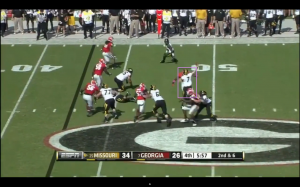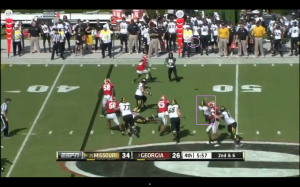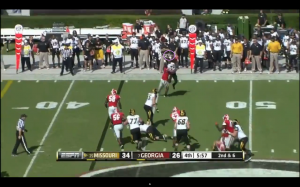 Mauk was fortunate that the ball wasn't picked off, as it was both high and a bit off target, but he did show good form on his delivery.
Mauk did have one big pass during the game (20 yards to Dorial Green-Beckham).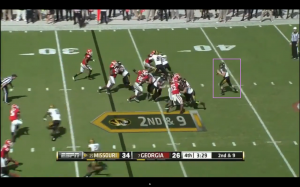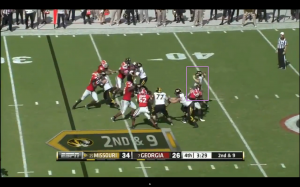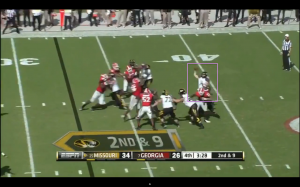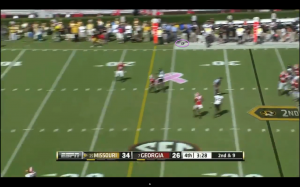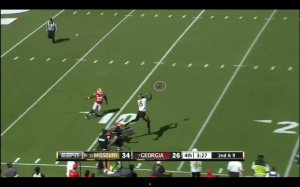 Mauk's pass is exactly what Mizzou is looking for. Mauk stepped into his pass, had a high release and hit Green-Beckham on a perfect throw against a small cornerback.
Mauk is a capable quarterback, but still inexperienced. During the game, Mauk had to look at the sideline multiple times during a play call, had to call one time out because he could not make the right audible, and could have made some better decisions. However, with one week of practice as the starter, Mauk should know the playbook a bit more and may know which audible to make at the line.
While Franklin is the better pure passer, Mauk showed briefly that the Tigers do have a talented quarterback in Mauk.
The Gators defense will hope to rattle the young quarterback. Do not be surprised to see early blitz packages, hits on the quarterback, and quite a few audibles from the Gators defense to keep Mauk on his toes.