If it weren't for bad luck the 2013 Florida Gators wouldn't have any luck at all. It started in August when senior wide receiver and return specialist Andre Debose went down with a torn ACL, followed by freshman linebacker Matt Rolin tearing his ACL just days after being cleared to return to practice. And that was just the start.
Football is a violent game and injuries happen, sometimes in waves as it might seem for the Florida Gators football team, but even well-prepared ones find it difficult to prepare for an onslaught. There is no way Florida's coaching staff could be prepared to lose so many key players.
"I played ball for like sixteen years and I've never seen nothing like this before," running back Mack Brown said of the injuries this season. "But you know, you gotta step up and do our jobs, it's not over yet. Just gotta keep moving."
The latest injury occurred last week against LSU when starting running back Matt Jones tore a meniscus which required season-ending surgery to repair. It is the latest in a long line of injuries that have taken out seven players, of which five were starters.
The first injury to Debose didn't seem like it would affect the Gators too much because he's been a consistent receiving threat. However, statistically, he's the greatest kickoff returner in Florida school history with four touchdowns.  That's where Debose's absence has been felt most — on special teams.
Florida is averaging 2.4-yards less per punt return this season and that's not to mention how many times the returners have let punts drop when the should have called for a fair catch. Florida also ranks just seventh in the SEC in kick returns after finishing last season with the third best unit.
The Gators entered spring with a patchwork offensive line due to a mixture of injuries lingering from 2012 and some new, less significant injuries throughout camp but came out of spring camp whole.
That changed when the leading candidate to start at right tackle, Chaz Green, was lost for the season with a torn labrum and Jon Halapio tore his pectoral in a freak weight lifting accident. Green was lost for the season and Halapio missed the first three games. This affected the offensive line's cohesion and their communication greatly — both problems that have plagued the Gators recently.
Those communication issues led to the biggest loss on offense, junior quarterback Jeff Driskel. Driskel was sacked on Florida's second drive of the season and broke his fibula. The loss of Driskel was softened with Tyler Murphy's emergence and while Driskel's injury initially appeared to be a death sentence for the Florida Gators offense, it has proven otherwise.
The biggest loss for the team has been Dominique Easley. Easley was having the best year of his four-year career in Gainesville before tearing his ACL in practice before the team traveled to Kentucky. Throughout the spring, Easley was given reps off in order to keep him healthy for his senior season. The loss was not only disappointing for a highly rated player who chose to come back for his senior season but devastating to a defense that was considered to be one of the best in the country.
With Easley, the Gators were only giving up 55.3 rushing yards-per-game. Without Easley, the defense is allowing opponents to run for an average of 111.3 yards-per-game.
Throughout the spring, Florida's coaches and players repeated a "man down, man up" manta so often that both the players and media would smile and laugh when the phrase was used.
If we only knew how real that mantra would become this season there wouldn't have been those same smiles and laughter.
"More than anything, I hate it for the young men," Muschamp said. "They put a lot of time and effort into playing in this game and for that to happen, I'm disappointed for them first of all. That's what hurts the most, to see guys go through the struggle and having to make that phone call and tell them what's going on or having to walk them in the training room to tell them what's happening. That's very frustrating for a young man with as much time and effort as they put into it."
It's one thing to list the names and tell you how many players have been lost for the season but it's a whole different perspective to see it on paper your computer screen.
Here's a look at what the offense and special teams looked like heading into fall camp and what they look like now. Click each photo for the full size version.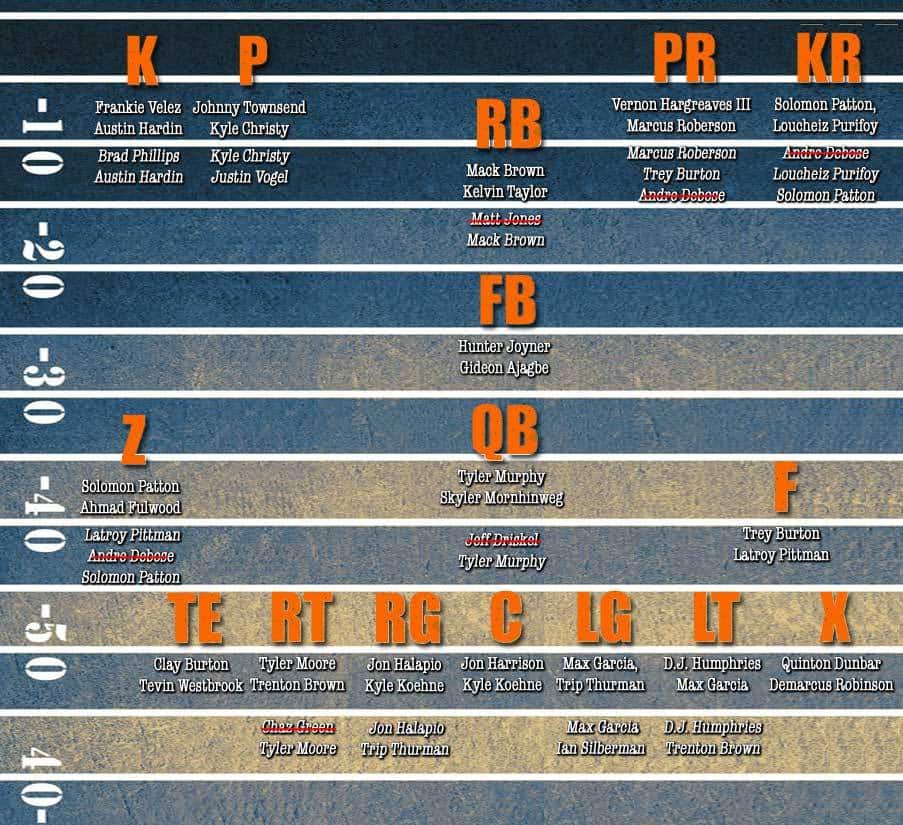 The defense doesn't look as different as the offense does but the loss of Dominique Easley has proven to be the most difficult injury to replace this season.