The Florida Gators will be throwing it back to the sixties on Saturday when they host the Auburn Tigers.
The Gators will wear throwback uniforms from Steve Spurrier's playing days. Florida wore part of these uniforms back in 2006 when they hosted Alabama, however, the white helmet with a block "F" inside of a circle hasn't been seen since Spurrier's playing days.
Here are the head-to-toe details of this alternate uniform.
Helmet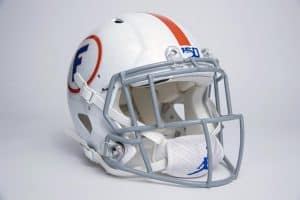 This piece combines a multitude of years and traditions all within one helmet.
* The white helmet, grey facemask and solid orange strip across the middle is from the 1950s and early 1960s.
* Meanwhile, the block "F" with a circle decal that was used throughout the early 1960s.
* Rather than a patch on the jersey as it has been all season, fans will notice the CFB 150 logo on the bumper of the helmet.
Jersey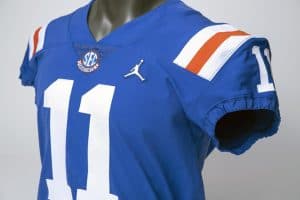 * The blue jersey is from the 1960s, when the Head Ball Coach Steve Spurrier played quarterback for the Gators and won the Heisman Trophy in 1996. The jersey has an over the shoulder orange & white insert stripe.
* This is the first time that the Gators have worn this jersey in a game since Sept. 30, 2006.
Pants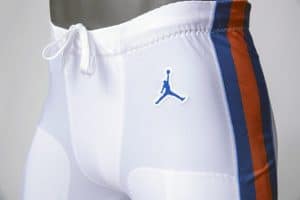 * Also from the 1960s, the Gators white pants for Saturday has an Orange & Blue insert stripe down each side of the pants.
* This is the first time that UF has have worn these pants in a game since the aforementioned game against Alabama in 2006.
Socks
* Florida will wear white crew socks, that include a blue stripe around the top, which was a very common look back in the 1950s and 1960s.
Cleats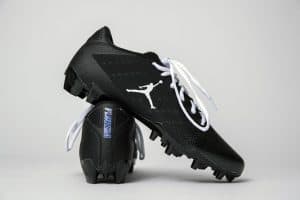 * For the first time in recent memory, the Gators will wear black cleats with white shoelaces. Unlike nowadays, cleats did not have all the exotic colors and styles in the 1950s and 60s.