Last season, one of the chief concerns in Florida's passing game was that receivers weren't getting open. Why? Because they weren't running great routes. From all accounts so far this season, that has changed and route running has been at the forefront in the minds of Florida's receiving corps. Sometimes offenses can use different ways to get receivers open, one of them is called a mesh concept. It's also referred to as a "rub" concept, a "pick," or a "screen."
It can be run against man or zone coverage. Drawn up below it's pretty simple. Two receivers run crossing routes in opposite directions, meshing together at a certain point anywhere between four and seven yards from the line of scrimmage, just underneath where the opposing team's linebackers would typically line up.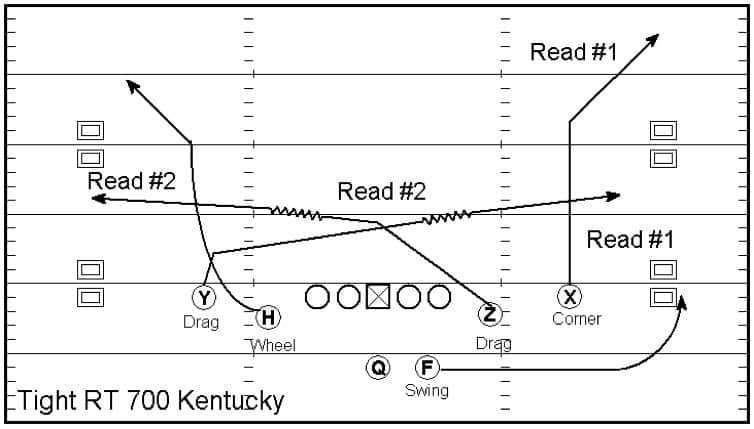 It's a concept that was featured prominently in the Air Raid offense run by Hal Mumme and Mike Leach at numerous stops, including when both joined forces at the University of Kentucky. The play diagrammed above comes directly from a late 90's Wildcat playbook, part of which can be downloaded here.
Typically, one receiver is "setting the screen," while the other uses it to get separation. Against zone coverage, it allows the receiver — once he's gained the separation — to just find the hole in the zone and "sit down" to wait for the quarterback to find him.
It can be lethal versus man coverage however. When ran to perfection, it forces the defender of the primary receiver to sidestep the screener who is running right at him and consequently, to mesh with the primary. Here's how Michigan State used the mesh concept to its advantage in a 2010 contest against Wisconsin. In the image below, the primary receiver is in the blue box, with a defensive back lined up on him in press man coverage. The receiver setting the screen is in the orange box. The red circle signifies the defender assigned to the screener in man coverage.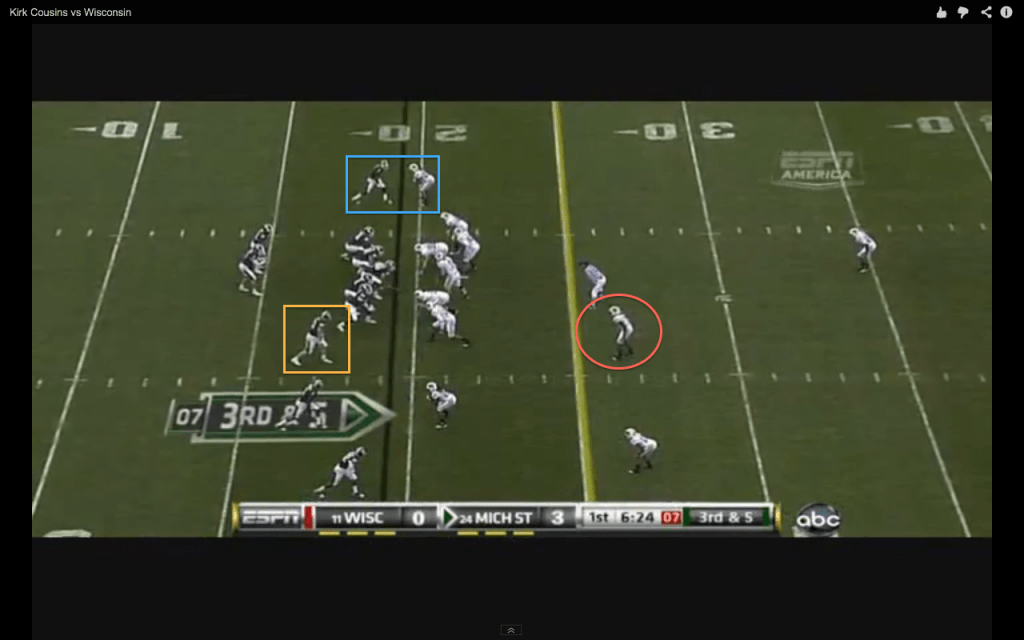 As the routes develop, the screener breaks first, setting the depth of the primary's route who will come under.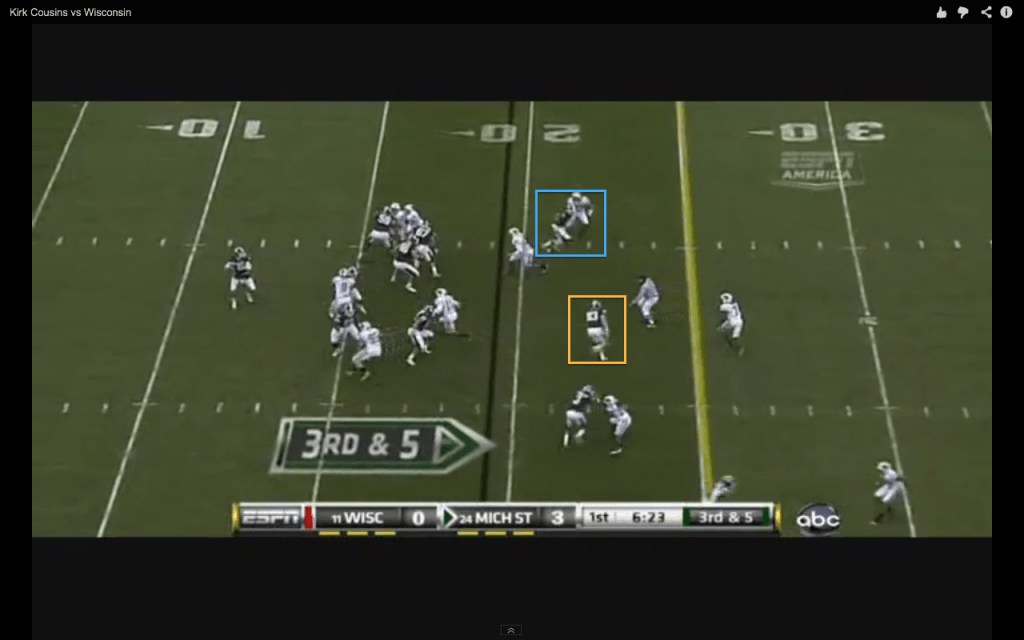 Here we have the mesh point, about five yards off the ball, the screener and primary are less than an arms length away from each other.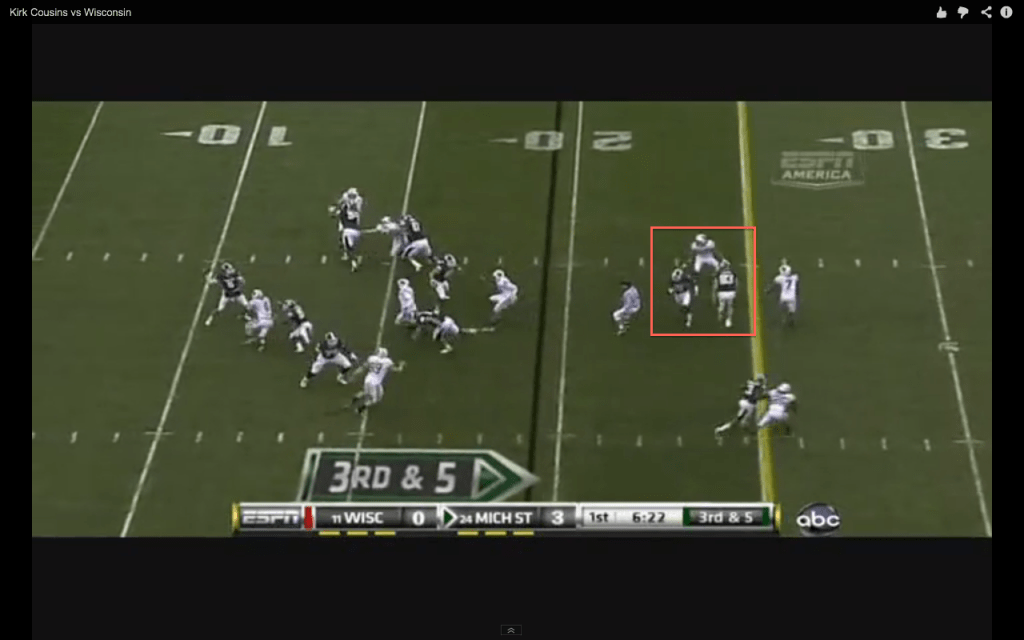 Just past the mesh point, primary's defender has to sidestep to avoid the screen, creating quite a bit of separation for the receiver.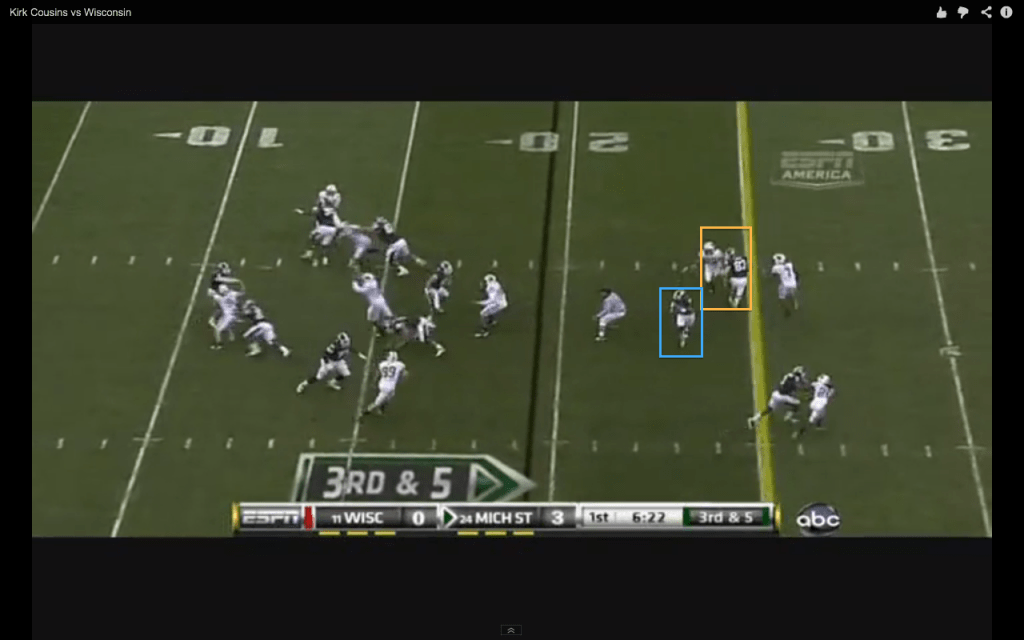 A well timed throw turned this play into a 34-yard gain.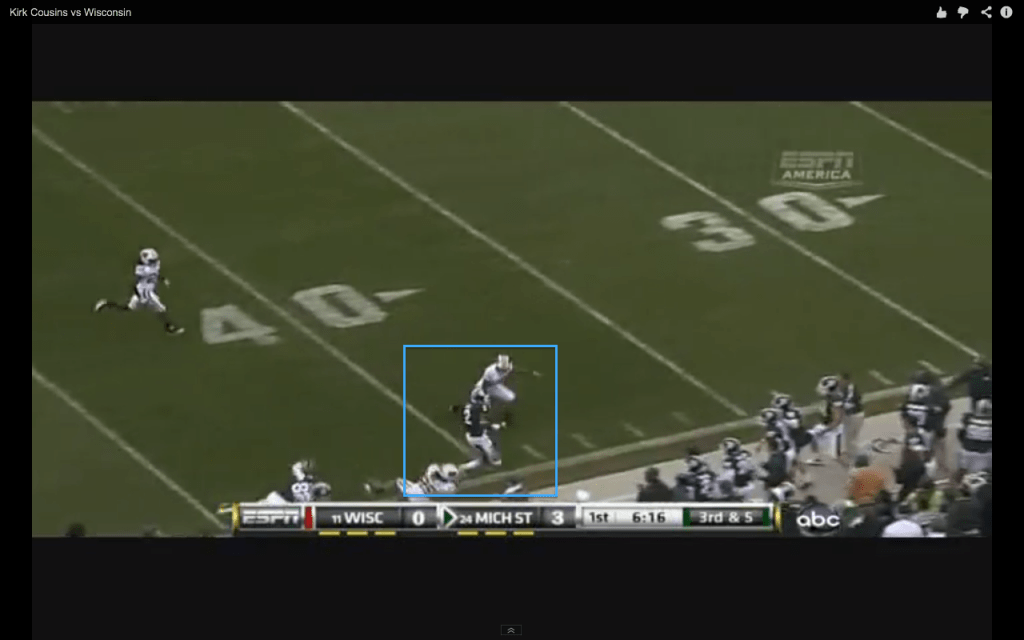 So how does this relate to Florida?
Simple, they're working on this concept under new receivers coach Joker Phillips, a man with numerous Kentucky-ties although, he did not coach there with Mumme and Leach. While the concept was certainly in Florida's offensive scheme last year — most teams these days run some variation of mesh — you may see it put into practice more this season.
"Definitely more than last year, just because we've got great receivers and we want to get them open. We want to put them in the middle and make sure we can get some guys open down the field so we can pick and screen. That will be better and to our advantage," tight end Tevin Westbrook said.
The technique of getting the receivers as close as possible is something done a few different ways. Some teams have their wideouts high-five as they pass each other in practice, Florida has their own way of simulating it.
"We'll do little drills where we mesh each other, just go past each other and give each other shoulders, try and screen and block without actually screening, because at the end of the day you can screen for somebody but you may be the one open," Westbrook said.
Now, of course, how well it's run will hinge on how well it's blocked, primarily because of the amount of time it takes to develop. Pass blocking wasn't exactly one of Florida's strong suits at times last season.
The mesh play can be ran on any down or any distance and it may be one of the tricks Florida uses more often this season to get receivers open.