The film breakdown of Florida's second quarter offense against Kentucky picks up after Austin Hardin's missed 53-yard field goal attempt. The Gators' stingy defense forced a three-and-out following the miss, giving the offense a chance for redemption by reclaiming the lead against the Wildcats.
1st Drive: 3 plays – 79 yards – 1:32 – Touchdown
Go ahead and take a look at that drive summary. In the past three years a three-play drive from the Florida offense usually meant a turnover. Not this team. Not Tyler Murphy's offense against Kentucky.
The drive started on Florida's 21-yard line but Florida wasn't stuck on its side of the field for very long. The Gators lined up in their 11 personnel (1RB, 1TE, 3WR) with Tyler Murphy in shotgun next to Matt Jones. Murphy saw something in the defense, walked up to the line of scrimmage and flipped the play, like you or I would do when playing Madden.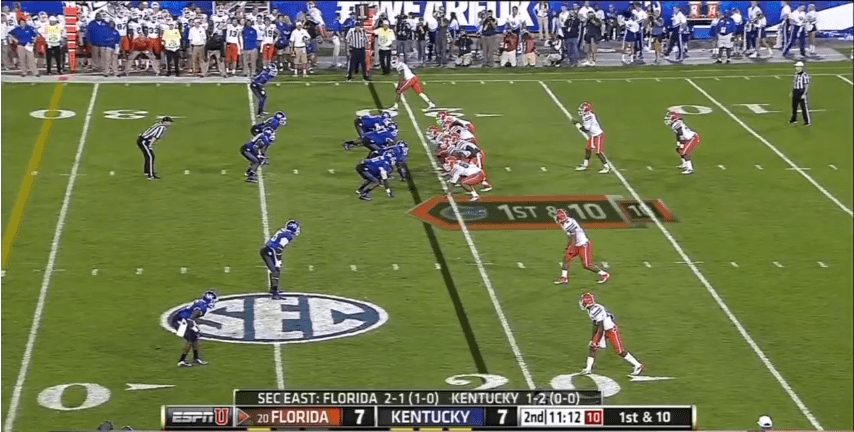 The change worked thanks to some great pull blocks from D.J. Humphries and Jonotthan Harrison. In the picture below you can see Humphries pulling and cutting safety Ashley Lowery (blue), Harrison coming up behind him (yellow line) and Trey Burton taking care of J.D. Harmon on the outside (purple).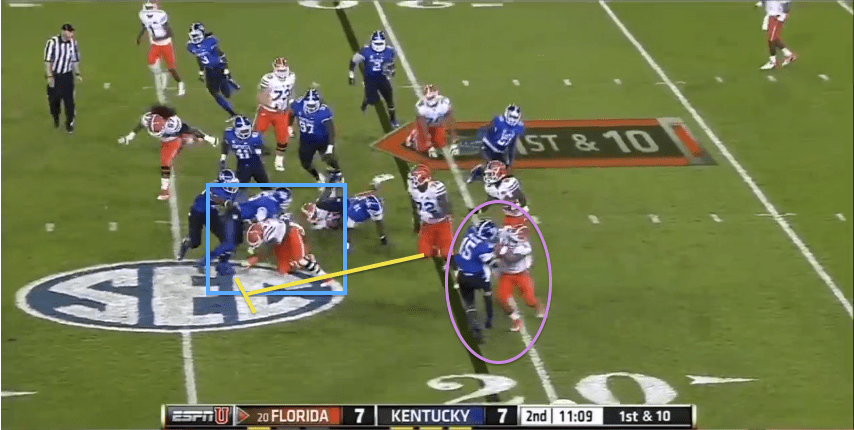 After Harrison cleans up Avery Williamson (blue) and Solomon Patton holds on to his block (red),  Jones is off to the races.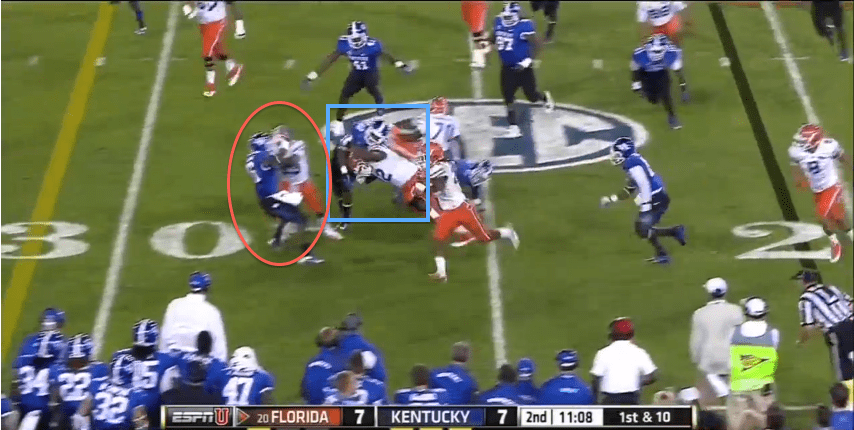 And here's another angle of Harrison pulling like one of the Pouncey brothers.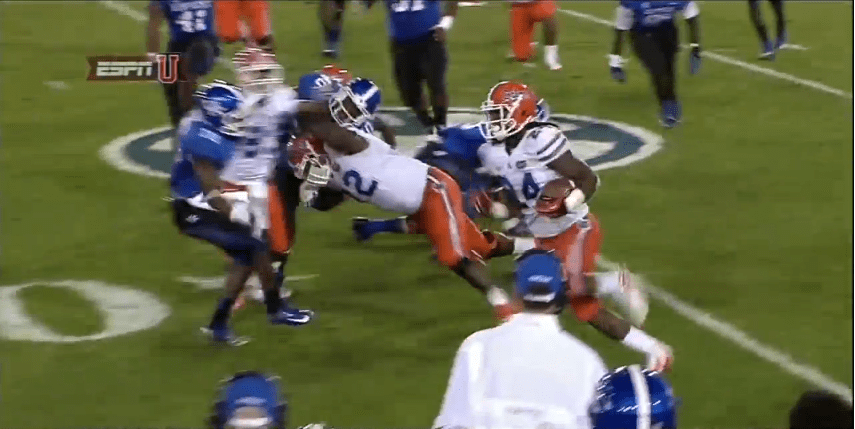 Unfortunately for Jones, he isn't faster than Quinton Dunbar.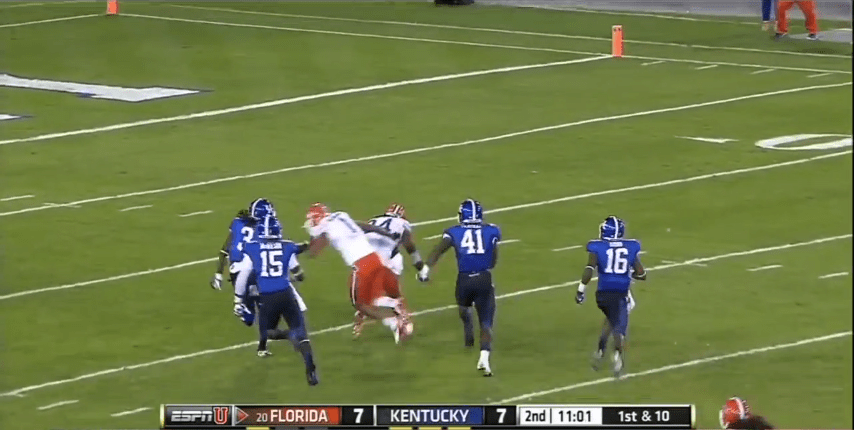 Dunbar was the only reason that Jones didn't get into the endzone, but you can't fault Dunbar for hustling 60 yards down the field and trying to block for his running back.
The blocking on this play was superb. Tim Davis and Jeff Dillman can hang their theoretical hats on this highlight reel run.
Florida was forced to call its third and final timeout of the half after the play. The Gators really wasted their first half time outs against Kentucky, something that will have to be cleaned up against tougher teams.
A Trey Burton wildcat play gained three yards following Jones' 67-yard scamper to set up a second and seven from the UK 9.
Florida lined up in 10 personnel (1RB, 0TE, 4WR). Murphy snapped the ball and quickly looked to his right for his primary read, Demarcus Robinson. Robinson was slow off the line so Murphy moved on to Quinton Dunbar who was running a crossing route. On the way over to Dunbar, Murphy saw Trey Burton leak past the linebacker to get inside the safety.
Murphy fired a pass high to get it over the linebacker and Burton went up and made a play for his quarterback. Great progression read from Murphy and great finish by Burton.
Drive Grade: A
The blocking on the first play nearly brought a tear to my eye. It's the kind of blocking that gets put on instructional videos. After the short gain from the wildcat, Murphy continues showing maturity and poise in the pocket. Great drive.
2nd Drive: 9 plays – 62 yards – 5:14 – Touchdown
I once again ask you to take a second and look at that drive summary.  There's more than one way to skin a cat and the offense showed you just that in the second quarter.
Florida started the drive with a 2-yard Matt Jones run. Max Garcia pulled on the play and there was a miscommunication with Hunter Joyer because they blocked the same man, leaving a linebacker to come in and hit Jones in the backfield.
Murphy dropped back to pass on second down and found Trey Burton on an underneath crossing route. Burton was able to pick up a first down thanks to the extra effort on a comeback block by Ahmad Fulwood.
Here you can see Burton catch the Murphy pass in-stride and turn up the field.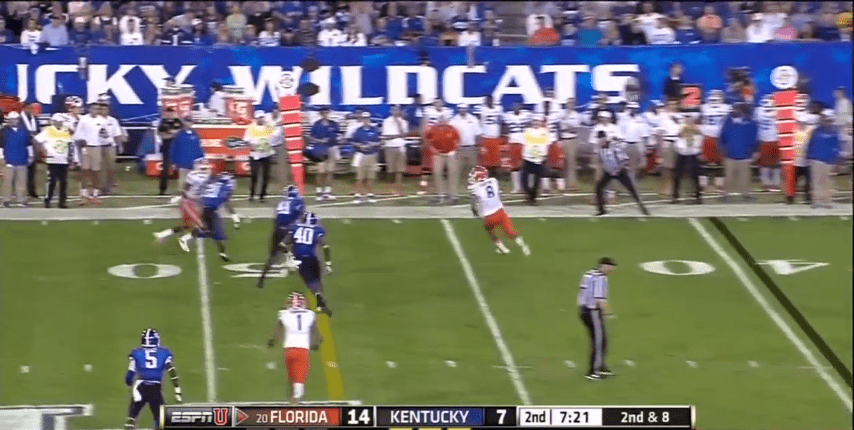 Fulwood is on the left and not only blocks his man, but also gets in the way of TraVaughn Paschal as well.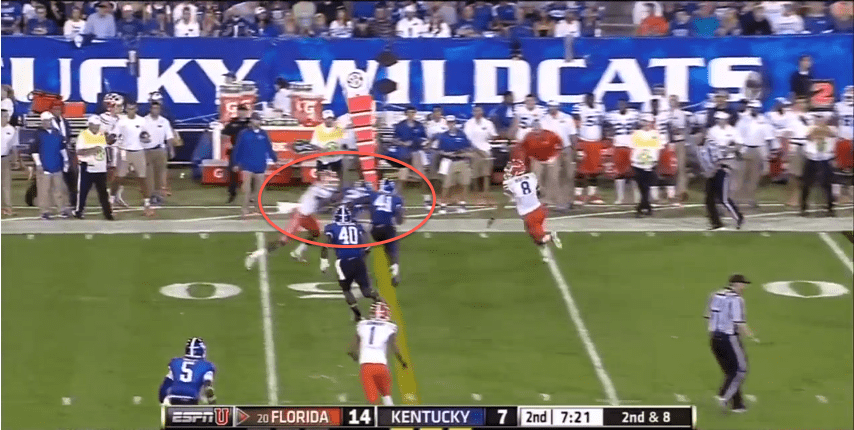 They may not be catching as many passes as fans would like but Fulwood and Robinson are doing the little things like this block that often go unnoticed.
Murphy hit his first read, Trey Burton, on a quick slant and kept the throw low. The throw looked bad at first, but it forced Burton to go to the ground to make the catch, keeping Avery Williamson from taking his head off.
Murphy showed his poise on the next snap, a play-action with Brown with a fake jet sweep to Patton (purple). Meanwhile, Trey Burton, who was lined up in the backfield trickled out and ran a lazy out route (green).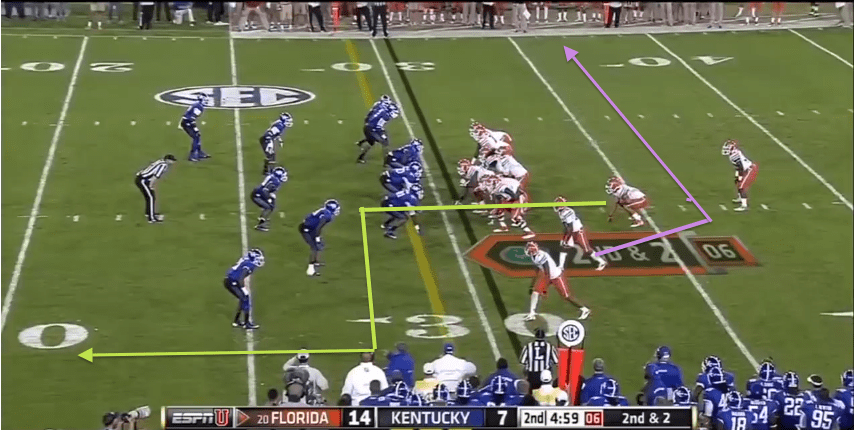 Burton's route is run lazily on purpose. He lulls the defense to sleep and quickly turns up the field, wide open.
Murphy turns his head around and sees two things. The first thing he sees is defensive end Farrington Huguenin bearing down on him after getting past Humphries (blue). The second thing he sees is Trey Burton streaking down the sideline (red).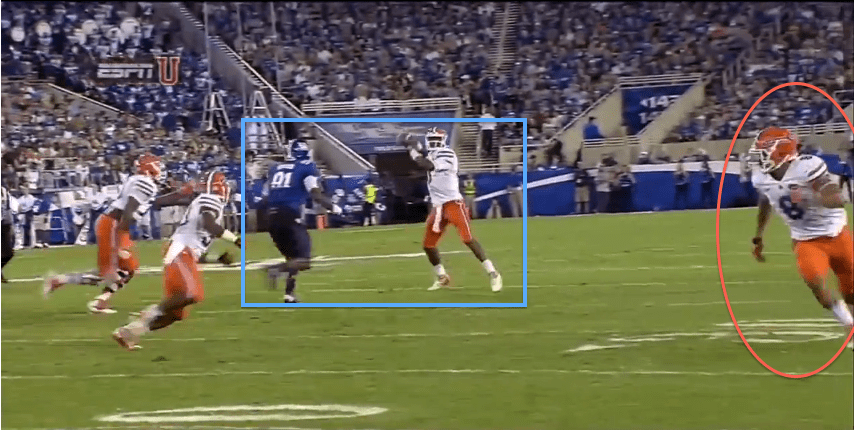 Murphy knows he will get popped on the play but throws a beautiful pass that leads Burton towards the sideline and, once again, prevents Murphy from getting killed by a defender.
Have I mentioned Tyler Murphy's poise yet?
The next play goes for a loss of three yards as you see Jon Halapio beaten to his left, the side on which he is dealing with a torn pectoral muscle. Halapio struggled dealing with pressure to his left for most of the game and it will be something to watch as the season progresses.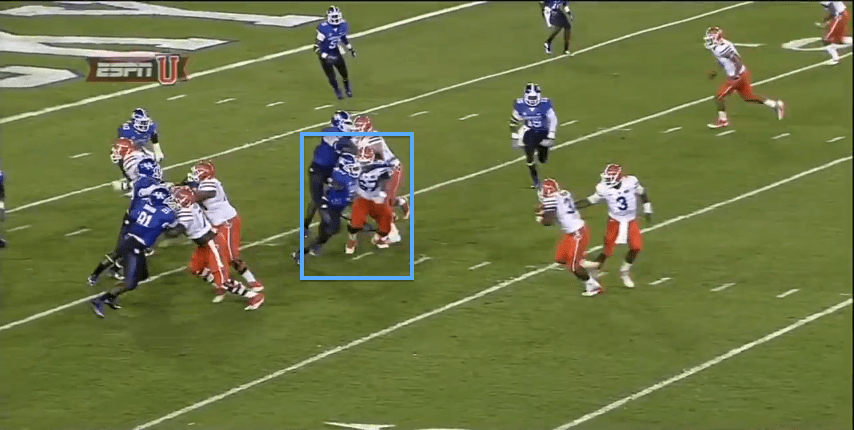 Florida rebounded with a 9-yard gain on second down and went back to my favorite play on third and four: the read-option out of the diamond personnel package.
Here's the formation, you should recognize it if you've been following along with our breakdowns.Pease likes calling this formation, which is 30 personnel (3RB, 0TE, 2WR). The offensive line (blue) blocks down and leaves Za'Darius Smith unblocked, he's Murphy's read.
To say that Smith committed to Jones would be an understatement. Luckily, a picture is worth 1,000 words.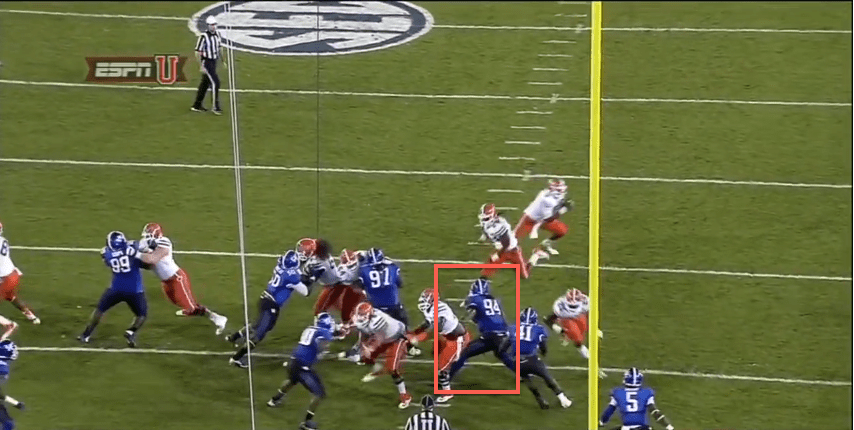 Murphy makes the correct read, obviously and follows Hunter Joyer to the outside. When Ashley Lowery takes a good angle, Murphy hits him with the quick cutback (just like he did against Tennessee) and finds the endzone.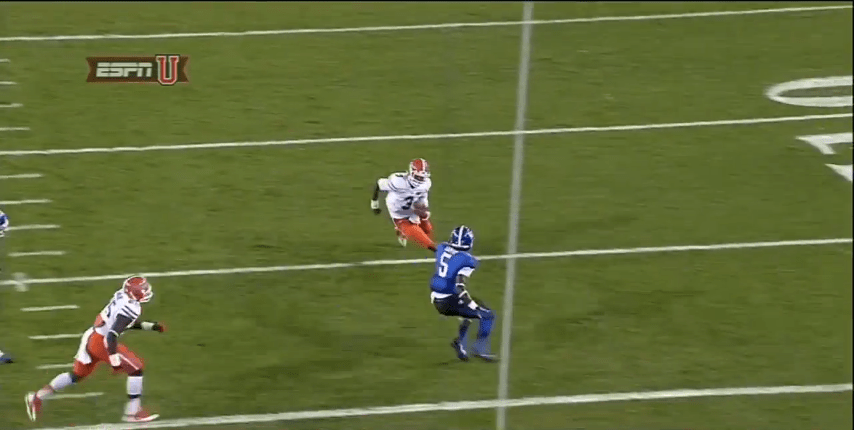 Drive Grade: A
Another great drive from the Gators. I don't want to take away from the job that Jeff Driskel did in 2012 but this is the kind of offense that Gator fans have been yearning for. This is exciting and it's getting the job done.