The second quarter of Florida's 31-10 win over Arkansas was when everything changed for the Gators. After giving up 120 yards in the first quarter, the result of fundamental failures and some miscommunication, the Gators were reeling and Arkansas like a team poised to spring an upset. One play changed everything. When Loucheiz Purifoy jumped a route and returned an interception 42 yards for a touchdown, Florida's fortunes changed completely.
Series No. 4: five plays, 16 yards, 2:38 time elapsed.
Arkansas ran four plays when Purifoy changed the game. On the play Arkansas wide receiver Keon Hatcher ran a simple out route.
Watch as Hatcher  up field, then pivots at a depth of about three yards and breaks for the sideline.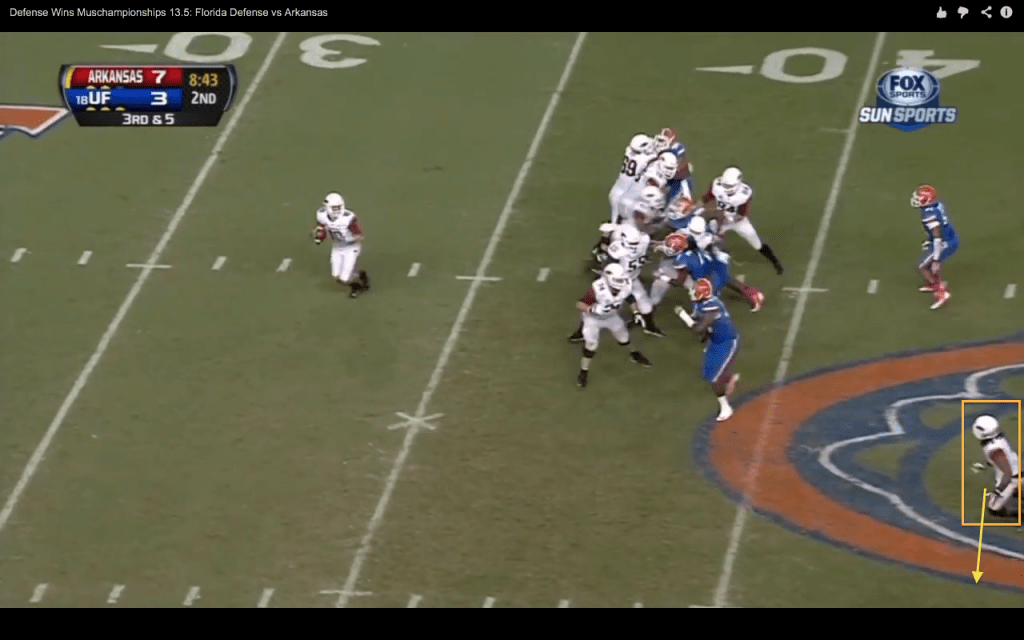 Purifoy's technique is to stay on Hatcher's inside hip and then break on the ball when he sees quarterback Brandon Allen throw the ill-advised pass.
It is a cat and mouse dichotomy between cornerback and quarterback, and on this play, the cat won, and got six points to show for his efforts.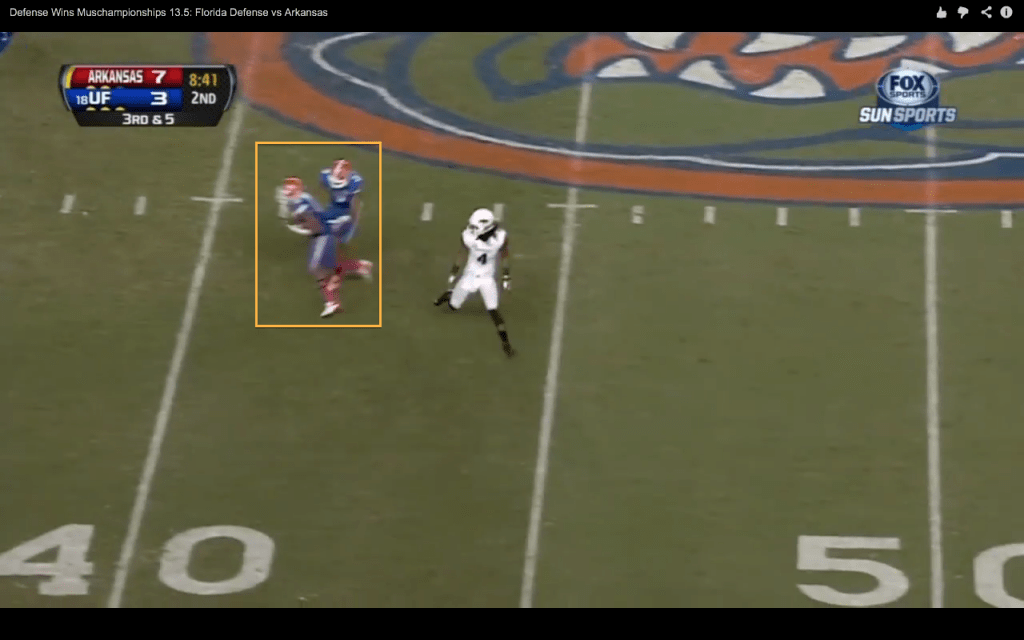 This isn't bad quarterbacking by any stretch, just a mistake that's all too familiar for Florida fans this season. At Miami, Jeff Driskel's season ended when he was injured while throwing a pick six. A week earlier against Kentucky, Tyler Murphy nearly gave up a pick six when a Kentucky defender jumped a route. Purifoy did keep the Kentucky receiver out of the end zone, hustling down the field to make his first collegiate tackle.
Series grade (A): A pick-six is the perfect way for the defense to get off the field.
Series No. 5: six plays, 14 yards, 3:30 time elapsed.
On the first play of this series, Neiron Ball took an interesting angle while going for the tackle.
As the play begins, instead of attacking the ball-carrier, Ball squares his shoulders to the line of scrimmage for just an instant.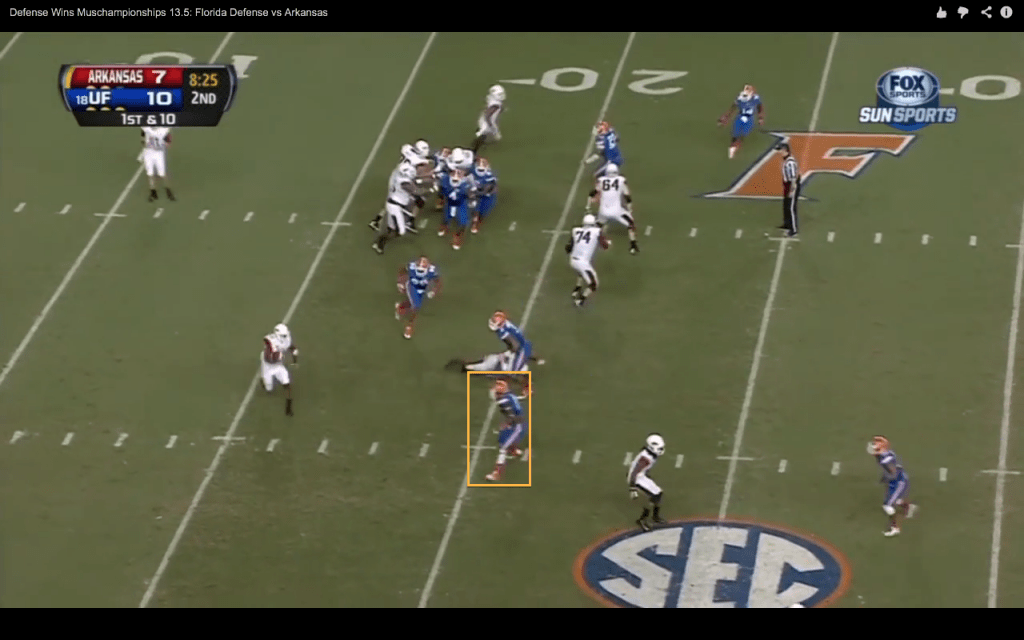 This allows running back Jonathan Williams to get around the edge. Instead of a tackle for loss this becomes an eight-yard gain.
Three plays later, someone forgets to block BUCK Dante Fowler for the third game in a row.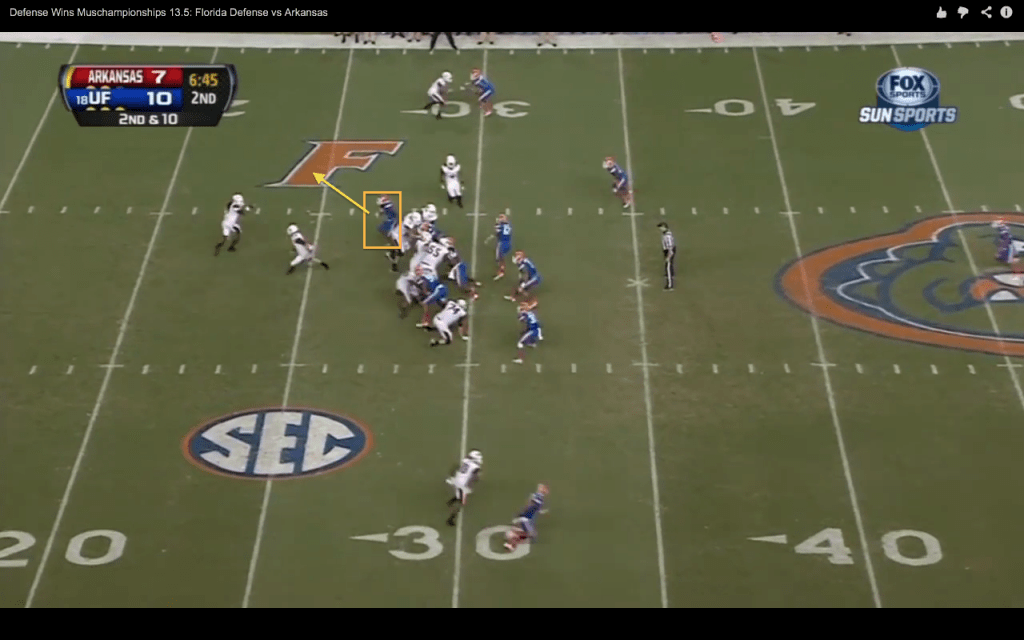 And he makes an athletic play in the backfield, forcing a two-yard loss.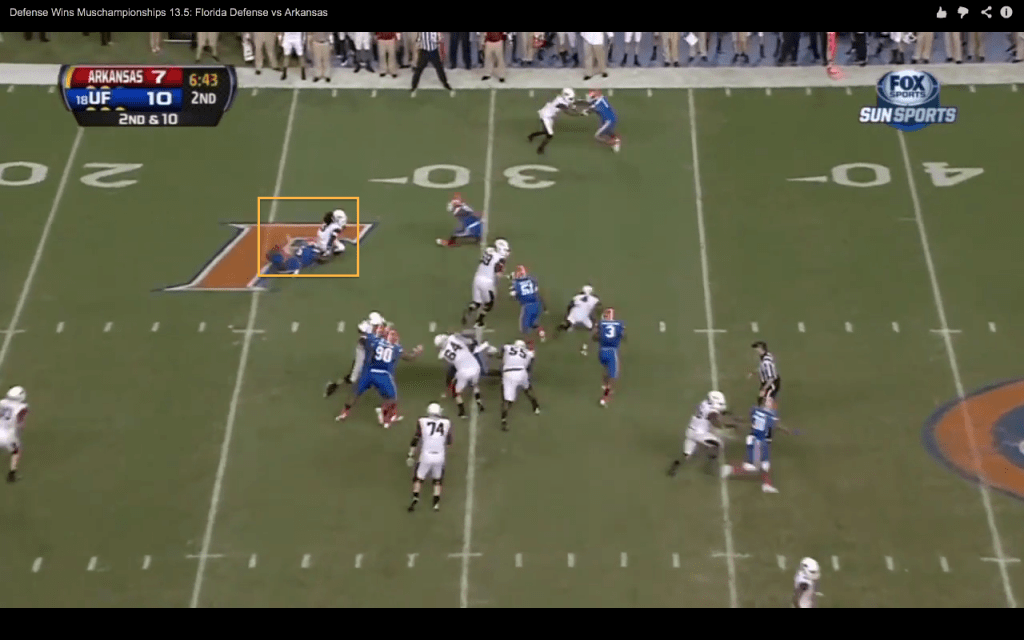 After a failed bubble screen on third down, the Razorbacks punted.
Series grade (A): When will teams learn leaving Dante Fowler unblocked is never a good idea?
Series No. 6: three plays, 1 yard, 1:05 time elapsed.
Brandon Allen's first down pass attempt was incomplete, and that was the best shot the Razorbacks had at getting any yards on this drive.
Through a blown assignment we can't see because it's off-screen, Allen had linebacker Mike Taylor right where he wanted him, forcing him choose which back to cover with no immediate help over the top.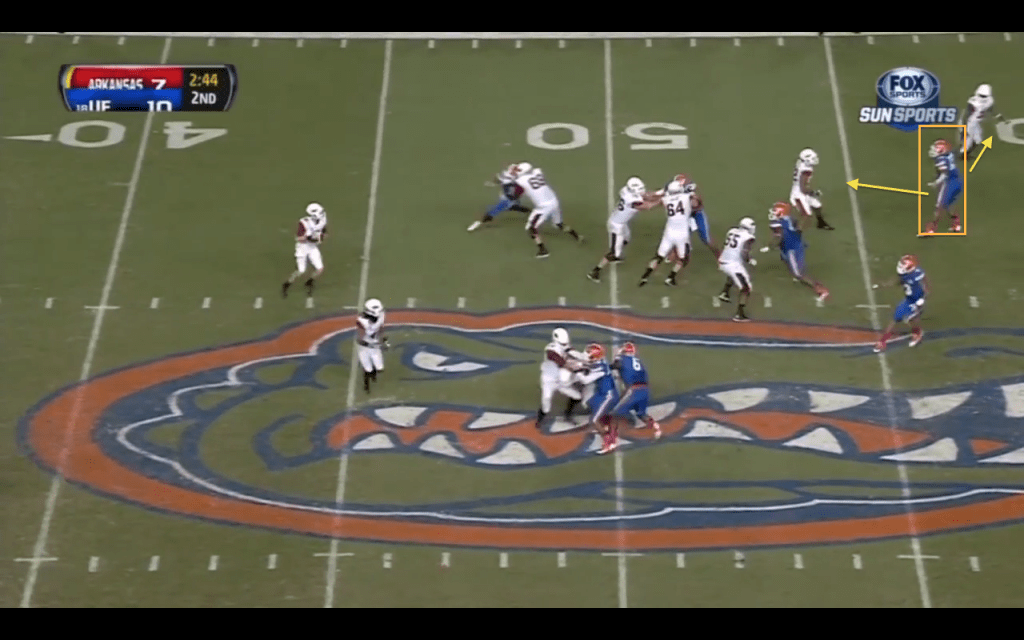 You can see that Taylor is caught in the middle, but fullback Kiero Small is unable to haul in the errant pass by Allen. Two plays later, the Razorbacks are off the field.
Series grade (B): A series that allows .3 yards per play is a good one at face value, but a lapse in coverage could have made this a lot worse than it was because at the very least Small's catch would have placed Arkansas in field goal range.
Series No. 7: QB kneeldown.
Second quarter grade (A): A turnover and a three and out were highlights of a second quarter that was much better for Florida's defense than the first.
First half grade (B): The defense definitely got better as the half went along. That's a trait of this unit, and it goes back to the coaching staff. Florida may be vulnerable early in the game, but once they make adjustments whether schematic or fundamental they're locked in.