Florida's 30-10 win over Arkansas got off to a rather peculiar start. In the first quarter it seemed that the Gators made more mental mistakes on defense than they had made in the previous four games combined. To the Razorbacks' credit, they came into The Swamp and punched the Gators in the face. It wasn't until Loucheiz Purifoy's interception in the second quarter that the Gators were able to re-take the momentum.
Series No. 1: six plays, 28 yards, 2:41 time elapsed. 
One of the things Arkansas did well in the early going was convert on third down, largely due to having manageable third down situations. The first was a third and one in which Antonio Morrison took himself completely out of the play.
Watch as Morrison reads the fullback going to his left and sees the quarterback reverse left. Morrison makes the read and flows too far to that side, leaving his assigned gap.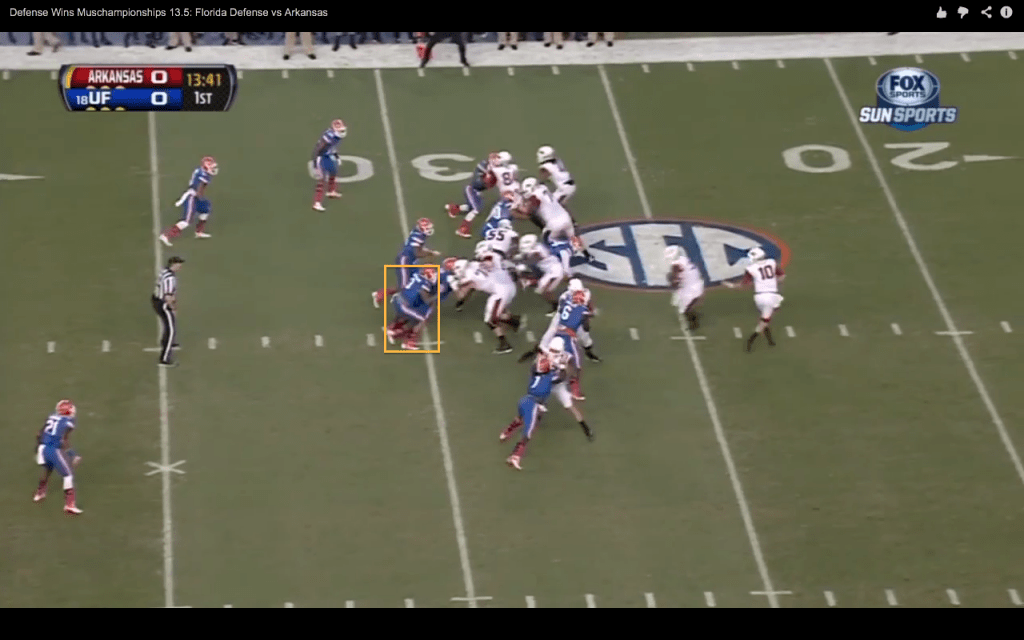 Preview
The ball-carrier runs right where Morrison should have been plugging the hole. The play is good for 19 yards and a first down thanks to that little bit of misdirection.
The next third down — a third and nine — was an obvious passing situation in which the Gators ran a zone blitz and sent Morrison and Michael Taylor to harass the quarterback.
When the play begins it appears that Ronald Powell is coming off the left edge, but instead he drops into pass coverage,  clogging quarterback Brandon Allen's throwing lane.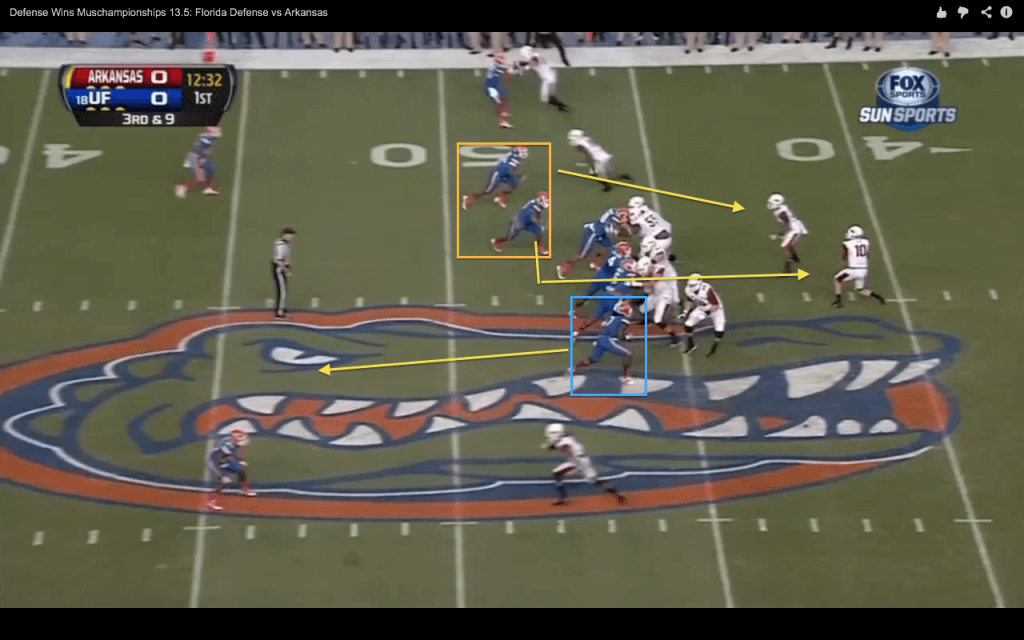 The blitz works because Morrison winds up in Allen's face.
Series grade (B+): Compared to some other game opening series' this season, this one actually went pretty well for Florida.
Series No. 2: two plays, 18 yards, :39 time elapsed. 
On this play, we see Loucheiz Purifoy at his worst.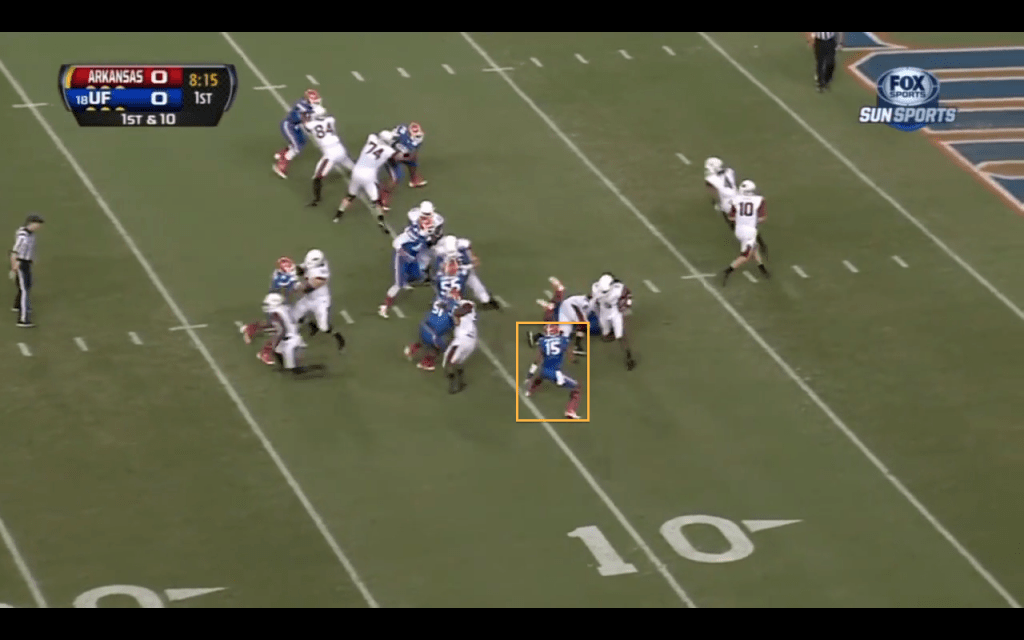 It starts with a jump-cut around the tight end, forcing all of Purifoy's momentum to the right. With his weight shifted poorly, all Arkansas running back Alex Collins has to do is use Purifoy's body position to his own advantage by making one cut and the cornerback looks silly in his attempt to make this tackle. The play covers 28 yards.
Now we see Purifoy at his absolute best as he comes off the edge on a corner blitz that weaks havoc.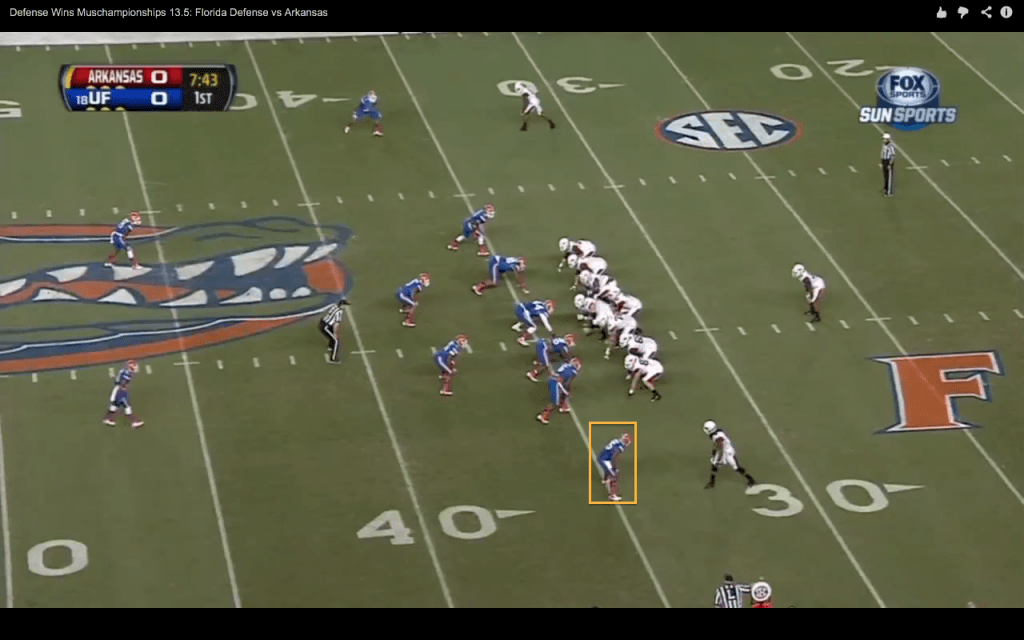 Purifoy's setup is perfect here. He doesn't walk up or tip his hand. He simply rockets into the backfield for a strip-sack-fumble of Brandon Allen.
This is oddly reminiscent of a similar play he made on South Carolina quarterback Connor Shaw in 2012.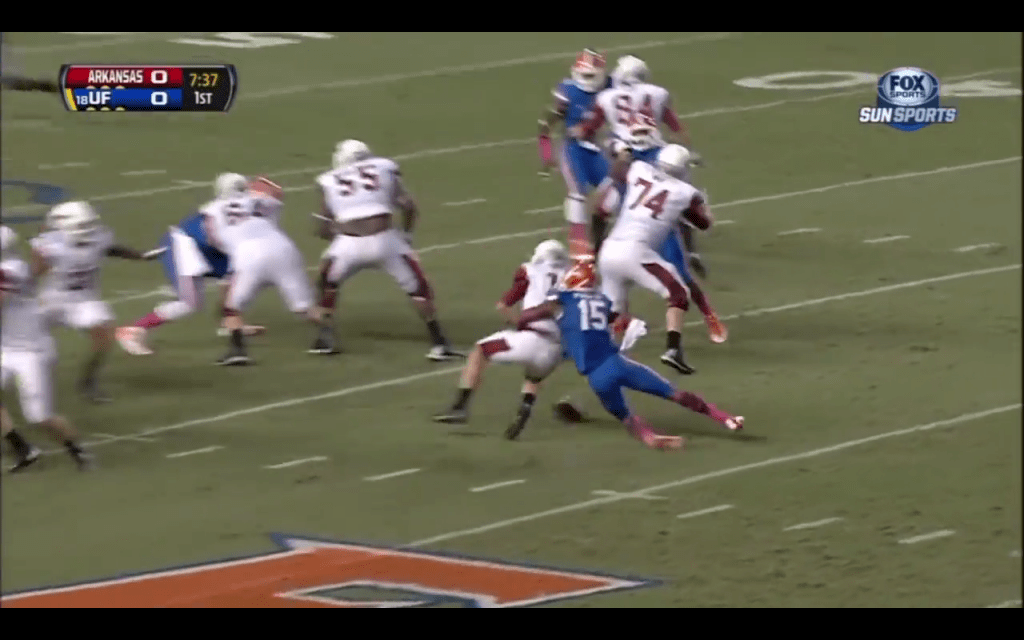 Series grade (A): Purifoy made a poor fundamental play, but followed up with a near perfect corner blitz to force a turnover.
Series No. 3: eight plays, 64 yards, 4:15 time elapsed. 
This drive almost didn't get off the ground when Purifoy foreshadowed upcoming events by jumping a route and almost coming away with a turnover.
Two plays after that we see defensive lineman Brian Cox Jr. getting caught flowing too far inside on a sweep play. Neiron Ball doesn't help things by taking an odd containment angle.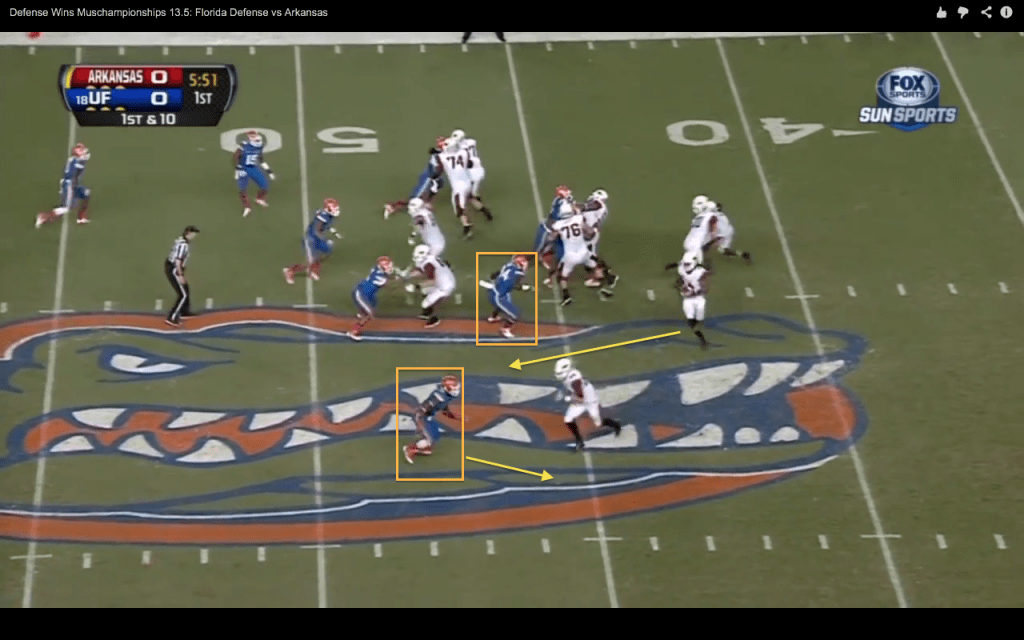 That play ends up being a nine-yard gain.
While Arkansas didn't do much in the realm of trickeration, they did try to catch Florida napping on one play with a direct snap to the running back.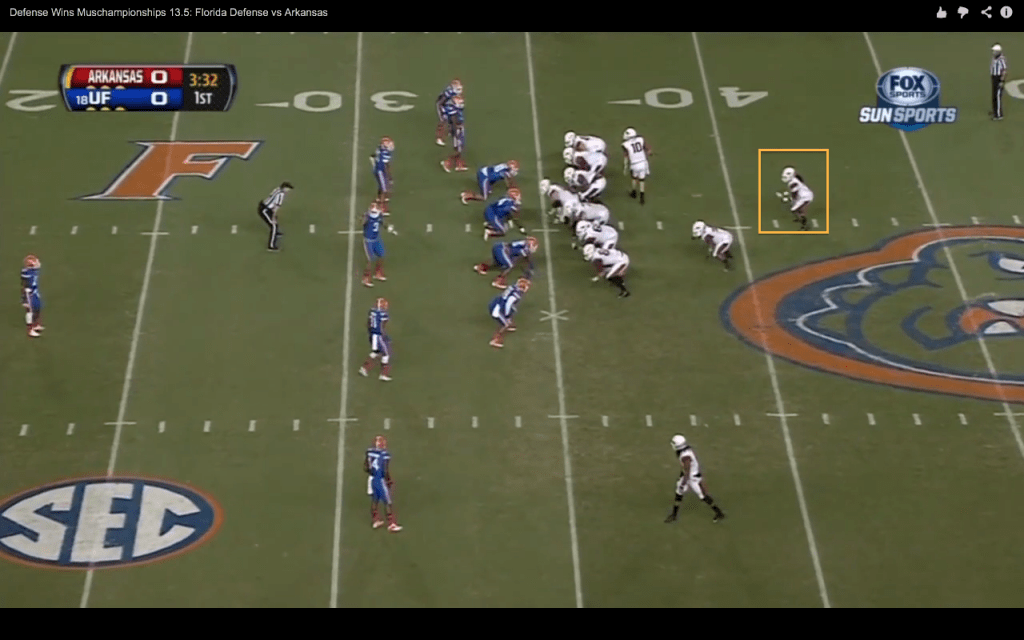 As you see the play goes nowhere, but it was second and short so the Razorbacks could afford no gain. That sets up third and three, a manageable down that gives the Arkansas offensive coordinator a number of optionsto extend a drive that's already well into Florida territory.
As you see the play unfold, there is miscommunication along Florida's defensive front  which is attempting to adjust to an unbalanced set. Taylor and Morrison are trying to get people into position until the moment the ball is snapped.
This leaves tight end Hunter Henry unaccounted for.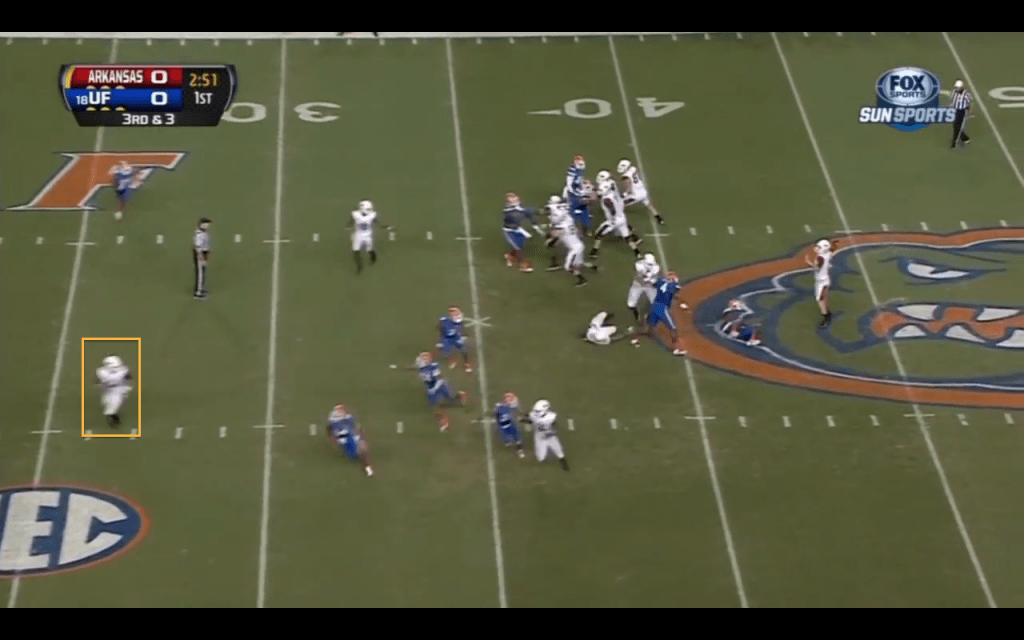 You can see Hunter slipping into the secondary uncovered. Allen's pass is right there and the play goes for 31 yards.
On the next play, Florida appeared to have running back Jonathan Williams stopped for a loss on the left side.
Watch as BUCK end Dante Fowler fails to set the edge here, pursuing too flat down the line of scrimmage.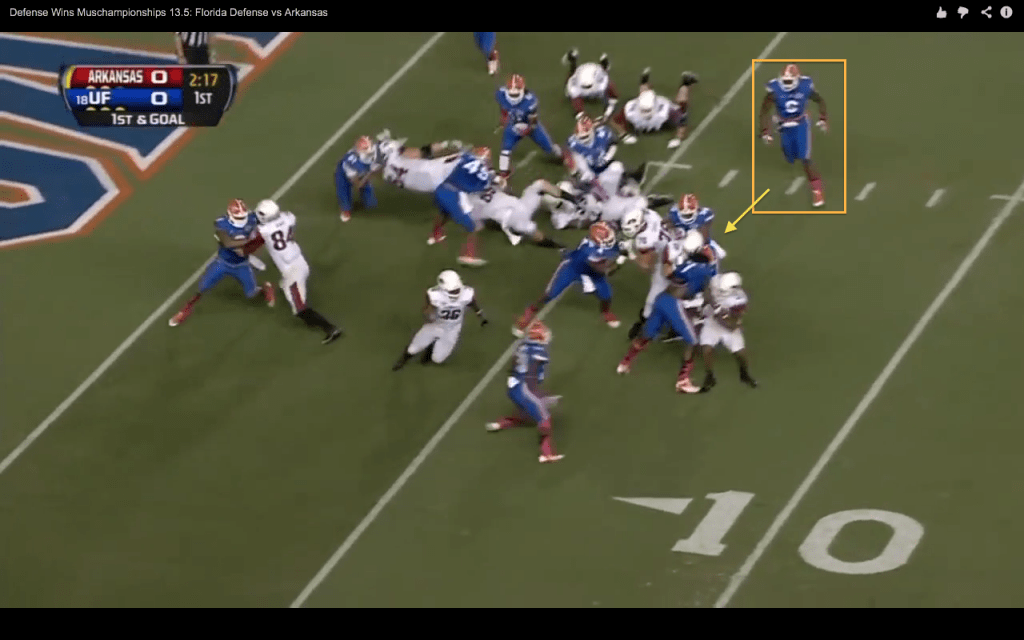 With one side overloaded, Williams cuts it back the other way to turn a potential loss into the game's first touchdown.
Series grade (F): Three lapses by Florida's defense turned into seven points for the Razorbacks.
First quarter grade (C): Fundamental mistakes cannot be overlooked, and the forced turnover doesn't outweigh the bad plays from Florida's defense in the first quarter.
screenshots taken from Libgator video.