Florida's first SEC road game had a familiar start for the defense. Kentucky did what Miami did in game two — marched the  ball down the field on the opening drive with an up tempo style that got a touchdown before the Gators could dig in and get into the game. Once the Gators got their feet under them, not many good things happened for Kentucky's offense as Florida took a 24-7 win and held the Wildcats to 173 total yards.
Series No. 1: 10 plays 75 yards, 5:27 time elapsed, KENTUCKY TD.
Early last week, Florida's defense suffered a massive loss when defensive lineman Dominique Easley tore his right ACL and medial meniscus. Easley's loss won't be felt so much statistically — I feel like Florida's backups are suitable stand-ins — but more in an intangible way. Easley forced opposing offensive coordinators to game plan around him and he created sacks and  tackles for his teammates because he was so disruptive, drawing at least a double team on every play.
Much is made about how quickly Dominique Easley gets off the ball and into the offensive lineman's lap. On two straight plays his replacement, Jonathan Bullard, shows Easley-like get off.
Once here: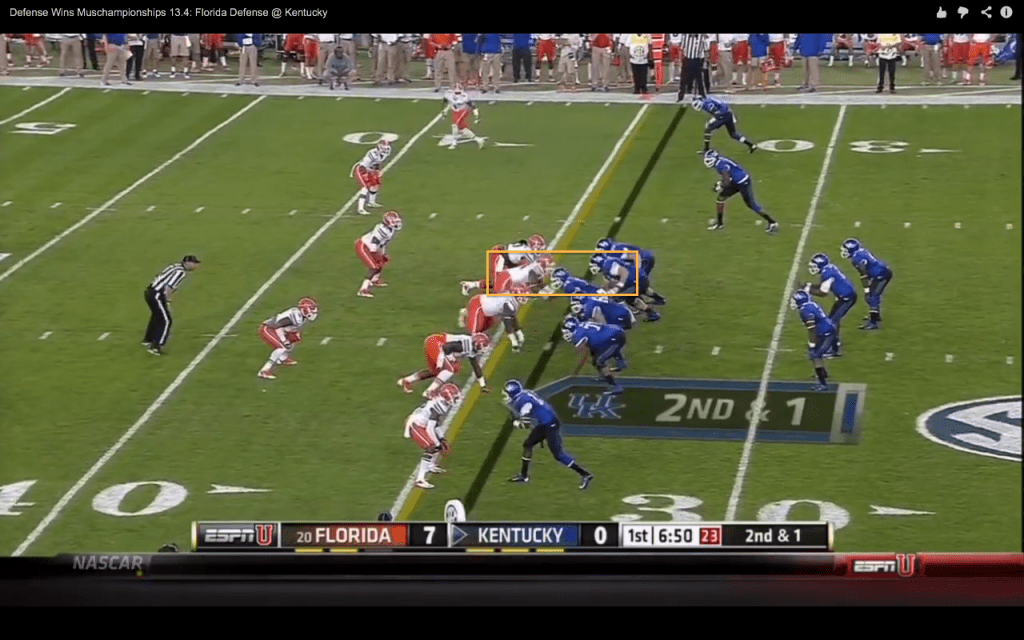 and again here: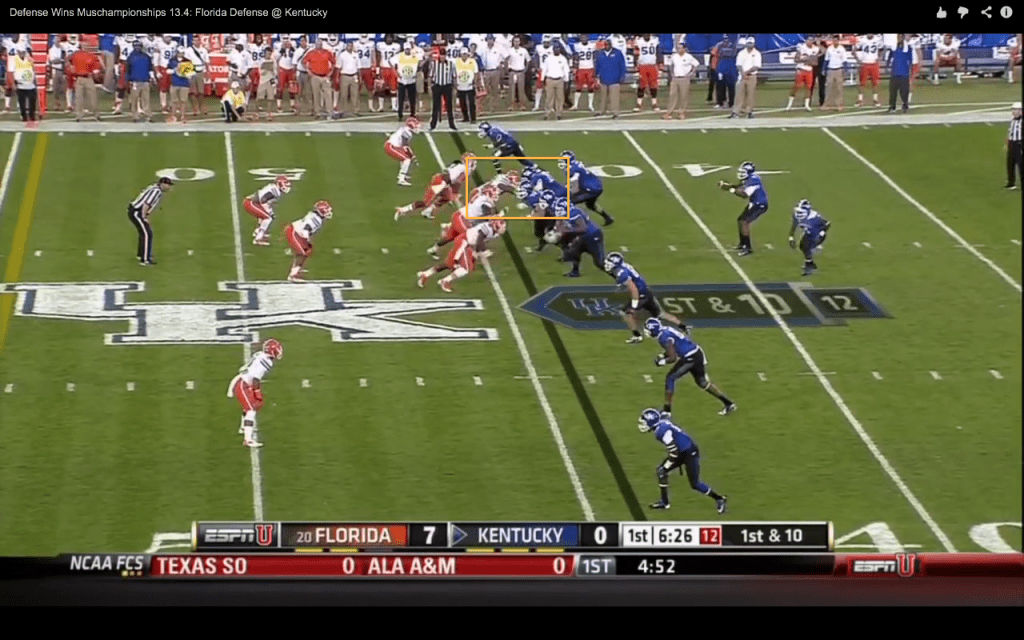 Both times Bullard is engaging his blocker before anyone else. On the very next play, Bullard gets off the line just fine, but doesn't have great play recognition, allowing himself to be taken out of the play by Kentucky's pulling guard, No. 64, Max Godby. Or does he?  In fact, Bullard does exactly what he's supposed to do and sets the edge.
If Bullard crashes down under Godby, Kentucky quarterback Jalen Whitlow could have easily stuck his foot in the ground and bounced this outside and ripped off a big gain.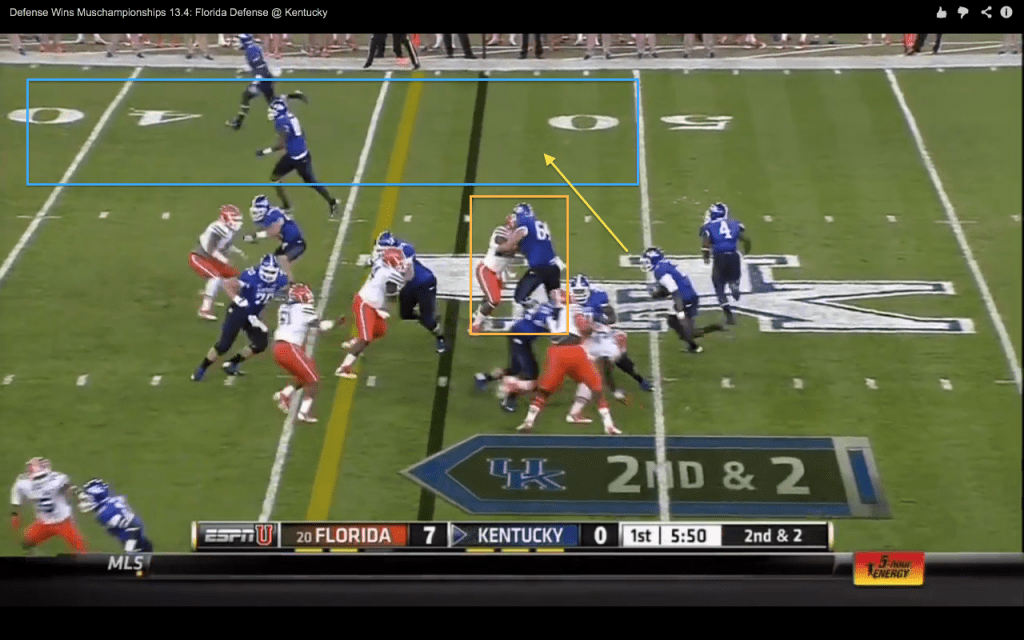 Instead Bullard forces the play to go under him, and Whitlow is tackled after a seven-yard gain. That's the best case scenario here.
The Wildcats moved the ball well on this drive because they were able to gain significant yardage on first down. They had second downs of one, two and four after a penalty. Those manageable second downs led to a first down conversion each time. Once the Wildcats put themselves into a corner with a false start, the Gators were able to pin their ears back, get a sack, forcing a lengthy second and 18. From there Kentucky ended up attempting a field goal after two inconsequential plays.
Series grade (B): While Kentucky did score, it was on a fake field goal, so the score isn't on the defense. Kentucky moved the ball early with impressive pace in the beginning of the drive, but once Florida got the advantage thanks to long first and second downs the drive was doomed for the Wildcats.
Series No. 2: three plays, two yards, 1:39 time elapsed.
On the first play of this three and out safety Cody Riggs displays good play recognition, reading screen out of the backfield and then making a solid open field tackle for loss.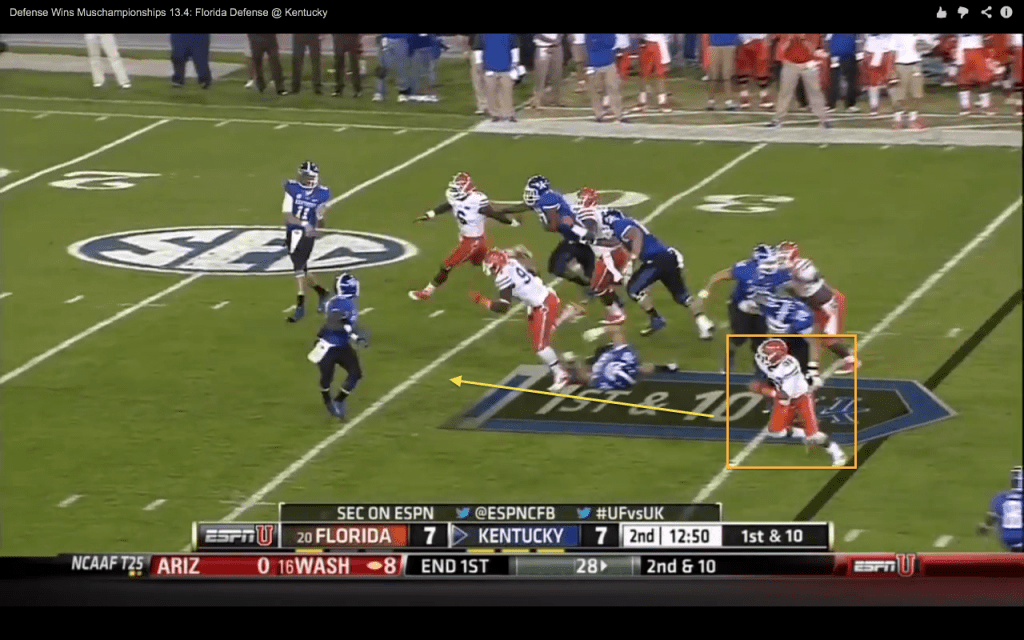 Two plays later Kentucky runs a quick slant and throws at Vernon Hargreaves, an ongoing theme that didn't end well for the Wildcats. The freshman even had a little fun after making an athletic play to break up the poorly placed throw with some  finger wagging a la former NBA center Dikembe Mutumbo. That's not something you do as an 18-year old unless you're supremely confident in your abilities, and Hargreaves has every reason to be.
Series grade (A): Three plays, and Kentucky's offense is back on the bench.
Series No. 3: three plays, two yards, 1:33 time elapsed.
On second down here, Kentucky again elects to throw a pass in Vernon Hargreaves' direction.
The freshman maintains inside leverage on Kentucky receiver Jeff Badet the entire time.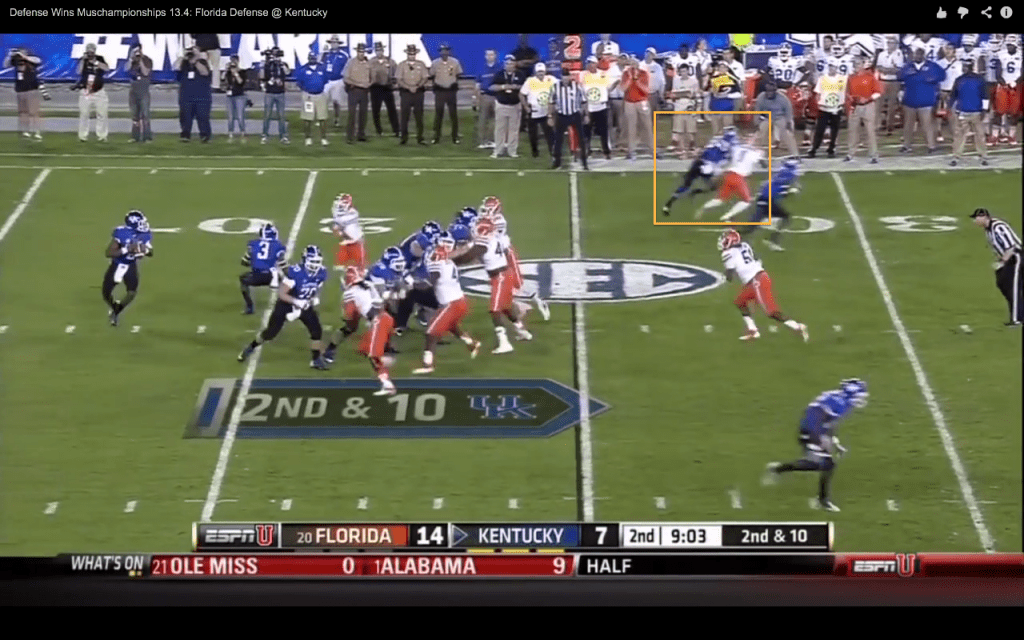 Quarterback Jalen Whitlow is forced to throw into a very tight window, and the throw is off target and incomplete.
On third down, Kentucky motions running back Jojo Kemp to create an empty backfield set.
The motion also is used to get Florida's linebackers to shift from the middle of the field and shade over, which they do.
Whitlow attempts to run a draw play into the space vacated by Florida's linebackers but Ronald Powell, who is a down lineman on this play, performs a nifty spin move and ends up in perfect position to bring Whitlow down.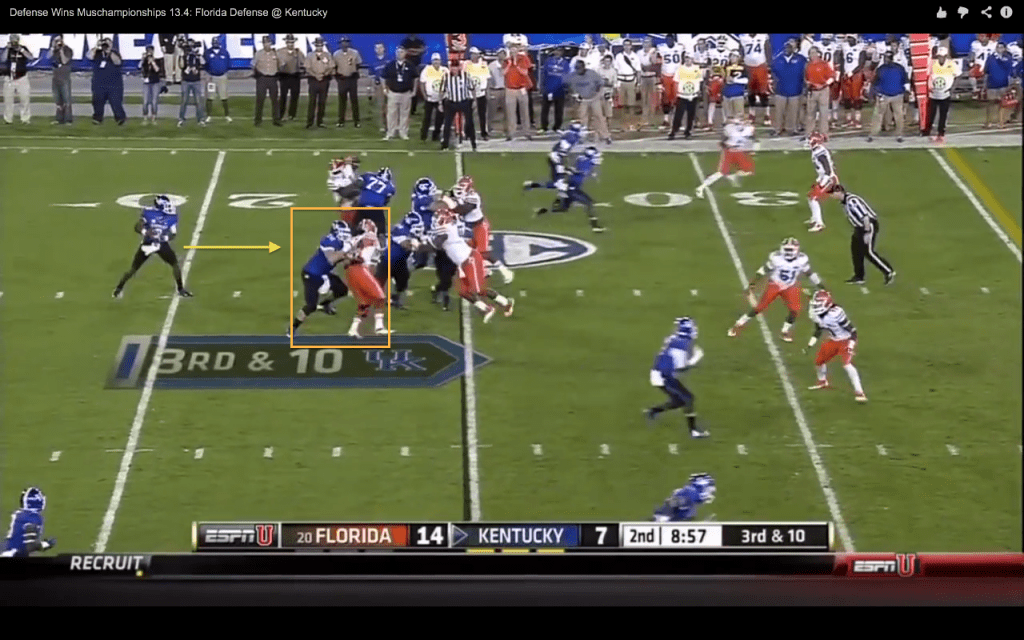 Series grade (A): Three and out yet again.
Series No. 4: eight plays 45 yards, 2:25 time elapsed.
Kentucky did move the ball 45 yards into Florida territory before having to throw the ball away on a fourth-down play that proved to be the last significant play of the half.
Series grade: (A): In a two-minute drill situation that Florida might have played a bit softer than usual in coverage, but the Gators held firm when it counted.
First Half grade (A): A solid performance from Florida's defense. As we've seen, they may not start off at their best on the first drive of the game, perhaps because they are simply feeling out their opponent. Once the make the adjustments were mad, all subsequent drives went very well for Florida's defense.
Screenshots taken from Libgator video