The first half of last Saturday's Florida-Tennessee game was what CBS play-by-play announcer Verne Lundquist said could break mirrors. It was an ugly half of football, but at least it was entertaining.
What happened in the third quarter is what the Florida coaching staff would love to see every quarter. The Gators held the ball for 10:35 and scored touchdowns on both drives. Will Muschamp said afterward that the game was won on these two drives, which changed the complexion of the game in what proved to be the most complete quarter of offense that the team has put together this season.
1st Drive: 11 plays – 79 yards – 5:09 – Touchdown
The Gators begin this drive after Tennessee's kicker Mike Palardy connected on a 44-yard field goal, to cut Florida's lead to 17-10. With a lot of time left on the clock, Florida needed to put something together here.
The drive starts off well with a Mack Brown 13-yard carry from the diamond or "30 personnel" (3RB, 0TE, 2WR). Brown gets good blocking from Gideon Ajagbe and Quinton Dunbar on the outside, which springs him for the gain. A read-option follows and Murphy goes for seven more yards on the play.
Two plays, 20 yards.
On the third consecutive running play, Brown goes for a first down and that is followed by Murphy forcing a pass into coverage and a running play for no gain to set up third and 10.
A stop here could have swung momentum into Tennessee's favor so this was a crucial moment for the Gators.
The Gators line up in "10 personnel" (1RB, 0TE, 4WR). Matt Jones (red) stays in to help block, Trey Burton (orange) runs into the flats, Tevin Westbrook (yellow) runs a quick slant/hitch and Solomon Patton runs a post. On the bottom of the image, Quinton Dunbar is in single coverage and is running a 9- or "go" route. Murphy recognizes the man-to-man coverage, throws the ball downfield, giving Dunbar a chance to make a play.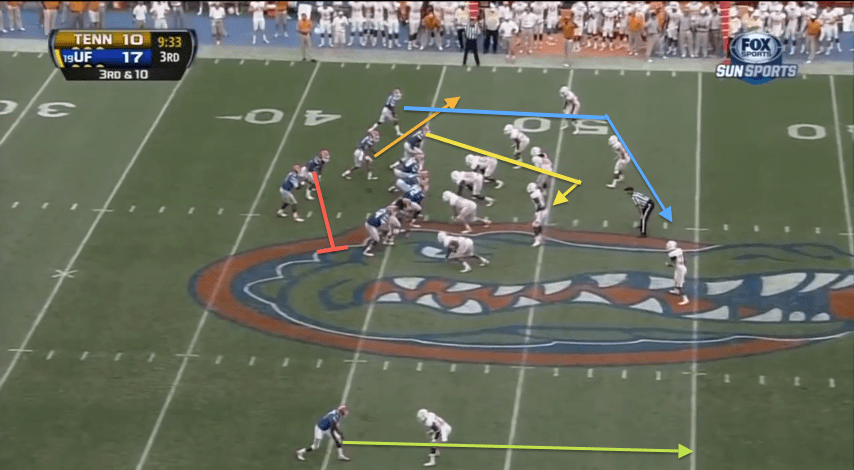 Dunbar gets a good release off of the line and pulls even with the cornerback on the outside. Murphy takes one step out of the gun, steps into his throw and launches the ball with a perfect trajectory to Dunbar along the sideline. Murphy's pass gets to Dunbar in stride and in a place where only Dunbar could catch it.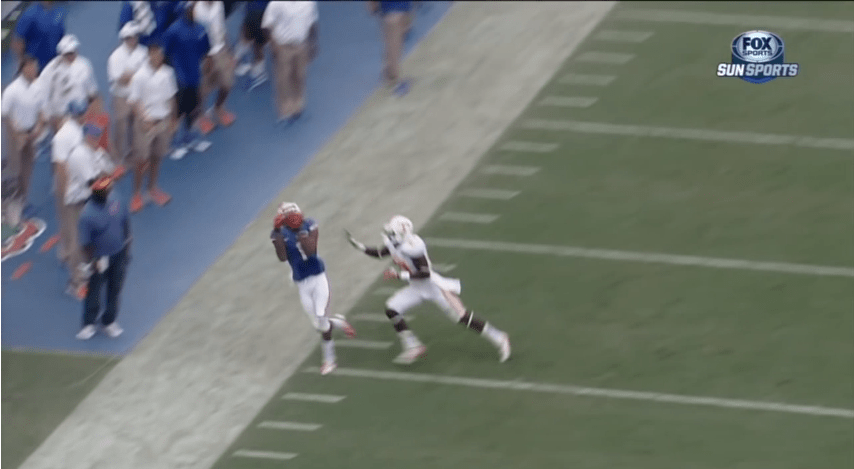 Dunbar not only makes the catch but shows great body control and awareness to get his left foot down before going out of bounds. Not only was this a near perfect throw from Murphy but it extended the drive and gave the Gators momentum.
After a five-yard run on the next play, Florida ran an unsuccessful end-around to Solomon Patton. The play gets blown up because Matt Jones misses an assignment, but it's worth looking at  because of the unique formation the Gators use.
Typically, Patton will line up wide and motion towards the quarterback when Florida dials up a jet sweep. However, on this play, Patton lines up at tight end (circled in blue).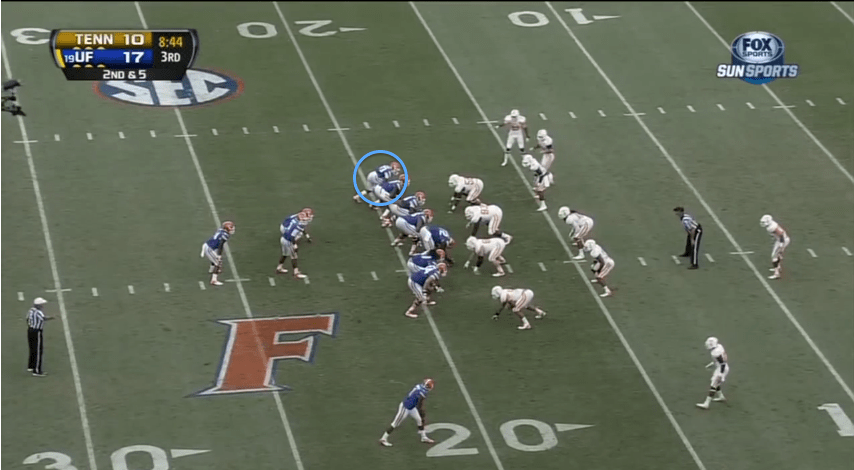 Murphy is in the pistol formation with Jones behind him and Hunter Joyer at his side. Now take a breath. There is a lot going on in the next screenshot but it will all be explained.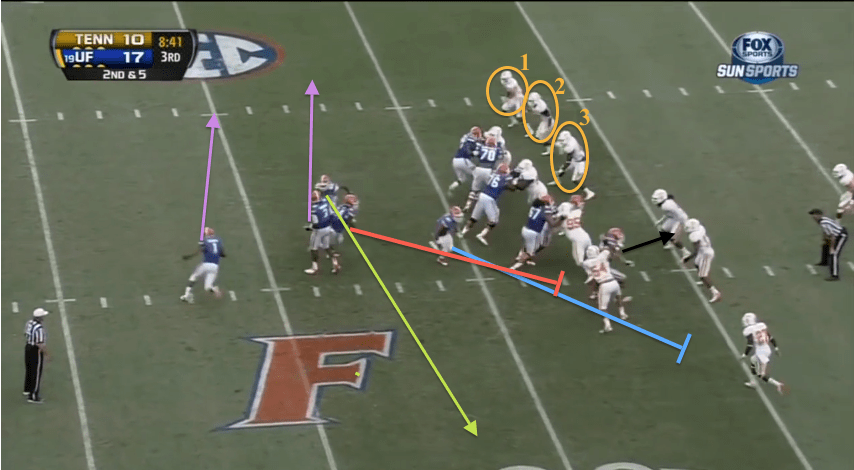 Kyle Koehne's job is to chip the defensive end before climbing to take on a linebacker at the next level. You can see him doing just that (black arrow). Jones' job (red) is to pick up that defensive end after the fake handoff. Joyer (blue) will take on the defensive back while Murphy and Dunbar (purple) fake an option play after the sweep to Patton (green). You can see three Tennessee defenders (orange) all bite on the option fake here with Murphy and Dunbar.
Joyer initially looks like he will pick up the defensive end, but runs past him and takes on a defensive back.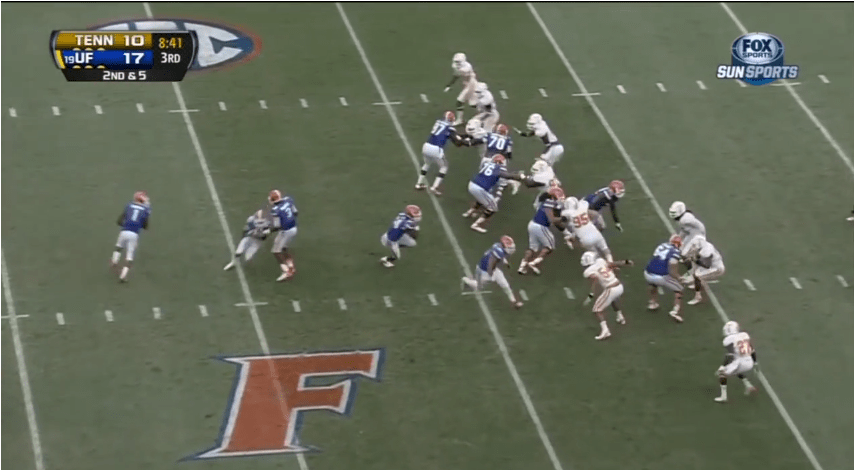 This slight hesitation by Joyer confuses Jones, who doesn't block anyone.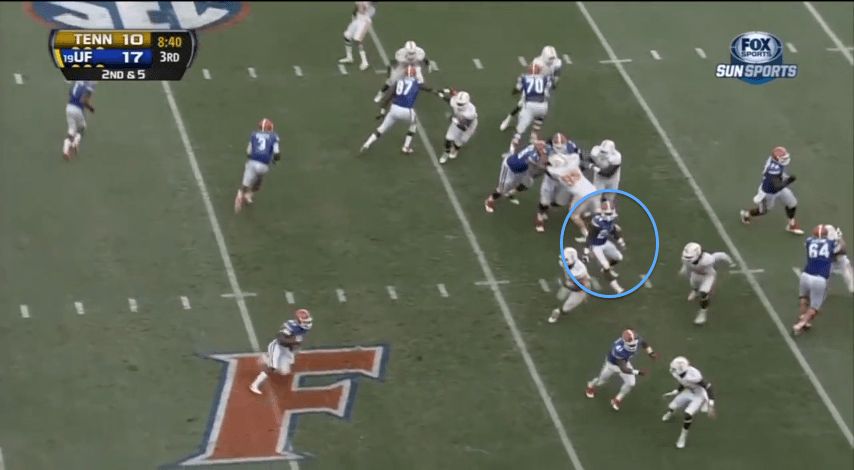 The play only goes for a one-yard gain, but there are numerous variations that can be run out of this set and this won't be the last time that you see it this season.
Florida goes back to the diamond formation on the next play and runs the read-option again with Murphy definitely in his element.
Here's what the play looks like and everyone's responsibilities.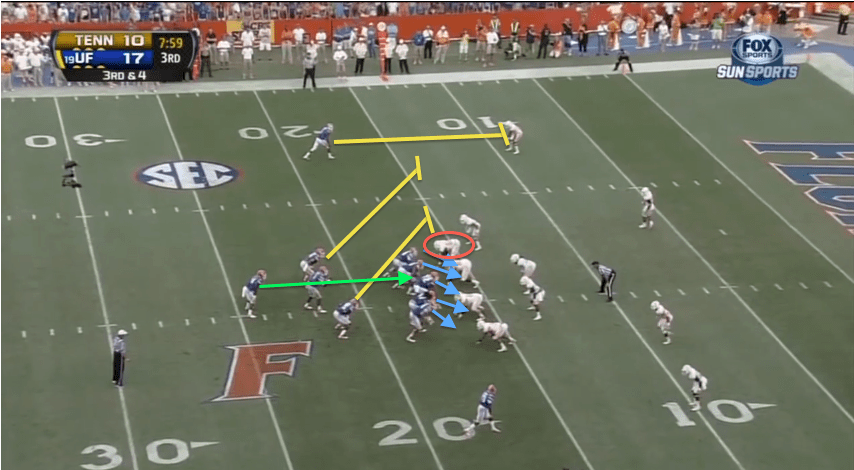 Murphy's read is circled in red. Dunbar, Ajagbe and Burton will all block on the left side (yellow), while the offensive line blocks down (blue). Murphy makes the correct read on the play and his fake is so good that it stops A.J. Johnson and Devaun Swafford in their tracks. Murphy now has three blockers and a whole lotta green in front of him.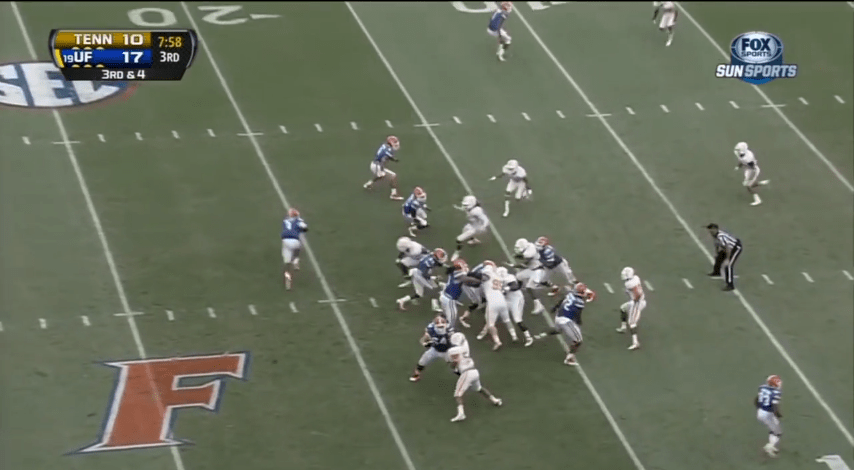 Murphy picks up good blocks from Dunbar, Burton and Ajagbe and springs this play outside for a gain of 13, leaving all Gator fans saying…
Murphy missed on a play-action pass to Gideon Ajagbe on first and goal but Jones is able to find the end zone on the next play for a Florida touchdown.
Drive Grade: A+
This was a huge drive for Florida, which needed to put points on the board here to make it a two-score game. Not only did the Gators put points on the board but Murphy executed a brilliant 11-play drive that ate up five minutes of clock and found the end zone.
2nd Drive: 11 plays – 84 yards – 5:26 – Touchdown
Here's how the conversation would likely go.
Me: Florida put together back-to-back 11-play drives on offense. Both drives were over five minutes long and ended in touchdowns for the Gators!
You: HAHAHAHAHAHA. Yeah, right.
But seriously, it happened.
Florida gets the drive moving with back-to-back runs from Brown before Pease dials up play-action. Murphy fakes the handoff to Brown but the pocket breaks down and Murphy gets the heck outta dodge, a quick, concise decision that results in a 28-yard pickup.
A poor block from Trenton Brown results in no gain on first down. Murphy shows off his arm strength on the next play. Forced to scramble to his left, Murphy squares his shoulders and throws a dart to Patton. Patton drops the ball but will make up for it on the next play.
For the second drive in a row, the Gators face a third and long and they have to convert or punt. Patton runs a quick hitch route over the middle, catches the pass, breaks a tackle and scampers toward the sideline for a 12-yard pickup. The throw was nothing special — just three yards in the air — but Patton turns it into a huge third down conversion.
A two-yard run on first down (Florida ran the ball on all four first down attempts this drive) is followed by a 20-yard Murphy to Dunbar strike. Murphy anticipates Dunbar's break and releases the pass before his receiver makes his break. The ball is thrown low and slightly behind Dunbar, which keeps him from getting killed by the strong safety.
The Gators work their way down to the Tennessee seven as the drive bleeds into the fourth quarter.
The Gators spread out Tennessee on third down and go into an empty set with five wide receivers. The receivers are a decoy meant to stretch out the defense, Murphy was never throwing this ball. It's a designed run all the way.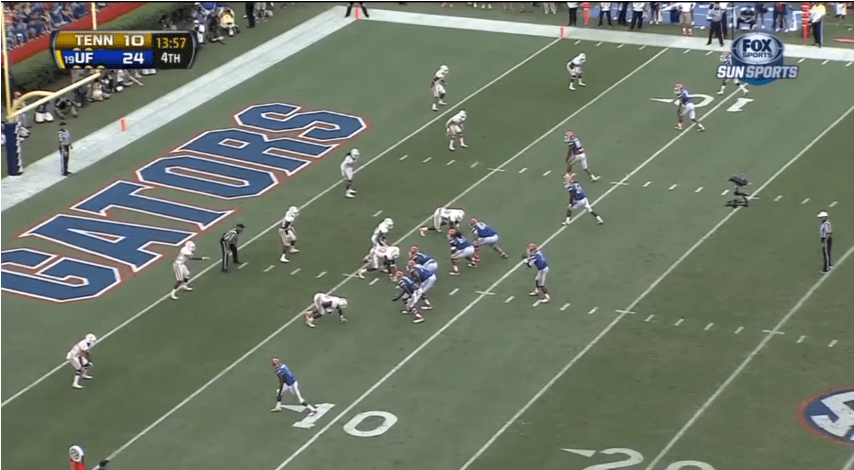 Murphy takes off, makes two men miss and dives head first into the endzone for his first career rushing touchdown.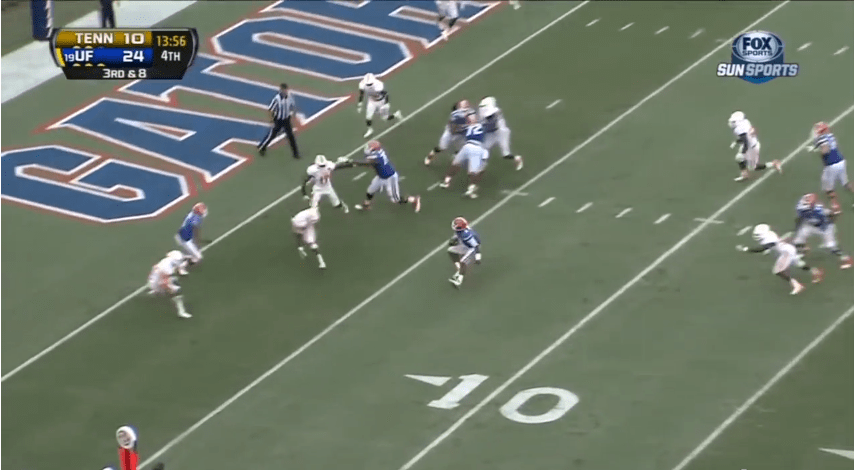 Drive Grade: A+
This drive put the game on ice and gave the Gators an insurmountable 21-point lead.