When was the last time you sat down on a Saturday to watch the Gators and looked forward to the offense trotting out on to the field? Chances are it was when good 'ole No. 15 was throwing passes and running over linebackers. That changed last Saturday when Tyler Murphy turned in an outstanding performance in his first start as a Florida quarterback.
When Jeff Driskel went down against Tennessee, the offense was handed to Murphy, a redshirt junior, who has been a scout team staple for the better part of his four seasons in Gainesville. Murphy became the de facto starter when Jeff Driskel was lost for the season with a broken fibula.
Murphy responded to the challenge by leading the Gators to a come from behind win against Tennessee. His encore performance was a 15-of-18 passing night that included a touchdown through the air and on the ground in a 24-7 win.
Sure, Murphy has beaten two of the worst teams in the SEC the past two weeks but you can't deny the electricity he brings to Florida's offense.  Against Kentucky, the offense was impressive in the first half before the brakes were put on, allowing the Gators to coast to an easy, 24-7 win.
Let's dive in to our weekly breakdown with the Gators' first two drives of the game.
1st Drive: 13 plays – 93 yards – 7:47 – Touchdown
Hunter Joyer was called for holding on the opening kickoff so the Gators' started their first drive backed up inside of their own 10.
Florida opened the drive in 20 personnel (2RB, 0TE, 3WR) and managed just one yard after bad blocking from D.J. Humphries and Joyer. Next, Brent Pease dialed up a play to get Murphy's feet wet. A short swing pass to Matt Jones out of the backfield picked up nine yards and a first down.
This is a great way to get some of the nerves out of the way for a first time starter. It's a pass that's easy to complete and when Jones turned up field to pick up positive yards after the short completion, the offense and Murphy's confidence started to grow.
That confidence showed the next play, one of only two times the Gators passed on first down this quarter. Murphy got a clean pocket from his offensive line, stepped  into a throw and found Trey Burton over the middle for a 12-yard pick up. Then it was back to the swing pass for a short gain and a 6-yard run for a first down before we get into our first play breakdown.
On first and 10, Pease dialed up the first read-option of the game. Here's what the play looks like when Florida lines up in 11 personnel (1RB, 1TE, 3WR).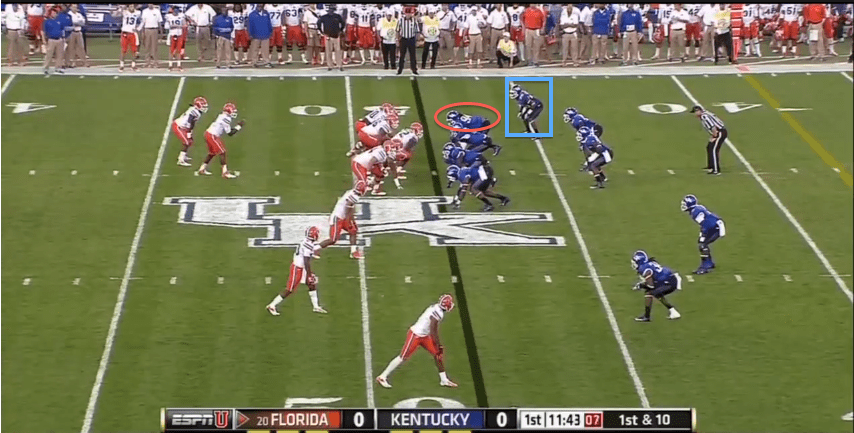 Murphy's read, Za'Darius Smith, is circled in red. The offensive line will block down (towards the bottom of the image) while Clay Burton releases to take on the safety Eric Dixon (outlined in blue).
And here's an good angle from behind as Murphy is making his read of Smith.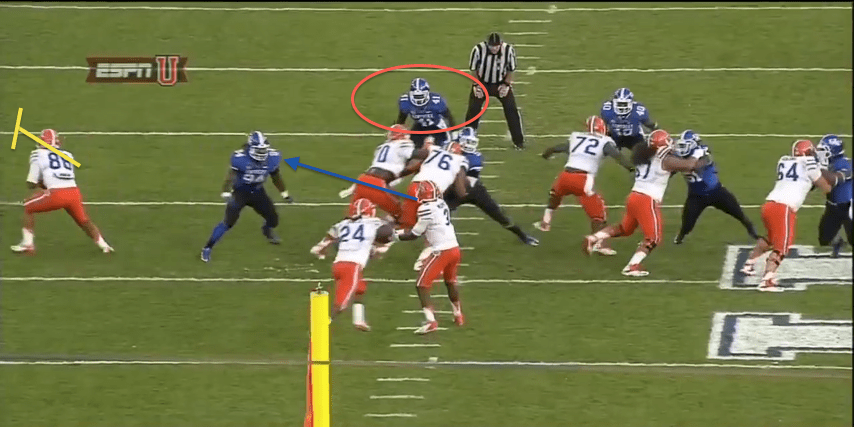 Smith committed to Jones and Murphy took off to his left. D.J. Humphries helped Max Garcia with a chip before climbing to the next level to take on TraVaughn Paschal. Spoiler alert: it didn't go well for Paschal. Clay Burton's assignment was to block Dixon, who you can't see in the image.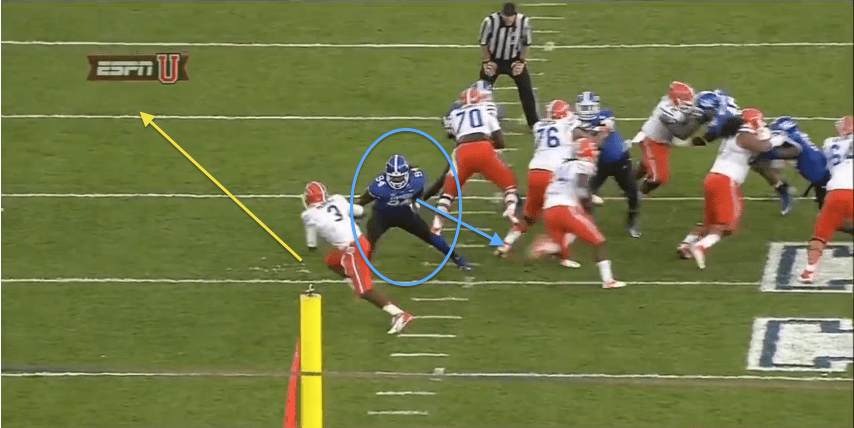 Smith was essentially taken out of the play when he committed to Jones. He had no chance to catch Murphy. In the next image you can see Burton absolutely mauling Dixon to spring Murphy for a 17-yard gain.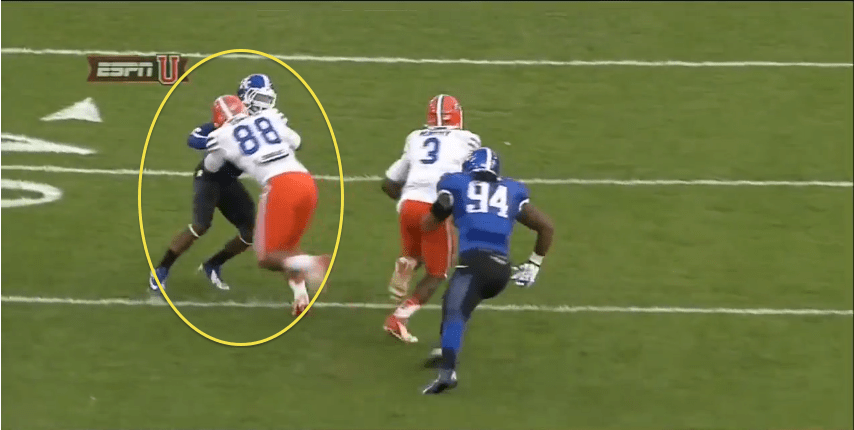 Murphy continues to make good reads on these read-option plays, something I think you will see more of as the season moves along. Pease hasn't opened the entire playbook up yet to Murphy but more and more will be opened each week.
After the big gain, the offensive line got no push on first down and Gideon Ajagbe missed an assignment on the next play,  leading to the second third down of the drive.
Kentucky blitzed, bringing five defenders. Theoretically, the Gators should be able to get a hat on a hat but Kyle Koehne and Jon Halapio didn't recognize the blitz and Dixon came right into the backfield on Murphy's strong side.
Murphy showed incredible poise, delivering a beautiful pass to Demarcus Robinson who was running an out-route.
Murphy stood tall and delivered the ball with a high release over the defender. Even though he knew what was coming, he hung in the pocket and got rid of the ball.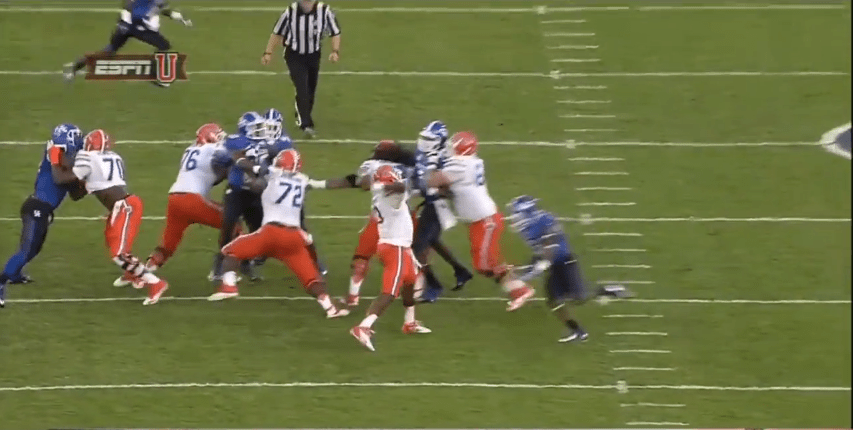 Murphy's pass was high and to Robinson's outside shoulder, allowing Robinson to catch the ball and turn up the field to get the two extra yards he needed for the first down.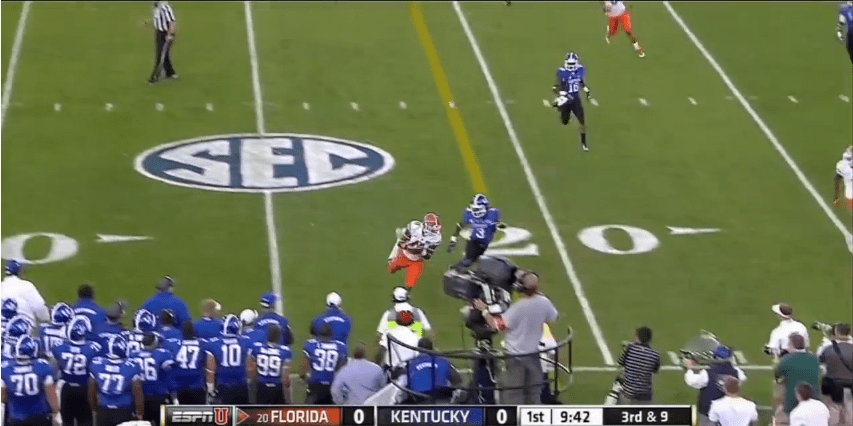 Murphy's poise precedes his experience.
A wildcat run by Trey Burton gained 13-yards. Trey loves playing against Kentucky (8 career touchdowns against the Cats) to set up the Gators with first and goal to go.
Murphy picked up three yards on a read-option, followed up by a two yard gain from Jones. On third and goal the Gators got great blocking from Hunter Joyer and a beautiful pull block from Jon Halapio, to spring Jones wide to the left and into the end zone.
Drive Grade: A+
This was an unbelievable start to the game. Florida drained more than seven minutes off of the clock, imposed its will and drove 93-yards for a touchdown. This is exactly what Florida needed to start the game and to get Murphy's confidence up.
2nd Drive: 5 plays – 29 yards – 3:55 – Missed Field Goal
Kentucky stunned the Gators with a fake field goal that turned into a game-tying touchdown. The Gators got the ball back, staring the drive on their own 35-yard line. Pease dialed up another quick, easy pass to get the offense moving. Murphy hit Solomon Patton on a quick screen pass that only went for four yards, but got the offense moving in the right direction.
Patton lined up in the backfield on second down but motioned out into a bunch formation to Murphy's right. This is a formation that Florida will either throw a screen to Patton, who will have three receivers blocking for him, or a quick pass to Dunbar. Dunbar was in man coverage, where if he can make one person miss, he can turn a short pass into a big gain.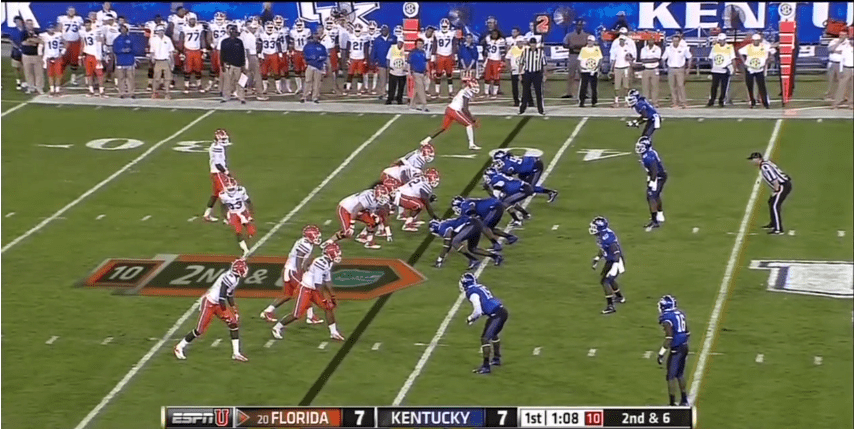 Florida's entire offensive line used cut blocks against Kentucky's four rushers, but Humphries and Kyle Koehne missed their blocks, leaving both of the Wildcat defensive ends bearing down on Murphy.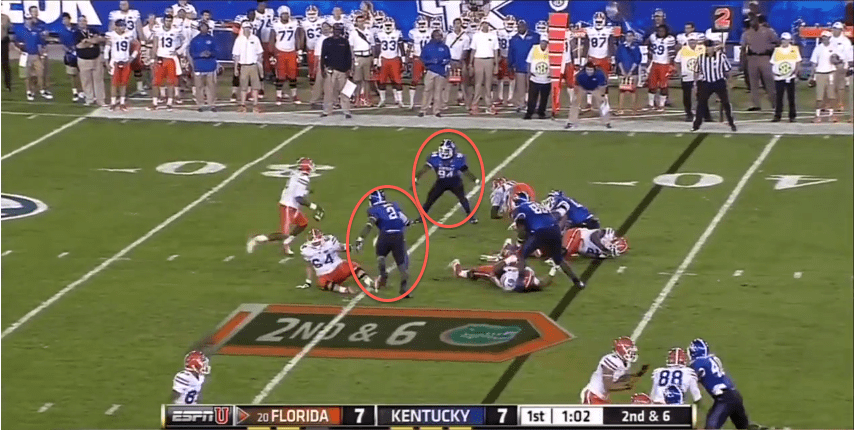 Here's another angle showing just how bad things looked to Murphy right after the ball was snapped.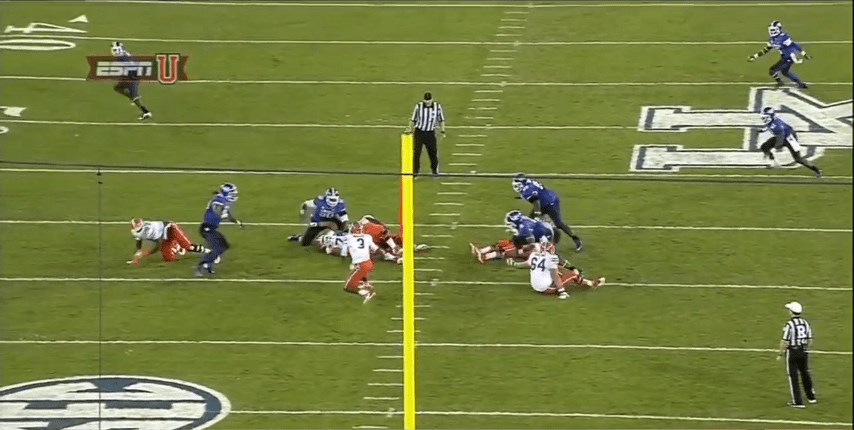 This is where Murphy showed the improvisational skills we really never saw from Driskel. Murphy rolled to his left, keeping his eyes downfield, pulled up and hit a wide-open Dunbar for a huge 29-yard gain.
Think back to the play where Driskel had his ankle rolled up against Miami. It was an almost identical situation. Driskel rolled to his left and even faked a pass to Dunbar but didn't pull the trigger. So much for Murphy being nervous in his first start. A nervous quarterback doesn't scramble with his eyes down the field and have the moxy to make the off-balance throw to Dunbar.
The drive bled into the second quarter after this completion.
Florida went with a true option on the next play, a loss of two yards. Florida hasn't been successful running true option plays this season. Florida currently has a mix of big maulers on the offensive line that were recruited by the current staff and more athletic offensive linemen that are a hold over from the previous staff. It's a hodgepodge that just isn't cut out for the kind of blocking necessary to run a true option offense.
Trey Burton bailed out Murphy on second down with a great catch but the drive stalled on third down when Koehne was beaten and Murphy is sacked. Murphy had Jones for a potential dump off, but even if he had gotten the pass off Jones wouldn't have been able to pick up the first down.
Austin Hardin came out to attempt a 53-yard field goal (Hardin has missed all of his attempts from beyond 33-yards this season) and the Gators were forced to call a time out when the field goal unit didn't get on the field in time.
Following the time out, Hardin's field goal try was wide right and well short.
Drive Grade: D
I really liked the poise and moxy that Murphy showed on this drive, which is the only reason it didn't earn a F. Having to burn a time out to get a field goal off is unacceptable and the error was compounded by a pretty bad miss.