When most people think about their time in college images from the classic movie Animal House pop up into their minds. There are parties, pizza, beer bongs and double secret probation. Class is an option that is oft overlooked in favor of sleep.
But that isn't the life of a student athlete.
For the student athlete those parties are replaced with practice, film study, tutoring sessions and early morning workouts. It's a full-time job just to be able to handle yourself and the things that you need to take care of on a daily basis.
But what about the players who have families of their own? The little free time that you are afforded is now spent changing diapers, potty-training and caring for a child. It's a responsibility that far too many men are unprepared for and wither from when faced with the reality of that positive pregnancy test.
Solomon Patton doesn't remember the exact way that he found out he would have a child but he remembers the emotions that rushed through him.
"I can't quite remember when I found out but when I did I was in shock," Patton said of finding out that his now fiancé, Sissy Rancier, was pregnant with their daughter Mia. "I was also, like, 'wow it's real.' At the same time I was really excited and it's definitely been a good experience, I love her to death."
After finding out, Patton turned his attention to the next task. Telling his and Rancier's families. Patton's older brother had a child right after high school graduation, so he knew that his family would be supportive, he was more nervous about telling her family.
Although the pregnancy wasn't planned, both Patton and Rancier were supported completely by their families. With a good support system in place it was left up to a waiting game. Patton remembers being there in the hospital; well, for the part he was awake for that is.
"It was pretty wild. I was actually knocked out asleep and I didn't hear any of the doctors or anybody come in," he said. "They just woke me up and everything was already setup and everything."
He may have slept through the setup, but he didn't miss the most important day of his life. It was almost too overwhelming for him.
"They had to make me go sit down because I almost passed out," Patton recalled. "I had to go sit down for a little bit."
For the seldom-used receiver, having a baby girl was just the motivation he needed to turn his Florida football career around. It hit Patton that he wasn't playing football for himself anymore. He now had a baby, someone he was responsible for. It's a responsibility that he doesn't take lightly.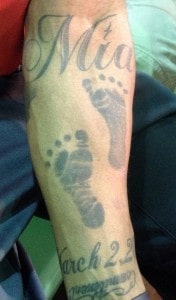 "It motivated me so much. Definitely coming off my freshman year I wasn't playing as much, just special teams and I definitely feel like she changed my life tremendously," he said. "When I work out all I thought about was changing her life and trying to make it so I could better myself and be able to better take care of her."
Mia was there on senior day, greeting daddy the last time he took the field as a Gator but she hasn't been there while Patton has been in Boca, training for his future and the possibility that he can make a career in the NFL happen.
Being far away has been hard for him, but he's finding ways to keep in touch with his fiancé and his daughter.
"It's definitely hard. I do a lot of FaceTime. I try to do that three times a day," Patton said. "She amazes me every time I see her. It's something new every time I see her. I feel like she grows taller or just something every time I see her or talk to her."
Mia will be at the Senior Bowl on Saturday, back in Daddy's hometown to watch him play in his final game as a college athlete. She may not remember the day when she grows up but her dad will.
It means the world to have his daughter by his side. The University of Florida gave him a degree and four years of football  but both of those pale in comparison to the biggest gift he received during his time at Florida.
Baby Mia and his fiancé.