The town didn't really didn't impress me at first. The charter bus I rode into Baton Rouge took us through rundown parts of Louisiana's capital. Then the landscape changed radically and I was thrust into the bayou version of college football heaven.
On Youtube you can find the video called "Saturday night in Death Valley", an ode to the stadium with words penned by LSU public address announcer Dan Borne. It reads as follows:
It is a pantheon of concrete and steel

It is a city that rises defiantly in the delta alongside the father of waters

It is the humidity of autumn evenings that drapes stately oaks and broad magnolias

It is haunted … and it is loud.

It is Halloween night & Cannon blasts

It is a Louisiana gumbo of humanity that cheers its Tigers to victory & destroys the dreams of invading foes

Chance of rain is … never!

It is the cathedral of college football & worship happens here

When the sun finds its home in the western sky it is a field of glory for sure …

But much more than that it is a sacred place

And it is Saturday night in Death Valley
The goose-bump inducing video is shown right before kickoff in Tiger Stadium (no matter what time of day) and the opening words capture the ambience perfectly. It is a massively intimidating structure that rises high above anything else in the area. I know just how tall it is, because my seats were in section 643. If that sounds high, it is.
From my perch I could see through the construction –that will make this pantheon of concrete and steel even bigger — to both the outer reaches of LSU's athletic complex and the Louisiana landscape extending all the way to the horizon: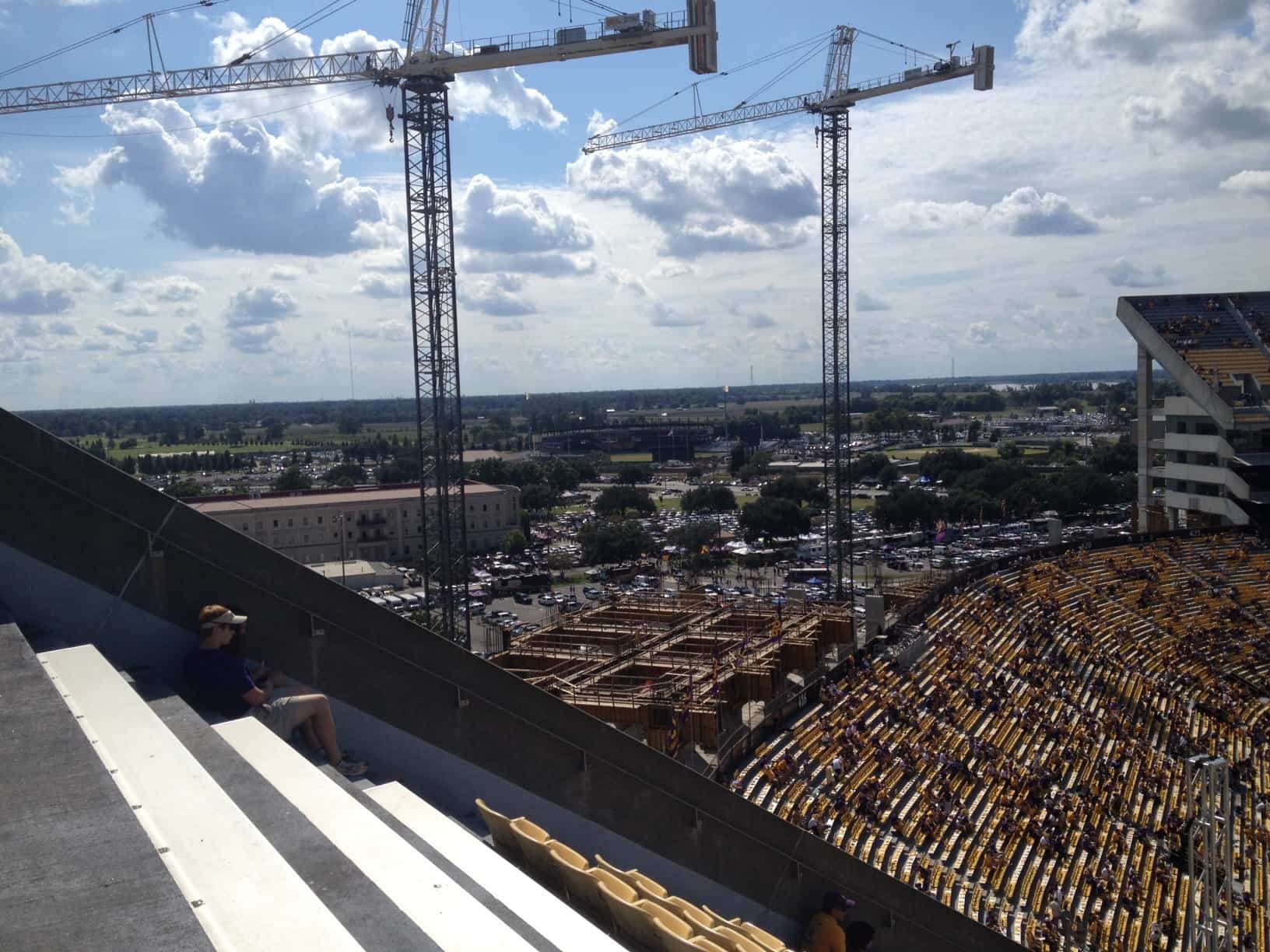 ***
The journey to Tiger Stadium began Saturday morning. My group stayed in New Orleans, three blocks from Bourbon Street, in the same hotel the Louisville Cardinals did the week of their 33-23 victory over Florida in the 2013 Sugar Bowl. Maybe it was an omen of things to come later that day. The road to Baton Rouge is exactly what you think when you envision rural Louisiana. The rolling, low-lying swampland serves as the meat in the terrestrial sandwich between New Orleans of Baton Rouge.
When the bus parked we were greeted by orange and blue that had set up shop in lot 408, just past the outfield of LSU's Alex Box Stadium: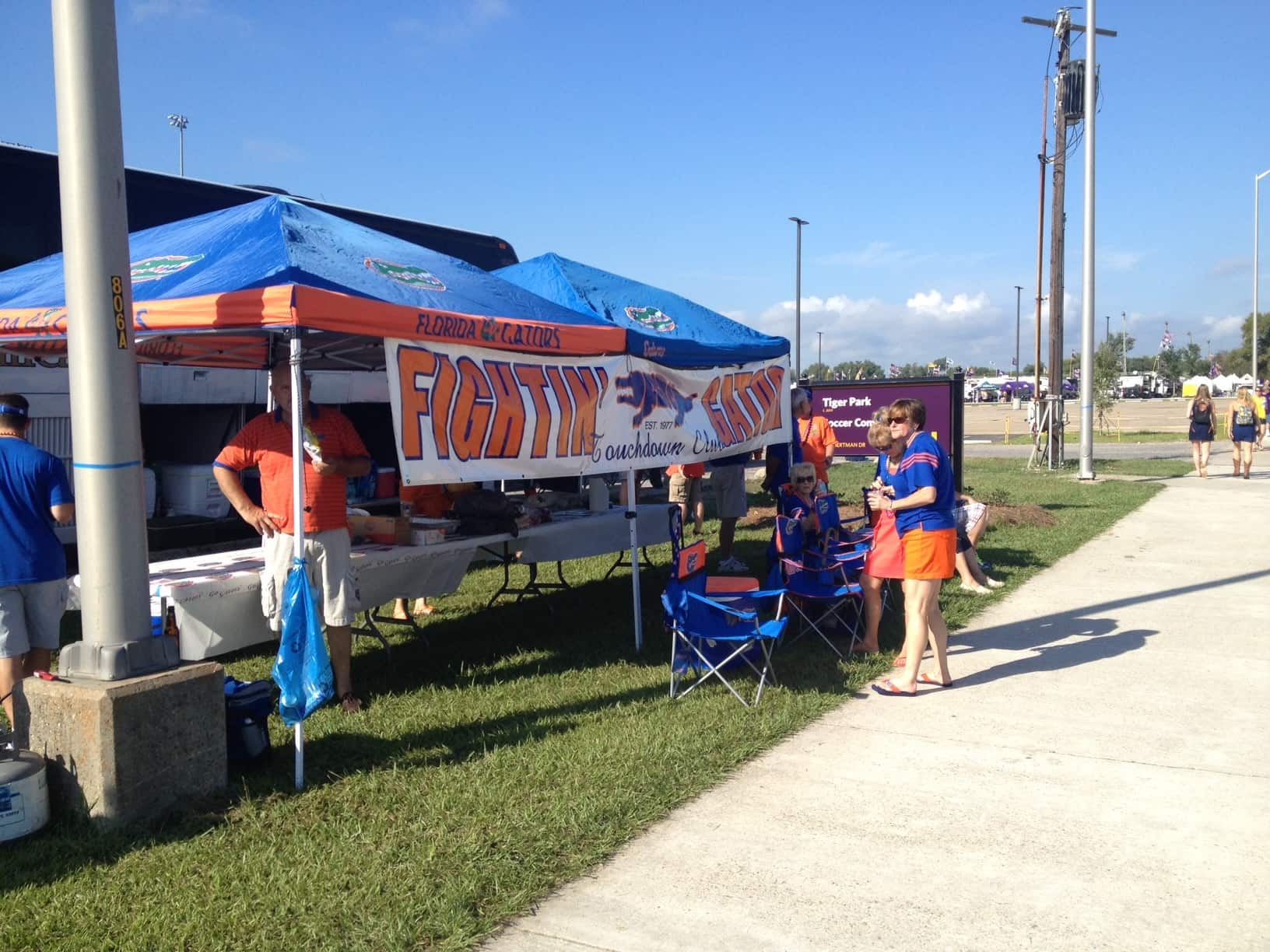 That was about it as far as Gator centric tailgating the closer we got to Tiger Stadium.
The atmosphere around LSU is like no other that I've experienced. The folks in Baton Rouge are unbelievably hospitable. With no place to setup and tailgate, we wandered around campus exploring and we hadn't been walking for more than five minutes before being approached by a man in a white LSU button down shirt.
He asked us if we wanted anything to drink, but it was far from a normal beverage experience: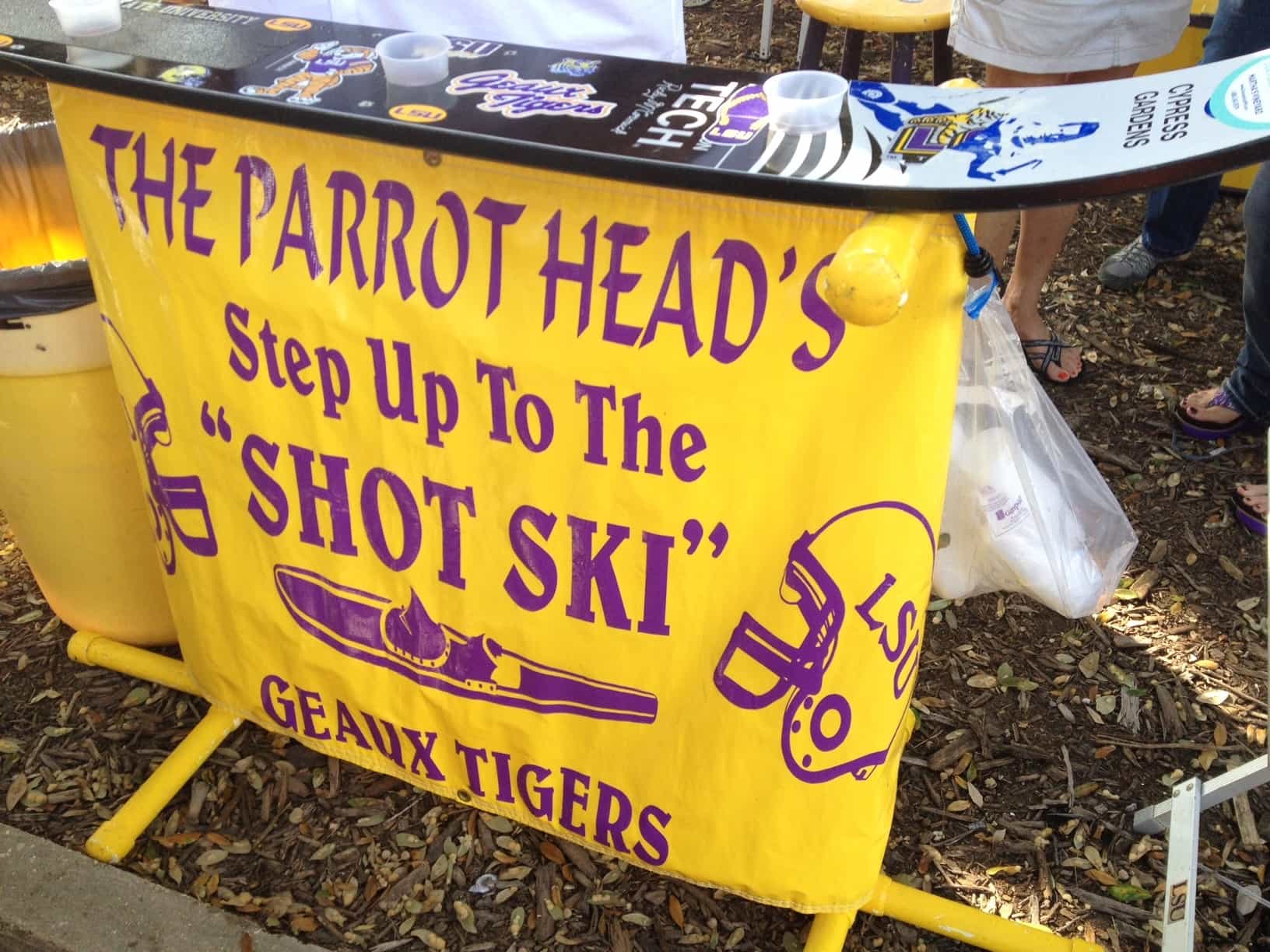 Our temporary host taught us the proper technique to his shot ski. It's a modified water ski,adorned with LSU stickers with four holes drilled into it big enough for a small plastic cup to fit into.
"Stay low, don't rise up, and drink it slow," he said. His most important direction was about being patient, then he  correctly predicted that the two male participants would go too quickly causing the other two girls to wear their drinks, instead of swallowing them. When it was done, he told us to enjoy ourselves for the rest of the day, and bade us adieu as we continued around the stadium.
They do tailgating right around these parts, including when relief is needed on a hot day: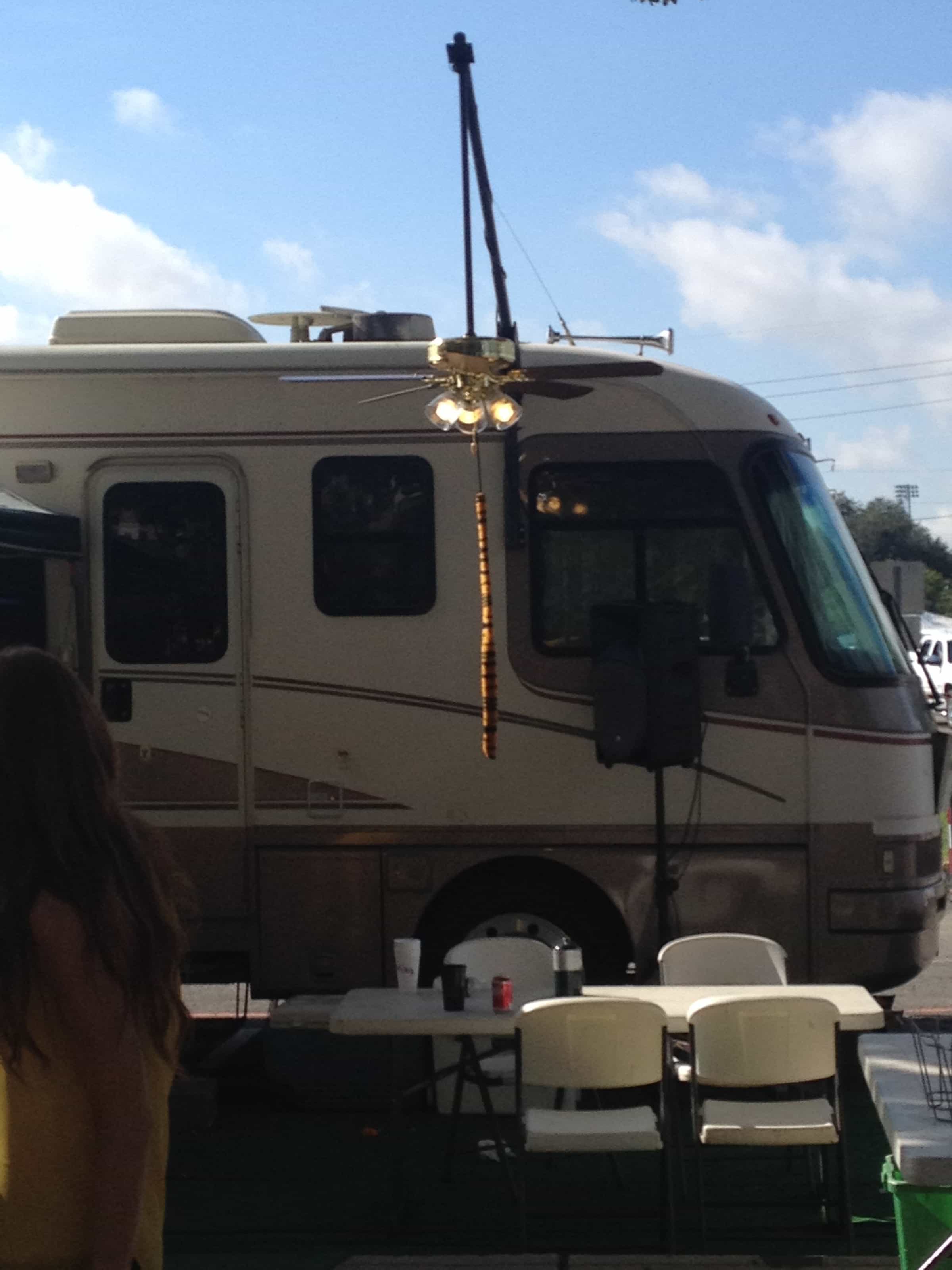 The ceiling fan was a new one for me — an innovative way to beat the oppressive Louisiana heat on this day. The tail hanging from it, I learned, isn't just for decoration.
It was also used as a clothing accessory by women wishing to complete their LSU look: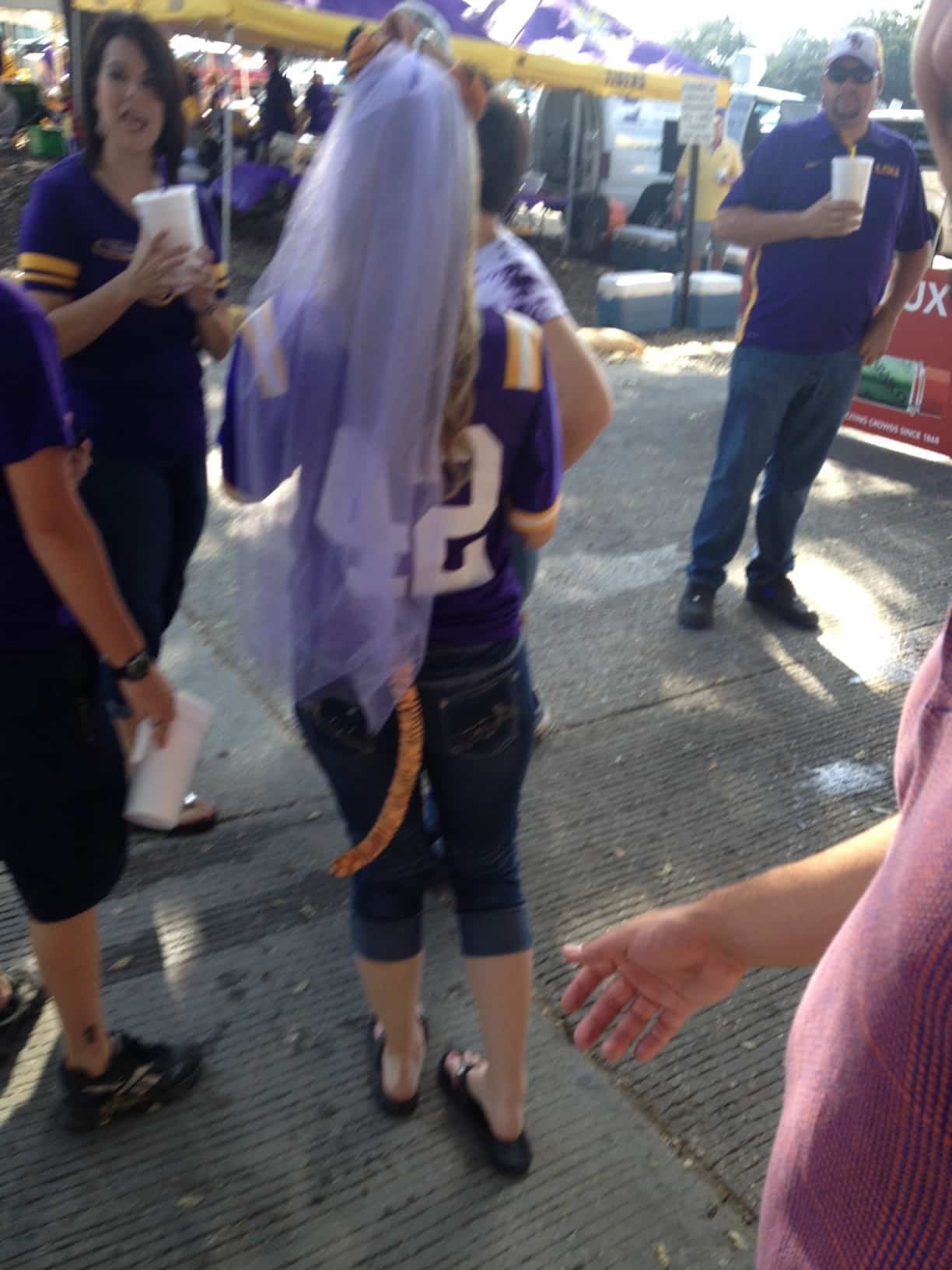 As well as men: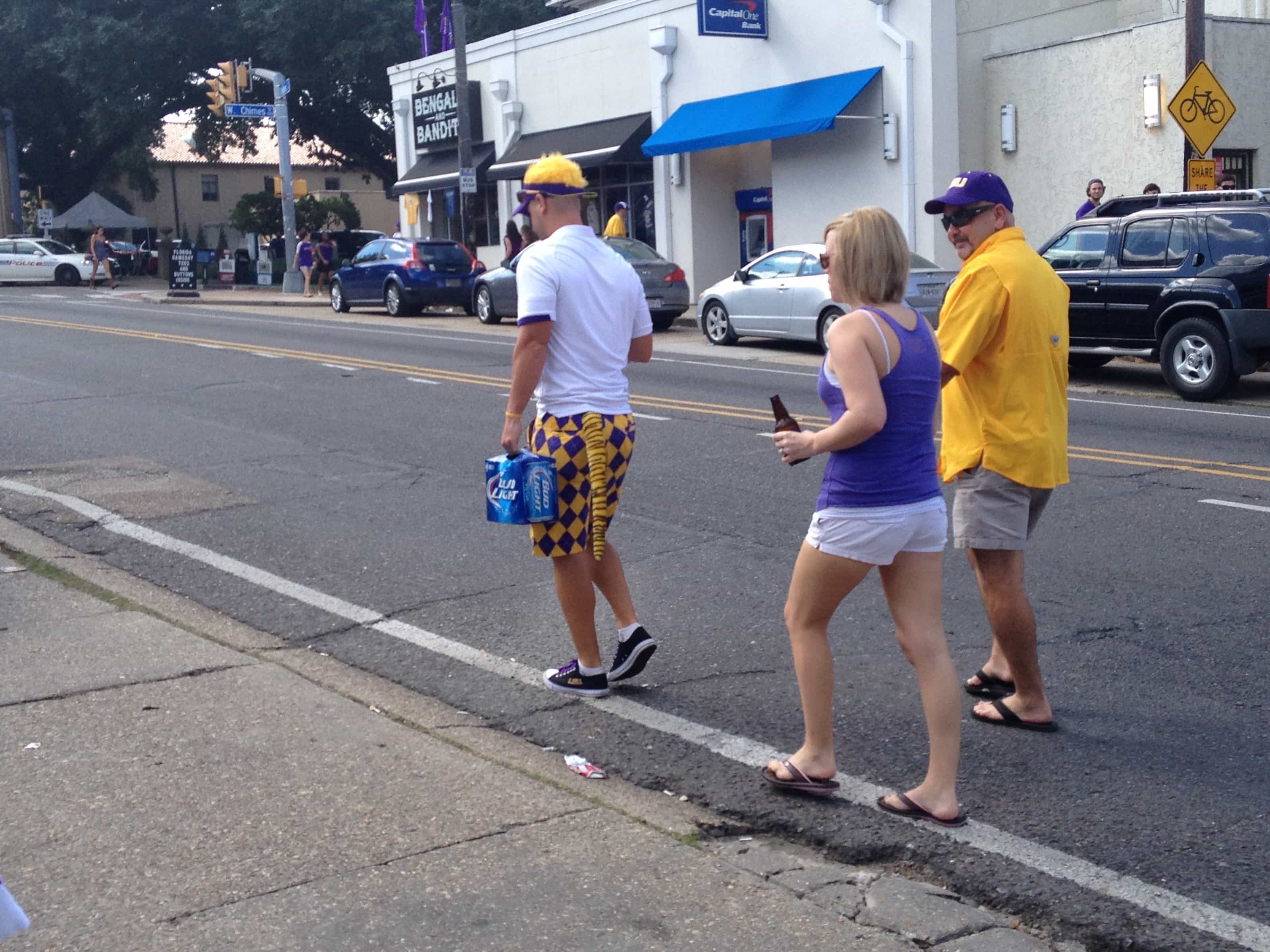 They all aspire to look like LSU's live tiger mascot Mike VI, who has the most posh tailgating setup of them all in his personal lair in the northwest corner of Tiger Stadium: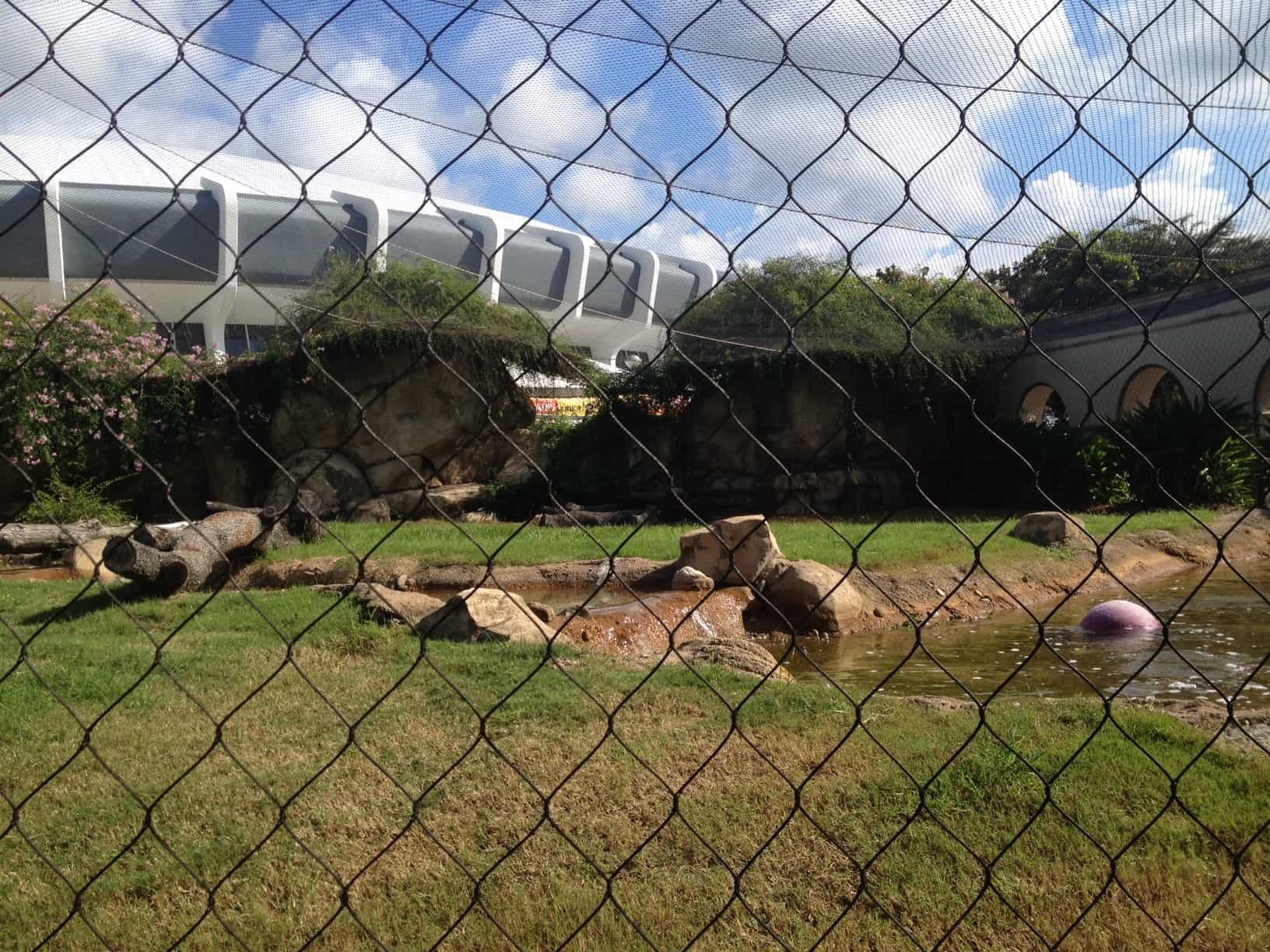 This Saturday Mike opted for the shade and I didn't blame him on this scorching October day.
That was as close as I could get to Mike because one of his handlers noticed our group and shooed us away as we crept around the backside of the Tiger habitat to see where he was hiding. I didn't really have many aspirations of getting closer to him anyway, I like my limbs intact.
***
The architecture of the heart of LSU's campus has a very European flare to it.
There is a wonderful mix of Spanish style roofs: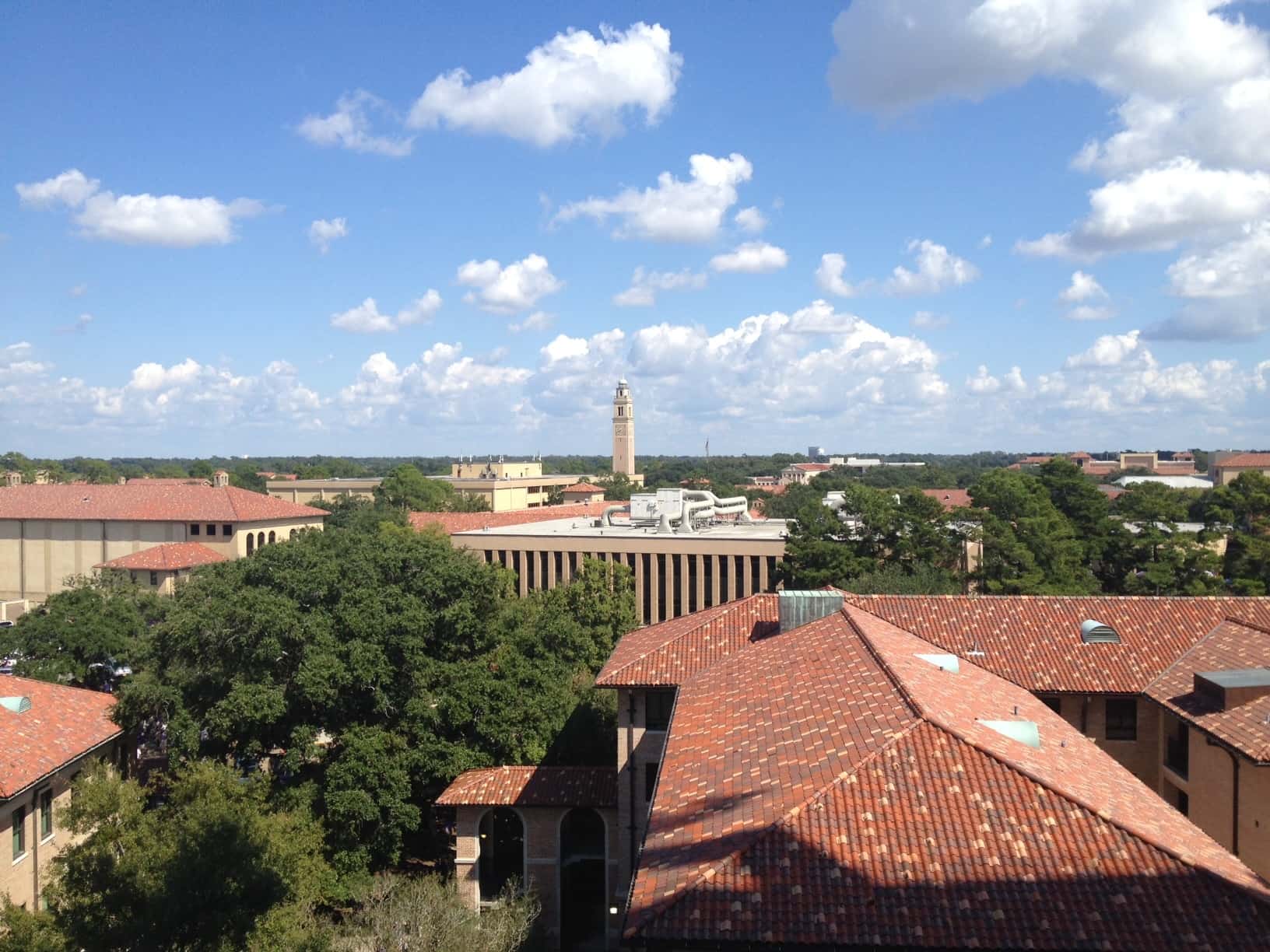 … and traditional roman columns seen here at the law school: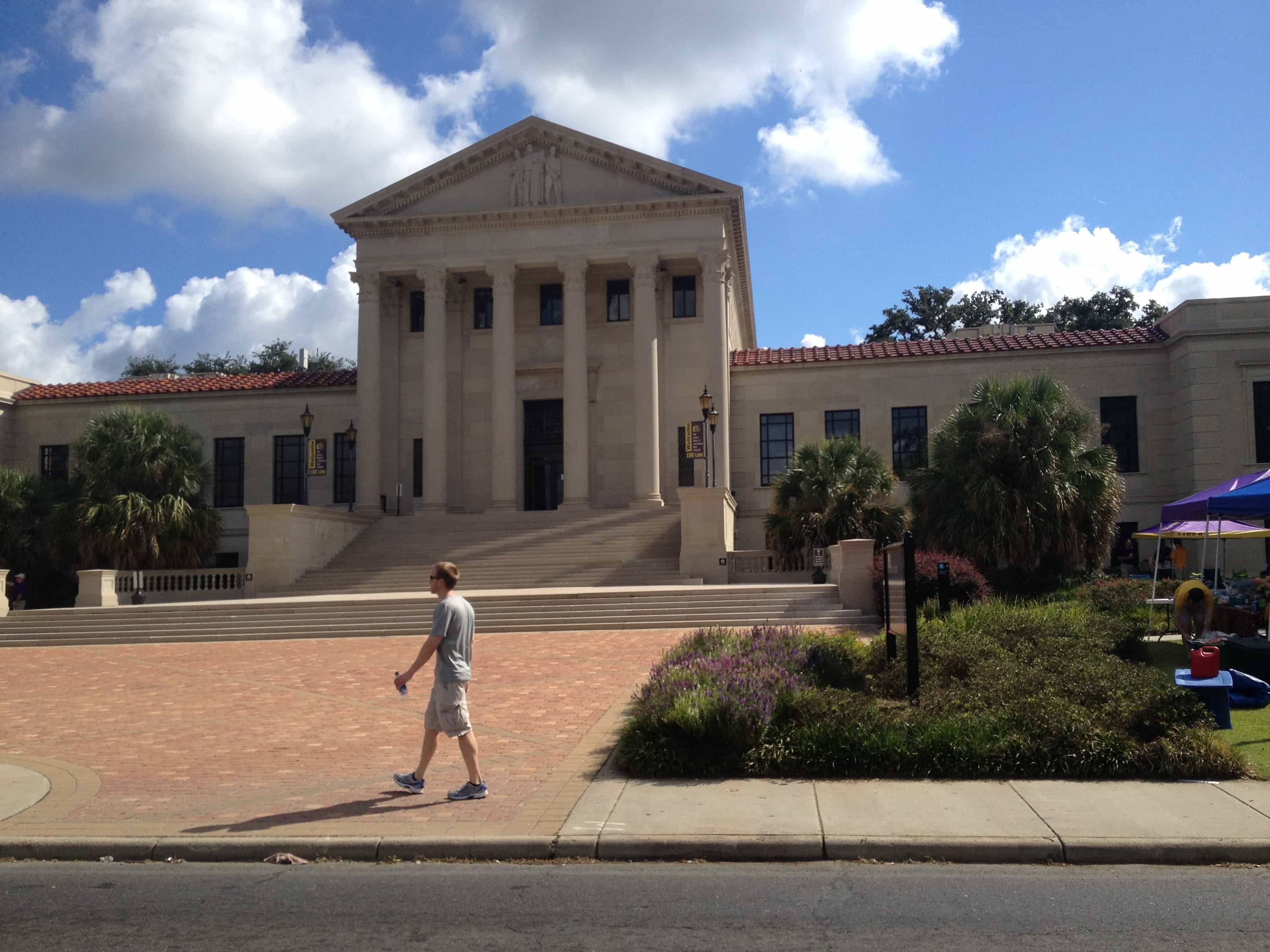 …and here at the journalism school: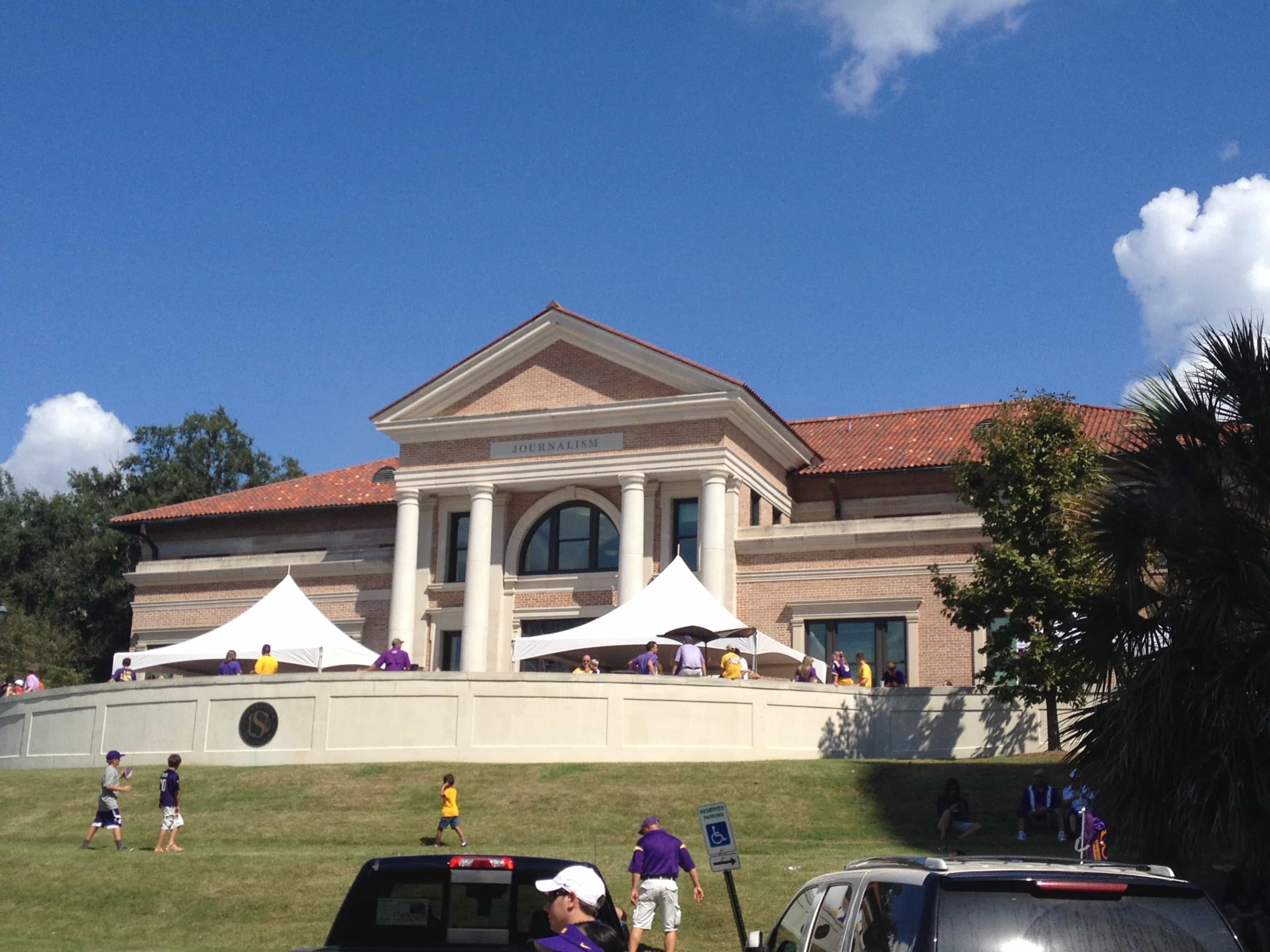 Mix that with streets shaded by towering oaks with intertwining branches and you have a campus as unique as the culture of the people who populate it.
As we meandered along, another LSU tailgater stopped us with what we  thought might be a threatening greeting of: "You boys lost?"
Thanks to Google Maps, we weren't, but he was kind enough to direct us toward a building on campus where we were headed to meet some LSU folks I knew. He told us about the flavor of LSU on a game day and admitted that the place is way different when a night game is on the docket. He looked at our tickets, told us the best gate to go into to get to our seats and the quickest way to get there. He offered us drinks (emphasis placed on the plural) and told us he hoped we had a wonderful time "until 2:30" (the local kick off time.)
He was already well lubricated, but it's that kind of welcoming atmosphere that you don't understand until you experience it for yourself on a game day in Baton Rouge. Before we left his setup we noticed he had the funniest tailgating food we saw all day. There is a joke among SEC schools that LSU fans smell like a familiar food;
So imagine my amusement when I turned around, and our newfound LSU friend had these on this on the grill: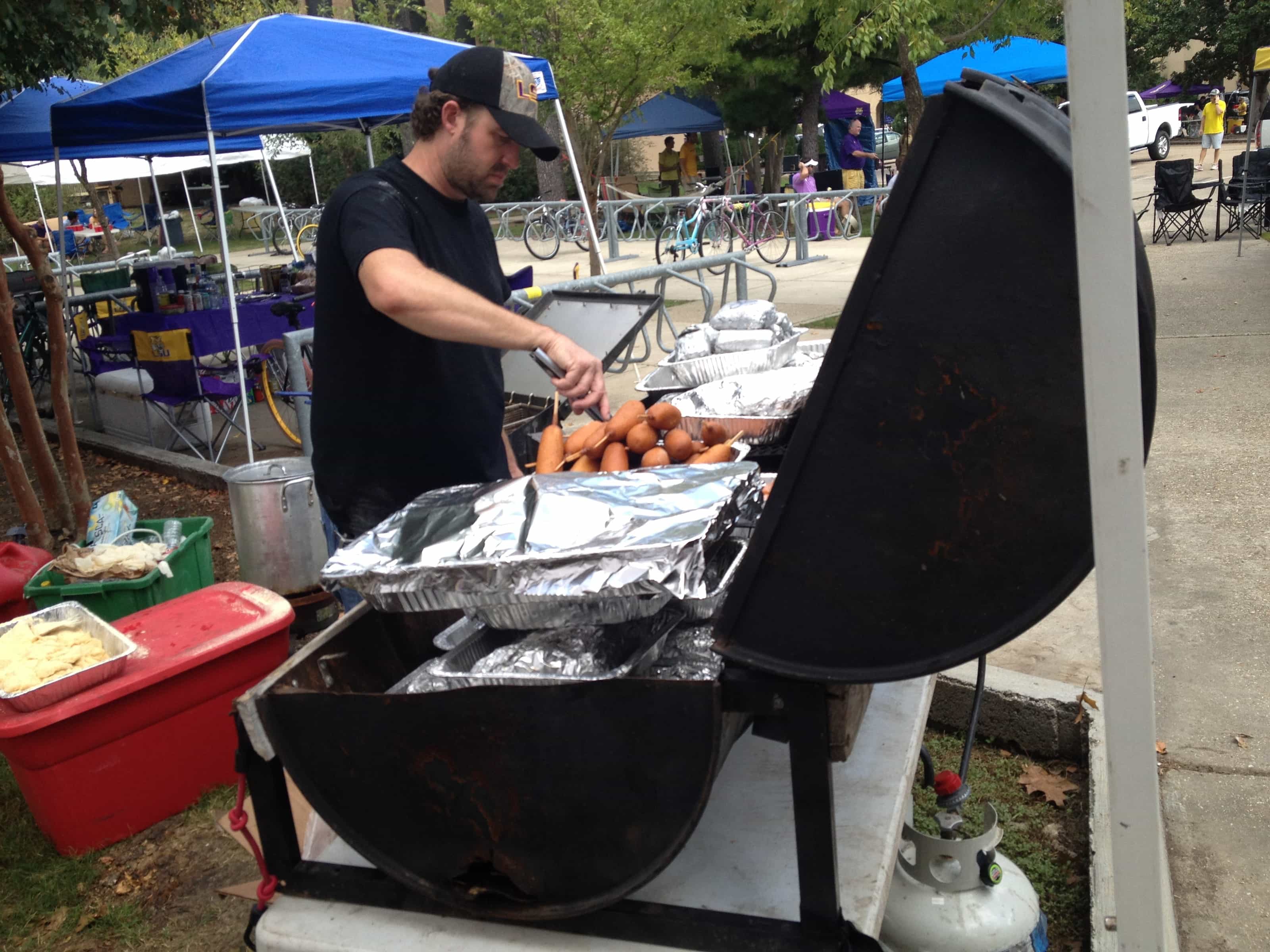 We didn't sample any of the corn dogs, but we did end up eating at a Baton Rouge original when we ventured close by  off campus to go to a restaurant called Raising Canes. Chicken fingers might not be traditional game-day grub but, well, it was good enough to make me ignore that fact.
We were directed there by a lovely female LSU fan, whose outfit wins the contest for get up of the day: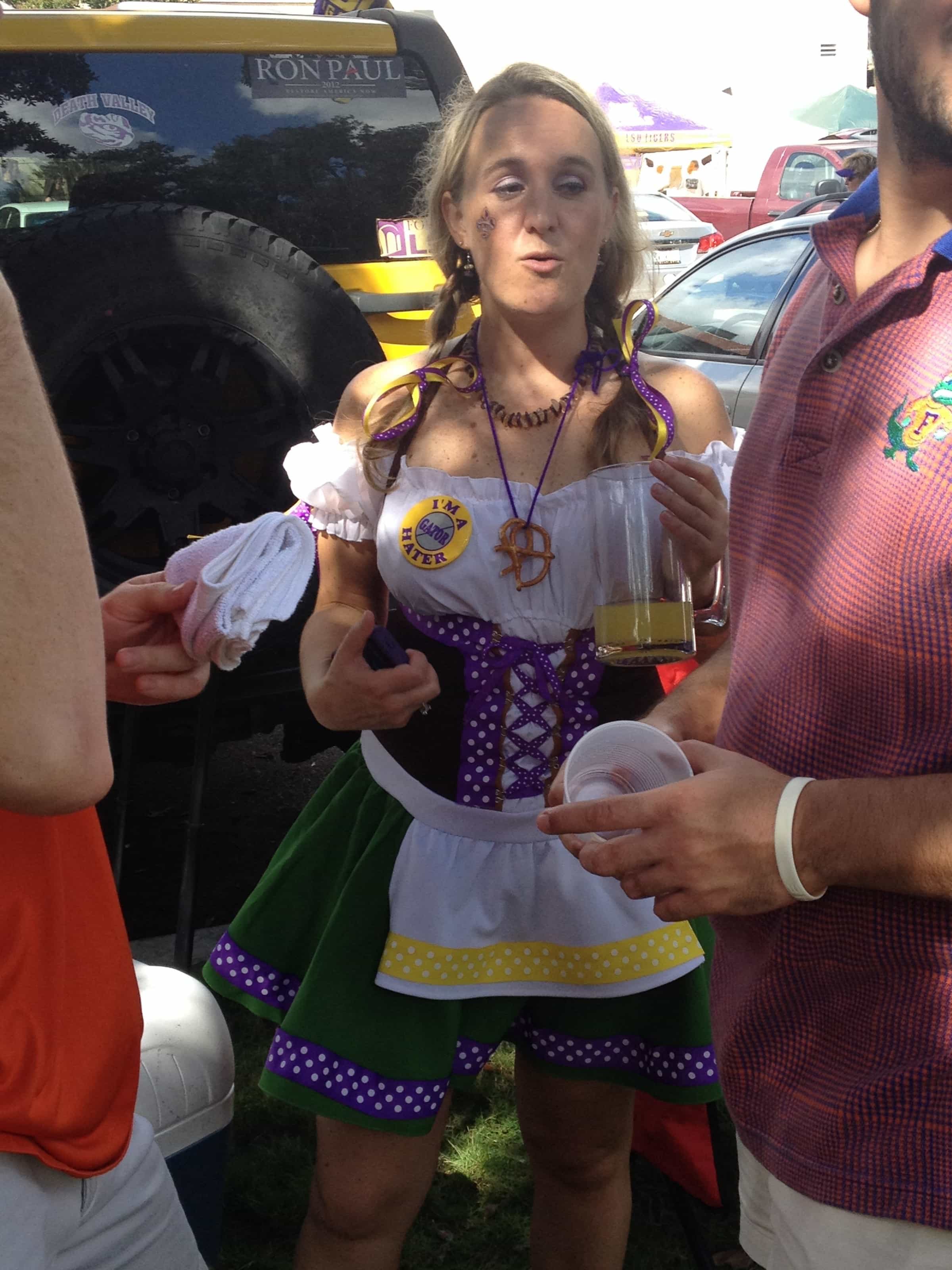 After we left the chicken joint we settled on meeting up with folks at a place called the parade grounds (LSU's equivalent to Florida's Flavet field).
The grounds were in the shadow of the towering Memorial Tower, the typical large bell tower on a college campus, reminiscent of Florida's Century Tower: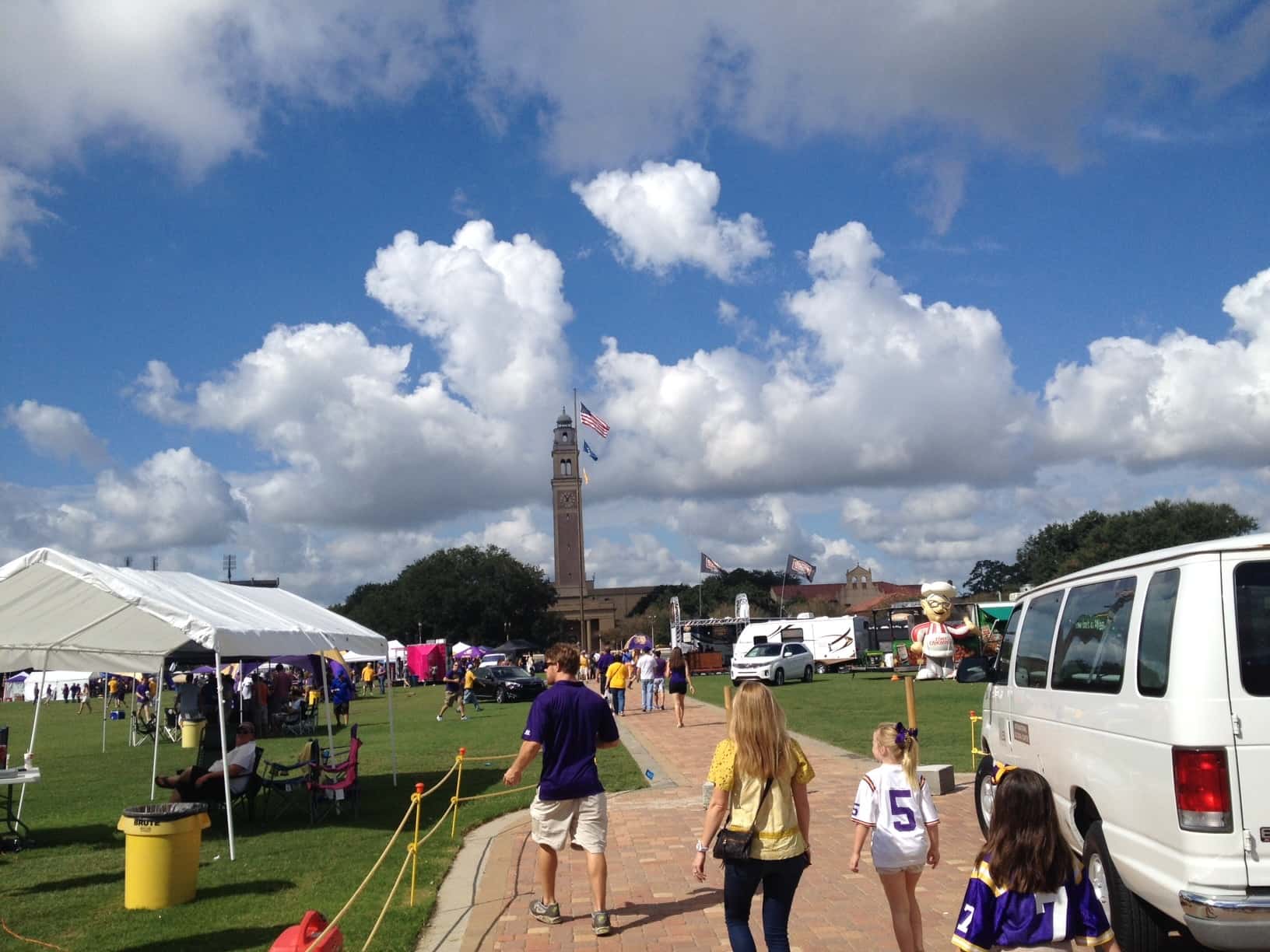 (Yes that's a large inflatable Tony Chachere mascot on the right) And here's a closeup of the tower: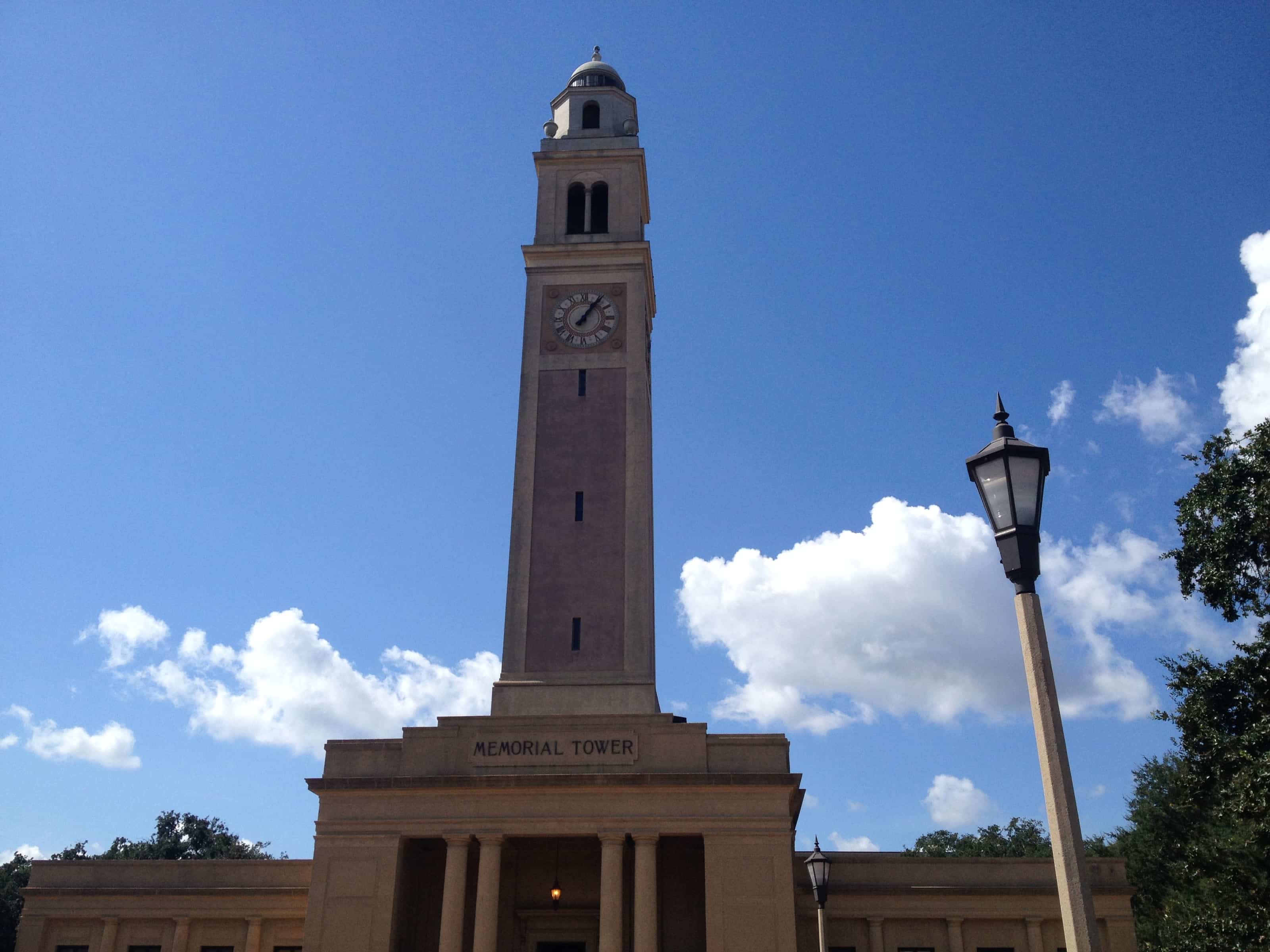 After an hour at the parade grounds we  walked around so much that I thought my name was "Tiger Bait" — so prevalent was the chant lobbed at us from multiple members of the LSU faithful. It was time to head inside that pantheon of concrete and steel.
My seats were close to God, it was pretty hot and the tickets were way too pricey for my college budget but that's not what mattered and was the farthest thing from my mind as both teams took to the field and the game neared kickoff.
Football is as ingrained into the souls of those in south as anything. They start 'em early around those parts too, like the boy who looked to be about eight years old and spent more time yelling things at the Florida section than he did watching the game; or the bearded gentleman that repeatedly yelled "Scoreboard!" to any Gator in his general vicinity.
The pride and the passion of the LSU faithful lived up to expectations. The hospitality exceeded even my wildest dreams and a few bad apples in the bleachers couldn't ruin that.
Florida came up short, but as were leaving  an elderly Tiger fan apologized to us for the young boy and the drunken guy. She said all LSU fans weren't like that. I thanked her for her kind words and that I appreciated the fact that she went out of her way to say that. We headed down the ramps for what seemed like a very long walk from the top of Tiger stadium to the bottom.
It was a long day but as we boarded the bus to head back to New Orleans, the sun had already found its home in the western sky and it was Saturday night in Death Valley once more.