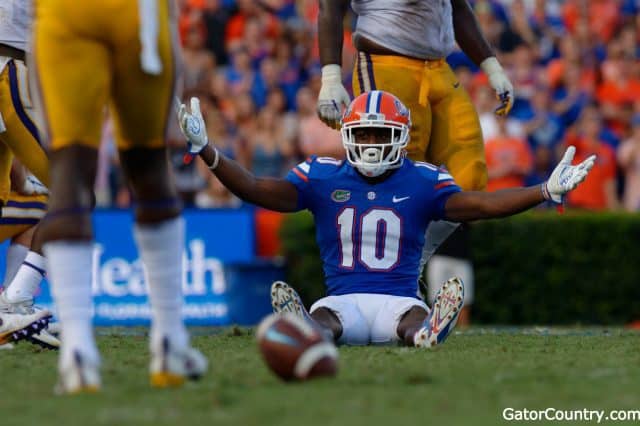 Saturday was a tough day for the Florida Gators.
It wasn't just because they lost, even on Homecoming.
It was because nothing has changed. For three years now.
Florida is the consistently one of the slowest offenses in the country. In fact, Florida has never had a game where they have average an offense faster than 26 seconds per play ever under Jim McElwain.
Florida has never finished the season higher than 103rd in the country in plays (they are ranked 125th now).
They have not ranked higher than 108th in the country in first downs (123rd currently).
And their 98th ranking in percentage of plays that result in a first down or touchdown is only marginally better than their previous 105th and 100th rankings.
It's exhausting to watch.
Nay, it's boring to watch.
I don't want to beat a dead horse, but it's true.
I got the fortunate chance to sit in the press box with Nick de la Torre this weekend, and while I had a blast hanging out with him again, what I saw on the field was different than what you may see on TV.
I saw wide receivers fail to get separation and when they did, they were not checked to. I saw a host of missed assignments and blocks. I saw a team that looked bored on the sideline. And I saw a team that looks nearly identical to the one that was taken over three years ago.
Florida allowed 17 points, but for the 10th time under Jim McElwain the Gators scored less than 17 points.
I am not going to say what changes need to be made, because I said the same thing in week one. Florida is a team that is undisciplined, slow, and ultimately not eager to play football. Florida needs a house cleaning on the offensive side of the ball. Period.
Offense
You don't want to read this section do you? Well, let's go quickly.
Here are four stats that show you exactly why Florida is 3-2 and can't create an offense worth watching.
98th in the country in percentage of plays that resulted in a touchdown or first down.
97th on 3rd down conversions
123rd in first downs
125th in plays per game.
Defense
The defense is interesting, because there is a lot of discussion about how good they are or are not.
There is a lot of discussion about them being a "bend don't break" defense. And part of that is true. They are 23rd in the country on 3rd down defense and 24th in red zone defense. However, they rank 65th in the country in percentage of plays that result in a first down or touchdown and 71st in rushing yards allowed and 54th in passing yards allowed. Florida is bending like Beckham right now and statistics say that they will regress towards the mean and start allowing more points, unless they start to improve on limiting big plays and at the linebacker position.
A few positives:
34th in the country in percentage of plays resulting in a sack, tackle for loss, or turnover.

A lot of this is aided by Jordan Sherit who has one of the highest "havoc" rates in the country, according to SBNation.
The Gators overall rank 6th in the country in creating "havoc" by the defensive line.

16th in the country in completion percentage allowed.

Not bad for a team, that at times, has had four freshman in it's defensive backfield.

31st in sacks and 30th in sacks per opponent pass attempt.
A few negatives:
99th in forced turnovers.
113th in pass per completion allowed.
86th on first downs allowed by penalty.
Special Teams
Presented without comment.
102nd in opponent punt return yards (this is a bad 102nd).
114th in punt return yardage.
75th in kickoff return yardage.