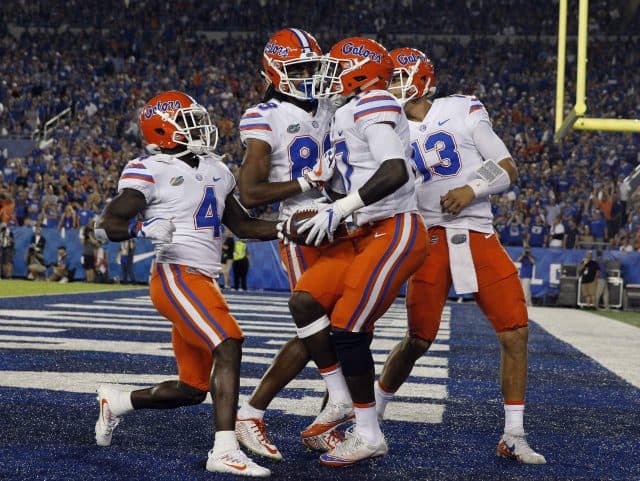 It was noted philosopher, OK he was just a baseball player, Lefty Gomez that once pontificated, "I'd rather be lucky than good."
And maybe the Florida Gators are more lucky than good, right now.
Before you get mad at me and type angrily on your keyboard, that is not necessarily a bad thing. The Gators have had two late fourth quarter drives that have resulted in their two victories – one where Tennessee probably did not field enough defensive backs and one where Kentucky definitely did not field enough defensive backs.
And right now, only one stat matters – they have two victories. Being good and having two victories means just as much on paper as being lucky and having two victories.
There are areas of improvement (and we will go over them), but for just a minute enjoy that Florida has two wins.
…Keep enjoying it…
…Seriously keep going…
That felt good didn't it?
We are all frustrated with different things: quarterback play, offensive coordinating, tackling, or special teams coverage. But, the team is 2-0 in SEC play – the best record they could be at this point.
Football is supposed to be fun – let's enjoy it, we only have like 15 weeks of it left.
Now, lets jump to it.
Quarterback Play
I continue to be perplexed by play calling with Feleipe Franks at the helm. They seem slow to deliver the play call (in fact, Florida ran plays almost four seconds faster with Luke Del Rio on the field), they run a much more simplified playbook, and there always seem to be handcuffs on Franks – which, to me signifies that the staff does not trust Franks at the quarterback position the way we were lead to believe.
Watching Franks and then watching Del Rio, showed me how different the quarterbacks are treated. Del Rio was receiving plays faster, the players lined up at the line of scrimmage quicker, and overall played with more momentum. Simply, they called a better game once Del Rio came in.
Which begs the question, why were things so different with Del Rio than Franks? Why does the staff not trust Franks to run at that pace? Does he not understand the playbook? Is the game too fast for him?
Franks has been at UF for summer camp, fall, spring camp, summer camp, and now fall again with the exact same staff – why is he having trouble grasping a playbook? Why is the prized recruit from two years ago handcuffed in a way not even Treon Harris or Austin Appleby were? I think that Franks, this far into his career, looks just as capable as Will Grier did, who also had a much more open playbook.
With Luke Del Rio starting against Vanderbilt, will Franks get a chance again this season? And if so, what will they let him do? If not, then what?
Offense
For the eight consecutive regular season game, the Gators have not scored more than 28 points.
Predictable? The Florida Gators run on 2nd down nearly 65% of the time. Against Kentucky, Florida ran the ball 16 times (out of 19) on second down, averaging four yards per carry, and only got a first down three times.

On first down it is 49.3% and on third down it is 51.2%.

For good news: the Gators go 2-2 (two touchdowns) in the redzone and still sit at 100% conversion on the season, much better than their 71.43% last season.
The Gators 35.71% on third down conversion (5-of-14), and for 14th consecutive game fail to convert more than 50% of third downs.
If Malik Davis can keep his 65 yards per game average, he would have the sixth highest total since 2008. If you look at his last two game average of 93.5 yards per game, it would be the highest since before 2008 – Mike Gillislee in 2012 was the closest with 88.62 yards per game.
On the season, Florida has only thrown consecutive passes on downs 16 times (eight times versus Kentucky).
The Gators rushed for more yards against Kentucky than their previous three opponents combined.
Defense
The Gators rank 19th in the very important (I calculated a 37% correlation to winning percentage, the highest of over 100 categories I keep track of), percentage of plays that result in a sack, tackle for loss, or turnover.
The Gators rank 11th in the country in sacks per game (3.33) and 13th in the country in sacks per opponent pass attempt (0.11).
The Gators have won back-to-back one possession games for the first time since 2015, when they did it again, yes, Kentucky and Tennessee.
The Gators held an opponent to under 50% third down conversion (Kentucky was 1-for-10, their lowest conversion percentage since 2014), for the 24th consecutive SEC regular season game.
The Gators defense is only allowing 2.92 points per time opposing teams enter their 40-yard line, which is 11th in the country.
The Gators defensive line is causing a tackle for loss, pass deflection, or forcing a fumble on 5.8% of plays, which is 20th in the country for that unit. The defensive backfield is doing it 6.8% of the time, which is 27th in the country for that unit. Unfortunately, the linebackers are sitting at 1.0%, which ranks as the 125th ranked unit. (SBNation.)
Special Teams
The Gators have only returned two kicks (out of eight) past the 20-yard line.
The Florida Gators rank 116th in punt return defense, allowing opponents to average 17.33 yards per return.
Besides the one kick that went out of bounds, the Eddy Pineiro has a 100% touchback rate.