The Gators walked into the half down 13-3. The offense ran 26 plays in the first half but only gained 61 yards. To say that the team was deflated heading into the locker room would have been an understatement.
The Gators badly needed a spark. Something to get momentum back on their side and change the flow of the game.
They got precisely that when Solomon Patton ran back the kickoff back 100-yards for a touchdown. Before the offense could even take the field for the second half, the special teams picked them up — and outscored them up until that point — with a touchdown to cut the lead to three.
So many times in the past the Florida defense would have forced a three-and-out and given the ball right back to the offense. They didn't, allowing a five play, 75-yard touchdown drive immediately following the kick return for a score. Now it was the offense's turn to do what the defense has done all season long — pick up the other half of the football team and make some plays.
1st Drive: 4 plays – 6 yards – 3:42 – Punt
Not exactly what I had in mind while typing, "pick up the defense" here.
Florida's first offensive drive of the second half started with a short run on first down. Kelvin Taylor followed Hunter Joyer into the hole and nice blocks from Kyle Koehne and Jon Harrison helped Taylor gain three yards.
The following play was whistled dead for a Tyler Moore false start, but the Gators got lucky when Markus Golden was called for unnecessary roughness after he hit Murphy when the play was already called whistled dead.
Hey, 15-yards! That's an explosive play, right?
Florida went back to the ground on first down, trying to manage down and distance, but a running play is stuffed for no-gain because Ian Silberman gets manhandled on the line.
Florida lined up with a six-man surface and three running backs (Joyer, Ajagbe Taylor) and Tyler Murphy under center. Florida runs a counter-power play with Halapio (yellow) pulling from right to left. Ajagbe and Joyer (both red) will lead with Taylor (blue) following those three blockers off-tackle.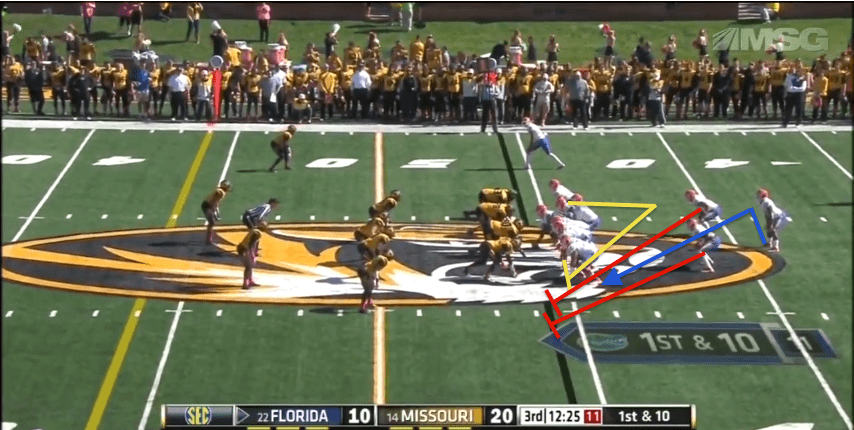 Silberman gets blown off of the ball and back into Jon Halapio.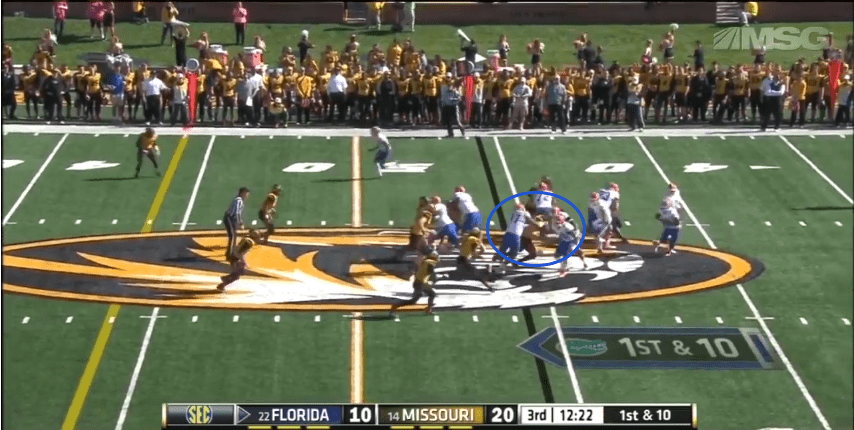 One player getting beat has a butterfly effect as Halapio and Joyer both run into one defensive lineman. Shane Ray essentially took three of Florida's blockers out by himself.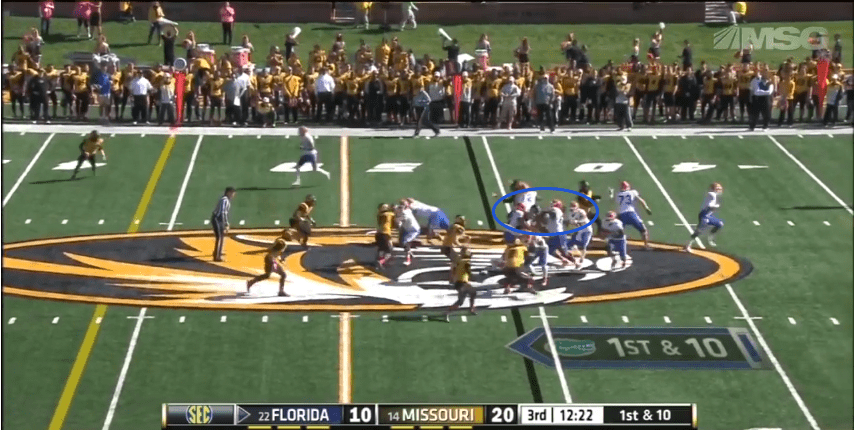 Taylor's run is a counter to enable Halapio and Joyer time to pull across the field and lead block but they simply can't do that because of the penetration that Ray was able to get.
Florida responded well with a quick, predetermined throw to Trey Burton who ran a five-yard hitch. This is a good way to get the ball out quickly and negate the problems that the offensive line has been creating. It also gave Florida a much more manageable third-and-two.
Third-and-short was then given away with a Tyler Moore false start. Back to third-and-long. If you read the previous two breakdowns, third-and-long usually means a Missouri sack and this drive was no different.
Both Moore and Humphries get beat off the ball and Murphy is dragged down for a loss, ending another drive.
Drive Grade: D
I couldn't give this drive an "F" grade because, well, the next drive exists.
2nd Drive: 3 plays – minus 2 yards – 1:00 – Punt
See what I mean?
Florida came out in their "10" or "jets" personnel (1RB, 0TE, 4WR) and Murphy found Dunbar on a quick screen but Dunbar trips as he backpedaled and the play loses two.
Pease designed a play to have Murphy rollout to his left (another way to help the offensive line) but had his pass batted down by linebacker, Andrew Wilson.
Third-and-twelve means Missouri is going to come after Tyler Murphy. They do, bringing six and blowing up a wide receiver screen to Valdez Showers who was lined up as a receiver.
Drive Grade: F
This was a dumpster fire.
3rd Drive: 6 plays – 70 – yards – 2:49 – Touchdown
Finally, a drive to save my sanity.
Here is what Florida's drives looked like leading up to this point.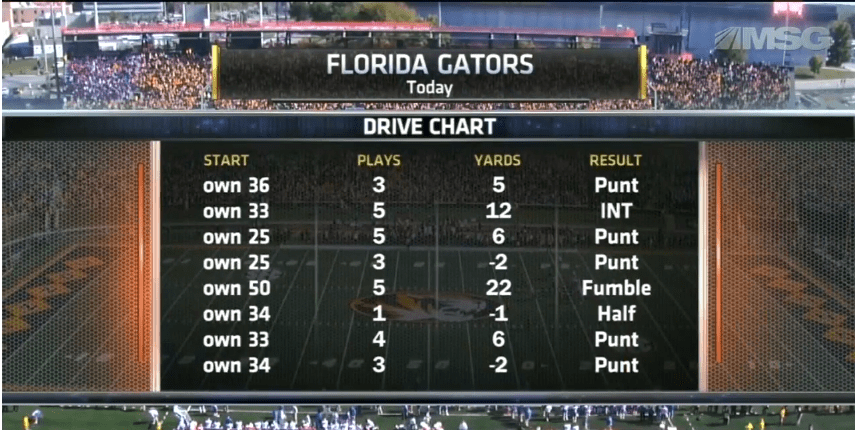 Yeah, "inept" was a good word to use to describe this offensive output.
The drive got started with a run that saw very good blocking from just about the entire offensive line. Florida shook things up on the line and used (left to right) Humphries, Koehne, Harrison, Halapio and Garcia.
Taylor followed up his nine-yard carry with an eight-yard gain and just like that, the locomotive was moving. Taylor's second carry was successful because of his vision and quick cut. The offensive line was less than impressive but Taylor was able to make a cut, change direction quickly and accelerate back to top speed.
The Gators went into "22" personnel (2RB, 2TE, 1WR) on the next down — an obvious running package — and pick up just two yards when they run a power to the weak-side.
Florida stuck with the "22" package but this time ran a jet sweep to Solomon Patton for a gain of 17-yards.
Now, I've been very critical of the offensive line this season but when they will get credit when it's due.
Kelvin Taylor (orange) picks up 14-yards on the next play and shows great patience to stay behind a pulling Halapio (blue).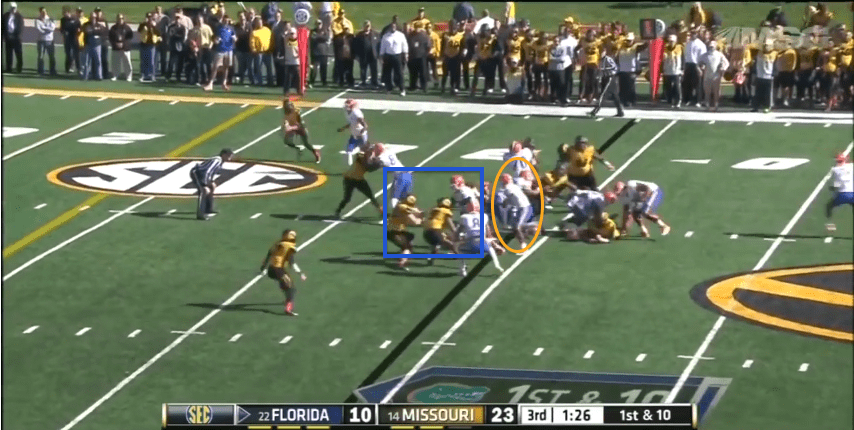 Halapio handles his man and Trey Burton's man, springing Taylor for an "explosive play."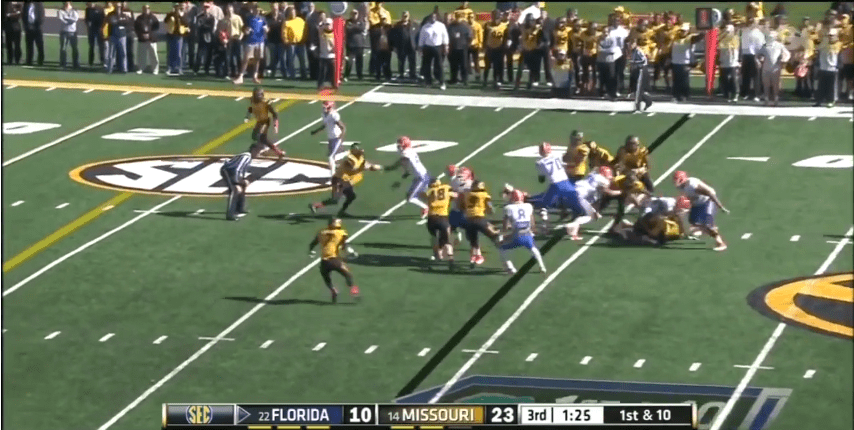 And one more look at Halapio taking care of business.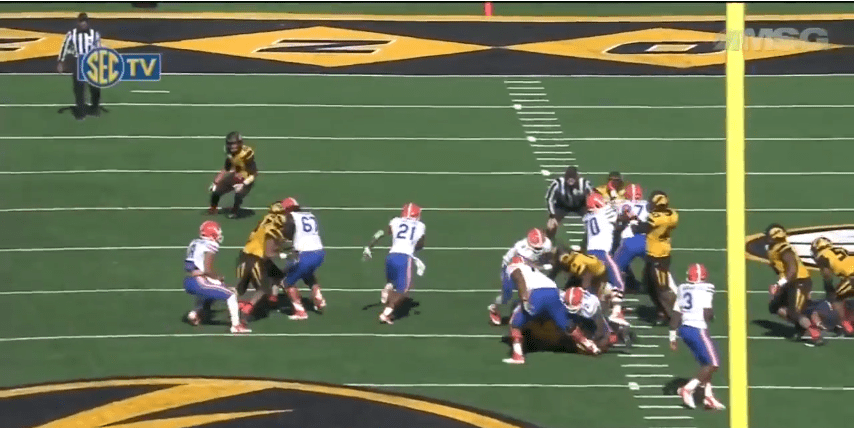 Florida goes into the wildcat on the next down. Calm down, calm down. I know you all love this package, so I gave you a nice picture of it below.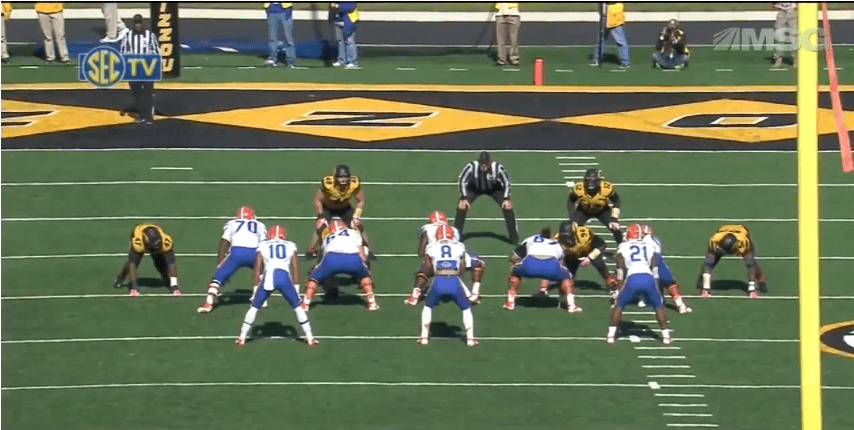 Burton hands the ball off to Taylor who gets incredible blocking from Latroy Pittman, Showers and Solomon Patton, which springs him outside and eventually into the end zone.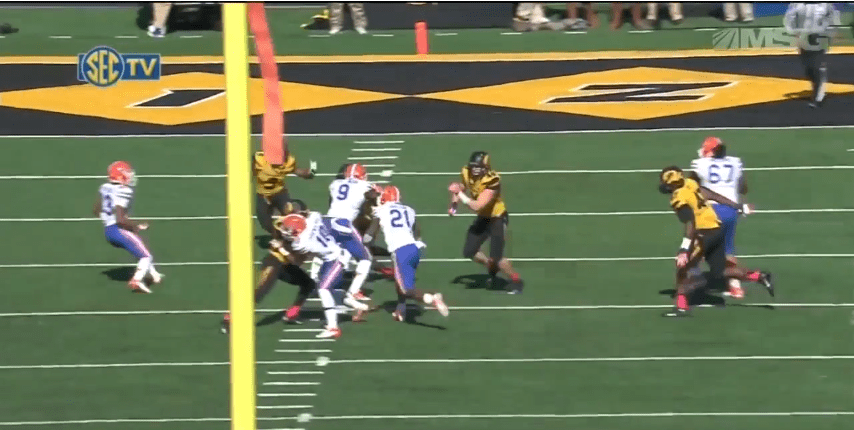 Also note Taylor's vision to be able to see that tiny crease and hit it full speed.
Taylor breaks a tackle and is tripped up but Patton and Pittman continue blocking down the field and Taylor stays on his feet long enough to dive into the end zone.
And here's a snapshot of Taylor's first career touchdown, only 30 more to catch poppa.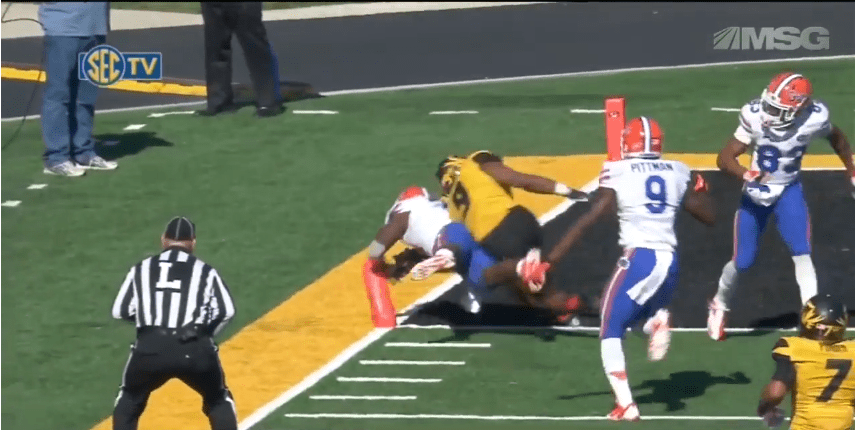 Drive Grade: A
This is beautiful. Florida ran the ball six-consecutive plays, averaged more than 10 yards-per-play and scored a touchdown in less than three minutes.