The third quarter of Florida's 36-17 loss to Missouri should be nicknamed the "momentum quarter." It was a tug of war for the soul of this game with the Gators doing what they could to get a foothold in the contest and the Tigers doing everything they can to shut the door and keep their lead out of Florida's reach.
Series No. 8: Five plays, 75 yards, 1:24 time elapsed, Missouri TD.
The Gators made a statement that they would not go down easily in this game thanks to Solomon Patton's 100-yard kickoff return to start the third quarter. The Tigers came out of the gates with a 12-yard gain by running back Henry Josey, then hit a 52-yard strike from quarterback Maty Mauk to receiver Jimmie Hunt.
There is a miscommunication in Florida's secondary, cornerback Vernon Hargreaves is preoccupied with his assignment in the flats, and Jaylen Watkins seems preoccupied with looking at Mauk.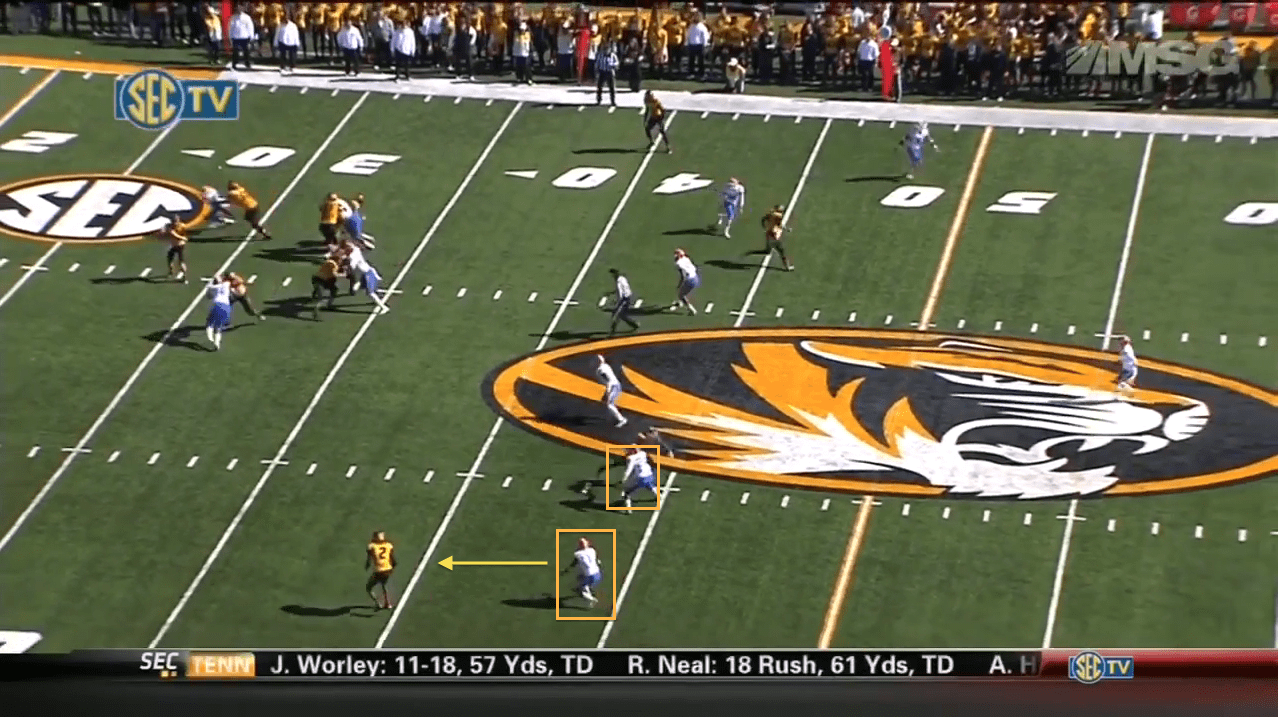 Hunt slips path both of them to make the catch down field, although Hargreaves does all he can to make up the gap while the ball is in the air.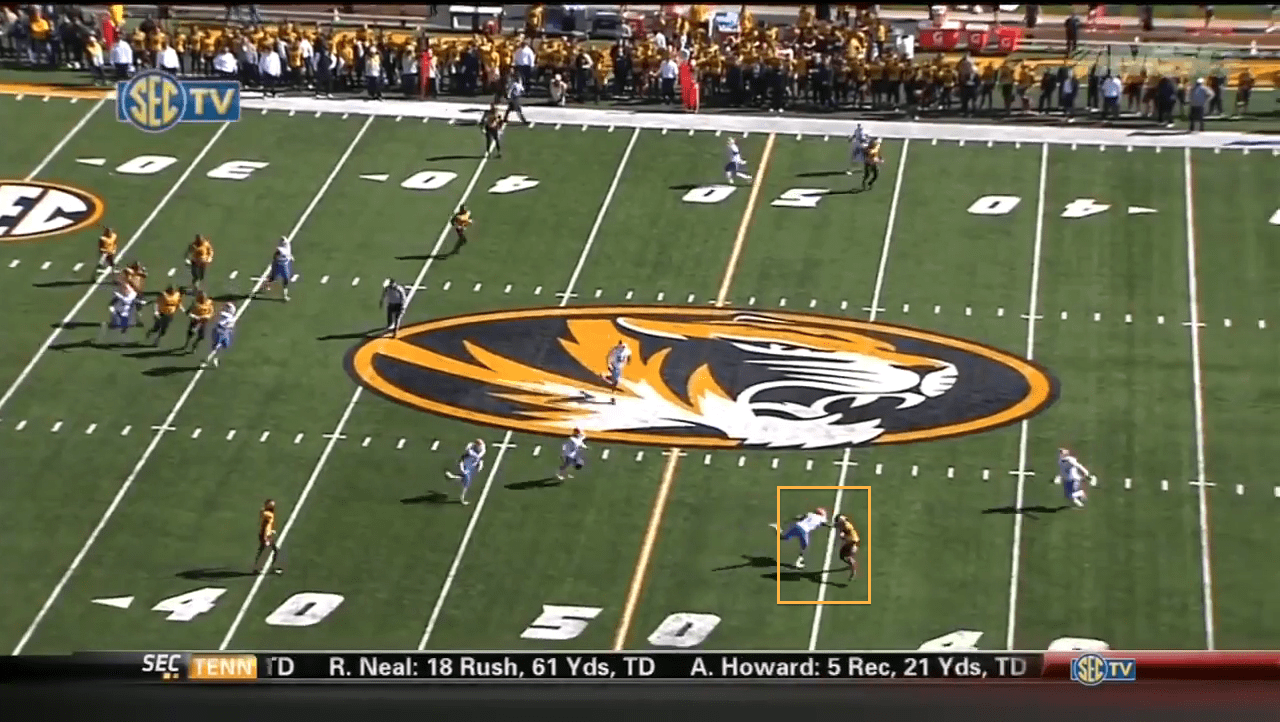 A missed tackle by defensive back Brian Poole allows for some more yards after the catch.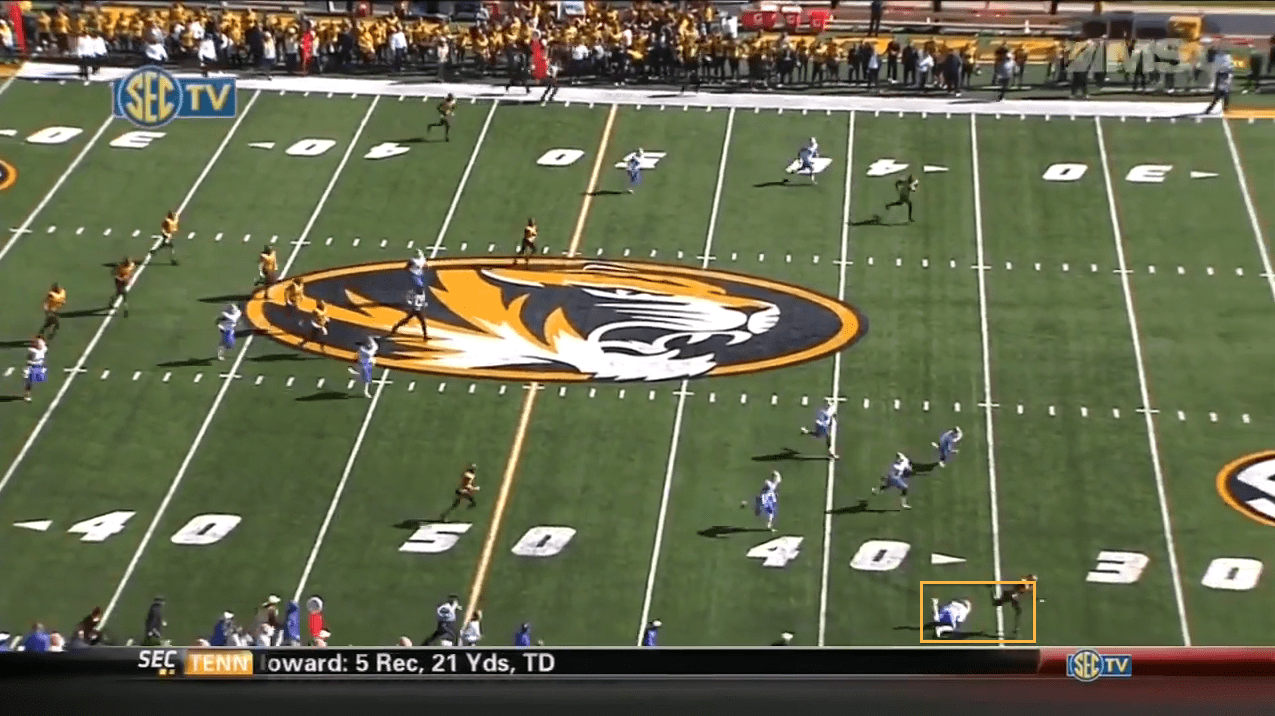 Two plays later, Missouri punches it into the end zone with a good six-yard run by Henry Josey, and even better blocking. Missouri right tackle Mitch Morse climbs to the second level and technically two Florida defenders.
First linebacker Antonio Morrison flows too far to the right, making Morse's job simple.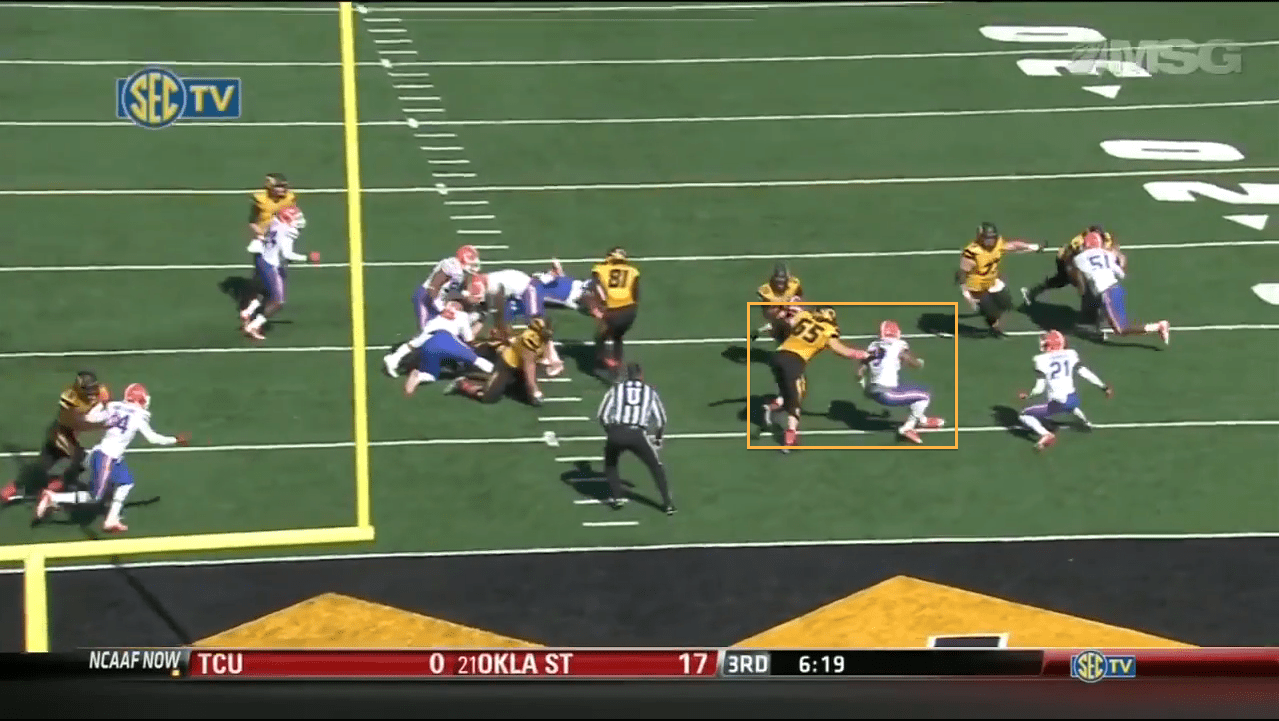 Then Florida defensive back Jabari Gorman gets caught in the middle of Morse and Morrison.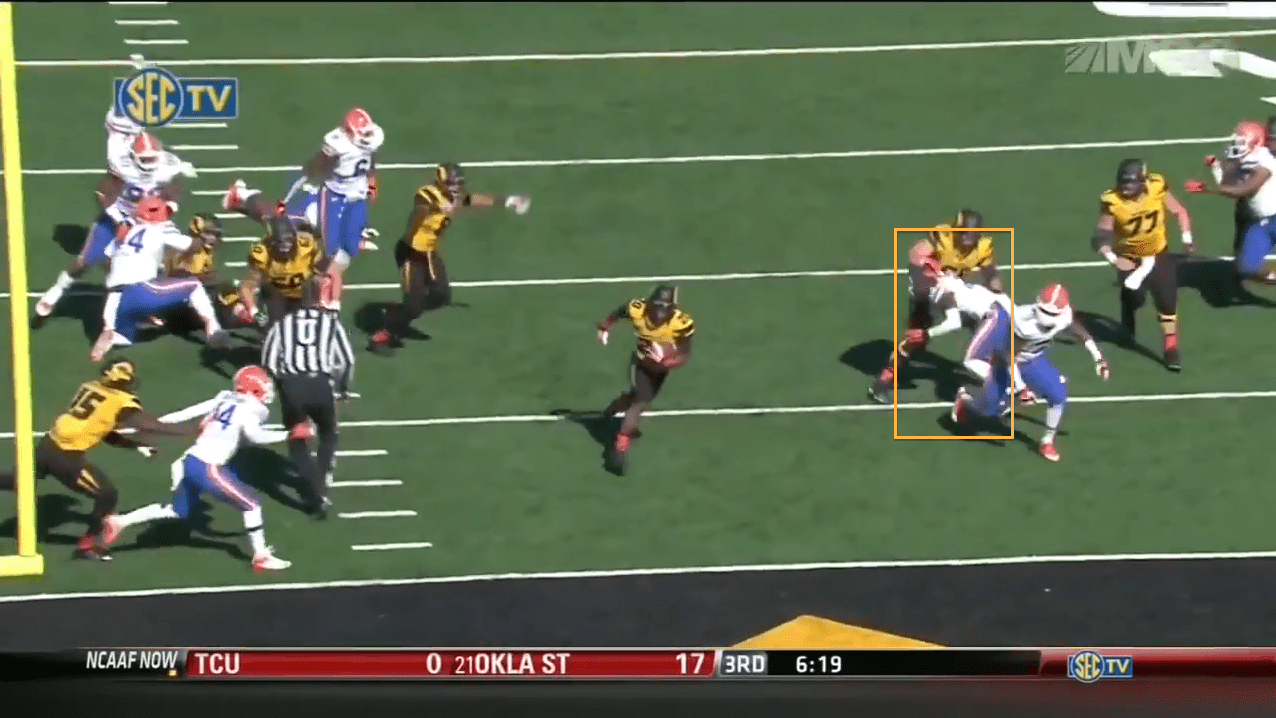 Series grade: F
Not only did Florida give up a massive play on a miscommunication in the secondary, they also gave up a touchdown at a juncture in the game where they desperately needed to stop the Tigers from scoring. The 20-10 deficit after Josey's touchdown put Florida's offense in the same two score hole they emerged from halftime in.
Series No. 9: Seven plays, 59 yards, 2:56 time elapsed, Missouri field goal.
Maty Mauk connects on another massive throw to receiver L'Damian Washington.
Louchiez Purifoy just gets beaten down the sideline.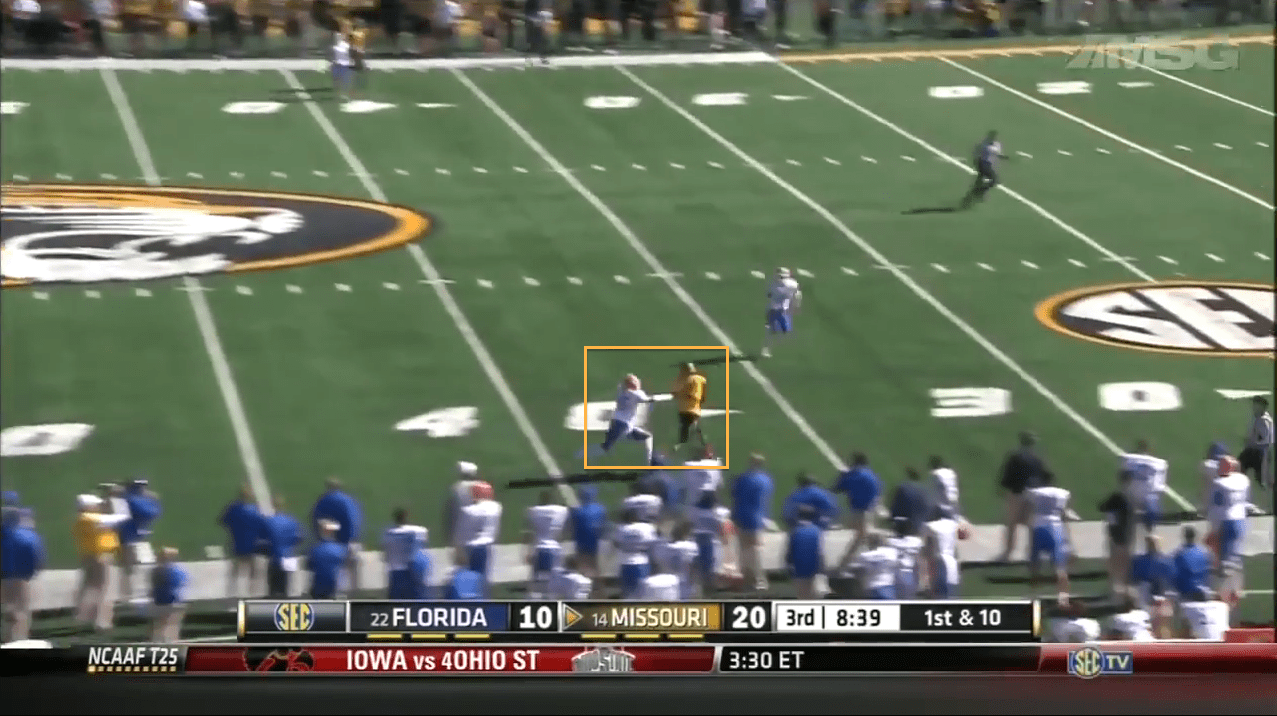 After the big play, the Gators lock in for three more downs and force the Tigers to kick a field goal.
On third down, Florida's pass rush chases Mauk out of the pocket.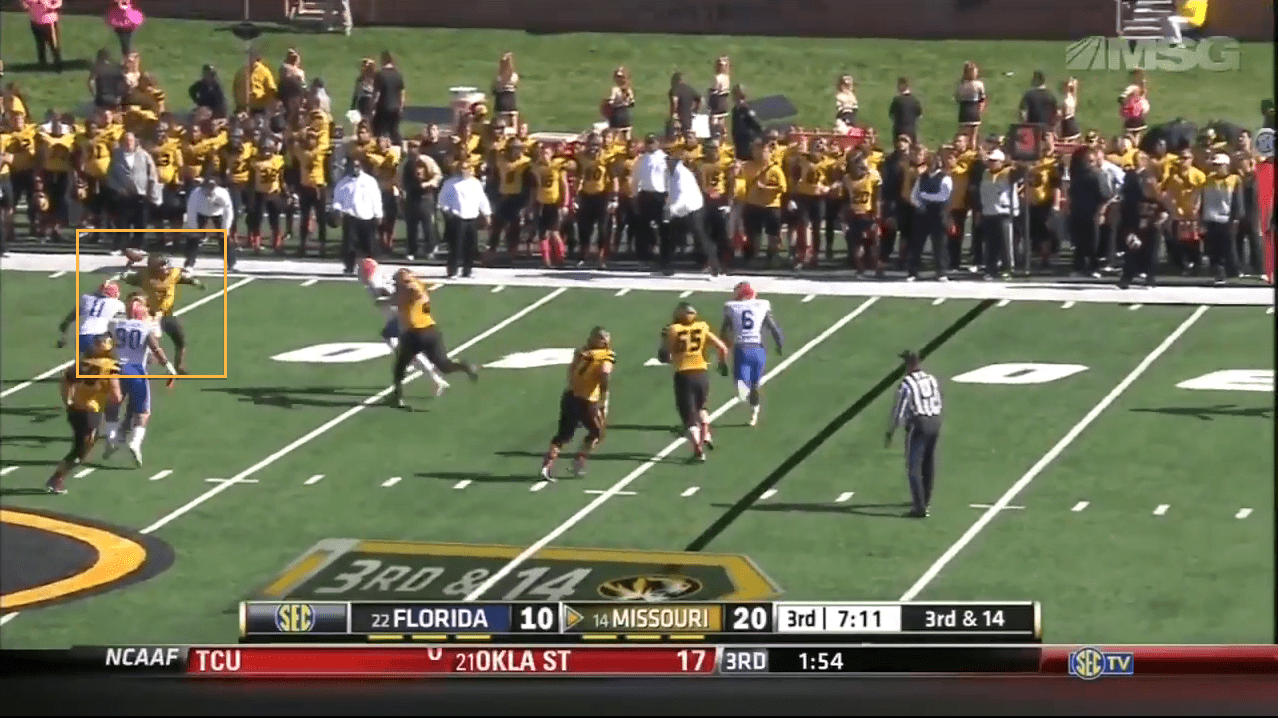 He has to make an off-balance throw, that ends up falling incomplete. Austin Baggett's 39-yard field goal extends Missouri's lead to 23-10.
Series grade: B
Florida's secondary allowed another big play, but not much else on this series.
Series No. 10: Three plays, 9 yards, 1:59 time elapsed.
On first down, left guard Stephen Carberry should pull to the other side of the offensive line to lead block.
Instead, Florida defensive lineman Darious Cummings shoves him into running back Henry Josey.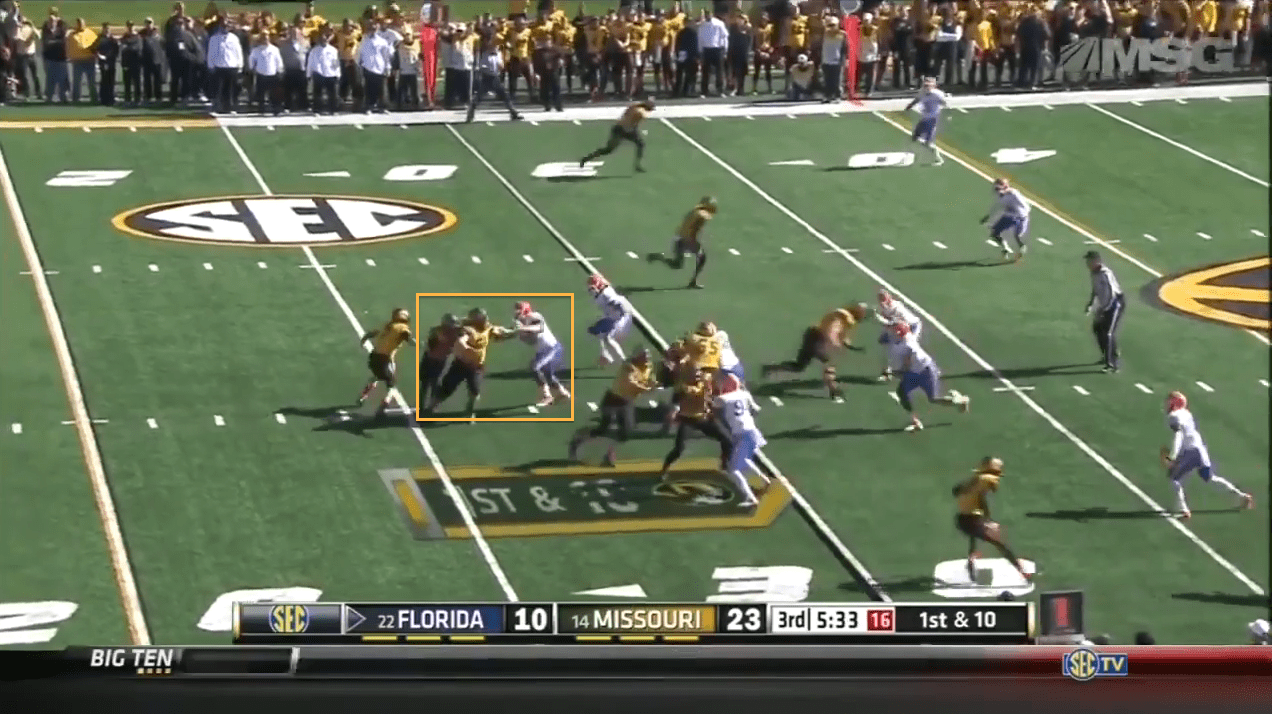 Josey gets bottled up for a five yard loss, and like we've seen so many times against Florida's defense this season, Missouri would be better served to punt, because their drive is going nowhere stuck behind the chains.
The Tigers come close to converting though, with a 10-yard gain on 3rd and 11 on a screen pass to Dorial Green-Beckham.
It's stopped short of the first down line thanks to Darious Cummings, who trips Green-Beckham up.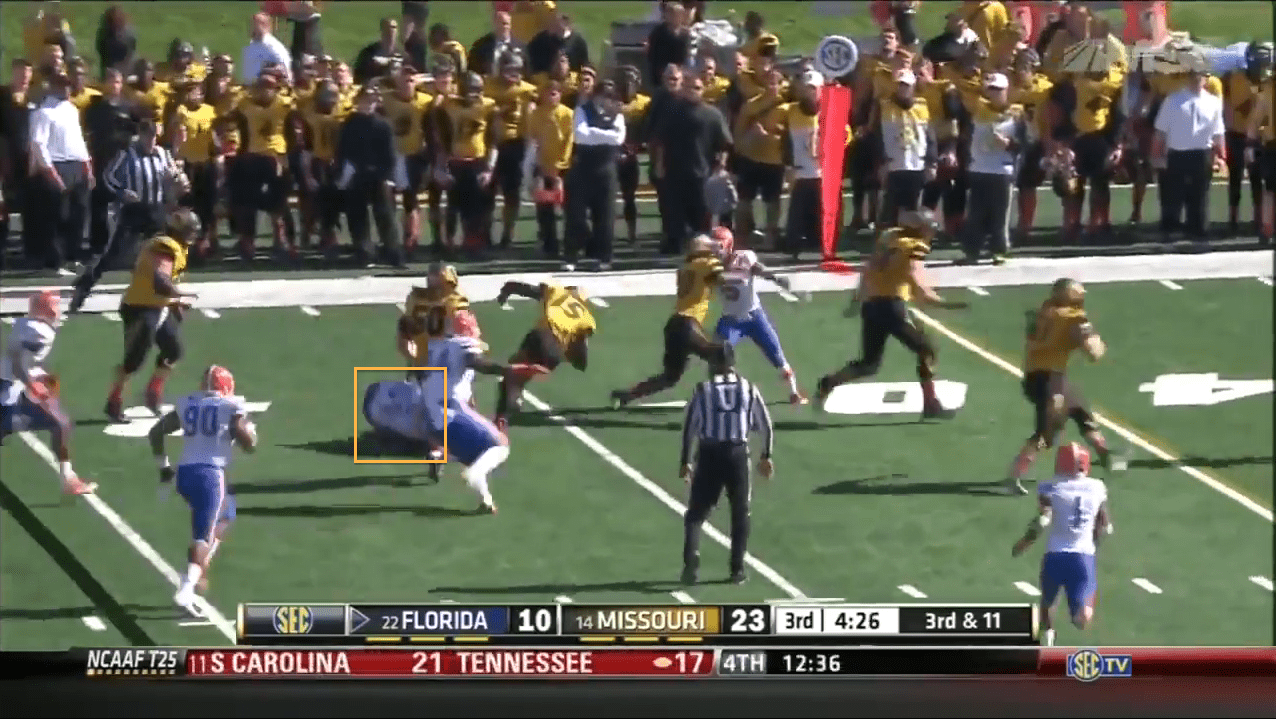 Series grade: A
Win first and second down as a defense, and third down has a pretty big margin of error.
Series No. 11: Six plays, 59 yards, 2:14 time elapsed, Missouri field goal.
Florida's offense scored a touchdown to cut its deficit to 23-17. On the ensuing Tiger first down, Missouri leaves Florida BUCK Dante Fowler unblocked on a naked bootleg. By design, Fowler is supposed to get baited into crashing down the line of scrimmage to chase the running back and quarterback Maty Mauk will roll out without anyone in his way to either gain yards by scrambling or set his feet and throw.
Here, Fowler reads the play.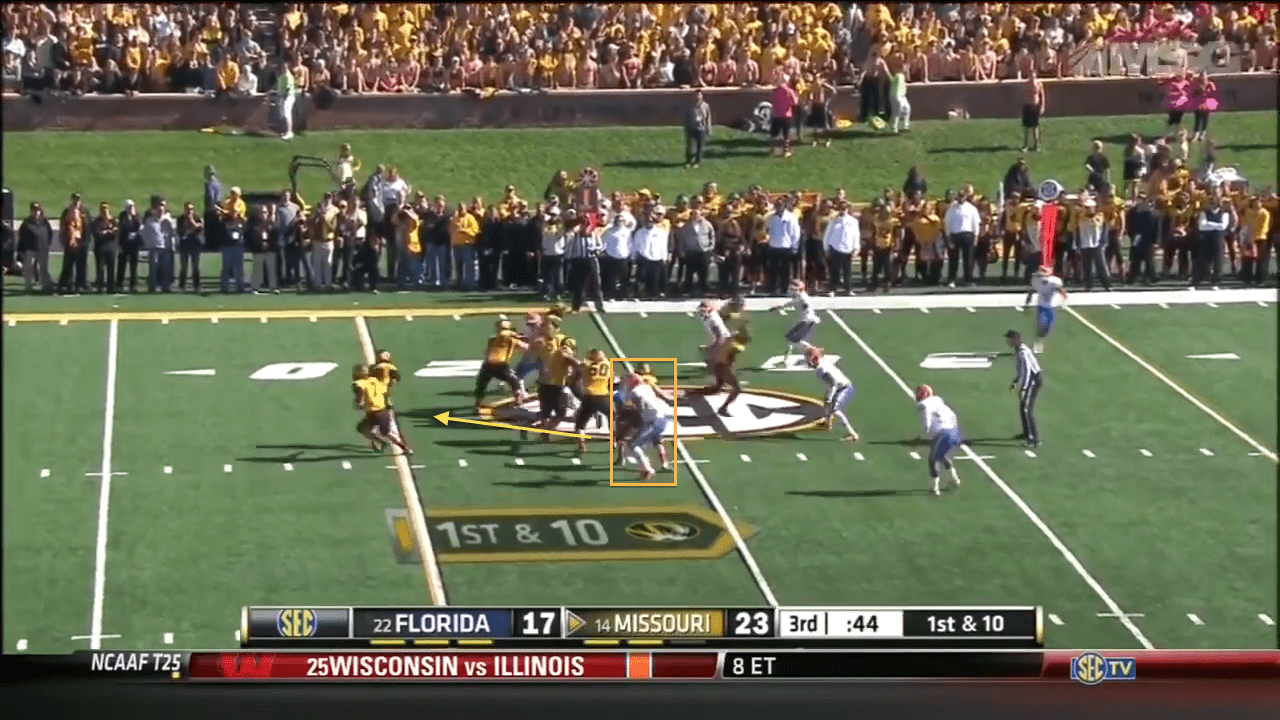 Then blows it up.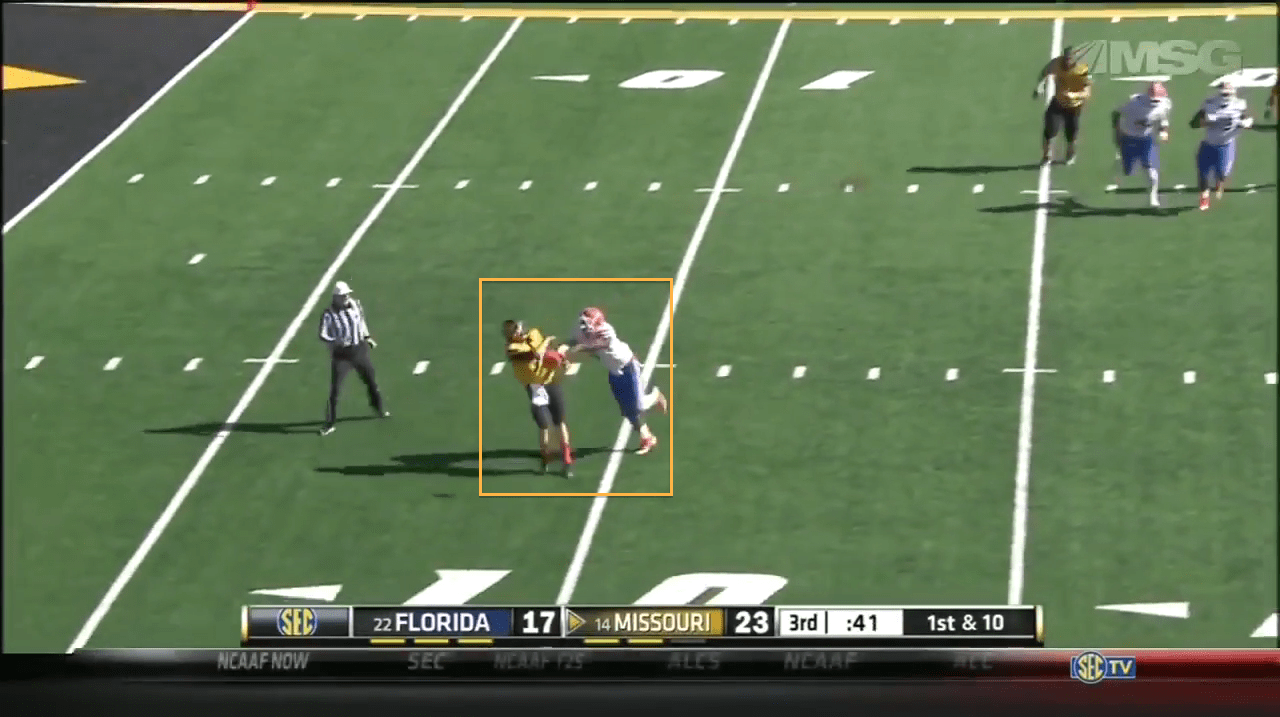 The lesson is clear. Put a body on Dante Fowler.
On the next play, Henry Josey gets a good lead block.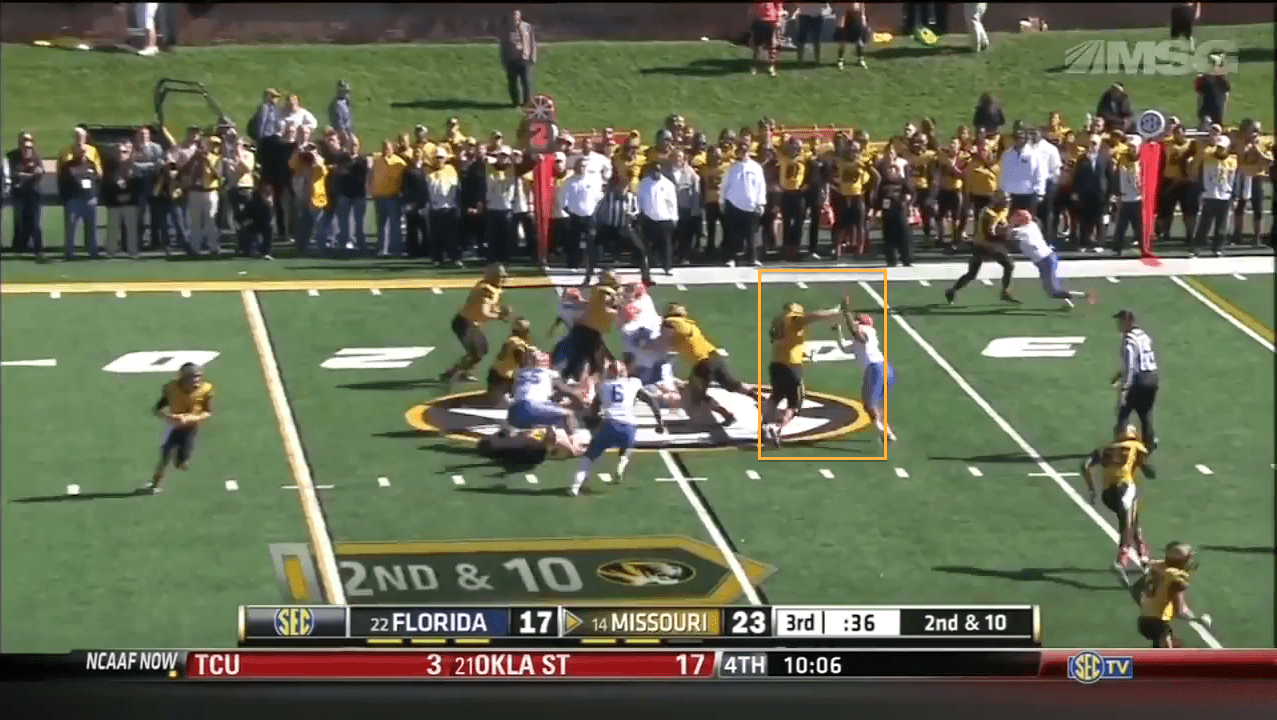 Leading to three Gators on the turf in his wake as Josey scampers for 50 yards.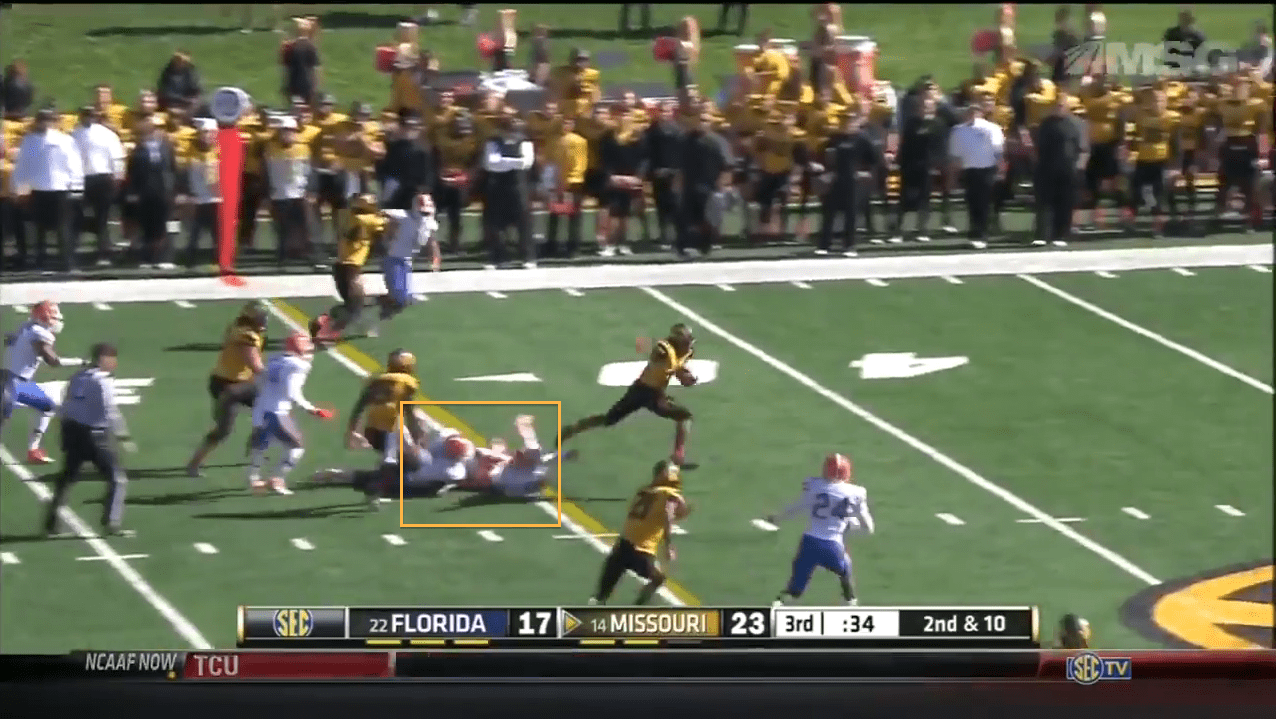 The big play puts Missouri in field goal range, and although the Gators don't allow the Tigers to get another first down, the damage is done by Josey's run, and after Baggett hits the 33-yard field goal, Missouri's lead is again two scores: 26-17.
Series grade: C
The Gators defense was unable to stop the Tigers for a second time after the offense seemed to gain a bit of momentum.
Third Quarter grade: C
 This defense has to carry the water for the offense, it's just the way this team is built. They failed that task, giving up multiple big plays and being unable to stop Missouri from keeping Florida's offense at an arm's length.