For years tight end was a position of strength for the Gators. Jordan Reed finished in the top three in terms of receptions his sophomore and junior seasons. Before him, Aaron Hernandez was Tim Tebow's safety blanket and an All-American and even before that Cornelius Ingram was a hybrid tight end that could be counted on to make a difference in the passing game.
Last season, the entire position amounted four receptions for 42 yards. That's less receptions for a season than Reed averaged per game over the last two years of his career.
Needless to say, the position didn't need a readjustment it needed an overhaul.
Florida got just that overhaul this season with the transfer of former Virginia tight end Jake McGee and the arrival of freshman DeAndre Goolsby.
Last year, Florida went into the season with two converted defensive ends playing tight end. This year they'll have tight ends who have been playing the position their entire lives and they'll see an increase in production because of it.
The two deep: Jake McGee (Sr.), Tevin Westbrook (Sr.)
The rest: Clay Burton (Sr.), DeAndre Goolsby (Fr.)
(Note: Colin Thompson is no longer listed on Florida's official depth chart and based on his medical issues and the public stance or lack of a stance on Thompson's future at Florida by the coaching staff, we don't include him)
Getting a player like McGee is just what Florida needed. The glaring lack of ability at the tight end position became obvious early on in 2013 and proved to be a determinant throughout the year.
McGee's strength is catching passes. The two tight ends on the roster last year's strengths are blocking. Florida needed a player like McGee — who is an adequate blocker — to stretch defense out, create mismatches with linebackers and safeties.
They needed an offensive player who wasn't just a guy, someone who can make a difference and an impact immediately. McGee is that guy.
McGee isn't the long-term option. A graduate transfer, he has just one year to play, like Westbrook and Burton.
However, the long-term option is already on campus in Goolsby. A tall, lean, receiving tight end, Goolsby will be groomed to be the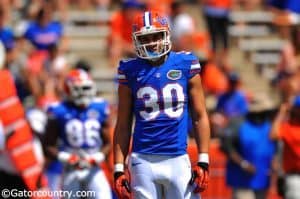 tight end of the future at Florida. He's perfect for a spread offense. He's quick, runs good routes and can make defenders miss in space.
His skill set and game reminds a lot of Hernandez in the things that he is capable of doing on the football field.
Look for Goolsby to get some playing time this season and to take over the position in 2015.
Burton and Westbrook still have roles on this team. Playing tight end means you have to block and they are still more advanced in that regard than the other two players on the depth chart.
Roper's offense will call for the tight end to block, yes, but the talent gap between McGee and the rest of the depth chart is too large to not take notice.
Expect Westbrook and Burton to put up similar numbers as they have in their careers, while McGee gets the lion's share of the reps.
Bold Prediction: Jake McGee will lead the Gators in receptions and receiving touchdowns this season.