Will Muschamp likes to say that your tape is your résumé.
Through the first four years of Jeff Driskel's career, the quarterback has played against nine teams that were ranked by the AP. He's completed 100-177 passes (56%) for 1,013 yards (5.7 yards per attempt), with seven touchdown and six interceptions.
Driskel's numbers increase slightly against non-ranked opponents but the numbers and the tape still show that Jeff Driskel is not getting the job done.
In defense of Driskel, Muschamp and some people point to the 2012 season. Driskel "led" the Gators to an 11-2 record and the Sugar Bowl. That season, however, it was the Florida Gators defense that did the heavy lifting. Florida was ranked in the top-five in the nation in total, rushing and scoring defense. The Gators +15 turnover margin (forcing 30 that season) was ranked eighth and Florida was the 10th best team in the country on third down, allowing opponents to convert just 31.02% of the time.
Not to mention how many holes punter Kyle Christy dug Driskel and the defense out of that season. In 2012, Christy was a Ray Guy Award finalist with his 45.8 yards-per-punt average.
Through three games this season Christy has been fantastic. His 50.38 yard-per-punt average tops the nation but the Florida defense is not the same dominating force they were in 2012. Driskel's indecision, poor timing and inconsistent play are still writing the same checks it did in 2012 but the defense can't cash them this time around.
Following a 42-21 loss at the hands of Alabama, Will Muschamp said, "we need to go back and evaluate the decisions we made going into the game and during the game."
One of those decisions was not getting true freshman quarterback Treon Harris a single snap against the Tide. All offseason, Muschamp preached about how important it was for the Gators to get a backup quarterback experience — meaningful snaps — so that the backup would be ready to go if something happened to Driskel.
Harris got experience in the first game of the season. He threw two passes — both of them touchdowns — and played throughout the game.
However, playing sparingly in the first half and them a ton in garbage time against what could be the worst team on Florida's schedule is far from getting Harris ready to play the rest of the season.
SEC play started. Driskel was abysmal against Kentucky in the first half. Harris watched from the sidelines, helmet in his hands.
Driskel played marginally better the rest of the way; Harris continued to be a spectator.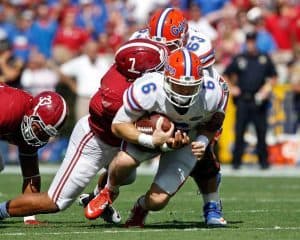 "Jeff gives us the best opportunity right now," Muschamp said following the Alabama loss. "For us to win a football game like that, Jeff Driskel needs to play."
He did play against Alabama and it was the worst performance of his career– which is saying a lot. Still, as Driskel was 4-12 for 47 yards a touchdown and an interception in the first quarter. He was 1-5 in the second quarter and still, Harris saw as much playing time as the more than 100,000 Tide fans that filled Bryant-Denny Stadium.
Jeff Driskel gives you the best opportunity to win? Here's the drive summary from the first half (when the game was still close) against Alabama: punt, punt, Touchdown (after the defense forced a fumble and the Gators started at the Alabama 31 yard line), touchdown (scored by Keanu Neal on a fumble recovery), punt, interception, punt, fumble, punt, end of half.
For better or for worse, will Muschamp is attaching himself to Jeff Driskel. It makes sense, in a way. Although Jeremy Foley is actively looking for reasons to keep Will Muschamp rather than looking for reasons to fire him, Muschamp is still a coach who's on the hot seat, coaching for his job. Foley can't sit by and watch the Gators miss another bowl game and keep Muschamp as head coach. Florida needs to win football games this season and the schedule doesn't get any easier.
Muschamp is choosing to stick with a quarterback that he knows. Driskel is a known commodity. Even if that commodity is not good, Muschamp knows what he can expect out of Driskel. A control freak, Muschamp doesn't want to go with a true freshman quarterback because he's an unknown commodity. How will a freshman perform against teams like Tennessee, LSU, Georgia and South Carolina? You just don't know and won't until you try it.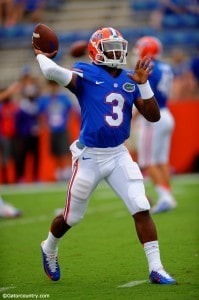 Jeff Driskel's ceiling isn't high. He's an average — at best — quarterback when he's on his game and a liability when he's off. That's it. That's your known commodity. The problem is, and it is a problem that became evident the past two weeks, Florida's defense isn't as good as they were in 2012. They aren't going to shutout SEC teams week in and week out.
So Muschamp is sticking with what he knows because his job is on the line. He's the captain of the ship and rather than cutting ties with Driskel — who's becoming an increasingly heavier anchor — and moving on to something new, he's going to go down with the ship.
Or is he?
Muschamp did say that the team would reevaluate things this week while the Gators are idle on the field. The first evaluation needs to be at quarterback. It shouldn't be hard to see that Driskel alone will not get the Gators over the hump. He's not going to lead Florida to wins over SEC rivals or to Atlanta.
Is Treon Harris the answer? We don't know. But that unknown is better than what we do know about the other option.