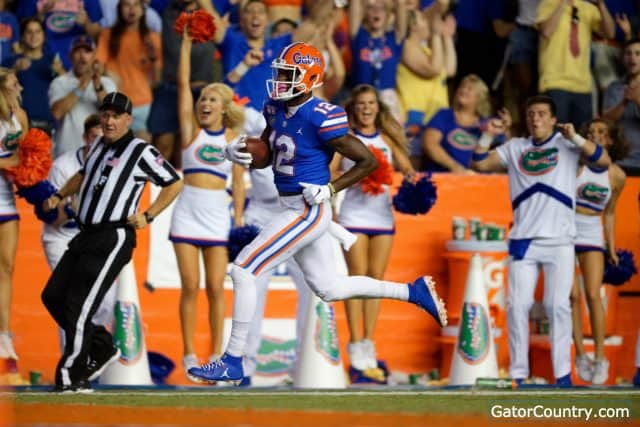 The Florida Gators are 2-0 and won a game, 45-0, playing mainly reserves and working obviously on shortcomings from their first game against the University of Miami.
Sure, the University of Tennessee-Martin isn't very good, even in the FCS, but as we saw last week with Georgia State beating the University of Tennessee – anything can happen.
What we saw on Saturday, was a team that had a clear vision of what it wanted to do: get back in a rhythm, focus on improvements, and get younger players and back-ups some much needed time on the field, while allowing starters to rest and prepare for the University of Kentucky next week – and they did it. Sure, it wasn't pretty at times, but ultimately, the Gators accomplished all three tasks and head into SEC play almost completely healthy (pending information about Kadarius Toney) and, more importantly, 2-0.
(As we always preface these articles, early in the season it is tough to derive much from statistical values and national rankings now, but each week is a building block.)
The Gators 45-0 win is the Gators first shutout since 2016 when the Gators beat North Texas 32-0 – breaking a 34-game streak of allowing points.
The Gators have started the last two seasons with 69 points through their first two games. The Gators nine touchdowns through the first two games are the most since 2015.
Feleipe Franks' 92.6% completion rate is the best single-game passing percentage for a Gators quarterback – ever.

Feleipe Franks ranks sixth nationally in completion percentage on the season.

The Gators 312 yards passing is the second-highest under Dan Mullen at Florida (Idaho, 2018 – 399), and only the third time in the last four seasons.
Jacob Copeland is the first Gators freshman (or redshirt freshman) to catch a touchdown since Freddie Swain in 2016.
The Gators four rushing touchdowns in the first two games are the most since 2015, but their five passing touchdowns are two behind the pace from last season.
The Gators 69.23% third-down conversion rate was their best since playing Kentucky in 2016.
Kaiir Elam's interception is the first freshman defensive back interception since CJ Henderson in 2017.
The Gators 15 sacks to start the season are the most to start a season ever and have the Gators ranked number one in the country in the number of sacks and sack yardage.
Evan McPherson had another field goal last night and is 20* of 22 in his career and still hasn't missed an extra point – he is quietly building one of the top kicking resumes in college football. *He didn't miss the kick against Kentucky that they said he did.
The Gators rank 8th in the SEC in total offense and 2nd in the SEC in total defense.