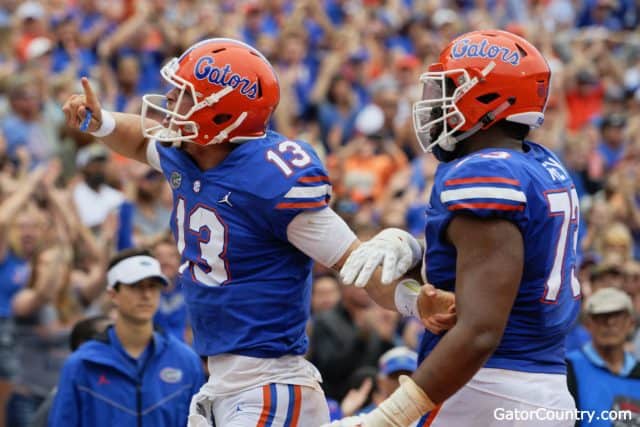 For the second time this year, the Gators came from behind in a game that I, yes, yours truly, counted them out of. I even tweeted "this team has given up, it seems" after the team was down by 14 and then thought it again when they were down 31-14.
But this team is different than the last seven years.
Sure, they may not be substantially better than the previous few years teams, but they find a way to win – no matter how they must do it. This time it was it gashing for yards on the ground. They've won previously this season, through the air, through special teams, through a stout defense, through emotion, and through grinding out a close win.
Yes, they have their problems and yes, there is still a lot to figure out – but this team is finding ways to win, even when their backs were against the wall and had been outscored 88-34 in the eight-and-a-half quarters before the Gators scored a touchdown.
I said the Gators won this game through the ground, and they did rushing for a season-high 367 yards (their most in a game since 2014 vs. Georgia), but they also won in an "us against the world (and fans)" mentality that seems to be the backbone of this years team. Whether you agree or not, it is fueling them and will likely lead them to a 9-3 record and on the verge of a NY6 Bowl game – something that was only a pipedream 11 months ago.
But…
Because it's my article, I have an opinion on Feleipe Franks, and Lamichal Perine's "shush"ing of the crowd. This is going to be focused on Franks because he was the most boisterous about it. So Feleipe, I know you're reading, so let me shed some light.
I don't have a problem with an "us against the world" mentality – I think it has fueled this team like it fueled the two previous head coaches.
I, also, don't believe that fans are as patient as they should be with individuals because, in the case of quarterback play, it is a continuation of the previous seven years.
But what I do have a problem with is, the leader of the offense telling a crowd that was cheering him along after two touchdown scores being told to "shh" and continue to build more animosity – when the general fan (I know some fans have been mean) wants everyone, especially the quarterback, to be successful.
I know that Dan Mullen mentioned that he wants players off social media because it gives a very vocal minority a very loud voice.  I am going to venture to say less than 1,000 people on Twitter have personally said something negative to about Feleipe Franks on Twitter, which is about 1/88th of the Swamp's per game capacity, and about 1/500,000th of the average assumed viewership – and I am willing to bet nearly all of those that have said some negative about him, the person, are not in attendance weekly or even at all. Those that paid large sums of money to watch the team play want to see the team win – so don't shush those people. They are cheering for you, cheering for the team, and cheering for success. Social media can be poisonous and can make a very vocal minority sound like a majority. Fans want the team to win and they want to cheer for success, so booing them, when a substantial number probably don't actively use social media, you don't solve anything – you don't make those who are indifferent to the number and name on the back of the jersey and cheer for the front of the jersey fans, and in reality alienates more people than those that do publicly bash you.
Ignore the social media, don't search your name, and focus because you have the tools to be a successful quarterback. The boos aren't personal, they are the collective groan of seven years. Be above it, be stronger, put the fans on your back and it make an "us vs. them (the opposing team)" mentality.
/fin
Let's look at where the Gators stand after their win against South Carolina:
The Gators have jumped 40 spots in total offense over last season – 110th to 70th. That is the 8th biggest jump season over season in the FBS.
South Carolina was 7-of-13 on 3rd down and the third straight game the Gators have allowed greater than 50% on third down. Teams are 26-of-45 in the last three games after going 9-of-41 in the previous three games. The

The Gators won for the first time since Florida State in 2012 where their opponent converted greater than 50% on third down conversions.
The Gators have allowed four teams to have a greater than 50% third down conversion rate this season (all three losses and South Carolina). They had previously not allowed greater than 50% in 25 games before this season.

The Gators are averaging more than five yards a carry on the season (5.10) for the first time since 2009 (5.59).
Gators quarterbacks have had three games this season with a completion percentage above 70% for the first time since 2013.
The Gators have had a passing touchdown in 10 straight games for the first time since the end of the 2009 season into 2010.
The Gators had -4 punt return yards (and a fumble) against USC and have -1 yard in punt returns combined over the last three games. Despite starting the season with 177 yards in the first three games, the Gators have had just 36 yards in the last seven games.
CJ Henderson's interception was the first Gators turnover since Vanderbilt.
Last season, the Gators averaged a first down or touchdown on about 28% of plays, which ranked 102nd in the country – this year they averaging a first down or touchdown on 37.6% of plays.
The Gators are still missing on big play rate. They rank 92nd in the country in percentage of plays going 20+ yards (6.7%).
The Gators rank 1st in the country in allowing the fewest amount of sacks in "passing downs" at just 1.1%, according to SBNation's Bill Connelly. Last year, they ranked 98th at 9.8%.

Feleipe Franks had a sack rate of 11.2% last season – this season it is just 4.3%.