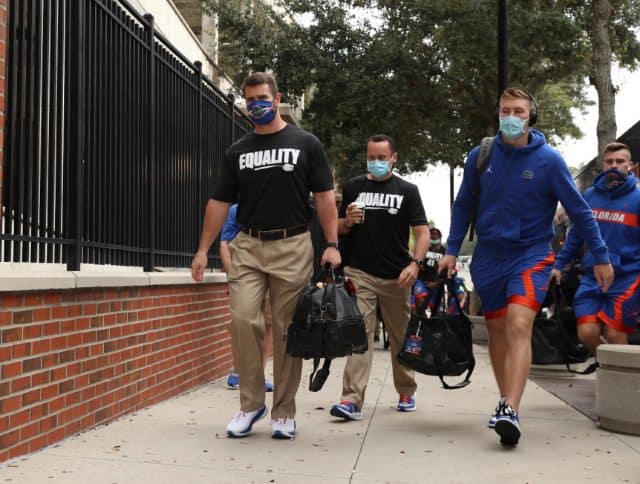 Two weeks down for the Florida Gators and two wins are in the record books and to quote something completely unrelated to football – war principles – "the best defense, is a good offense" and Florida certainly is buzzing on offense.
Sure, we can all agree it was not always pretty. The defense had some mistakes, the offense did not quite hum in the second half and had a few turnovers, struggled in pass and run blocking, and despite behind significantly more talented, the Gators did not always look like the much better team.
However, the Gators did have several bright spots – including four more touchdown passes by quarterback Kyle Trask, two more touchdowns for Kyle Pitts, and 38 points in three quarters before, presumably, taking the pedal off the gas.
Here a few numbers that defined the Gators match-up against South Carolina.
For the second straight week, the same five offensive linemen played every snap. Every offensive lineman, except Richard Gouraige (1), allowed two pressures; Forsythe, Heggie, and Delance allowed two quarterback hurries each; and Stewart Reese allowed the lone sack.
Kyle Trask was 6-of-10 on passes (in the air) beyond 10 yards for 106 yards but really thrived in less than 10-yard passes where he was 15-of-19 for 162 yards.
The Gators could not seem, again, to get in a rhythm running the ball. The running back attack was balanced, with seven runs going to the right side of the line and 11 going to the left side of the line, but with only 86 yards the Gators are going to need to find a way to get more on the ground. The Gators have rushed for under 100-yards in four of the last seven games.
The Gators 53 plays are the second-lowest plays in a game under Dan Mullen. Florida averages just over 67 plays a game under Dan Mullen.
Kadarius Toney had 86 yards receiving – and caught all four of his passes within 10 yards of the line of scrimmage. He is on pace for 725 yards – he only had 606 in his first three years.
The Gators only have had been on third down 19 teams this season – their fewest through two games in over a decade.
Kyle Pitts has tied Aaron Hernandez for most touchdowns (12) by a Gators tight end in history.
On the two targets against South Carolina's best defensive back, Israel Mukuamu, the Gators were 2-for-2 for 25 yards and a touchdown.
The Gators had 11 missed tackles on defense.
Marco Wilson and Shawn Davis were your defensive passing liabilities – with Wilson allowing 5-of-7 catches against him for 52 yards and Shawn Davis allowed 4-of-5 for 19 yards.
On third down, the Gators have allowed 15-of-31 attempts this season – including 6-for-17 against South Carolina. During the Gators six-game win streak, they are allowing just a 36.26% conversion percentage.
Fifth-year walk-on punter Jacob Finn is averaging just under 49 yards per punt this season.