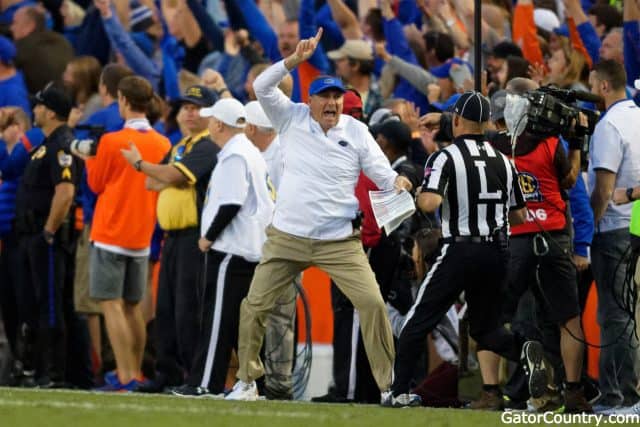 It was a rough day at Ben Hill Griffin Stadium on Saturday.
No, it wasn't the weather – that was perfect.
No, it wasn't the pre-game festivities – those were perfect.
No, it wasn't the orange end zones – those were beautiful.
No, it wasn't the fly-over by two H-60 helicopters – that was incredible.
Everything else went wrong. The crowd, the game, the energy.
This was my first time in "The Swamp" this season. I got to meet up with my two best friends (and their significant others) and we had great tickets. I was excited to watch the Florida Gators play and see how they would bounce back from a tough loss at Georgia after a great night at Midtown.
It could not have been worse, and the TV probably didn't show everything. The team came out flat and looked disinterested most of the time. They were constantly being yelled out by coaches on the sidelines and the frustration amongst the entire team was palpable to the 70% filled stadium.
But you know all of this – because you watched the game. I don't need to tell you.
I will pontificate on two things, though.
Dan Mullen's comments on fans and about winning championships once the stadium is filled is both the right thing to say, but the wrong time to say it. The stadium does need to be have fans and there is a huge issue with attendance – because attendance may not help decide the game, but it does help energy levels, and that may help decide the game or at least impact the game. Dan Mullen has been preaching all off-season how important it is to fill "The Swamp", but the wrong time to complain again about is after a loss because that sounds like an excuse – and there was no excuse to get blown out by a mediocre Missouri team. Moreover, it is not fair to a group of folks in marketing and ticket operations that bust their butt to get fans in the stadium. However, I think it creates another discussion topic – and that is, maybe it is time to re-think the stadium. Priority one should be student ticket allocation strategy. A number of schools have done it and here are a few options: make student seating first come, first serve; force students that have tickets to go the game and if they miss two (unexcused) pull their tickets; make tickets cheaper; make the seats more comfortable, thus decreasing number of seats; or shrink the student section and make more seats available at a cheaper price for fans. Second, improve the quality of seats on the alumni side, by decreasing the number of seats and move to chairs or at least chairbacks. Third, add more shade OR third, create more areas for families – like the Tampa Bay Rays ray tank. Families are looking for areas for their small children or to keep them out of the sun. In my opinion, gone are the days of 90,000+ fans consistently. Sure, if the Gators get substantially better more and more fans will come – but only the bigger games draw that. You can watch the game on TV without the two-night mandatory minimum at Gainesville hotels, and the multiple $70+ dollar tickets, plus food, alcohol, gas and a host of other ancillary prices. The price to go to a Gators game for a family of four is probably close to $900 – 1,000 per game.However, talk about that after the season – not now.
You must play Kyle Trask and Emory Jones just to see what you have in a game-time situation that matters. Trask played OK on Saturday, but that didn't really count. Emory Jones played fine at times against Georgia but wasn't really tasked with much. While Feleipe Franks will probably start against South Carolina, I think you need to try one or both, because you can't go into next season not knowing what you have. I saw Trask make throws I haven't seen Franks make, and I am not sure what major drop-off you have over Franks. There are three quarterbacks on the roster, you have to start seeing what else is available. If nothing, Franks is there.
Now, the numbers – don't worry it'll be quick:
The Gators scored in the first quarter for the first time in four games, but still, rank 123rd in the country in 1st quarter offense (2.9 points per game) and allow 5.1 (45th in the country).
The Gators are averaging more than 50 yards less rushing over the last two games, than the previous six, while they had 10 rushing touchdowns in the first six games, they only have two in the last two games.
When Franks gets nervous, he only looks for short passes and overthrows long ones. As evident in the last two games, 5.0 yards per attempt against Georgia and 3.8 yards per attempt against Missouri.
The Gators have now matched last season's sack total (23), but only have two for seven yards in the last two games.
The Gators are only 7-of-27 in the last two games on third down, which is down 16% of their season average. On the other hand, Florida has allowed 19-of-32 on third down over the last two losses after allowing only 9-of-41 on in the previous three games. The Gators have allowed 28-of-45 (62.2%) on third down in their three losses.
In the last two losses, the Gators have allowed opponents to go 7-of-7 scoring in the red zone.
Florida has the 93rd lowest first half possession percentage 47.51% and only 48.14% in the second half (78th lowest).