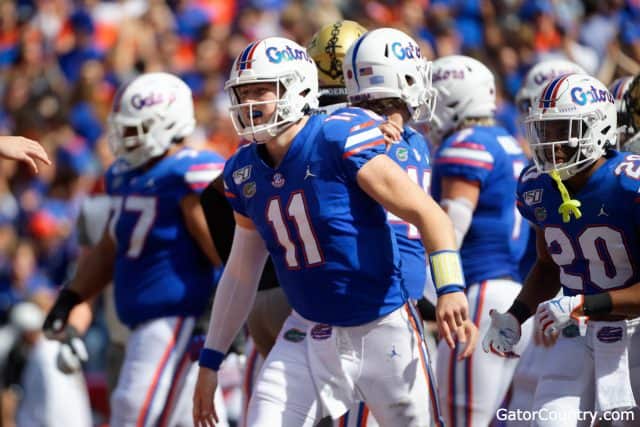 The Florida Gators once again played a sloppy game against the Tigers of the University of Missouri – but unlike last year, came out victorious 23-6.
While the offense seemed to sputter for most of the day, they didn't let the 11:00 AM local kickoff time hinder their ability to walk away with a win in what could have been set-up to be a trap game. Missouri, which boasted a top-10 defense, allowed the third-most yards they allowed all season to Florida and Florida was able to get creative to move the ball. All the while, the Gators defense was able to lock down Missouri quarterback Kelly Bryant and never looked like they wouldn't win in Columbia, Missouri – including a stellar performance from Walter Camp National Defensive Player of the Week Jonathan Greenard.
The Gators enter their third bye week of the season before a final showdown with the Florida State Seminoles.
What do the numbers say about the Gators win over Missouri?
The Gators threw for 330 yards against the Tigers and currently sit just 90 yards south (3,215) of the highest number of passing yards they've had in a season in 11 years (2009 – 3,305).
The Gators are currently on pace to have their fewest rushing yards in a season since 2001 (1,346).
Kyle Pitts had four more catches, bringing his season total to 46 catches – second in the country for tight ends.
Kyle Trask is 24th in the country in passes that go 10+ yards and 29th in the country in passes over 20 yards, but only has 19 passes than have gone 30+ yards – far below his comparable peers.
The Gators have their most sacks in a season (38) since 2015 and are on pace to have their most in a season since at least 2004. The Gators are sacking opponents 9.43% of the time opponents drop back – 12th in the country.
The Gators 15 interceptions on the year are the most they've had in a season since 2016 (16).
Missouri was 5-of-18 on third down, which plays with the theme of all season. The Gators defense is allowing just 32.59% in wins and 59.09% in losses.
The Gators did not allow Missouri to score a touchdown their two times in the red zone, which helped lower the percentage of touchdowns the Gators have allowed in the country to 35.71%, the third-best in the country.
The Gators are averaging more than 10 yards fewer in penalties than last season and their lowest number since at least 2004 at just 50.3 yards.
David Reese ranks 4th in the SEC in tackles and Jonathan Greenard ranks 6th in the SEC in sacks.
The Gators 811 points over the last two seasons is the most combined points over two seasons since 2009-2010 (and these two seasons should eclipse that total assuming the same scoring trends).