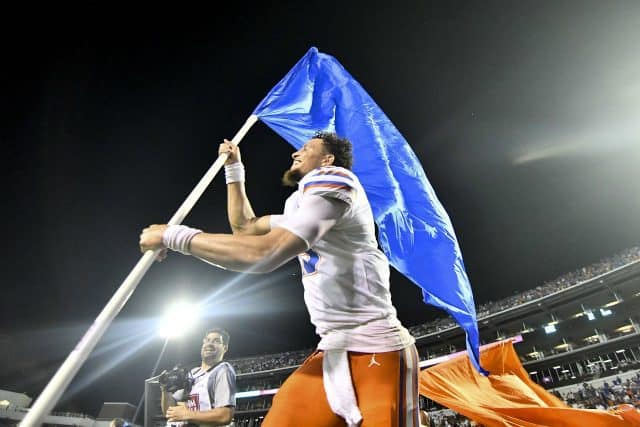 The Florida Gators found their fourth different way to win this season. They've won by sheer domination (Charleston Southern), special teams (Colorado State), turnovers (Tennessee) and now, lockdown defense (Mississippi State).
The Gators played aggressively, smart, and stout on defense – holding their third opponent of the season to less than four yards per play. With a sack on fourth down to effectively end the game by Donovan Stiner, the Gators had a season-high in sacks (six), which is the most they've had against an SEC opponent since 2015 (Kentucky) and have allowed the fewest points they've allowed against an SEC opponent since 2016 (Vanderbilt).
The Gators enter week six as statistically one of the strongest pass, scoring, and turnover defenses in the country.
But respect is due to Feleipe Franks and the Florida Gators offense, who held one of the SEC's strongest defensive lines to just one sack and three tackles for loss, despite Mississippi State averaging 3.5 and 10.75 per game, respectively. Franks played his best in a Gators uniform and distributed the ball to a flurry of weapons that opened up the playbook to more Trevon Grimes, Kadarius Toney, Dameon Pierce, and use of tight ends than we had previously seen this season.
While a 13-6 score doesn't sound decisive, the Gators held Mississippi State to just 43 second-half yards and are currently coming into their own as a team. While the Gators missed on a few opportunities on offense, they walked into one of the most hostile environments a team could face and shut down a Mississippi State program that built their entire season around beating Florida.
Statistics for the year are normalizing a bit, so we can start to see some trends for the Gators, so let's dive in.
The Gators are currently +107 in point differential for the season. Last season at this point, they were +4.
The Gators defense ranks second in the country in pass defense (yards per game), despite losing starting cornerback Marco Wilson in the second game of the season and not having much of Trey Dean against Mississippi State.
Over the past three games, the Gators rank second in the FBS in fewest points per play allowed (0.162) and sit 8th in the FBS for the season (0.224). Last year, they averaged 0.433. So drastic improvement.
Through five games, the two red zone touchdowns the Gators have allowed this season, ranks as the fewest in the FBS this season.
The Gators only allowed Mississippi State to convert on third down twice, going 2-of-12. The Bulldogs were averaging a 54.7% conversion rate before this game (29-of-53).
The Gators allowed the six points in the first half, but still rank fourth in the country in averaging only 4.8 points allowed in the first half.
The Gators 23 catches on offense were the most they've had in a game since 2016 against Tennessee.
Just five games into the season, the Gators have had 18 players catch a pass. In only one season in the last 10 years (2015) did they have more players catch a pass (20).
The Gators were outperformed last season in sacks 37 to 23, but this season they have a commanding 15 to 7 lead over their opponents.
This was the first regular season game in 22 games that the Gators defense did not allow a touchdown (Vanderbilt 2016).
The Gators defense ranks 6th in the county in pass efficiency defense.
Dameon Pierce is the top fourth-quarter rusher in the FBS in terms of yards (212) and first amongst those who have rushed for at least 15 carries in the quarter (10.60)