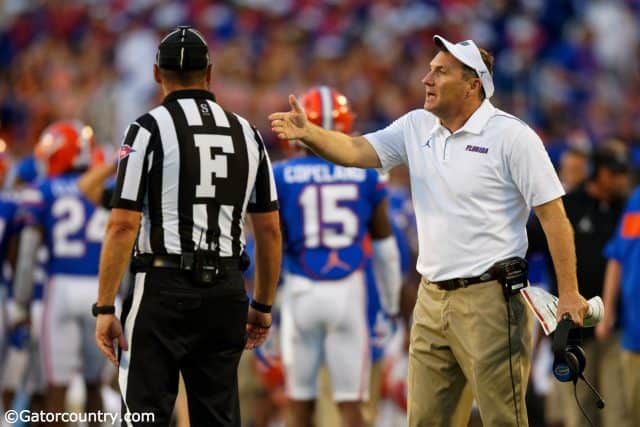 The Florida Gators are 1-0, playing a Power 5 opponent to start the season, for the first time since 1992 (Kentucky).
Was Week 0 pretty? No.
Was Week 0 what everyone hoped for an anticipated? No.
Was Week 0 a learning opportunity to build upon the season? Yes.
I think it's tough to say one way or another what this team will be after the first game, but it's not fair to immediately say what they won't be after a win against a team that had one of the top defenses in the country last season.
Sure, the Florida Gators did not look particularly crisp yesterday, but if you take away some first-game jitters, some settling in of the coaching, and better turnover luck – you have a team that just beat a Miami team that could have 9-or-more wins this season.
Not a bad first game.
It is tough to derive a lot in the first game when talking stats about trends and correlation but lets dive in and set a foundation to build off.
The Gators 10 sacks against Miami are the most they have had in a game since 1987 and the most an SEC team has had in a game since Ole Miss beat Mississippi State in 2008.
The Gators now have had five-plus sacks in three straight games (dating back to last season).
While the Gators allowed 214 yards passing, they only allowed 56 in the second half and the only touchdown allowed (1st half) was a tipped pass that landed in the breadbasket of tight end Brevin Jordan. The Gators have allowed a passing touchdown in the last eight consecutive games.
The Gators forced Miami to commit 14 penalties – the most an opposing team has had against Florida since Georgia in 2012.
Feleipe Franks threw over a 60% completion percentage for the 12th time in his career and over 200 yards for the eighth time in his career.
The Gators failed to rush for 100 yards for the first time since 2017 (Florida State) and for less than 53 for the first time since Michigan (2017). They do, however, have a nine-game rushing touchdown streak.
The Gators converted on fourth down four times – and had a 100% conversion rate on four (or more) attempts for the first time since Tennessee in 2015. Dan Mullen is 15-of-24 on fourth down with the Gators.
On third down, the Gators were 2-of-10 – their lowest in a game since South Carolina in 2017.
However, on Miami's third down, they were just 2-of-13 and over the last four games, Gators opponents are just 12-of-57 on 3rd down.
And just remember, the last three wins the Florida Gators have are against Florida State, Michigan, and Miami.