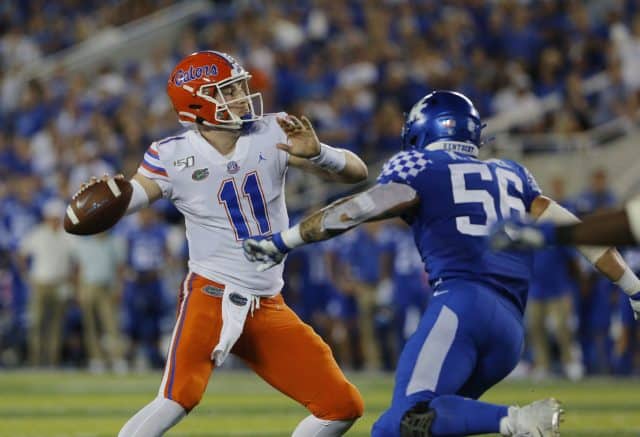 It is hard to put into words the Florida Gators win over the Kentucky Wildcats.
While the Gators are now 3-0 and have avenged their loss over the Wildcats from last season with 19 straight points to win 29-21, they lost their team leader, likely for the season, in quarterback Feleipe Franks.
This entire offseason, discussions on the Gators season was predicated on staying healthy and in the last two weeks they have lost starting cornerback CJ Henderson, wide receiver Kadarius Toney, and now their starting quarterback. While it looks like the Henderson will return soon and Toney is expected back this season, the Gators have lost three players that were expected to have major roles this season. How the Gators adapt to the challenge is going to show a lot about the team's make-up and coaching staff's ability to handle major challenges and adapt.
Let's look at the stats the defined the Gators win over Kentucky.
The Gators for 300 yards, and coupled with their 312 yards from last week, the Gators have thrown for 300+ yards in two straight games for the first time since 2007.
The Gators have scored 24 points in a game (or more) for nine straight games.
The Gators ran for three touchdowns in back-to-back games. The first time they have had at least three rushing downs in back-to-back games since 2014 (Georgia, Vanderbilt).
Despite just one sack, the Gators are still leading the nation in sacks.
The Gators had just one punt in this game, again. This is the first time since 2009 they've had one or fewer punts in each of two consecutive games.
With interceptions by Kaiir Elam and Shawn Davis, the eighth in the country in interceptions and they are both ranked fifth in the country in interceptions on the season, while Kaiir Elam leads the nation's freshmen in interceptions.
The Gators rank fourth in the country in stopping opponents in the red zone. Opponents are only 4-for-8 in the red zone. On offense, the Gators are 12-of-14 in the red zone, with nine touchdowns.
The Gators rank 69th in offensive plays that gain 10+ yards – Something they need to improve on.
Evan McPherson snapped his five-game streak of making every field goal (6-for-6), but extended his extra-point streak to 66 in a row.
The Gators three tackles for loss are their lowest in a game since…Kentucky in 2018.