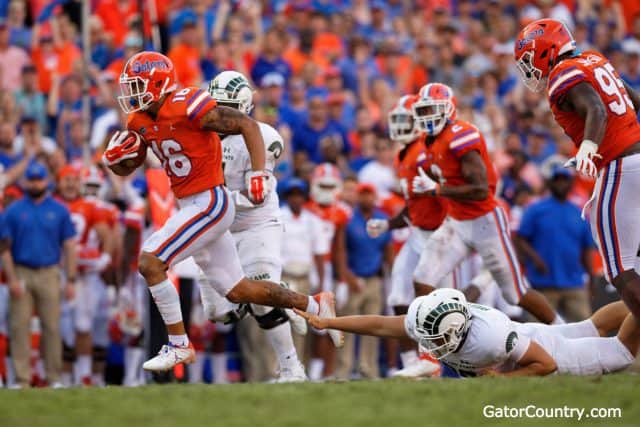 When you're not able to watch a Florida Gators game in real time, like I wasn't able to because I was up at the Notre Dame vs. Vanderbilt game, but follow along watching the box score you sometimes don't exactly know how the game went.
See, when I saw the score, especially the 21 points scored in the 2nd quarter, I thought Florida was clicking again on offense and defense. I thought they were keeping a team that just beat an SEC team the weekend prior, in check, with ease.
It wasn't until I asked my followers on Twitter, "How did Florida look in one word?", that a different tune started to play. I saw words like, "McElwainish", "frustrating", and "inconsistent" — that was surprising considering a 48-10 win. While I also saw words like, "improving", "promising", and "future", I knew that I just had to watch this game intently.
On my flight home from Chicago on Sunday, I can see why the answers were all over the place. You could see why fans thought the game was maddening when the offensive line struggled to hold blocks or when wide receivers could not get open for much of the first half. You could also see a future, with guys like Trey Dean, Dameon Pierce, and Evan McPherson performing quite well.
Simply, the game was a measuring stick on fans expectations — and neither side is wrong.
The game versus Colorado State was not pretty. Sure, some plays executed well – like the first defensive series, special teams, and a host of plays throughout mainly the second and fourth quarters. However, Franks' interception, a lack of wrap-up tackling, and the designed quarterback runs just don't look promising to those who know a tougher schedule is looming.
But, a win is a win is a win and it came by a score that should be aesthetically pleasing to most casual fans.
Let's look at the numbers behind the Florida Gators win on Saturday.
The Gators blocked another kick on Saturday, which brings their season total to three – the same number of blocked kicks they had in the previous four seasons combined.
Strangely, despite the Gators offense not clicking very well, they rank 8th in the country in points per play at 0.672.
The Gators have allowed teams to enter the red zone just twice this season and they have not yet scored (Colorado State was 0-for-1).
So far on the season, the Gators have nearly three times as many punt return yards as all of last season (177 to 66) and the Gators rank 1st in the country in long (20+ yards) punt returns.
After Colorado State went 8-for-20 on third down, the Gators defense rose slightly, but are still ranked 101st in the country on third down conversion defense.
The five fumbles the Gators have forced are already two more than last season.
One area where the Gators are struggling on special teams is on kick-off return where they are just one of seven teams that have allowed three kickoff returns to go more than 30-yards – and rank 110th on the season in kickoff return defense.
The 1.67 yards per carry the Gators allowed Colorado State to rush for is the lowest average in a game by the Rams since 2014 against Utah.