It has been a long time since the Florida Gators have had uncertainty at middle linebacker. Starting in 2002 with Channing Crowder, the Gators have had an answer in the middle of the defense. Crowder gave way to Brandon Siler, and then came Brandon Spikes, who left his mark on the university before leaving the job to Jon Bostic.
A three-year starter, Bostic spent the past two seasons as the unquestioned leader of the defense. He relayed the play calls from the sideline, started 26 straight games while racking up 327 career tackles, 19 for a loss, seven and a half sacks, five interceptions and two forced fumbles in 32 appearances.
Needless to say, those are big shoes that need filling.
Enter Antonio Morrison.
Just a 3-star prospect coming out of high school, Morrison enrolled early in the spring of 2012 and instantly impressed the coaching staff with his physical style of play. He played well enough in the offseason to be tapped as the next man up when Jelani Jenkins went down with an injury against Texas A&M.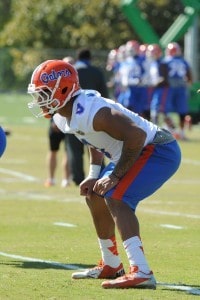 Where most freshmen would crumble under the spotlight of being thrust into action so early in their career, Morrison seized the opportunity and made a name for himself. He appeared in all 13 games last season compiling 34 tackles, two for a loss, one sack, one quarterback hurry and one forced fumble.
If you hadn't taken notice of Morrison by the end of the season, he changed all that in one, bone-crushing hit on Florida State quarterback, E.J. Manuel. Morrison's hit and forced fumble changed the momentum and complexion of the game. Those are the kind of plays that the coaching staff envisioned Morrison making when they saw him as a freshman last spring and just a taste of what is to come for the talented sophomore-to-be.
While Morrison's physical playing style suits his move to inside linebacker, he didn't have the body size you like to see in a Mike linebacker. Last season, Morrison was listed at 6'1" 218 pounds. He was a long and almost lanky looking player.
One thing we are quickly finding out is that long, lean players don't stay that way for very long in Jeff Dillman's strength and conditioning program. The initial depth chart for spring practice lists Morrison's weight at 229 pounds and he looks every bit of 229 in person. Despite adding so much weight in a short period of time, Morrison's frame appears to be able to add additional bulk and he could eventually play near the 246 pounds that Bostic played at his senior season.
That added bulk should allow Morrison to stay healthy as the Gators navigate an always-grueling SEC schedule.  When asked if there was any hesitancy in moving Morrison from weakside to middle linebacker D.J Durkin backed the decision and let his confidence in Morrison be known.
"No. There's not. Antonio is a very physical player to begin with, that's kind of his nature, his style of play. He's put some weight on, some size on this offseason. I think he'll be just fine by the time we get to the year he'll be about 230 pounds or so. He's a durable guy, and that's kind of his nature, his style of play. He fits that really well, just how he plays the game."
Of course, it's important to maintain your mobility, flexibility and speed when you're putting on so much extra mass. After watching one practice, it appears Morrison hasn't lost a step of his sideline-to-sideline speed and is adapting quickly to the new position.
While Morrison has a long way to go before we mention his name in the same breath as his predecessors, he is certainly on the right track to replacing Bostic and leaving his own mark on Florida football history.