Add another log onto the fire that has been the recruitment of Ray-Ray McCloud.
The Tampa, Florida running back has been a Clemson commit since July 2014 and had coupled that with his intentions to become an early enrollee for the Tigers.
Now, McCloud is saying he's going to wait a little bit longer before making that jump.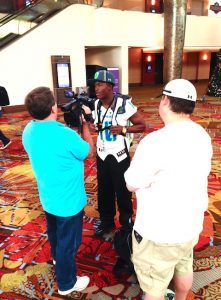 Speaking to GatorCountry in Orlando, Florida at the Under Armour All-American Game registration day, McCloud said it was a joint decision.
"My family, just after Christmas I decided I didn't want to go."
With National Signing Day just starting to peek over the horizon (it falls on February 4, 2015), McCloud's indecision comes at a crucial recruiting time and the perfect opportunity for another school to sneak in and grab him…a school like Florida.
New head coach Jim McElwain has a vision, and according to McCloud, he sees a certain Sickles High running back in it.
"[He] just told me I could pitch in, get a chance, try to just see his dream". McCloud explained.
"He named a couple of running backs that he actually coached and stuff but all the ones he named was big backs, and I'm not a big back, I'm kind of a scap back, kinda thin but I think he's a great coach"
A "scap" back is accurate. McElwain has coached backs such as Mark Ingram, Trent Richardson, Eddie Lacy and Dee Hart who all average around 214 lbs., whereas McCloud is a generous 5'9", 175 lbs.
But ranked as the number 6 overall athlete at his position and hailing from talent rich area of Central Florida, McCloud is still a get worth getting. It's just going to take a little more effort to "get" him.
"I'm not gonna take an official [to Florida]", he declares. In fact he says he won't take any more at all, not even an official visit to Clemson, just "gonna go up on a weekend to visit."
"I'm done". He reiterates. "I'm done with it till Signing Day."
As far as what could happen on Signing Day though, well that's a fire that is still burning itself out.