DESTIN — A lot of times in college basketball when a freshman redshirts it can be an indication of talent. Maybe the coaching staff missed on a projection or an evaluation. In every case, the redshirt process is hard on the student-athlete, who is coming in highly recruited and prized as a high school recruit.
Keith, as most freshmen are, was a little bit resistant to it at first," Florida Gators head coach Mike White said of redshirt freshman forward Keith Stone.
Stone was a four-star prospect according to ESPN as a senior at Zion Lutheran High School in Deerfield Beach. ESPN called Stone a "tough cover" who "is just scratching the surface of how good he can become."
That scratching the surface faze made redshirting Stone difficult. White admitted that there were times during the 2015-16 season where he and his staff second-guessed the decision to withhold Stone. "We're coming off a loss, boy if we had Keith last night; things will get better when we get Keith," White said in his post-season press conference.
After coming to terms with the coaching staff's decision to redshirt him in 2015, Stone dedicated himself to the weight room and to changing his body. Stone turned what could have been viewed as a wasted year into an opportunity.
"Keith Stone has had a great year," said White. "I'd like to credit Preston Greene, our strength and conditioning coach, does a terrific job with those guys, especially Keith."
Stone posted this picture of his progress to Twitter on March 8.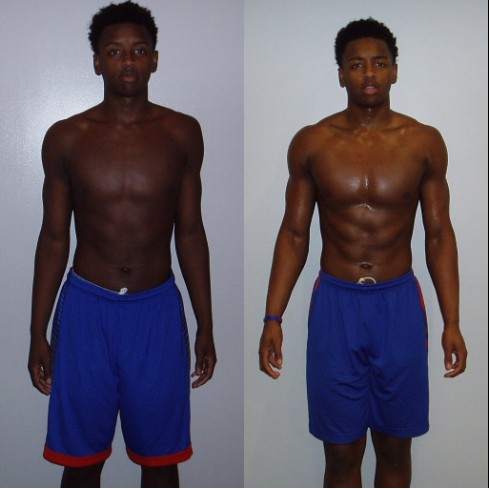 "It's hard being in the weight room and being driven like he was driven on a daily basis, and not having a chance to play in front of the Rowdies," said White. "But Keith he grew up a lot in this offseason. He really took advantage, as much as any redshirt I've really been around."
Stone is a gym rat. Not being able to get in to real games didn't dampen his love of basketball. "He's not a guy on Friday and Saturday nights you're wondering what he's doing," White said. "You know he's in the practice facility."
Stone is a versatile wing player. He can put the ball down and drive, create his own shot. He's a pure scorer; something the Gators desperately needed down the stretch last season.
White is careful to not hype Stone too much. He is, after all, essentially a freshman in terms of experience and White knows that he needs to tamper the outside expectations as to alleviate outside noise that could enter and add pressure to Stone.
"He's gotten better," White said of Stone. "But then again we can't expect too much from a guy who hasn't played under the lights yet. But we're excited about his potential."