It's a Tuesday, February 25th, and the Florida men's basketball team has been the No. 1 team in the nation for little more than a day. In an hour they will take the court –and defeat– the Vanderbilt Commodores in Nashville, but while there is still time before the matchup, there is business to attend to. In the F club of Ben Hill Griffin Stadium they meet, the Men's Basketball Rowdies. It is the sixth general body meeting of the official student organization of the UF men's basketball team and the docket is full. Across the street, there will be a watch party for the Florida-Vanderbilt game. Hot dogs and hamburgers –the greatest enticer of collegiate attendance– will be served at the Baptist College Ministry just across University Avenue, but first, of course, a look at the current college basketball rankings.
"Rankings don't matter, but it's nice. We can say we're number one," President Lucas Dolengowski starts the meeting off by saying.
They are smart, passionate fans and on that night, 21 of them meet with two home game remaining in the season. They are highly organized, with a strong presence on the big three of social media: Facebook, Twitter and Instagram. The Facebook page and Intagram profile each have close to 1,000 likes and followers. Their Twitter account features over 2,800 followers. After gloating about a top spot in the rankings, the meeting moves on to procedural matters.
A breakdown of voting procedure for the upcoming Rowdies elections. An Email will be sent to those eligible to run and an application is to be filled out. There are standards of course, like there would be in any organization. You must have attended 50% of the general body meetings –they take roll– and you must have attended more than 10 games the previous season. The elections will be held after the Final Four by way of a secret ballot, simple majority will determine the winner.
Research and Development chair Ben Rosenthal is the guy who finds all the dirt on the opponent. He likes his position, but admitted if someone wanted it, he'd give it up to allow a "fresh face" to take his spot. The other offices: President, Vice President, Treasurer and Event Coordinator are broken down to those in attendance as well as the responsibilities for each position, and the meeting moves on swiftly to the next topic: postseason plans.
The SEC championship is easy and the Rowdies are implored by former President Jake Sillick to go to Atlanta, if even just for the weekend games, like he will be doing. He highlights a reduced cost and a fun experience in the Georgia Dome. The Gators will most likely be tipping off in Orlando in the second and third rounds of the NCAA tournament, and that is both good and bad.
The good: it's a close location to Gainesville and many, like Dolengowski himself have parents that live in Orlando. The bad is the price. A wave of grumbling envelopes the room as Sillick mentions the price for ticket packages for that and the Memphis regional which is most likely to host the Gators in the Sweet 16 and Elite-8, should UF advance that far. But there is light at the end of the tunnel, because the Final Four is cheap, if UF gets there, a student discount can ease some of the monetary concern, but that's a bridge to be crossed when the Rowdies come to it, and an "emergency meeting" can be called to discuss those plans.
The fun part of the meeting came when Rosenthal was given the floor.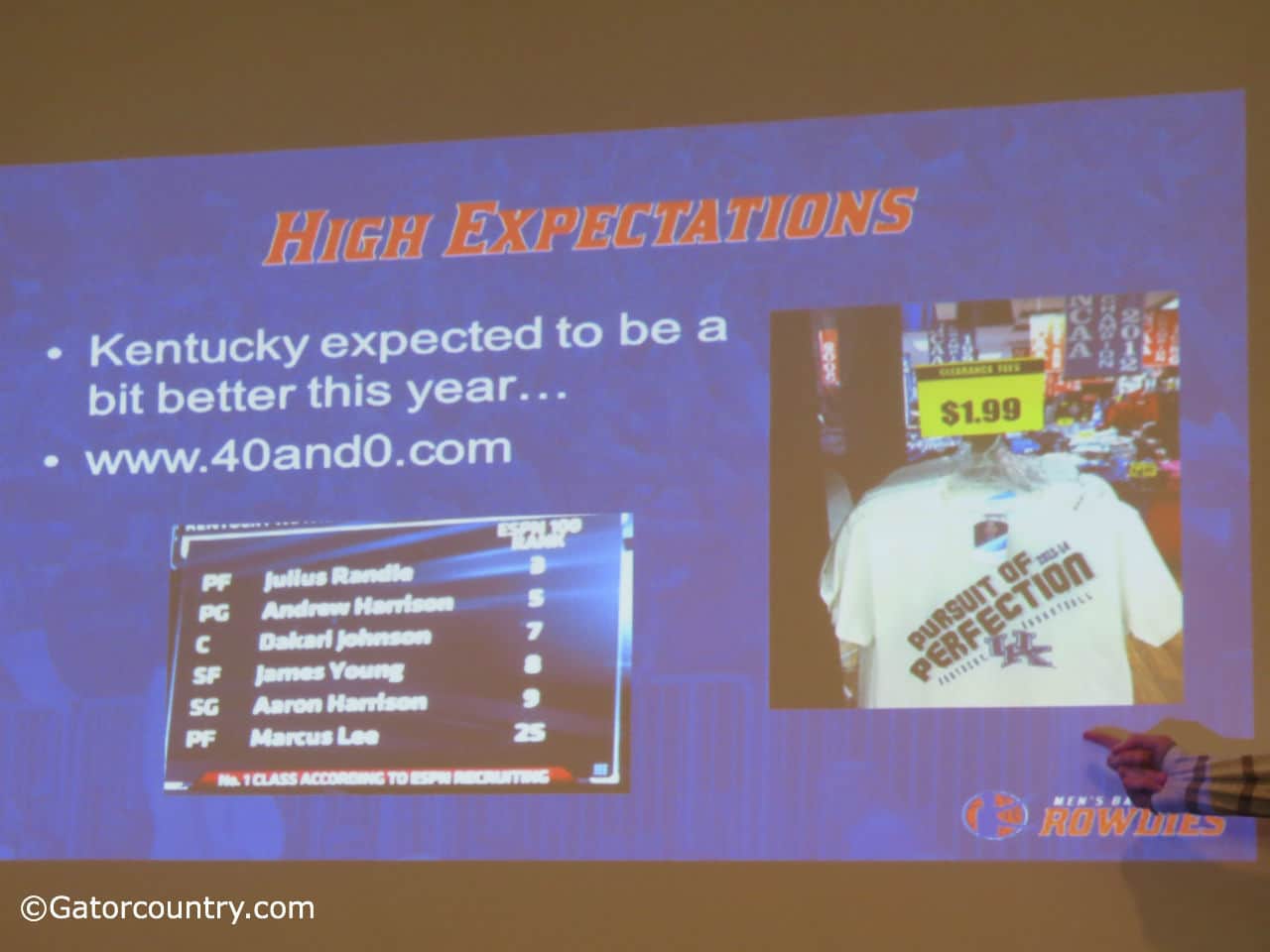 "Mostly I just look up try and find some dirt on the other players," Rosenthal said of his role. "Kinda lighten the mood at the meeting sometimes you know. The biggest was Perry Ellis on Kansas, found his Snapchat. Sent that out to people, so he was getting bunch of random stuff, he opened them all too."
Rosenthal dug up dirt on both of the remaining Florida opponents. For LSU, guard Anthony Hickey's love of selfies and a habit of tweeting in all caps got some chuckles. The Tigers proved to be as much of a challenge as some of the smaller non-conference opponents UF plays though, it seems that few funny skeletons exist in the closet out in Baton Rouge.
Of course, the best dirt came on hated rival Kentucky. 40and0.com was brought up, the website selling shirts predicting that the Wildcats would run the table this season early last fall. Then UK head coach John "PayPal Cal" Calapari's rap sheet was read off. Forward Alex Poythress' love for gorilla masks and teammate Willie Cauley-Stein's puzzling hair color choices were favorite talking points of the group.
Of course, Rosenthal has standards. There's a line of what to poke fun at and what to leave alone.
"I've found people like if they have relatives passed away or something I'm not gonna be like 'hey, his mom died let's all make fun of it,'" He said. "If I find something like on their Twitter or they Tweet something like "rest in peace" I'm not gonna bring that up"
Rosenthal's hard work was needed to lighten the mood after the order of business that proved to be the most contentious: line etiquette. With a good team and two Saturday games left –including the largest of the season against rival Kentucky upcoming– this will be the biggest debate at the meeting with the most voices raised. Dolengowski admitted that lining up, and getting everyone in a spot is the toughest part of his job.
The biggest sticking points are people getting out of line once they get their numbered wrist bands and people lining up too early. Most of these concerns aren't for LSU, but for Kentucky, and next season as well.
The Wildcats will visit Gainesville in 11 days, the last Saturday of spring break, meaning folks could skip part of spring break, and campout for days. The ruling laid down was that the campout would formally begin at 5 PM Friday, the day before the game on O'Connell Center property. Police will be available if needed to disperse students as needed. A "pre line" across the street at Tolbert Hall isn't out of question though for the hardiest of students. Wristbands will be handed out to everyone that shows up, if you have a group, half of the group would need to be at gate three at all times throughout the night.
Once a consensus was reached on line etiquette, excuses for not being in line were the next topic of discussion. Things like going to grab dinner and running home to shower and grab supplies were easily agreed upon as valid excuses, as long as half the group remains in line. Working your paying job was also deemed a suitable excuse. But like any good group of college students, one thing will not allow you to excuse yourself from the line at gate three or come at the eleventh hour to join your group: studying.
***
The Rowdies are affiliated with the University of Florida's student government but they aren't funded by them. The group is in their second official year being recognized by the school as an organization; in the first year of an organization's existence it cannot be funded by UF SG. When Dolengowski and the Rowdies went to be funded last fall, they were again denied. The reasoning was that they benefit the University Athletic Association more than they do the university as a whole. They receive things from UAA like breakfast or lunch at campouts and a platter of food for general body meetings. Alicia Longworth, director of marketing and promotions at UAA, also doubles as the group's official faculty advisor.
"I think [the Rowdies] have brought an added element to our basketball gamedays," Longworth said. "I think the environment in the O'Connell Center has always been good but we challenge those guys to be great."
Her favorite part of working with the Rowdies is how passionate they are about the Gators, and that extends past basketball gamedays. She praises the group for overall school spirit, at soccer, volleyball, tennis and other non-revenue producing sports. Along with Dolengowski and Sillick at numerous UF sporting events is Rowdies Vice President Jonathan Arnholz. Longworth sung the praises of each student.
"I just think that the individuals that are running the organization right now and people that came before them– they're great Gators," Longworth said. "They love their university and they've been really easy to work with."
As fond as she is of them, the feeling is mutual.
"Well I tell you what," Arnholz said. "The support we've had from the UAA this season and last season has just been amazing. I think there are some student organizations that may not have that sort of support and here's the thing: these are the people that are running the show. That's really the critical thing about the Rowdies. Being able to use this medium to improve the student experience and improve the fan experience in the O'Connell Center and at Gate 3 as well."
Their respect of Longworth stems from more than just subs at a meeting, but more importantly she often goes to bat on their behalf. Even something as little as allowing students to enter the UF gymnastics meet through gate three –where they're already camped out– instead of walking around to the other side of the O'Connell Center, or opening the doors up to campers can use the bathroom. It shows she cares, and she's willing to go out on a limb for them. She probably doesn't hurt her case by organizing breakfast either.
In the beginning of SEC play Longworth came to Arnholz, Dolengowski and the other Rowdies officers with an idea: get Justin Timberlake to sing the National Anthem before the Kentucky game. They would start a hashtag: #bringJT2UF and a movement that would get everyone from students not interested in basketball all the way up to ESPN's Dick Vitale highlighting the push.
"It was Alicia, she was kind of the mastermind behind it," Arnholz said. "We wanted to use the team's success and the home court advantage a sort of a leverage to try and have an even bigger splash and get an international superstar to try and sing the National Anthem."
Arnholz, a public relations major at UF, spearheaded the social media campaign. It was more than just about getting the multi-platinum recording star on campus; it was about involving students in the fun and involving them in what the organization is doing beyond basketball. They received publicity through social media and attention from students that don't even attend UF. One student told me her friend attending FAU in Boca Raton had heard about it, and was planning to buy a ticket to the Kentucky game just to see Timberlake if the Rowdies were indeed able to land him.
The school backed the Rowdies in various ways throughout the campaign. During the Missouri game, all the music played during timeouts happened to be former hits by the artist and a banner hung on the alumni side of the O'Connell Center that night with the hashtag on it.
Timberlake didn't end up coming to Gainesville, but he did send a tweet to show that he acknowledged the movement.
While I can't make it in person, I've heard about all you @MBKRowdies & the #BringJT2UF campaign! Good luck in the game tomorrow Gators!!

— Justin Timberlake (@jtimberlake) March 7, 2014
That one gesture was enough for them. Arnholz said it was nice to get publicity and the extra followers on social media sites they picked up was an unexpected benefit. It all goes back to the relationship the group has with the school, a relationship Longworth said UF is willing to keep going for the foreseeable future. Arnholz wouldn't mind keeping it going as well.
"It's a mutually beneficial relationship it's been great working with them," Arnholz said. "There's so many great people in the UAA, so many great professionals to work with, a lot of creative minds, lots of guys who can get stuff done. Alicia especially, she's been so supportive of everything we've done."
***
It is a late Friday afternoon, it is gray, and it is cold. By the end of the night the temperature will get down to 35 degrees. When I arrive at gate three, Florida is set to square off with Kentucky in little more than 18 hours, and hundreds of students are prepared to brave the elements to get a spot in line. 350 wristbands will be given out before the night is over, and when I show up close to 6 p.m., I am greeted by more tents than I expected.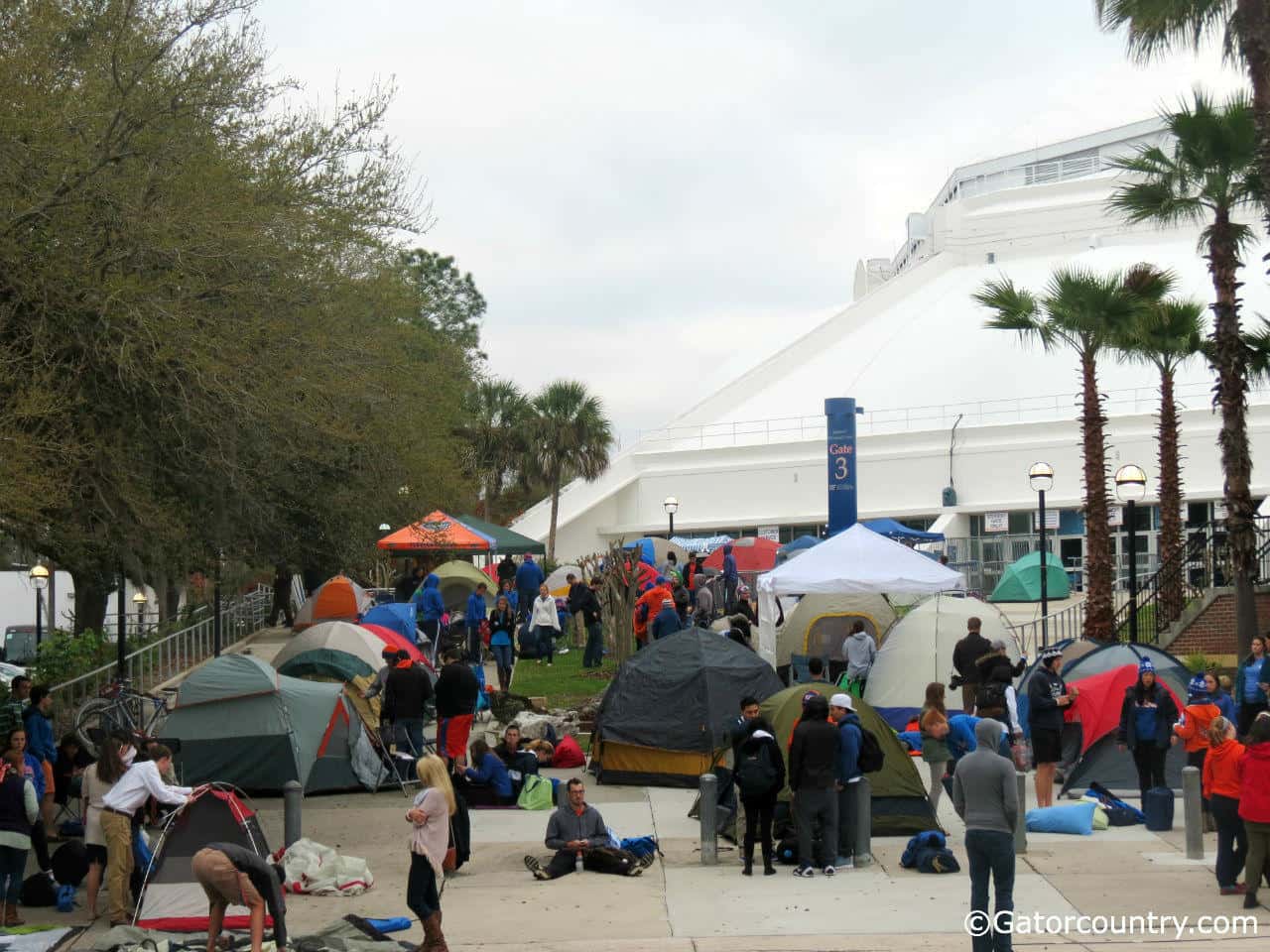 By the end of the night, the line of tents will reach Stadium Road and extend east to Van Fleet Hall. The intentions around the five o'clock line were there, but the rules were broken. The thirst for first is strong among UF students for such a huge game. The stakes include various winning streaks, a chance to defend a No. 1 ranking and an opportunity to say goodbye to four seniors that meant so much to the Florida basketball program. The student with wristband No. 1 is Gainesville native Evan Robbins, and he had arrived at 5 p.m. Not Friday afternoon, but Thursday.
"I wanted to get my seats," Robbins said. "I wanted them regardless of what anyone else did, before anyone else got out here"
Living in Gainesville gave him an advantage. While the rest of the student body went home or to different sunny locales to enjoy their week, Robbins was able to stay in town and stake out the location. After Florida's defeat of South Carolina three days earlier, he began scouting the location. Three or four times a day he scoped things out to make sure he would be first. He was in a group of 12, and he said his group rushed to be with him as soon as they could.
Behind Robbins, the predicted chaos Dolengowski and Arnholz were worried about wasn't coming to fruition. Things were moving in an orderly fashion as blue wristbands were being handed out and tents were being assembled.
People lined up across the street in front of Tolbert Hall as Dolengowski, Rosenthal and Longworth checked them off and sent them across the street in an orderly fashion.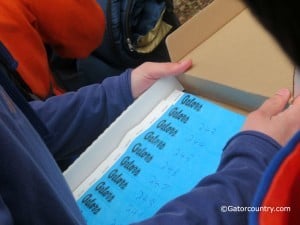 A black binder served as the campout's bible on this night as every group's name, and range of wristband numbers was written down; I slept next to a group named "Wizards of Oz." Line checks are scheduled throughout the night periodically and sometimes, at random. Once most of the line was settled and tents assembled, students were encouraged to go inside to the gymnastics meet or attend the Florida baseball game next door. Most chose the former for comfort, and a line check was planned for around 30 minutes after the baseball game ended.
"You can't keep everybody happy," Arnholz said. "You've got to try and find a happy medium and especially tonight, some people are going to be upset with some ways things might be working but for the most part, tonight's been ok, but you know, just trying to do my best to keep everybody as happy as possible."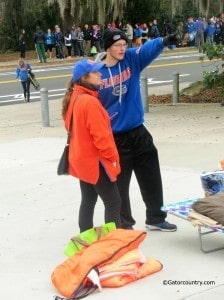 As night fell, staying warm became of paramount concern. Some opted to go with no tent, like civil engineering major Tim Copeland and his friend Jordan Roberts. Both are seniors, and neither had ever camped out for a game. They were armed with blankets, sweatshirts and chairs from their living rooms, as well as a candle to repel bugs, an idea Copeland has that he figured he could get away with since students nearer to the front of the line had a charcoal grill.
Roberts had been there before noon that Friday, mostly, it didn't matter that she wasn't in front, she wanted to do it for the experience but she was a bit motivated by the thirst for first.
"I kind of just decided I was going to campout anyway," Roberts said. "But I was going to come later today. But then my friend called me and told me people were going to be lining up at noon so I came out here at 11:30." Copeland called her a trooper, he was planning to head home to spend the night in his warm bed, he'll tag out with a friend who will make sure their small group has at least half its members.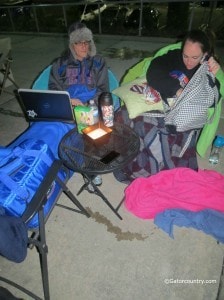 20-year-old mechanical engineering major Curran Kuehl has a slightly bigger group. It's his second campout and he and his friends have a designated person for getting things that were forgotten at home and grabbing food.
"Somebody will leave and get everybody food and then come back," Kuehl said. "Or someone will say 'I'm cold, I need to go home and get another blanket' and they just go home and get another blanket."
There is community at gate three. It's seen in the little things, like electricity. We all have phones and computers that need charging, the problem is there's only one outlet nearby, behind an ice machine near the doors of the O'Connell Center. That necessitates a labyrinth of extension chords and power strips. It was probably a fire hazard of some sort, but our phones didn't die, and that's the most important thing. Folks stayed entertained in a few different ways. The Wizards of Oz next to me brought an Orlando Magic themed cornhole set.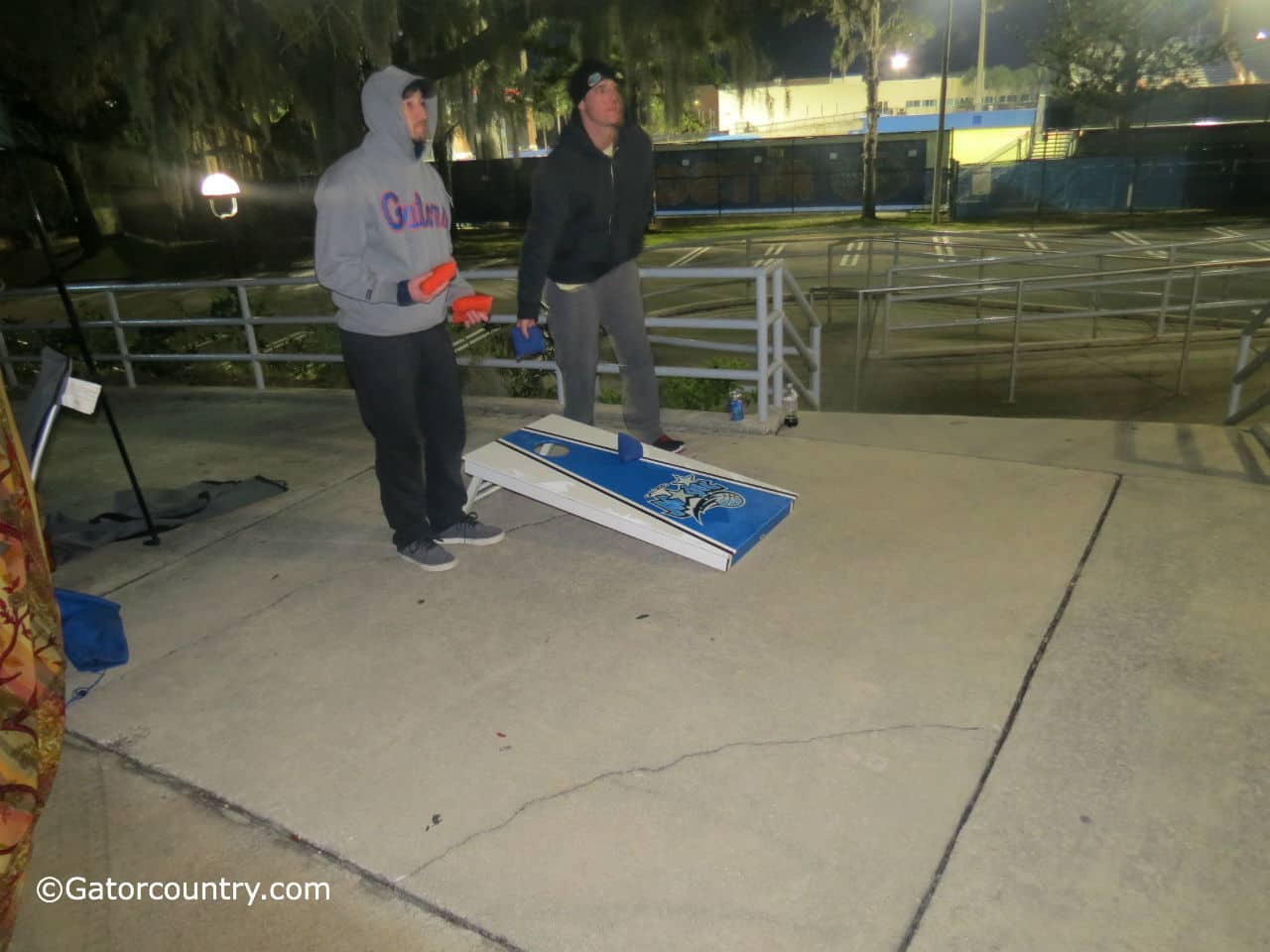 Others opted for a table set up to play Texas Hold'em –I couldn't see if real money was changing hands.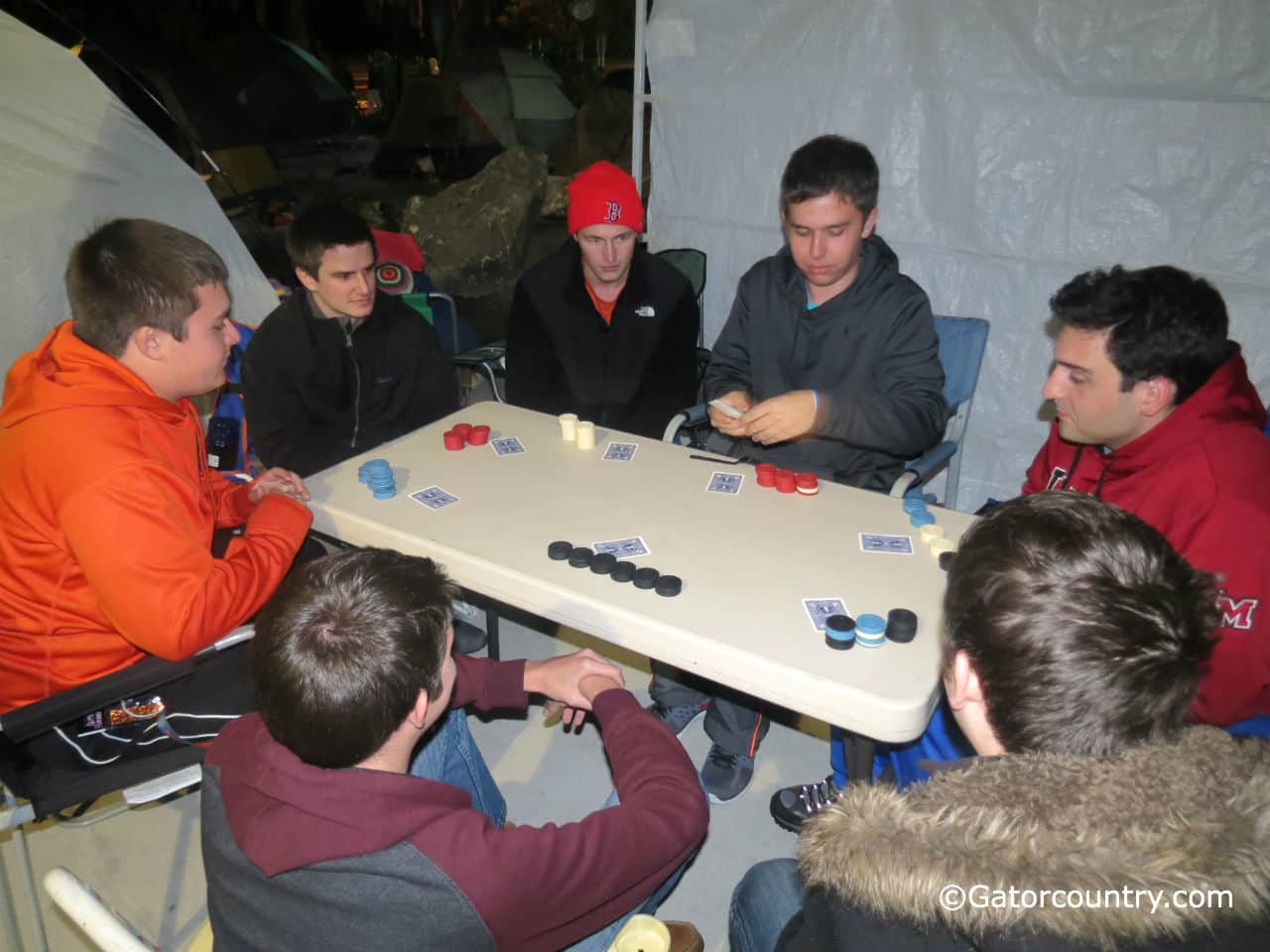 The aforementioned charcoal grill was brought out around 10 to grill hot dogs. A few around me debated grabbing our own raw meat and charcoal to join the iron Rowdies chef.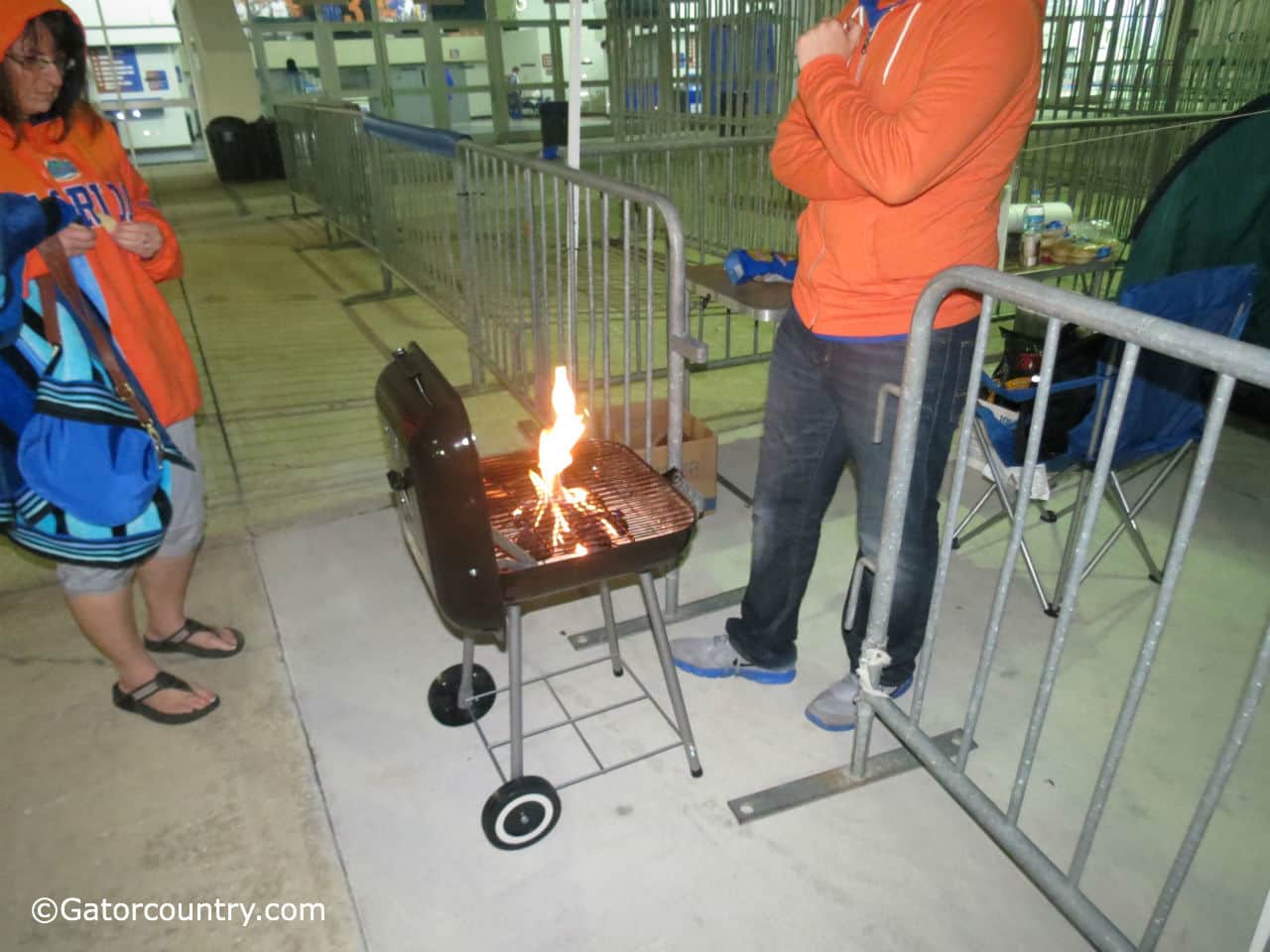 We opted for Arby's a few hours later. Before you judge me: remember it was then midnight, we were cold, few other things were open and we were incapable of thinking straight anyway.
The undisputed heavyweight championship of gate three entertainment had to be handed to this setup though, a decent sized TV and an Xbox. Halo was played and a massive lime green extension cord ran down to their site.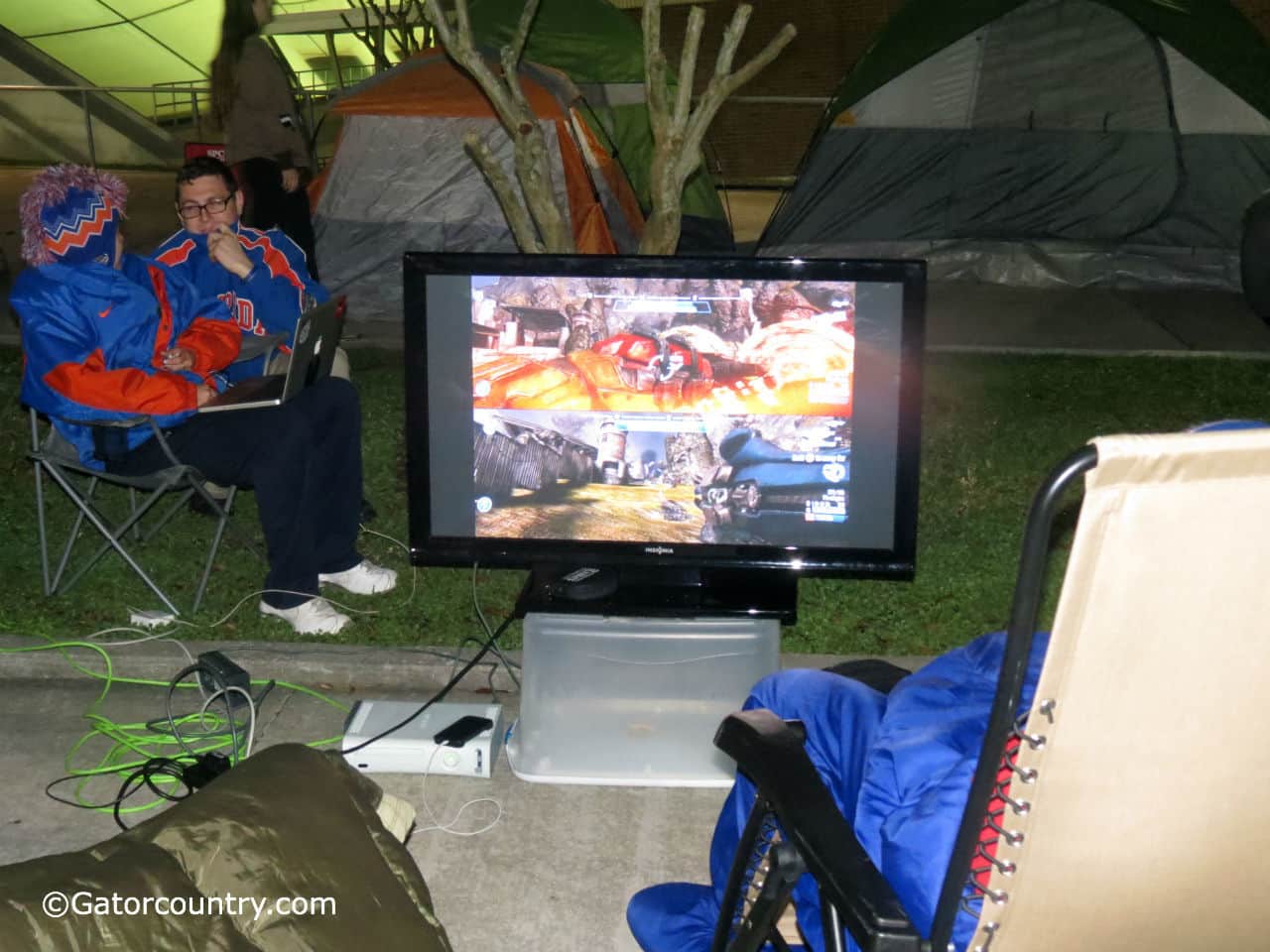 A group of Florida Cicerones with plans to make s'mores was at the bottom of the incline that leads up to the O'Connell Center doors at gate three, there campsite almost on the sidewalk along Stadium Road. All but one of them were seniors, and the most talkative among them, a girl named Mallory Thompson tells me about the motivations behind their campout after I klutz through their setup, knocking over a game of Scattergories.
"This is our last chance to do something crazy for the sake of our school," Thompson said. "It's not often you find yourself in your senior spring with a No. 1 basketball team."
Of course, she's right about both things. The finality of graduation is clear within the group; one girl is even using her computer to write a commencement speech while camping out. The group was also tossing around the idea of driving out to Dallas for the Final Four, should Florida reach it.
A man in a suit then walks through their setup. He asks what time the students arrived, and says "We love you. It's not an accident we've won all these games in a row at home."
The man is Florida athletic director Jeremy Foley, and the students are excited to see the person who helps orchestrate UF's athletics success. He leaves with saying "we appreciate y'all, take care, and go Gators" after taking a picture with the group. My camera was the one that worked, phones wouldn't because as Thompson said to Foley in jest "the lights on your baseball stadium are messing up the picture."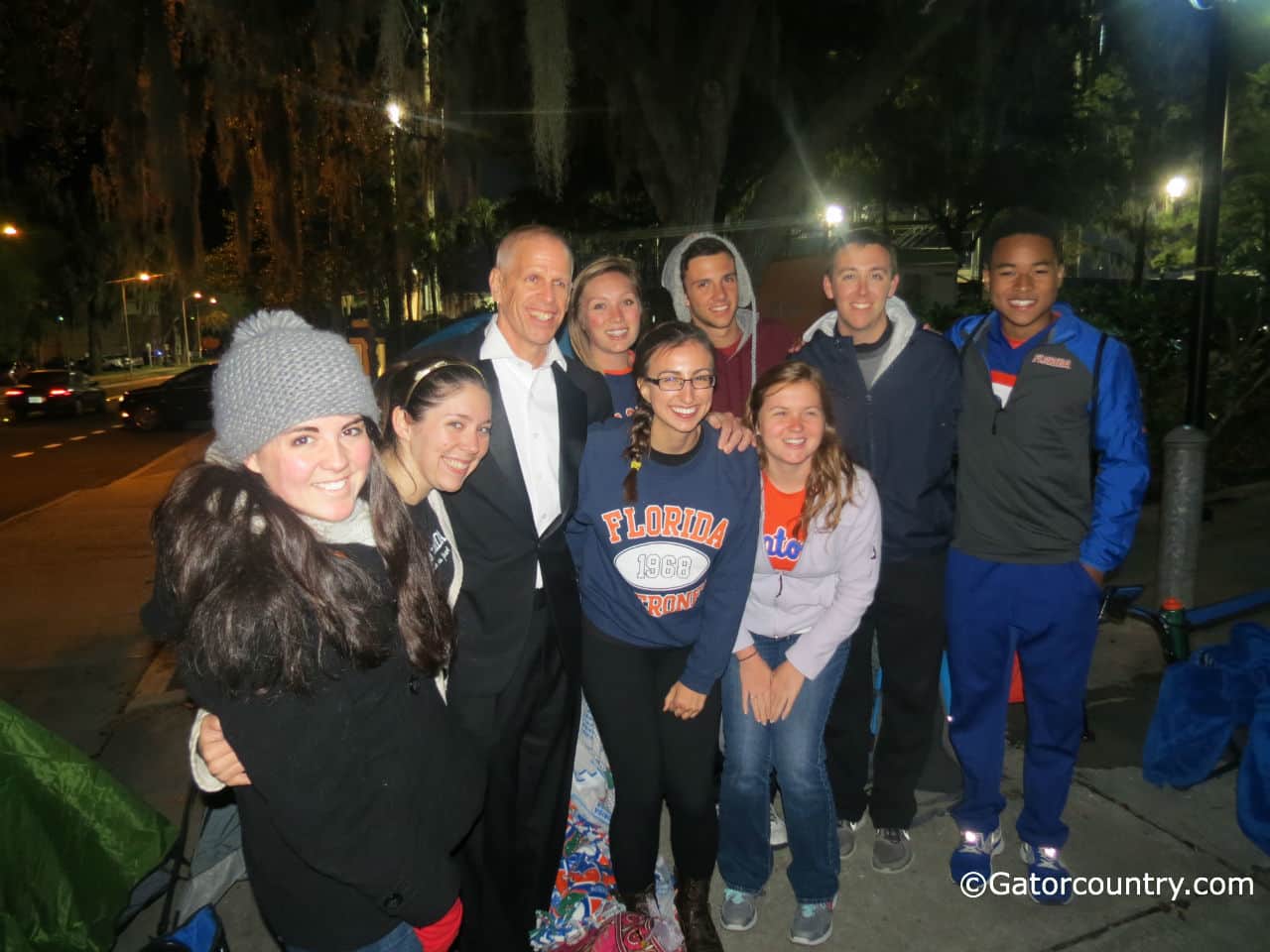 By 1 o'clock –after Arby's of course, I decide it's time for bed. A pair of jeans and a long sleeve shirt is not enough. This Florida kid needed sweatpants, wool socks, a quarter zip sweater, a jacket over that, a hooded sweatshirt and a hat were needed before I zipped up my sleeping bag. It's mostly quiet as I bed down for the night, the wakeup call will be early later that morning. I'm still very cold.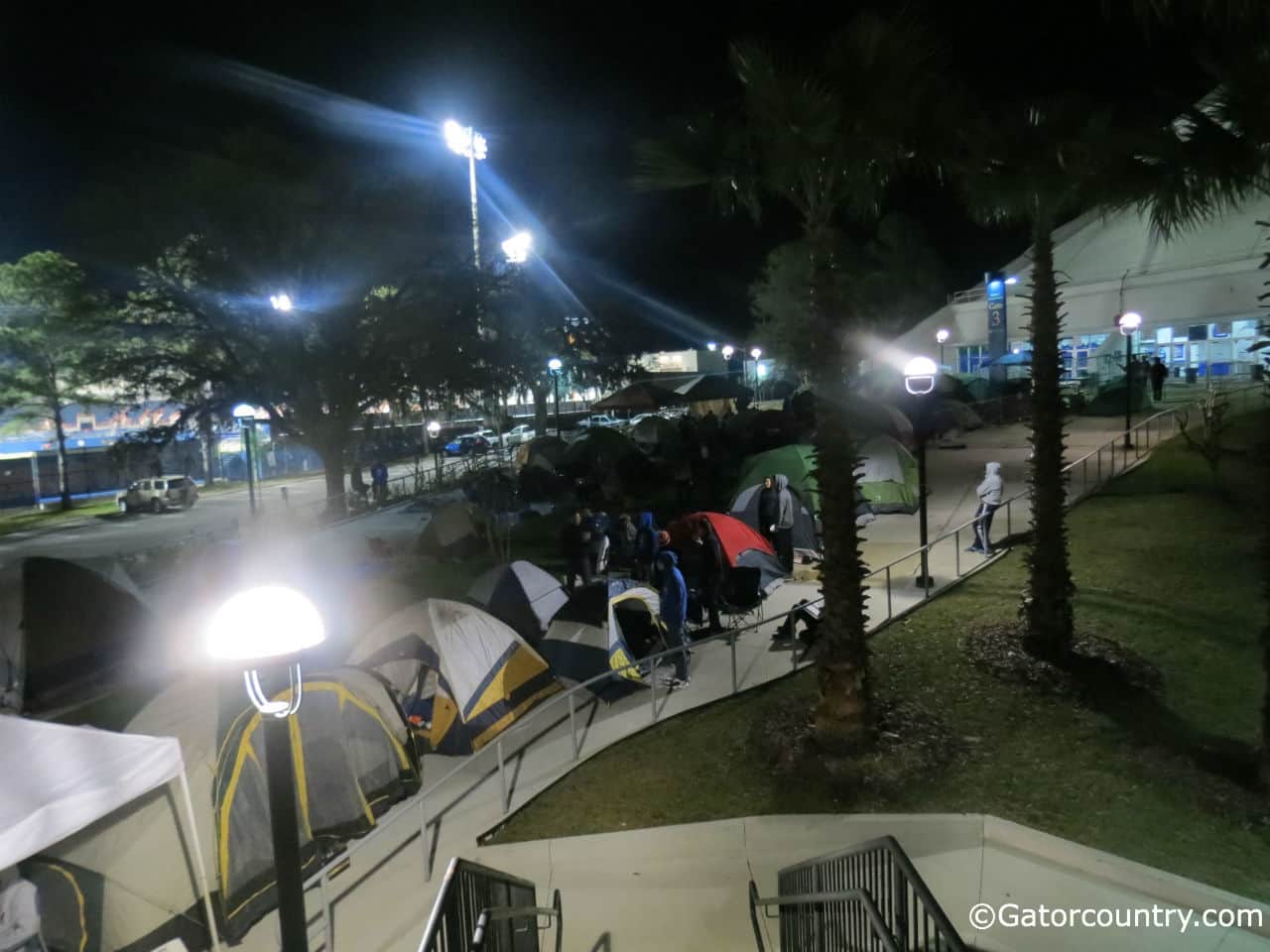 ***
The sun is –barely– up as the tents come down. Students will be allowed in at 10, most of the inhabitants of gate three wakeup around seven.
They're extrinsically motivated of course, because donuts and coffee are on tap at "seven-ish" per Longworth. She says she likes to add the ish, it gives her a cushion if the food is late arriving.
Those who weren't so lucky to have a tent to sleep in had to make the best of their situations.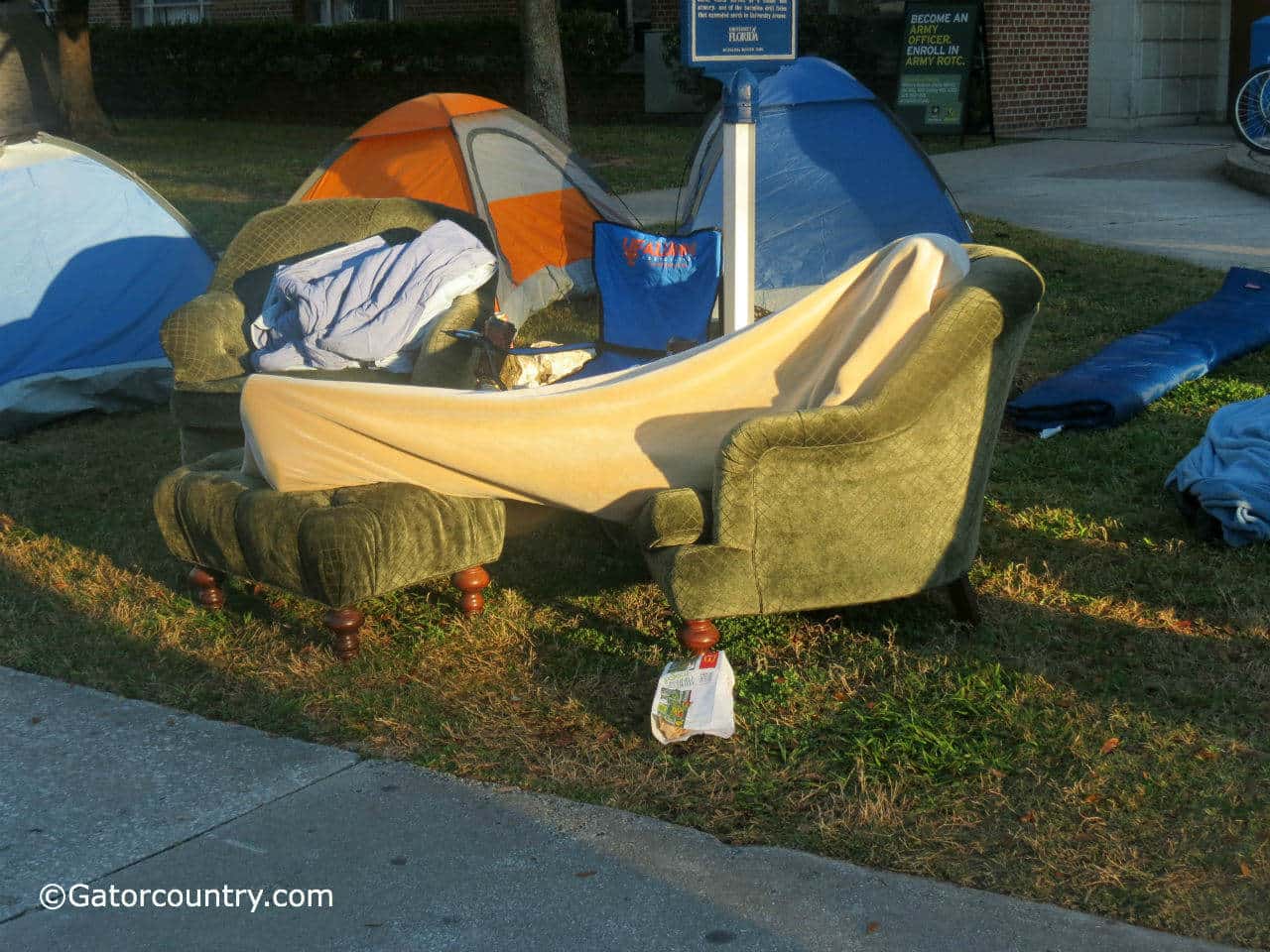 Some students, including me, run home to grab a shower before the last line check at 9:15. I settle in line upon my return and behind me, some members of the UF rowing team have a big head, a staple in many student sections across the country. This one isn't of Patric Young or Billy Donovan that team member Lauren Hudak has in her hand though.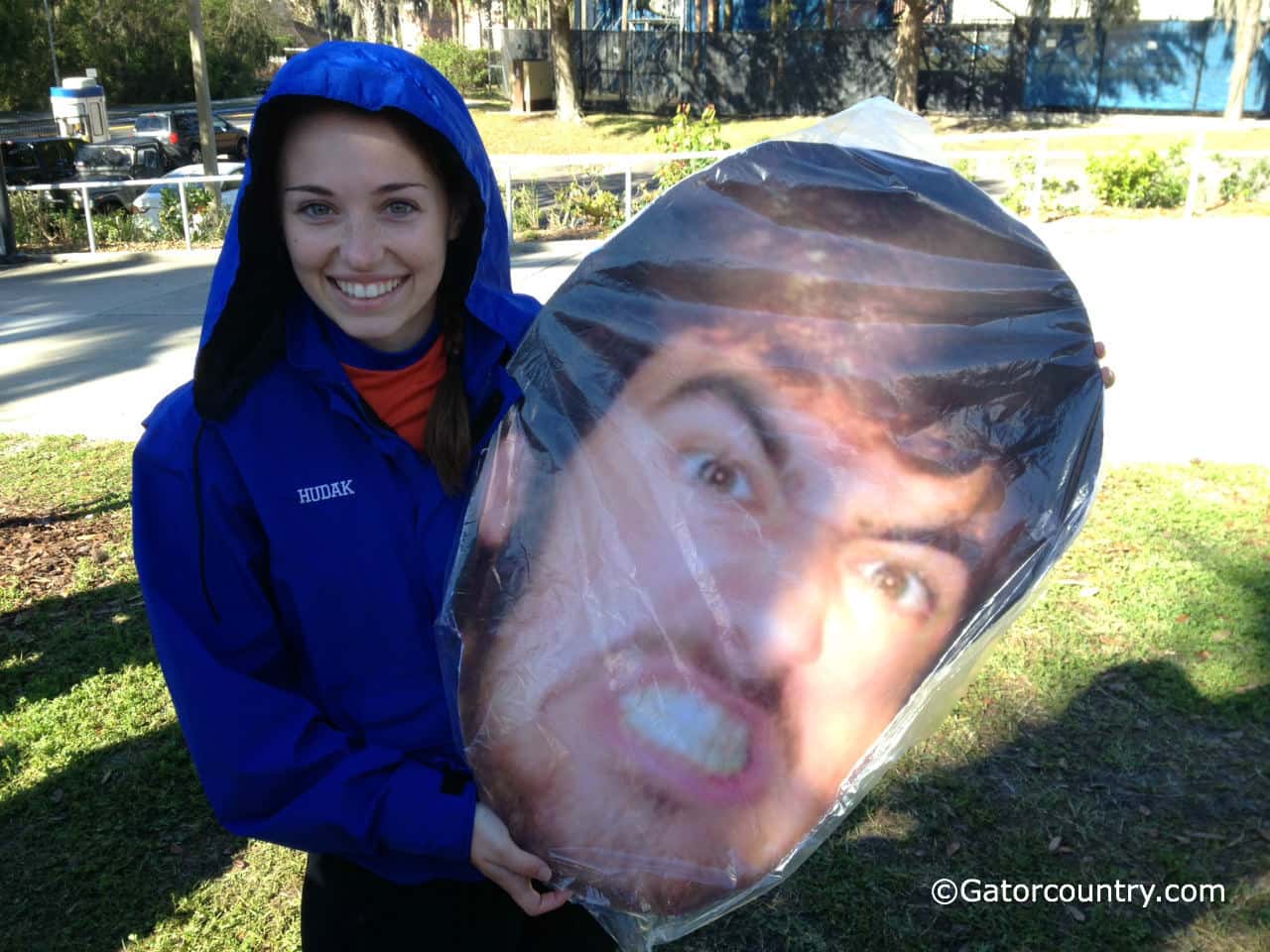 "This is our coach, He is a badass, he has no idea we did this so we're hoping this gets on TV and he sees it. So that's why we camped out and tried to get some good seats," Hudak said.
They looked up online to get a price point. Fathead.com was too expensive and they couldn't wait for shipping, so they took it to Target Copy close to UF's campus and split the $35 price tag among themselves. They think their coach's reaction will be much like the face pictured above, accompanied with laughter and tears of joy. They also say his roommate might need to watch out, because he supplied the picture that they used. As the doors open the line slinks its way into the building. A different strategy is used to let people in then usual, one door opens and a single file line is used. It sounds like it would take forever, but it didn't. A few extra minutes is neither here-nor-there among most students, especially because once students are in their seats in the O'Connell Center, they're just sitting there until tipoff. It also prevents crowding at the door, and allows students to enjoy some musical entertainment as they head in.
As the game approaches, those that didn't spend the night fill in the student section as well, including Matt Wilhelm, a junior. You may recognize him, because he dresses up for bigger games like this.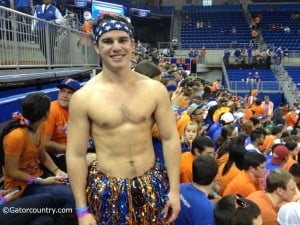 "I was a freshman, my first ever basketball game everyone had the pom-poms and I used to sit with guys that had big heads of Erving Walker, Kenny Boynton and we used to do that," Wilhelm said. "And I saw pom-poms and I thought 'hell, why the hell not?' Seemed like a good idea at the time." It used to be an every game thing, but now it's just for special occasions, like Kentucky. Logistically, it's simple: take some pom-poms home, cut the sticks off and stuff them in some compression shorts. The first time he did it, Sillick tweeted a picture of him…
Now this is great. pic.twitter.com/f3tKDcTM

— MBK Rowdies Prez (@MBKRowdiesPrez) January 28, 2012
…and it got a reply from a famous female Gator alumna.
"That's what made me keep going, was that Erin Andrews legitimized me," Wilhelm said. "For a freshman college kid just going to basketball games for fun that's the world. Erin Andrews tweeting about you? You can't get any better than that."
He'll go to a few more games than usual dressed up next season, but his father has season tickets and the father-son time is important to him, as both Wilhelms get older.
Florida beats Kentucky and the seniors are honored. The nets come down and the jubilation can be felt throughout the student section. Another regular season in the books, the best yet in UF history. The four seniors lead the Rowdies in a rendition of happy birthday for sharpshooter Michael Frazier and spirits are high. It seems like everyone connected to Florida's program climbs the ladder to snip a piece of each of the two nets on either end of the court.
One person notably does not participate in the festivities: it's Foley. He gets near enough for the Rowdies to ask him a simple question, when will he cut the net down?
"I'll get the other one," He answers with a smile, alluding to bigger games still to come for the UF basketball team.
The Rowdies cheer in response.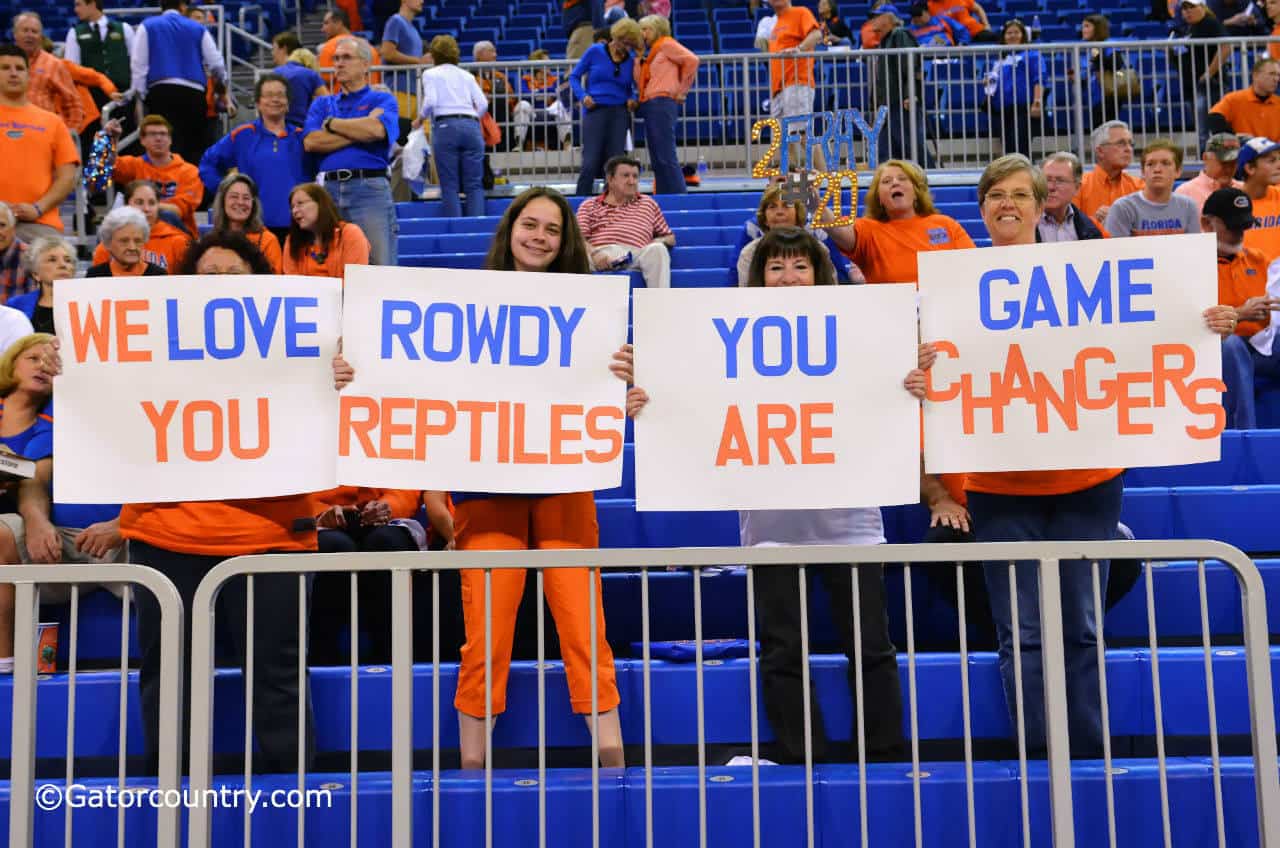 ***