The third-base dugout at the Florida Gators' new baseball stadium will be named the Hooks Family dugout after a "generous gift" was received from Debbie and Hollis Hooks.
"We are forever grateful for the Hooks' family commitment to Gator athletics," said Athletic Director Scott Stricklin. "Their long-term generosity has touched so many facilities and projects, from scholarship endowments, academics, football, softball, and now our new Florida ballpark. They share in our vision for across the board excellence in our athletic program and are committed to the student-athlete experience."
Hollis is a graduate of Mercer, while Debbie graduated from the University of Florida in 1974. Hollis has previously served on the Gator Boosters Board of Directors and Debbie is currently serving on the board. The Hooks reside in Lakeland, where Hollis works as Senior Vice President of Wealth Management at Morgan Stanley.
The family previously donated money towards the $15 million dollar softball renovation that was completed two years ago and the Hooks' name is starting to pop up around campus more and more. There is the Hooks family plaza outside the football indoor practice facility, a study room at the Hawkins Center/Farrior Hall academic center in the Hooks name, and a bollard outside Ben Hill Griffin Stadium with their names in bronze on Gale Lemerand Drive. Next spring their name atop the third base (visitors) dugout next to the years that the team has won SEC Championships.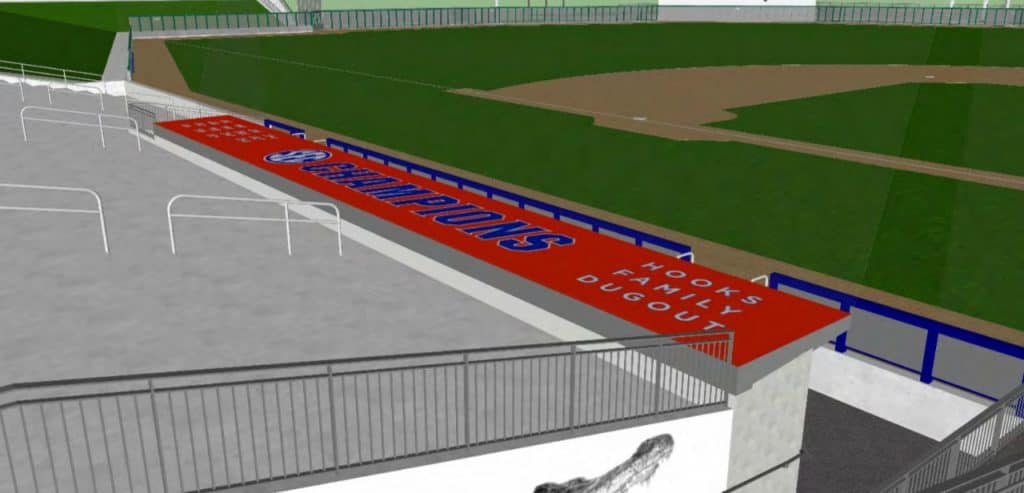 The Gators are in the midst of a three-phase $155 million dollar fundraising campaign. Phase one included the construction of football's Condron Family Indoor Practice Facility, the $25 million construction of the Otis Hawkins Center at Farrior Hall, and $69.8 million in renovations to Exactech Arena at the Stephen C. O'Connell Center. Phase 2 is already underway and featured the completion of $15 million in renovations to Katie Seashole Pressly Stadium earlier this year, and will conclude with the construction of the baseball stadium.
Former Florida pitcher Darren O'Day made a "significant" donation to the Gators Boosters back in June of 2018 and the bullpen will be named in his honor.