When it rains it pours. Mother Nature was not on Florida's side this weekend as the Gators spent six hours and 29 minutes waiting out rain delays in their first two games in the NCAA Tournament.
The rain was consistent and the outcomes were consistent for Florida (40-23), who was bounced out of the NCAA Tournament with a 5-2 loss to North Carolina (35-26) — the fourth consecutive regional loss the Gators have suffered the past two seasons.
"To be honest with you I didn't see it coming," O'sullivan said. "I felt good about the team coming into the weekend. It was a weird weekend all together, I mean Logan Shore hasn't been hit like that all year."
"I think it kind of put us all on our heels a little bit, to be quite honest with you. We weren't quite ready for that. We relied on him so much this year and he's been so good."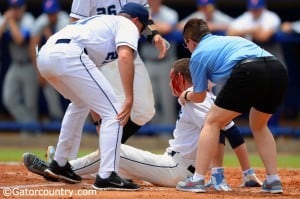 The Gators and Tar Heels played two scoreless innings with the most drama coming from UNC leadoff man Michael Russell getting hit in the head by starter Bobby Poyner. Russell tried to pop up and take his base but was quickly corralled by trainers when t became clear that he was bleeding. Per NCAA rule, UNC was given 10 minutes to see if their leading hitter would be able to return to the game — he wasn't.
Russell never lost consciousness on the field and did not suffer a concussion, or a loss of humor, tweeting this picture after the game.
Finally got my lightning bolt scar #Gryffindor #TheBoyWhoLived pic.twitter.com/RV8vw1jiZa

— Michael Russell (@RichaelMussell) June 1, 2014
Poyner worked out of that inning but allowed a lead off single to Landon Lassiter. Skye Bolt reached on a fielding error before the heavens opened up over Perry Field. After over a three-hour delay, Kirby Snead entered the game but could not find the same success he had all season long and last week in Hoover.
Snead got the first out but quickly surrendered four consecutive hits and five runs to the Tar Heels before finally getting out of the inning. The rain delays were not kind to Florida over the two days. Gator pitchers gave up eight runs and 11 hits in the two innings that occurred directly after each delay.
The game moved quickly before Florida put up a threat in the seventh inning. Casey Turgeon worked a one-out walk before back-to-back singles from Richie Martin and Harrison Baer loaded the bases. Taylor Gushue struck out, bring up Zack Powers — who entered the at bat 0-3 with three strikeouts and had left five runners on base. Powers fouled a couple of balls off before lacing a ball into center field.
The hit scored one and should have scored two but Martin slipped on the wet grass rounding third. He got up and tried to score but was thrown out by Alex Raburn. The play perfectly encapsulated the weekend.
The Gators would add a run in the eighth inning but could not complete the comeback. Florida is the highest national seed to lose in regional play this season and the second national seed (after FSU) to go 0-2 in regionals.
Picked by many to finish third in the SEC East before the season began, the Gators overachieved by many people's standards this season. The SEC regular season champions and winners of 40 games, O'Sullivan doesn't want the accomplishments of his ball club to be forgotten due to the past two games.
"I'm very proud of this team. Where we started and where we ended up;" he said. "It's hard to win the regular season in the SEC, it's not easy to do. I don't want these last two games to be a reflection of what this team is all about. They accomplished a lot."