The podium sat there quietly as media gathered into a room adjacent to Perry Field at McKethan Stadium.
The familiar blue and white NCAA logo spattered across a backdrop behind a table set up with microphones and carefully placed placards, denoting who would sit in front of each microphone.
It was a lonely setting.
Even as the table was filled by Kevin O'Sullivan, Casey Turgeon and Josh Tobias, that lonely feeling didn't go away. The three men sat in front of the media, quietly; their disappointment, angst and sadness almost palpable in the cramped room following a 5-2 loss at the hands of North Carolina that ended their season.
"To be honest with you, I didn't see it coming," O'Sullivan said, breaking the silence. "I felt very good going into the weekend. It was a weird weekend all together."
Weird may not be the most eloquent way to describe Florida's quick 0-2 exit from the NCAA tournament, but it's accurate.
Florida trotted out freshman ace Logan Shore to deal with the No. 4 seeded College of Charleston Cougars. Shore was uncharacteristically hit all over the ballpark, giving up three runs and taking the loss in his first postseason performance.
"Logan Shore hasn't been hit like that the whole year," said O'Sullivan. "They just came out and were ready, they squared some balls up and they just kind of put us back on our heels and I don't think we were ready for that."
Shore's rough start came after a three-hour rain delay that pushed the scheduled 7:05 pm first pitch to 10:15 pm. It was the first of two rain delays — totaling more than six hours — that Florida would have to endure on the weekend. Still, even with the reality that the season was over, the Gator players would not lean on Mother Nature as an excuse.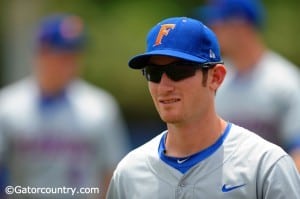 "You know, it's just Florida," Turgeon said. "I'm from Florida, a lot of these guys are from Florida and that's how it is in the summer time. It rains and you just have to be ready for it."
So they sat, searching for answers. Blank eyes staring down at a stat sheet that was all too real, a sheet of paper filled with stats; the only one that matters read; North Carolina 5, Florida 2. It was too much for Tobias to look at. He sat through seven minutes of questions with a blank stare, gazing at the back wall, not wanting to look down at the piece of paper that would tell him the season was gone.
The quick exit and finality of it all hadn't sunk in when the players and O'Sullivan were meeting with the media. Even now, days later, it is probably still permeating into their consciousness.
This was a team that overachieved. Last season, the effects of having recruits and star players from the roster snatched away by the Rule 5 Amateur Draft hit Florida hard. That hit was supposed to last into this season, where Florida fielded a team filled with green freshman and sophomores thrust into leadership roles. Ultimately, they didn't get the job done and in this day and age, success is defined by performance in the postseason.
O'Sullivan warned the team — and media — that those were the stakes. Before regional play began, O'Sullivan said he knew that after a 0-2 postseason performance in the Indiana regional a season ago that the team would need to play well this past weekend.
They didn't and the judgment will come. Florida was 12-0 in regional play at home under O'Sullivan before this weekend but the Gators have now lost their last six NCAA Tournament games dating back to the 2012 College World Series.
However, judge not just this past weekend but the whole picture.
Sure, a 0-2 weekend is disappointing and yes, it is frustrating to watch the team lose games they are expected to win. But this weekend is a sliver of what O'Sullivan and the Gators were able to acomplish this season.
40 wins against a schedule that was ranked as the most difficult in the country is nothing to scoff at. North Carolina manager Mike Fox didn't.
"I would like to congratulate Coach O'Sullivan and his staff on a sensational season," he said. "Winning 40 games in a college baseball season is not an easy task."
The Gators were rewarded for the way they played this season. O'Sullivan was named SEC Coach of the Year. Logan Shore became the third player under O'Sullivan to earn freshman of the year honors (Preston Tucker – 2009, Austin Maddox – 2010) and was named to the All-SEC first team — just the second starting pitcher from the University of Florida to earn that honor in 11 seasons.
Taylor Gushue, Harrison Bader, John Sternagel and Peter Alonso were also recognized with post-season awards as well.
"There's a lot to be proud of," O'Sullivan said. "I'm pleased to have had these guys as our team this year, they worked really hard. I don't want these last two games to be a reflection of what they've accomplished this year."
The immediate reaction is to judge the team based on their final two games, but it's not the right reaction, nor the reaction this team deserves. This Florida team was so much more than what they showed in their final weekend of action.
Throughout the season, the media would wonder amongst ourselves when "the real" Florida team would show up. We all thought that this was a team — as predicted before the season — that was middle-of-the-pack in the SEC.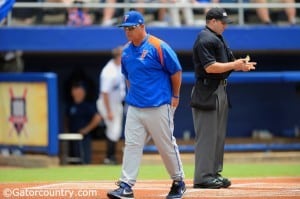 The Gators proved us wrong, weekend-after-weekend, piling up wins and ultimately a championship. The 2014 Florida Gators should be remembered for how they gritted out 40 wins in the most competitive conference in college baseball, not for their shortcoming on the final weekend of play.
Florida is loaded with arms and will likely enter the 2015 season as the odds on favorite to win the SEC again. Most of the roster will return and the Gators will be a formidable team next season.
There's time to look forward to that.
For now, just enjoy the ride that they took you on in 2014.
It was surprising, frustrating at times and while it wasn't always pretty, it sure was fun.