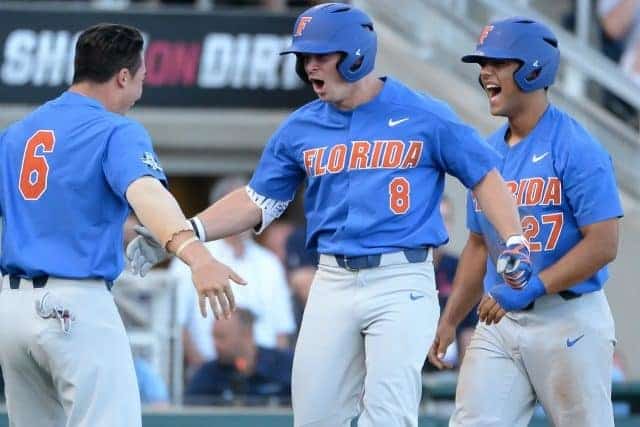 OMAHA, Neb. — There is no greater stage in College baseball than TD Ameritrade Park and the College World Series. The pressure of just stepping between the white lines can make a game you've played your entire life feel foreign and make your knees weak.
Then, when you're stacked like the Florida Gators were in 2016, after you've beat up on every opponent you've faced all season people start talking. The guys out in the Las Vegas desert make you a favorite. Reporters' questions come in bigger than softballs, praise is heaped on you and you start to listen to it. The messages of working hard, taking extra reps in the cages or in the field start to become background noise and you start feeling yourself.
Then, your trip to Omaha as the big, bad, favorite turns into a U-Turn. Keep the charter plane running because you're going to be back on it soon.
"Coming in in 2016 they almost made us feel like we just had to walk out on the field to win a National Title," sophomore pitcher Brady singer said after his win over Louisville. "I think that's what made us lose the first two games, that mindset."
Why not feel that way?
The Gators were a perfect 14-0 in midweek games. They won 44 games in the regular season. They swept through the Gainesville Regional and then outscored Florida State 13-3 on their way to eliminating the Noles from the NAA Tournament. A.J. Puk was the sixth overall pick in the MLD Draft, Dane Dunning went 29th overall, Logan Shore and Buddy Reed went 47th and 48th. Pete Alonso followed shortly after at 64th overall.
It was a stacked lineup. The pitching staff was overflowing with big leaguers but they didn't have the right mindset. The pressure of being No. 1 in the country for most of the season wore the team down towards the end of the year and the expectations to sweep through Omaha without breaking a sweat broke them.
Florida isn't winning any beauty contests this season. They have warts and blemishes that are too hard to hide. Hitting is hard. Teams are going to go through peaks and valleys throughout the course of a long season but Florida's peaks were more like rolling hills and the valleys long, dry, expansive stretches of desert.
"I think our whole lineup has underachieved a little bit," catcher Mike Rivera said. "That's just who we are right now and we gotta deal with it."
They came into the College World Series in 2017 with far less fanfare than they had in their previous two trips in 2015 and 2016 because of those warts.
It's been a blessing.
The Gators are just the second team in the modern era to make it to Omaha in six of eight seasons but they became an afterthought. Surely Oregon State (56-4) would win it. Maybe LSU (49-18) would upset them and win the tournament. It could be Louisville (53-11) led by the fourth overall pick Brendan McKay that would dog pile at the end of the tournament and hoist a trophy.
It wouldn't be the Florida Gators though.
Then Alex Faedo threw seven scoreless innings against TCU and Michael Byrne closed the Horned Frogs out. Brady Singer, not to be overshadowed, threw a gem of his own giving up just one run over seven innings.
Now, all of a sudden, the Gators are in the driver's seat.
"I'll be honest with you, I stay out of their way. I mean, we don't check curfew. I trust them. It's a total trust factor," UF manager Kevin O'Sullivan said after beating Louisville. "Every team's different. You just hope that the more times you come out here, you get more relaxed."
The Gators are more relaxed. Before the game Tuesday against Louisville Dalton Guthrie was playing catcher while four-year old Finn O'Sullivan pitched to JJ Schwarz in the outfield. Payton O'Sullivan, Sully's daughter, took Laura Rutledge's microphone and was running around the dugout giving faux interviews to players.
It's a cliché to say they're "enjoying the moment" or "taking it one game at a time" but they are and it's a different approach than they had last year.
"My first two years I feel like we looked ahead. We came in and said 'who are we gonna throw in game four' and we hadn't even played game one yet," catcher Mike Rivera said. "We're just having fun right now. I feel like our whole team's enjoying it and that's the point."
They're having fun and, thanks to a 2-0 start they're sitting pretty. Two strong starts from Faedo and Singer have saved the bullpen. Sunday starter Jackson Kowar, who hasn't lost a game in two years at Florida, will start on Friday. If Florida wins they'll have Faedo and Singer ready to throw in the championship series on their normal rest.
If you would have asked O'Sullivan what his dream scenario was before the season started this would be it. There would be no "ands" or add ons. This is Florida's dream scenario.
In 11 trips to Omaha this is only the third time the Gators have started 2-0. 23 of the last 27 College World Series Champions have started the tournament 2-0.
They heard the noise last year and bought into it. This year the silence surrounding their journey to the College World Series was deafening. They heard that too.
"This year we're in the back of the pack and we're here to prove everybody wrong," Singer said. "Ultimately we want to be the last team standing. We want to bring a National Championship back to Gainesville."