OMAHA, Neb. — The Florida Gators will open the College World Series Sunday night against Texas Tech at 7 p.m. on ESPN.
It will be the last game of the first round of the tournament and the Gators.
Florida is making its seventh trip to Omaha this decade. The Gators are the only ream in the country to make seven College World Series trips in a decade this century. The Gators also joined North Carolina as the only schools in college baseball history to advance to Omaha in seven straight Super Regional appearances.
Here are some news and notes from Omaha.
JJ Schwarz
The senior is the first Florida Gators to ever make four College World Series appearances. Schwarz has been sidelined for the last three weeks after a foul tip broke his hand at Mississippi State. Schwarz has taken batting practice three times since the injury, including on the field at TD Ameritrade. Kevin O'Sullivan and the Gators are hopeful that he'll be able to play on Sunday and the rest of the tournament.
Due to the injury Schwarz will be unable to catch. Florida will instead play him at first base, where he played most of 2017. Schwarz made just seven starts at first base, as opposed to 45 behind the plate.
In 31 NCAA tournament games Schwarz is hitting .279 with 8 home runs and 32 RBI.
Veteran presence
Florida is the most experienced team in Omaha. Overall nine position players have combined to make 45 CWS starts and 54 overall appearances. Florida pitchers have made 11 appearances (4 starts) and have thrown a combined 36 innings with a 2.25 ERA. Brady Singer leads the way with 14 innings pitched in Omaha, followed by Michael Byrne, who hasn't allowed a run in his seven innings pitched.
The long ball
Florida has belted 96 home runs this season. That's third most in the country behind Tennessee Tech (135) and Clemson (98).
Jonathan India belted his 20th home run of the season in the third game of the Super Regional. India is the first Gator to hit 20 home runs in a season since Matt LaPorta in 2007. Florida has never had two teammates hit 20 home runs in a season but Wil Dalton could make that happen if he hits one more home run while in Omaha.
Here's how the two teams stack up statistically: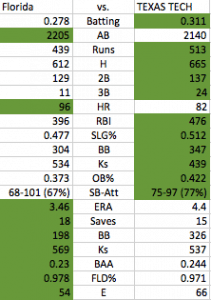 Here are the top Gators hitters in the NCAA Tournament (7 games):
Wil Dalton – .333 (9-27), 5 R, 3 HR, 10 RBI
Jonathan India – .292 (7-24), 6 R, 3 HR, 6 RBI
Nelson Maldonado – .269 (7-26), 4 R, 1 HR, 2 RBI
Nick Horvath – .269 (7-26), 3 R, 2 RBI
Blake Reese – .250 (6-24), 4 R, 1 HR, 3 RBI
Gators Top Pitchers
Michael Byrne – 0.00 ERA, 11.1 IP, 8 H, 0 ER, 14 K
Brady Singer – 2.63 ERA, 13.2 IP, 9 H, 4 ER, 15 K
Jack Leftwich – 2.70 ERA, 10 IP, 5 H, 3 ER, 11 K
Jackson Kowar – 3.46, 13 IP, 14 H, 5 ER, 11 K
Red Raiders Top Hitters (season)
Josh Jung – .390, 68 R, 97 H, 17 2B, 12 HR, 78 RBI
Grant Little – .372, 61 R, 87 H, 24 2B, 12 HR, 73 RBI
Gabe Holt – .352, 68 R, 90 H, 13 2B, 6 HR, 41 RBI
Cameron Warren – .327, 46 R, 67 H, 15 2B, 17 HR, 54 RBI
Red Raiders Top Pitchers
Ryan Shetter – 5-0, 3.03, 68.1 IP, 51 H, 26 R, 23 ER, 26 BB, 72 K
Caleb Kilian – 9-2, 3.04, 68 IP, 57 H, 32 R, 23 ER, 25 BB, 59 K
Davis Martin – 7-5, 4.50, 74 IP, 73 H, 43 R, 37 ER, 36 BB, 75 K