Football is a simple game at its core. On the outside all you see are jacked up men with pads, running around on a field hitting each other. The game is violent, which is why most people fell in love with it in the first place. While the game can seem simple on the outside, on the inside coaching staffs are playing an intricate game of chess, matching wits each and every play.
In what will be a weekly series, Gator Country will take an in-depth look at a play and explain what goes into it, why the play was called in that scenario and why the play was successful or unsuccessful.
For today's play, we take a look at Valdez Showers' big gain against Toledo in the second quarter of the season opener.
Every football coach has a name for different personal packages. The names generally sound like gibberish to people on the outside but when you learn what they mean, it's actually pretty simple. For instance, Florida called the formation below their "22 personnel."
What the heck is a "22 personnel?"
As you can see in the picture below, Jeff Driskel is under center with two tight ends lined up outside of the right tackle. Hunter Joyer and Valdez Showers are lined up in an "I" formation behind Driskel. Florida calls this "22 personnel" because it signifies that there are two backs (Joyer and Showers highlighted in orange) as well as two tight ends (Burton and Westbrook highlighted in red).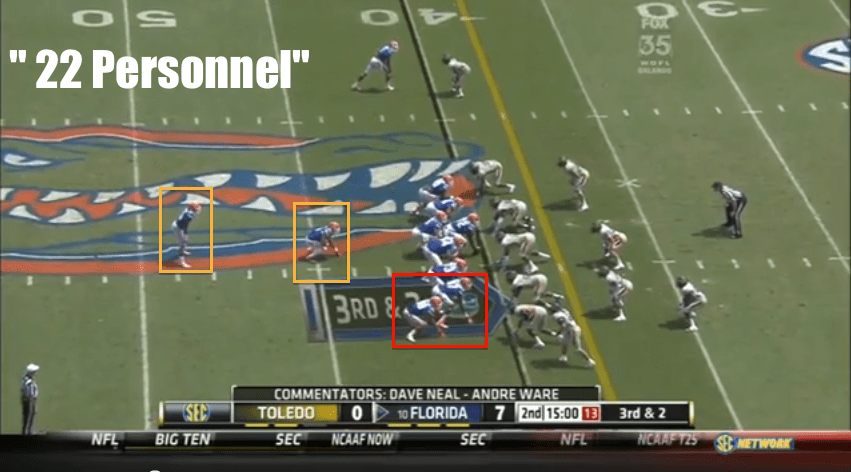 This is a formation that Florida uses a lot and normally will run up the middle, off of the right guard or off of the right tackle. It's something that Toledo must have watched hundreds of time on film and they should have felt very comfortable when they saw the formation in this third and short scenario. You can see that Toledo has five down linemen as well as three linebackers and a defensive back in the box. There is also a safety that has crept up which gives the Rockets essentially 10 players in the box with just one defensive back covering Quinton Dunbar on the outside.
What Florida does after they lineup is pure genius by offensive coordinator Brent Pease. Rather than running the ball up the gut, Driskel fakes the fullback dive to Joyer (I apologize for bringing up dive plays while the scars of Steve Addazio's offense still remain) and instead pitches the ball outside to Valdez Showers. D.J. Humphries leaves the defensive end (outlined in blue) un-blocked on purpose, knowing that he will likely get too far up field and take himself out of the play and instead climbs to the second level to block a linebacker (outlined in red).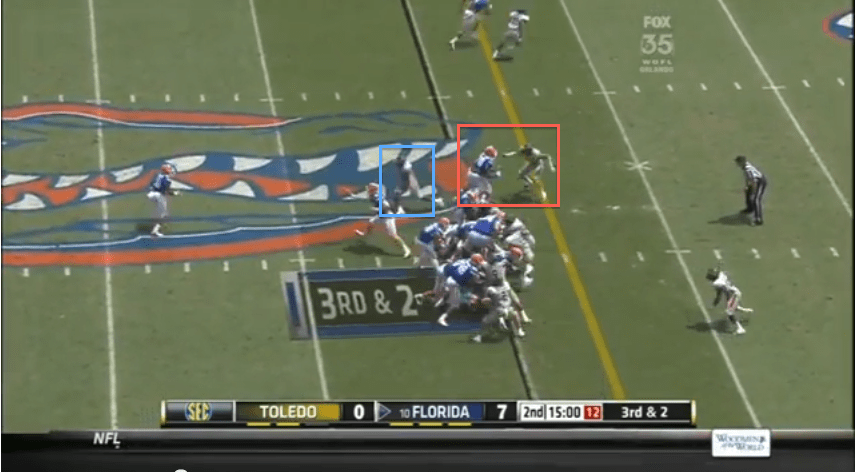 At the top of the picture, you can see that Dunbar is running a "9-route" or a "go" which means he will take off up the sideline. Dunbar does this to get his man as far up field as he can, taking him out of the play and clearing space for Showers along the outside.
This play was not only dialed up at the perfect time but Florida executed it to perfection. In the picture above you can see that the entire offensive line blocked down, creating the illusion that Florida was running the dive to the fullback.
This is a good example of how coaches use old film and common formations with a slightly different twist to catch defenses off guard and create big plays for the offense. Showers was able to take this carry — the first rushing attempt of his career — 29 yards and not only pick up the first down but set Florida up in great field position on a drive that resulted in an Austin Hardin field goal.